How to Sign Up for Blink Free Trial Without Giving Your Credit Info

A  gives you a smart home security experience. With the trial, you can access features like live view recording, unlimited cloud storage, and photo capture, available in Blink indoor/outdoor cameras and Blink video doorbell.
Regardless of where you are, you can monitor your home via the Blink Home Monitor app and store live recordings or motion clips. The free trial allows you to enjoy the benefit of smart security in your home without necessarily paying for it.
But the problem is if you subscribe to Blink services, and forget to unsubscribe (or are unable to), the monthly fee will automatically be deducted from your account. DoNotPay's free virtual credit card can save you from automatic renewals. Once your free trial expires, Blink can't charge you because there's no money on the card, so you're unsubscribed automatically.
Does Blink Offer a Free Trial?
Yes, Blink offers a 30-day free trial. The trial period begins when you install your new Blink mini, outdoor/indoor camera, or Blink video doorbell. During the  period, you will see a banner on your app's home screen that indicates how many days you have left on your free trial. Additionally, you will receive emails regarding the remaining days of your free trial.
How Can I Get a Blink Free Trial?
You will automatically get a 30-day Blink free trial when you set up your new Blink mini, indoor/outdoor camera, or video doorbell. Blink will not charge you before or during your free trial unless you subscribe. You can also cancel the free trial anytime on the Blink app.
If you choose to subscribe, follow the following steps;
Link your Blink and Amazon accounts. You can do this with the Blink Home Monitor app. Go to account settings and tap on "link your Amazon account."
Select your preferred plan.
Check out and attach the subscription plan to your account/device. You will receive the benefits immediately.
Does the Blink Free Trial Automatically Renew Into a Paid Subscription?
No. The Blink Free Trial does not automatically renew into a paid subscription unless you subscribe. However, once you subscribe, the subscription will renew automatically every month.
You can cancel the free trial anytime on the app.
To cancel a free trial;
Open the Blink Home Monitor app and go to the Account screen.
Navigate to the bottom of the screen and select "cancel my free trial."
Tap the 'end free trial' button. You will receive a message indicating you have canceled your free trial.
Companies like Blink require you to submit your credit card number when signing up for a free trial. That way, they can charge your card for the services if you fail to cancel before the end of the trial period. Sometimes, they make it difficult for you to cancel the subscription, and you end up paying for a product you don't want or need.
When signing up for a Blink free trial, you should;
Read and understand the terms of the free trial, including cancellation policies
Set a reminder to cancel the subscription before the trial period ends.
If you cannot cancel your subscription, call your credit card company and ask them to stop the payments.
DoNotPay can make your experience with free trials easier through virtual credit cards.
Avoid Automatic Renewal With DoNotPay Virtual Credit Card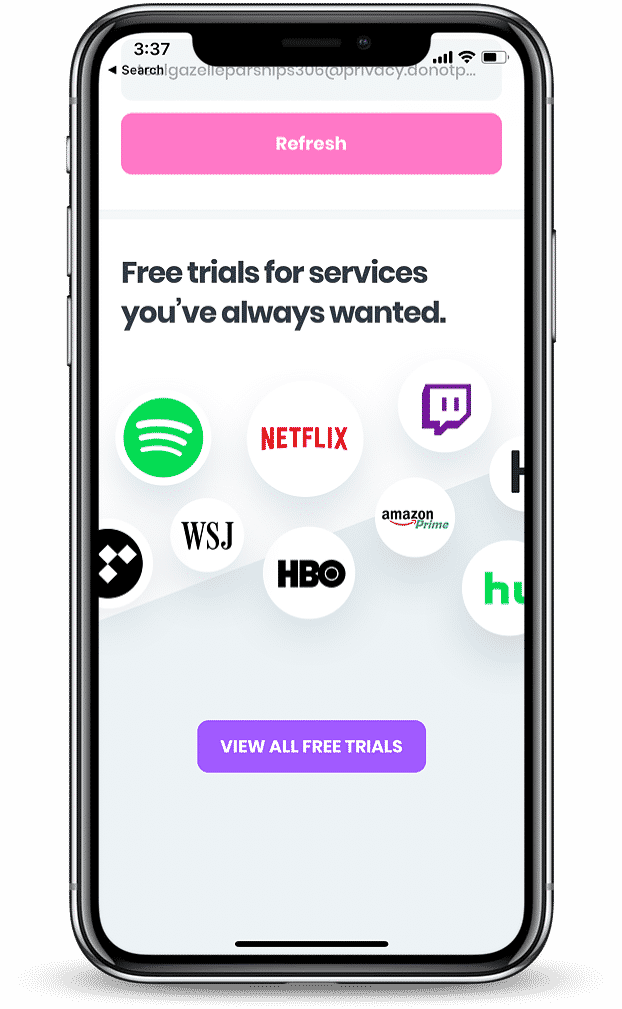 The best way to avoid automatic monthly charges on your credit card is to use DoNotPay's virtual credit card. The virtual credit card works the same way a regular credit card does. However, a one-time token is generated for every transaction when you use a virtual credit card, thus the merchant cannot store any data and cannot make additional charges with the same token.
DoNotPay's virtual credit card offers the following benefits;
Your data is protected.
You can subscribe to as many free trials as you want without the fear of jeopardizing your bank account.
You can set limits in terms of expiry dates, amount of money, and merchants.
You avoid automatic monthly charges since the virtual credit card generates a unique number for each purchase, and the merchant can only use it once.
Virtual credit cards ensure you do not pay for goods and services you don't use or need. Automatic monthly charges by merchants after the free trial expires can put a dent in your bank account. Protect yourself with DoNotPay's free virtual credit card today.
How Much Does Blink Cost After the Trial?
The amount you pay depends on the subscription plan you choose. If you select the Blink basic plan, you can pay $3 per device monthly or $30 per device yearly. The Blink plus plan costs $10 per month for all Blink devices you have or $100 annually.
What Will Blink Charges Look Like on My Statement?
You'll see the "BLINK AMZN.COM/BILL WA" bill on your card statement.
What Are the Most Popular Alternatives to Blink
There are several alternatives. Some are:
Alternative
Cost
Features
Arlo
Cost per month: $4.99

2k or 4k video resolution
Respond to emergenciesAdvanced object detection
Create cloud activity zones

Wyze Cam V3
Cost per month: $1.25

Indoor/outdoor use
Versatile mounting
 Night vision
Grouping and sorting

Butterfleye
Cost per month: $9.99

Notification on mobile
Timeline of archived footage
Live video feed
Two-way audio
Multiple devices monitoring
What Else Can DoNotPay Do?

Blink free trial is one of the many services that DoNotPay offers. There are several other services that you may find helpful. They include;
Fighting speeding tickets
Disputing traffic tickets
DoNotPay saves you time and money. Visit our website to see other services we offer to make your life easier.