Start Your Blink Fitness Free Trial Without Giving Your Banking Info

You know that you need to spend more time working out and taking care of your overall health. This might lead you to consider joining a gym or signing up for an online service that provides workouts that you can do at any time. You might have heard about Blink Fitness, which offers both physical gym locations as well as a catalog of online workouts available to its members. It offers the best of both worlds to someone who is undecided about the best way to work out.
You're considering signing up for the Blink Fitness free trial, but you're worried that if it isn't right for you, and you forget to cancel on time, you'll end up with monthly charges that are next to impossible to get back. You know how easy it is to get busy and before you know it, the cancellation date has passed, and your credit card has charges on it for something that you meant to cancel. You could try setting an event on your calendar, but you might ignore it.
You need an easier way. With DoNotPay, you can sign up for the Blink Fitness free trial and avoid additional charges whether you remember to cancel or not. 
Does Blink Fitness Offer a Free Trial?
While Blink Fitness does offer a trial period, it isn't entirely free, you'll pay a dollar for the first month and get a free one-day pass, and the regular price after the initial period. This free trial period gives you access to both the physical gym location and the online programs. You'll need to provide some basic information, such as:
Your name
Your email address
Your personal information, including location
Payment information for the dollar payment
How Can I Get a Blink Fitness Free Trial?
You need to follow a few easy steps to get your free day pass and sign up for a month for a dollar. Follow these steps:
Go to the Blink Fitness webpage
Click on Free Trial in the top right-hand corner of the page
In the new pop up window provide:
Your first name
Your last name
Your mobile phone number
Choose your state from the drop-down menu
Choose your gym from the drop-down menu
Click the box to accept the terms of service
Click on the box to stay updated
Click Get Your Free Pass
Take your pass to the gym, and they will guide you through the rest
Does the Blink Fitness Free Trial Automatically Renew Into a Paid Subscription?
Yes, if you sign up for the first month for a dollar, then the Blink Fitness free trial automatically renews into a paid membership. This membership continues indefinitely until you cancel it.
When you decide to go to your local Blink Fitness with the free one-day pass, you can expect a lot of sales pressure to sign up for the month for a dollar. It can be hard to withstand this kind of pressure.
If you've been automatically renewed into a paid account and you don't want to continue it, DoNotPay can help you cancel the membership in 3 easy steps.
Avoid Automatic Renewal With DoNotPay Virtual Credit Card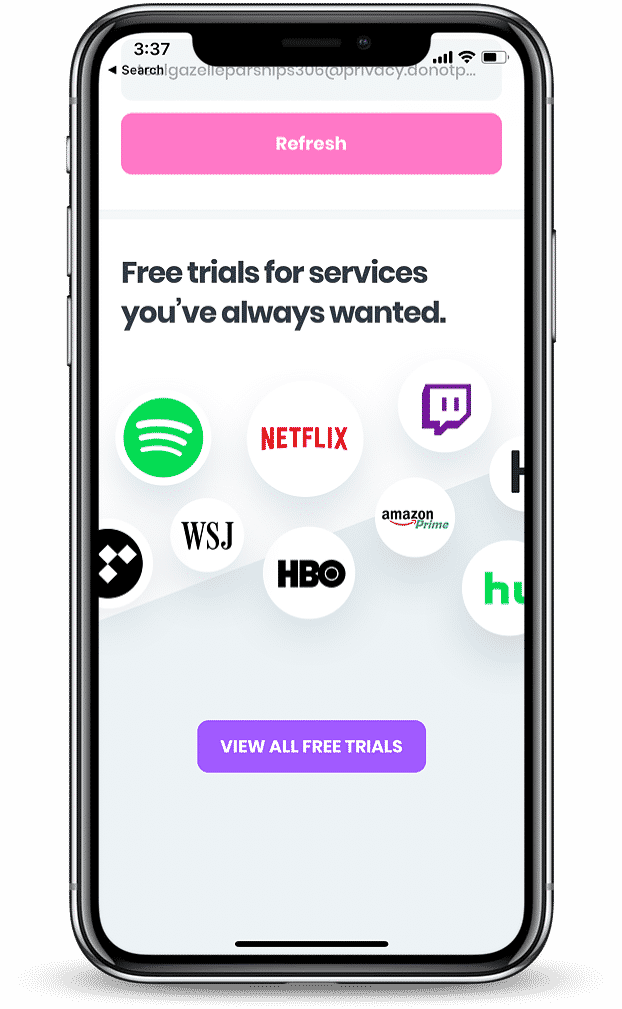 The use of a virtual credit card when you pay the one-dollar fee for the first month can help you avoid any future charges. When you use the DoNotPay app, you can create a virtual credit card at any time and enjoy the three main benefits that come with it, including:
The virtual credit card allows you to limit the amount of money charged on to it.
You can also designate the name of the vendor, so no one else can use it.
The vendor never sees or has access to your real credit card information.
How Much Does Blink Fitness Cost After the Trial?
With Blink Fitness, there are several membership levels, and your cost after the free day pass and the dollar first month depends on which level you choose. All the membership levels pay an annual fee of $54.99.
Here's a look at the levels and their monthly fees:
| | |
| --- | --- |
| Blink Fitness Membership Tier | Monthly Charges |
| Blue membership | $23 |
| Gray membership | $15 |
| Orange membership | $10 |
What Will Blink Fitness's Charges Look Like on My Statement?
When you're billed each month for your Blink Fitness membership, the charges should appear on your statement under the name Blink Fitness. You can expect the charges to appear around the same time each month, and the annual fee should show up on your statement around the time of your anniversary of joining the club.
What Are the Most Popular Alternatives to Blink Fitness?
Of course, Blink Fitness isn't the only company out there doing physical fitness. Here are a few of the popular alternatives:
WellPath
Planet People
Planet Fitness
HealthCorp
Bloom
What Else Can DoNotPay Do?

DoNotPay can help you with almost anything, including: 
Go ahead and get your free day pass and first month for a dollar at Blink Fitness with a virtual credit card generated by the DoNotPay app!