How to Start a Bitdefender Free Trial With a Virtual Credit Card

Known as a leading cybersecurity software across the globe, Bitdefender has become popular amongst many small-scale, mid-scale, and larger-than-life businesses. The software partners with businesses to prevent, detect, and respond to potential cyber-attacks. The goal is to offer around-the-clock security that helps protect private information without a hitch.
With such amazing software acting as a bodyguard, you may be wondering how you can get a Bitdefender free trial to see if it's right for your needs without getting charged. DoNotPay can help! We'll ensure you don't go over your free trial period and help secure your money should you decide the software isn't quite the right fit for what you need.
Does Bitdefender Offer a Free Trial?
In short, yes! Bitdefender offers a 30-day free trial across Android, Apple, Windows, and Mac devices. This makes it easy to ensure you're protected across all products and platforms. With the free trial, you'll have access to a small portion of the many features the software offers. Rather than receiving unlimited access, you'll get a little taste of each feature to help encourage users to buy the full protection should it be what they need.
Bitdefender's free trial provides you with:
Built-in threat detection software to help prevent malware
Multi-layer ransomware that protects your files
Secure VPN with 200 MB each day, per device
Progressive parental controls
and more
Bitdefender prides itself on the fact that the program has little to no impact on your system performance outside of offering protection. This means you won't see any recognizable system slowdowns and it'll take up minimal space to ensure your devices have the room they need to function with other apps and programs with ease.
How Can I Sign Up for a Bitdefender Free Trial
As you go to input your name, company name, email address, and all of the information necessary to sign up and download one of Bitdefender's security solutions, you'll want to make sure that the trial doesn't automatically renew and charge your credit card at the end of the 30 days? Whether you choose to purchase or cancel the subscription service, it can be tricky to keep up with those end dates for free trials.
Depending on your needs, whether you want protection for personal home usage, business, or commercial solutions - Bitdefender has the security software for individuals, families, and corporations. You can select your free trial from these 7 options based on the security you want.
Does Bitdefender's Software Subscription Automatically Renew
Auto-renewal is initially set up with any of Bitdefender's security options to ensure you receive the latest updates and most advanced versions as soon as they become available. So, if you're looking to test out the free trial without worrying about the subscription automatically renewing and charging your card on file, you'll need to manually go into your account and opt out of auto-renew services.
Bitdefender will send an email to the account on file 7 days before the subscription renews as a reminder that you may want to opt out of the renewal service. However, like many, this email may go unnoticed and can leave you paying the price for software you don't want.
Canceling the renewal service can be done in 2 ways and is fairly simple. The first way you can opt out of auto-renewal options is:
Login to your account.
Select My Products.
Choose Display All Subscriptions.
Click Stop Automatic Subscription Renewal.
Select a reason and Confirm with the Stop Auto-Renewal tab.
The second way you can change to manual renewal is:
Login to your Bitdefender Central account.
Click on My Subscriptions.
Locate My Payments at the top of the page.
Select View Details.
Choose Manage your subscription renewal options.
Select Stop Auto-renewal.
Want to avoid the hassle of having to check and double-check whether your account is on Auto-renewal? DoNotPay can help. With a virtual credit card, you won't have to worry about getting charged down the road should you forget to opt-out of auto-renewal services and it can prevent the headache of trying to contact support if you accidentally miss the reminding email from Bitdefender.
With a virtual credit card, you'll only be charged the amount you've initially agreed to and can test out the free trial without worry.
Avoid Automatic Renewal With a DoNotPay Virtual Credit Card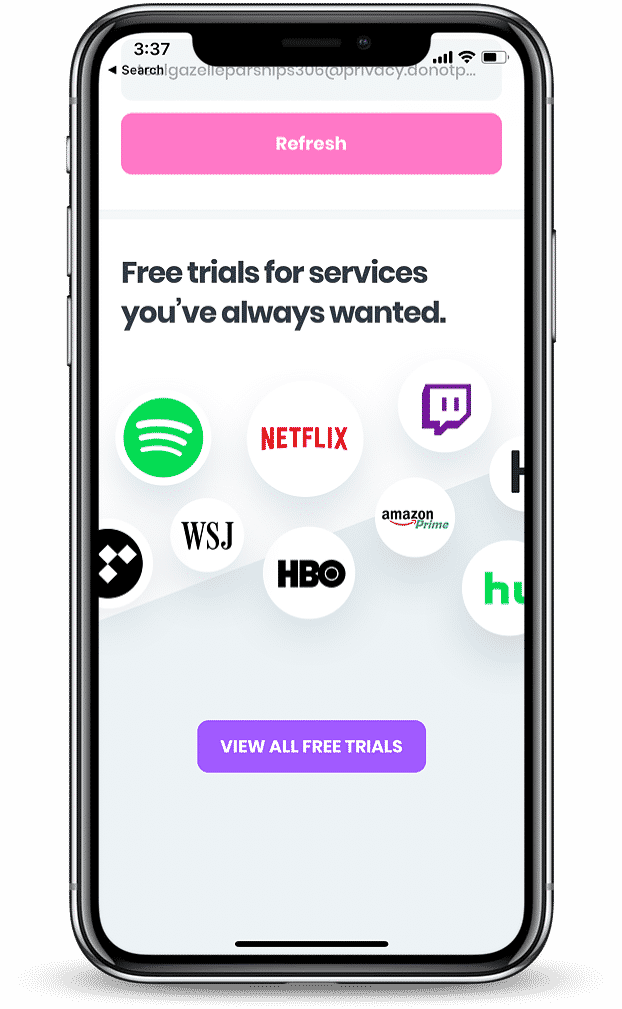 It can be easy to forget to cancel that free trial you've signed up for, which is why we've curated accessible virtual credit cards to ensure you don't continue paying for a service you don't want. With a virtual credit card, you'll only be charged the amount you've initially agreed to and can test out the free trial without worry.
A virtual credit card will provide you with a randomly generated credit card number that you can use for a singular use token that's valid for a single purchase. This works for free trials because you're never charged and the virtual card is never charged, acting as a placeholder so that when the free trial ends, you can take as much time as you need deciding if you want to renew the software or not.
What Else Can DoNotPay Help With?
Avoiding unwanted charges at the end of a free trial isn't the only thing DoNotPay can help you with. We offer a surplus of services to save you money, time, and stress. Check out a few of our many guides below.