How to Get a Big Ten Network Plus Free Trial Without a Credit Card

Big Ten Plus offers fans of the Big Ten conference to watch live streams and replays of countless events. Customers can watch football and even less popular events like wrestling or women's hockey. Die-hard fans have wondered if Big Ten Plus offers a free trial period.
The short answer is no. But if you're a paying cable or streaming subscriber, you may be able to get a .
What's the Difference Between Big Ten Network and Big Ten Plus?
Big Ten Network
Big Ten Network is a dedicated cable channel for all things Big Ten sports.
Each year, the channel shows about 1,500 different sporting events.
The network is accessible through most cable and satellite providers, like Direct TV, AT&T, Comcast, etc.
Big Ten Network can be live-streamed through either the Fox Sports App or Big Ten Plus. If you are already paying for the Big Ten Network, you can stream the channel through the Fox Sports app.
Big Ten Plus
Big Ten Plus live streams events that aren't televised. In total, they live stream about 1,400 events each year.
Additionally, Big Ten Plus customers have access to the Big Ten video database of recent and historic games.
Big Ten Plus also makes games available for on-demand streaming the next day.
Customers may choose a la carte school or sports packages. Customers can choose to pay for just one university or sport instead of buying the whole package.
How Can I Get a Free Trial for the Big Ten Network or Big Ten Plus?
With the Big Ten Network:
You may be able to get a  from your cable, dish, or streaming provider.
This free trial will be attached to your existing account. If you forget to cancel it, you will be charged.
| | | |
| --- | --- | --- |
| Provider | Length of Free Trial | Cost After Free Trial |
| Hulu | 7 days | $69.99/ month (part of a package) |
| Sling TV | No free trial | $46/ month (part of a package) |
| FuboTV | 7 days | $64.99/month (part of a package) |
| Vidgo | 7 days | $55 (part of a package) |
| DirecTV Stream | No free trial | $84.99 (part of a package) |
There are no free trial options available for Big Ten Plus. Here are the package options:
| | | |
| --- | --- | --- |
| Plan | Monthly Cost | Annual Cost |
| Conference Pass (All Access) | $14.95 | $199.95 |
| School Pass | $9.95 | $79.95 |
| Baseball | Not Available | $39.99 |
| Basketball | Not Available | $54.99 |
| Field Hockey | Not Available | $39.99 |
| WCHA Women's Hockey | Not Available | $49.99 |
| Men's Hockey | Not Available | $59.99 |
| Lacrosse | Not Available | $39.99 |
| Soccer | Not Available | $49.99 |
| Softball | Not Available | $39.99 |
| Tennis | Not Available | $39.99 |
| Volleyball | Not Available | $54.99 |
| Wrestling | Not Available | $69.99 |
Avoid Automatic Renewals and Other Free Trial Charges With DoNotPay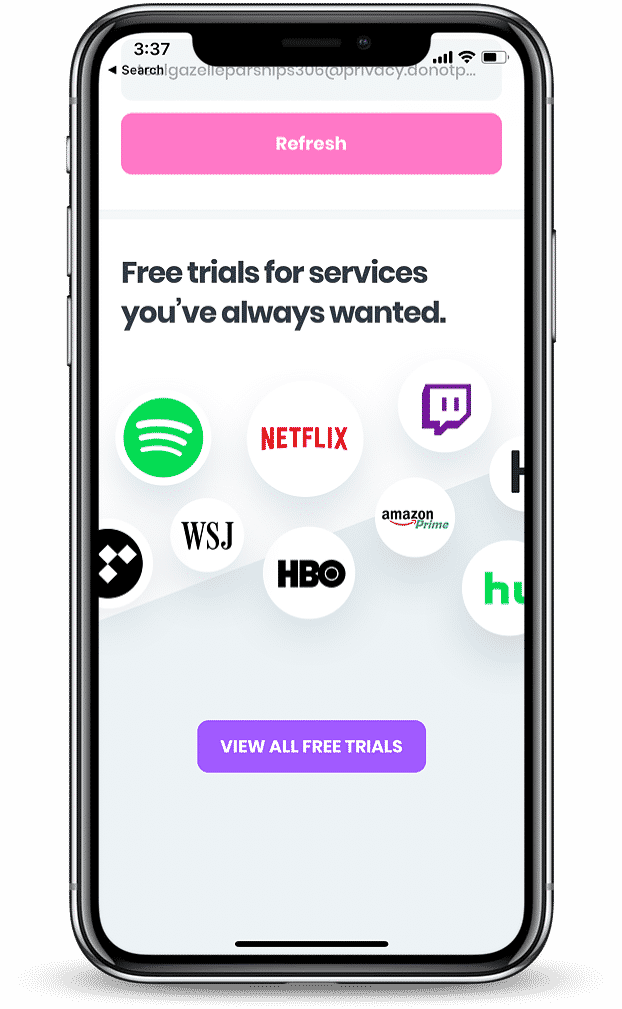 Failing to cancel a  free trial may not lead you to incur charges on your account. However, forgetting to cancel your paid membership could lead to recurring payments. That shouldn't be the case.
Thanks to DoNotPay's new solution, you'll never get penalized for being forgetful. Our virtual credit card lets you try products and services that require payment information when signing up for a free trial.
DoNotPay has developed virtual credit cards for the purpose of free trials.
Customers can use a virtual credit card to access a free trial. After signup, the virtual credit card is destroyed and won't be linked to your payment info.
This allows customers to use free trials without the risk of being charged for forgetting to cancel.
However, since Big Ten Plus doesn't offer free trials, a virtual credit card can't be used to avoid subscription fees. All Big Ten Ten Network free trial options are tied to established accounts. This means a VCC can't be used to avoid being charged after the trial period.
What Free Trial Products Will DoNotPay's Virtual Credit Card Work On?
Our free trial virtual credit cards will work on just about any service that isn't anchored to an existing account, like cable, dish, or a streaming account. DoNotPay's virtual credit card will cancel itself after you sign up for the free trial.
Here's how it works:
Search Free Trial Card on DoNotPay and enter the company you want a free trial for.
We'll automatically generate a virtual credit card that you can use for that merchant. Copy the card details shown on your screen.
Use the card to sign up for your free trial and sit back to relax and enjoy.
The virtual credit card is randomly generated with fake credit card information. They are connected to your actual credit card to allow you to make transactions without revealing your accurate banking information. This means the vendor won't have access to your basic banking information, so they'll essentially be unable to charge you automatically.
You'll never have to worry about being charged after the trial expires. Our free trial virtual credit card will work with countless services like The Wall Street Journal, Microsoft 365, Dropbox, and countless other digital services. If a company gets hacked, your real credit card details will be safe since you used a virtual credit card instead.
What Else Can DoNotPay Do?

DoNotPay can help you with almost anything.