How to Enjoy Beyond Plus Free Trial Without Incurring Auto-Renewal Charges

Bigwig retail stores attract die-hard brand loyalists with membership programs filled with free and paid perks. Bed Bath & Beyond is the latest online retailer to provide a membership program. You can sign up for the membership and enjoy  and get 20% off for every purchase for an annual fee of $29.
While the program offers cost-saving opportunities, the merchant will always ask you to provide credit card details. Not to mention your free trial will automatically renew every year, meaning you'll continue to pay the $29 yearly charges if you forget to cancel your membership.
There's a better, risk-free alternative to enjoying free trials: DoNotPay. With the online tool, you can get a virtual credit card that enables you to sign up for free trials and membership programs without verifications. We generate the cards with random numbers and details. So, you need not give out your actual credit card info. Neither do you have to worry about charges after your free trial expiry.
Does Bed Bath & Beyond Offer a Free Trial?
Yes, but it's not the conventional 7-, 14-, or 30-day free trial. BB&B has a new membership program known as Beyond Plus. Consumers who sign up for the annual membership program receive a digital gift card worth $29, valid for 15 days.
Shoppers can take advantage of their Beyond+ membership to enjoy great saving opportunities and several other perks. For instance, you get a 20% off every time you purchase, whether online or in-store. It alleviates the hassle of hunting the much sought-after coupons because BB&B automatically sends them to your membership account.
Besides, you get a 50% off for every purchase of design services from Decorist (one of BB&B brands). You also enjoy free shipping for every order. That's a huge benefit considering most brands offer free shipping for $49+ orders. Your membership also sets you up for exclusive offers and discounts throughout the year. Getting your without the risk of getting charged is made possible with DoNotPay.
How Can Sign Up for BB&B's Beyond+ Membership Program?
Signing up for the Beyond+ membership is fast and straightforward. If you're ready to start your membership, below is the procedure to follow:
Visit Bed Bath & Beyond online website
Click "Sign In" on the top-right corner of the website
You'll get two options: To sign in and "Create an Account". The sign-in procedure requires you to enter your email address and password. Afterward, create an account by filling out a form with the following details:
Email address
Name (First and last name)
Phone number
Alternatively, you can create an account with your Apple or Google account for a fast enrollment.
After creating an account, select the Beyond+ membership, enter your credit card details, and click the submit button.
Wait for a confirmation email, usually sent within a few minutes. Once you receive the email, you can immediately start taking advantage of Beyond+ benefits.
Does the Beyond Plus Membership Automatically Renew Into a Paid Subscription?
Yes. You'll pay the $29.00 subscription fee when you first sign up for the program. Your Beyond+ is set to automatically renew for an additional year for another $29 charge from your credit card in your account. If you want to cancel your membership before the auto-renewal date, log into your account and change your membership status by accessing the "Manage Membership" section or call (866) 531-6826.
Avoid Automatic Renewal With DoNotPay Virtual Credit Card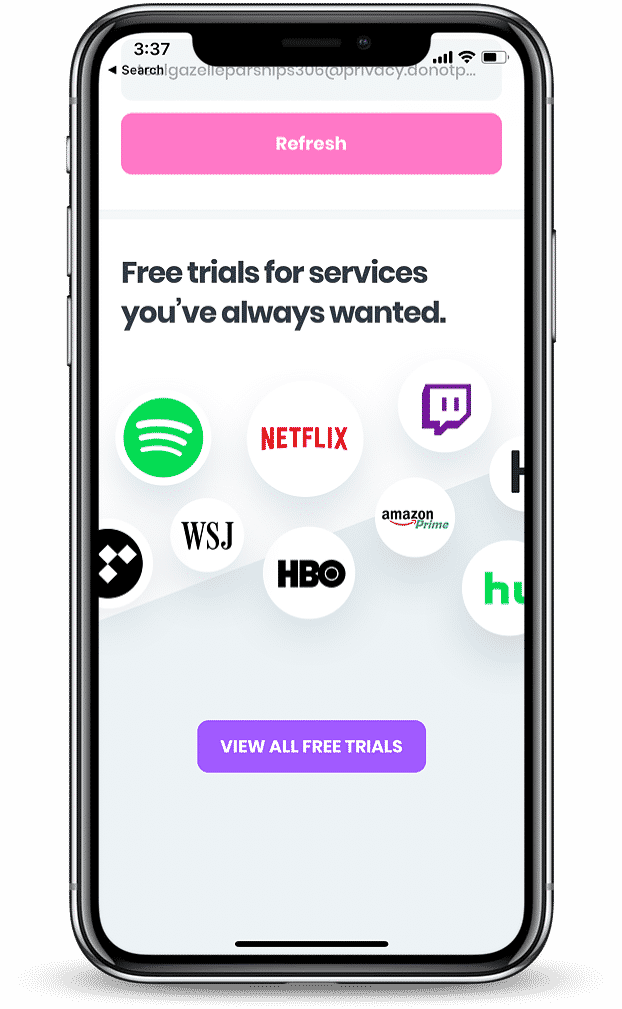 A survey by Hiatus sampled 100 consumers. It found out that 70% of consumers say they continue incurring unwanted charges because they forget to cancel online subscriptions before they auto-renew. About 19% say the cancellation procedure is time-consuming and cumbersome.
But there's an easier, convenient, and faster way to solve the problem. DoNotPay is your trusted robotic lawyer, protecting you from being charged after your free trial to a service expires. We do that by generating virtual credit cards that people can use to sign up for a free trial without being charged.
Your free virtual card will come with a random number and details. It won't process any payments. Hence, any service or online retailer you sign up to won't be able to charge you after your free-trial subscription or program membership expires.
Nonetheless, our virtual credit cards are designed for single use. Users cannot make online purchases because there's no amount credited to their subscription accounts. They help you protect your confidential credit card details without paying after your free trial converts to a paid plan.
How Can I Get Free Trial and Avoid Getting Charged on My Own? 
It is easier to forget to cancel your free trial and end up paying for a subscription service you don't enjoy. Here are a few ways you can cancel a free trial and avoid getting charged:
Cancel payment once you sign up for the free trial.
If you cancel a free trial after signing up, you will still use it for the entire trial period without getting charged. It is one of the best and easiest ways to ensure you don't get billed.

However, remember that not all free trials operate in the same manner. Some services will stop your trial immediately you unsubscribe, e.g., Hulu and Apple Music.

Set a reminder a few days before your trial period ends.
Don't wait until your free trial ends to cancel your subscription. That's because you may take forever to find instructions on how to unsubscribe, and this could push you past your deadline.

Another reason why you shouldn't wait till the last minute is that most services will still charge you if you cancel less than 24 hrs before your free trial period ends.

Go virtual.
If you signed up with a free virtual credit card and forgot to cancel your subscription before your trial period ended, you can never get charged.

DoNotPay's Virtual Credit Card works by generating temporary credit cards that expire when you please. Some advantages of virtual credit cards include:

Reducing costs
Increasing security
Managing cash flow better
More convenient than physical credit cards
Protecting you from fraudulent activities
Helping you manage subscriptions

Speak with Customer Support.
Do not disregard how powerful personal appeal can be. If you thought you canceled your subscription before your free trial ended or your request was unsuccessful, you can contact Customer Support to help you out. Just ensure you remain humble and courteous in your request.
Here's How You Can Take Advantage of DoNotPay to Enjoy Hassle-Free Free Trails:
Search for our "Free Trial Card" product and enter the name of the service you want to get a free trial from.
We'll automatically create a virtual card that you can use to sign up for that merchant. Copy the number and details displayed on your screen.
Use the details to sign up for a free trial and enjoy the benefits without being charged after it expires.
What Else Can DoNotPay Do?

Solving your free trial issues is one of the many things DoNotPay can help you do. DoNotPay can help you solve several problems you're facing including: 
Fighting speeding tickets
Disputing traffic tickets
Want to enjoy the benefits of free trials without worrying about unwanted charges? Contact DoNotPay.