How to Start BallerTV Free Trial The Risk-Free Way

Founded in 2016, BallerTV makes it easy for any person to watch live streams of numerous high school sports from a growing list of games across the country. It could be you, a family member who can't attend an away game, or a college scout searching for talent in the areas of the country they normally can't cover. Apart from watching games being broadcasted live, you can also have access to unlimited replays, download player profiles as well as games to help you keep a digital memory to revisit. This guide will show you how to start  without the risk of getting charged.
Does BallerTV Offer a Free Trial?
No! However, you can get  Voucher Codes and Discount Codes to help you save more through ozsavingspro.com. You can access the codes here. DoNotPay makes  possible.
Is the BallerTV Subscription Automatically Renewed?
Yes. Before you pay any fees, you're allowed to review as well as accept all the fees that you'll be charged. It's worth noting that all the fees come in U.S. Dollars and that they're non-refundable. You're required to authorize BallerTV to charge you all sums for the orders that you'll have made. If you choose to pay using your credit card, BallerTV may request a pre-authorization of your credit card account before the purchase to prove that the card is valid and has enough funds to cater for your purchase.
Again, if you authorize BallerTV to charge you for service periodically, you give them the right to keep deducting the sum on a going-forward basis until the cancellation of either your account or the payment. Your account will automatically be charged all applicable fees for your next subscription on the Subscription Billing Date. The automatic renewal will only stop when you terminate or cancel the subscription.
How to Cancel My BallerTV Subscription
If you signed in through the BallerTV website, you could cancel the subscription by logging into your account and following the following steps:
Go to the settings menu and then select 'Manage subscription.'
Click 'Cancel subscription.'
Choose an option on the pop-up that appears and then select 'Continue.'
Selecting the 'Pause' option will stop renewal for a selected amount of time.
If you press 'Cancel,' you'll see a short, optional survey. Select 'Cancel Subscription' to finalize the cancellation.
You'll then see a confirmation window indicating that you have canceled your subscription. You'll also be sent an email indicating the same.
Does BallerTV Issue Refunds on Subscriptions?
BallerTV doesn't offer refunds for digital subscriptions once they have received your order, and you've viewed a video in part or whole. Once you grant them access to video recordings, still images, audio recordings, and live video, all purchases become final, and no refund will be issued. Cancellation of service doesn't entitle you to a partial or prorated refund of any kind.
Avoid Automatic Renewal With DoNotPay Virtual Credit Card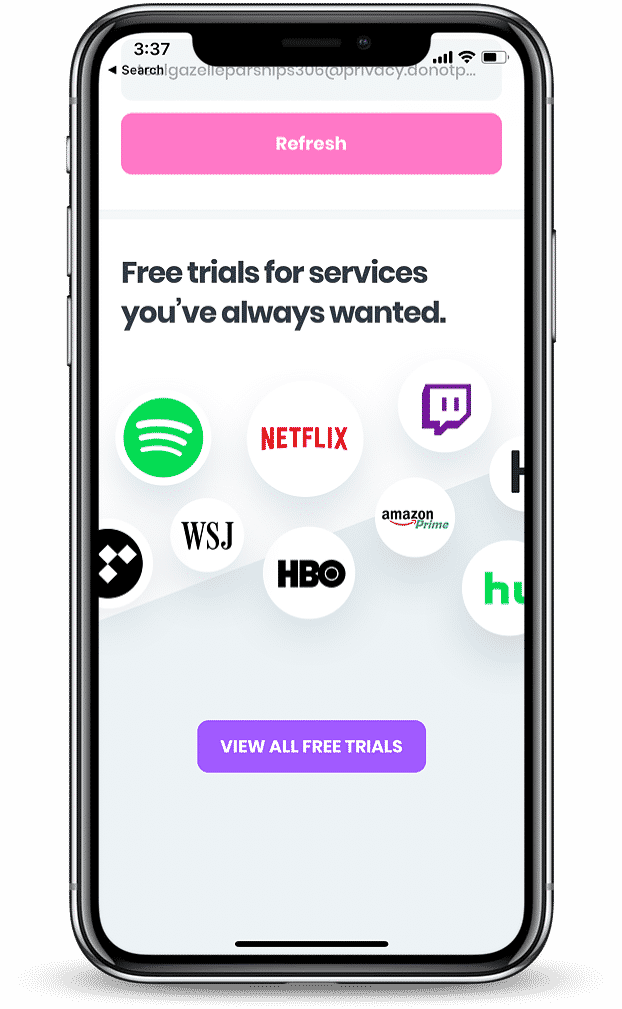 Virtual credit cards (VCC) are temporary card numbers used for online purchases that are normally linked to your physical debit or credit card.
How Virtual Credit Card Works
A Virtual Credit Card works almost like a standard chip credit card. When using a chip credit card, the merchant receives a single-use token that's modified every time you use the card. Virtual credit cards are also almost the same since they use a virtual random credit card generator to create a temporary account number. So, if a fraudster tries to misuse it, they are unable to since it's for a single transaction.
When you use DoNotPay Virtual Free Trial Card, you can use any name or address, the VCC number, and the expiration date displayed on the DoNotPay app. The DoNotPay Free Trial Card helps you with:
Creating a random credit card number
Approving billing pages automatically
Not approving other charges or subscriptions
Canceling subscriptions for you
Why Virtual Credit Cards Are Awesome
Using a Virtual Credit Card to pay your  is safe and efficient, and so it's an ideal payment method that keeps your account and personal information protected. Here are the main advantages you stand to enjoy:
They safeguard your data.
They allow you to put limits in terms of expiry dates, merchants, and amounts.
They allow you to put new online retailers to test without the fear of endangering your bank account.
How Much Does Baller TV Cost for the Subscription?
Currently, BallerTV offers quarterly and annual subscription tiers.
| | | |
| --- | --- | --- |
| Frequency | Price | Description |
| Quarterly |  $15.95/month |  Billed in recurring installments of $48.85 quarterly |
| Annual |  $9.95/month |  Billed in recurring annual installments of $119.40 |
What Else Can DoNotPay Do?

Keeping you stress-free is what we strive to attain. You can use our app to get things done in an easy and fast way.
We understand how dreary it can be to handle all your daily tasks, and that's why we take the initiative to help save you stress. Apart from creating free virtual credit cards, we can also help you with:
At DoNotPay, we offer a world of first-class services.  on our website today, to familiarize yourself with more of our services.