How to Get an Animoto Free Trial Without Giving Your Credit Card Info

You no longer need video editing experience to make professional-quality video edits. Thanks to drag-and-drop video maker tools like Animoto, anyone can be a video editor. You also don't need to pay for these video maker tools, either.
With an , you can test Animoto's features without paying for the service. Find out what's included in Animoto's free version and how to download free trials risk-free using DoNotPay.
Does Animoto Offer a Free Trial?
Animoto offers more than an , it offers an entirely free version. Animoto brands its free version as "forever free," meaning if you are satisfied with just the free features, then you can access this free version forever.
Animoto's free version is great for people who:
Want to try out the video maker tool without paying for it
Only use video maker tools occasionally
Are using it for personal (non-commercial) use
Are OK with limited features and the Animoto watermark appearing on all the videos they create
What Is Included in Animoto's Free Version?
Even though Animoto's free version lasts forever and has "no strings attached," the catch is that the features for this version are limited compared to the three premium plan options. Here's what's included in Animoto's free version:
Unlimited video creation, meaning you can make as many videos as you want
Sharing on social media and more
Access to 3 fonts, 50 music tracks, and 30 color swatches
160+ customizable video templates
Mobile access on the Animoto iOS app
Standard quality video (720p)
Limited access to the stock image and video library
The big downside of the free version is that all videos will include the Animoto watermark. You also are not allowed to use videos created in the free version for commercial use.
What Are the Steps to Get an Animoto Free Trial?
It's relatively easy and low stakes to sign up for the free version of Animoto. To sign up for the free version, you do not need to put in your credit card information. Instead, all you have to do to get an  is:
Go to Animoto's website.
Click on any button that says something like "Create a Free Account."
Enter your email address.
Create a password.
Click the "Create An Account" button.
If you need help setting up your account, you can jump the customer service line for any company with the help of DoNotPay.
Avoid Automatic Renewal With DoNotPay's Virtual Credit Card Tool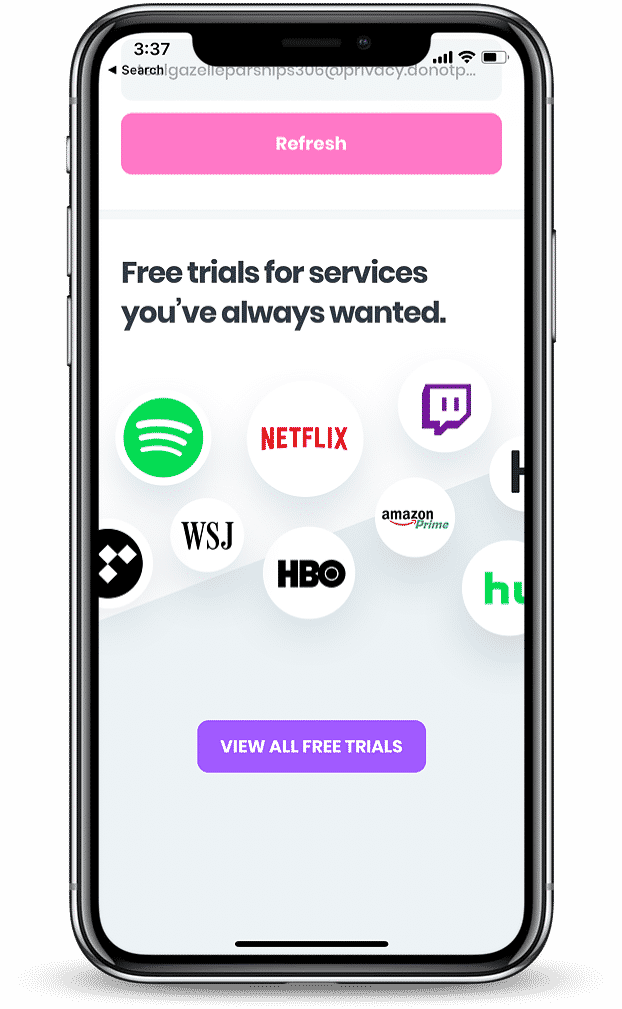 Although Animoto does not require credit card information to sign up for the free trial, many of its top competitors, like the Adobe Illustrator free trial, require credit card info upon free trial sign-up.
When a video maker tool does require that you enter your credit card information, it's important to know how to handle this situation so that you don't accidentally get charged for it later on. Don't worry, you would not be the first person to forget that you signed up for a free trial and suddenly get charged for it once the free trial expires. To sign up for free trials without any risk, it's good practice to use DoNotPay's free virtual credit card instead.
Virtual credit cards let you legally sign up for a free trial that requires credit card information without the risk of forgetting about your trial and later getting charged for it. Here's how it works when you use DoNotPay's Free Trial Card:
DoNotPay generates a random credit card number for you to use.
You use that random number when you sign up for the free trial.
When the free trial expires and the company tries to automatically charge your credit card, DoNotPay will block this transaction.
DoNotPay can also automatically cancel this subscription for you, so you never have to pay for a free trial that turns into a subscription again.
How Much Do Animoto Pricing Plans Cost After the Trial?
Animoto offers four pricing plans: the free version, basic, professional, and professional plus. As the price increases, so does the number of features included in the plan. All plans, including the free version, include unlimited video creation, social sharing for noncommercial use, access to Animoto's music library, and availability on desktop and iOS.
To choose a plan, think about what you are using Animoto for. For example, if you want more features and no watermark but are still using it for personal use, the Basic plan may be the best option, while a marketing team who wants to make branded, commercial videos may want the Professional Plus plan instead. The Professional plan is the most popular.
Check out the price and key features for each Animoto paid plan:
| | | | |
| --- | --- | --- | --- |
| Plan | Annual Fee | Monthly Fee | Features |
| Basic | $8/month | $16/month | No watermark; higher video quality |
| Professional | $15/month | $29/month | Can add your brand's logo; more than 1 million licensed Getty Images stock photos and videos; 40 fonts; more music library access |
| Professional Plus | $39/month | $79/month | Can create accounts for three users; ability to license your videos; free consultation with a video expert |
If you pay for an Animoto premium plan but need to get a refund, DoNotPay can help you request a refund for any company.
What Are the Most Popular Video Maker Alternatives to Animoto?
There is no shortage of video editing tools with drag-and-drop capabilities and template libraries. Although each offers slightly different features, capabilities, and libraries, many video maker tools can still be used for the same purpose. If you try Animoto's free version but are still seeking different video editing features, check out one of its competitors:
Is there a free trial/free version? Yes
Price for paid plans:
Ultimate: $49/month
Teams: $2500/year
Is there a free trial/free version? Yes
Price for paid plans:
Power: $4.99/month
Unlimited: $7.99/month
Professional: $19.99/month
Business: $36.99/month
Is there a free trial/free version? Yes
Price for paid plans:
Creator: $11/month
Premium: $59/month
Business: $149/month
Enterprise: Custom
Get More Help From DoNotPay

When signing up for free trials, remember that DoNotPay's virtual credit card is the perfect way to create a risk-free account. If you need faster, easier, and more successful solutions like this for all your frustrating problems, check out some of the many other services DoNotPay offers:
 for DoNotPay to access all these helpful services and much more.