Enjoy Alo Moves Free Trial Without Charges

If you are a fitness enthusiast, you probably have heard of Alo Moves. It is a great platform that offers access to over 3000 classes from yoga, strength, barre to pilates. You can get started with an  today and learn how the service works and whether it is the best fit for you. Keep in mind free trials generally translate to paid plans at the end of the trial session. You must cancel the subscription before the trial version ends to avoid unexpected charges on your credit card. Through their virtual credit card, DoNotPay offers a more secure way to sign up for free trials without worrying about unwanted costs or data breaches.
How Does Alo Move Free Trial Work?
As mentioned earlier, Alo Moves offers a 30-day free trial of their service. The  enables you to explore all the app's features, so you get to know what the service can do. If you earned a free trial with your order, an email and a code and link from Alo Moves will be sent to you. Use the code and link to redeem the free trial and start enjoying over 3000 free classes with elite instructors. These include:
Yoga
Pilates
Meditation & fitness classes
Getting Started with Alo Moves Free Trial
The following is an easy method to get :
Visit its website.
Create your account by filling in the required information on the form. It includes name, email address, password, credit card information, and more.
Navigate to the section written offer and request for your 30-day free trial.
Can You Cancel Alo Moves after The Free Trial?
Yes, you can cancel your membership at any time. Just head to your "manage membership" settings and cancel the free trial. Your credit card will not be charged for the upcoming monthly fee. Remember to cancel the subscription before the trial phase ends.
How Much Do Aloe Moves Charge?
Alo Moves costs $20 per month for unlimited access to thousands of video classes from beginner level to advanced. If you need to commit long term, you can choose their annual membership plan that costs $99 for a whole year.
What Happens After Alo Moves Free Trial Ends?
If you fail to cancel your free trial subscription before it ends, your account will automatically be charged the monthly or annual subscription fee. Usually, during the signup process, you have to give your credit card number for a "free trial." This way, the vendor will find it easy to charge you if you forget to cancel the free trial. Unfortunately, most people fail to cancel their free trials on time, leading to charges and costs they never planned.
Importance Of Using Virtual Credit Cards When Signing Up For Free Trials
Virtual credit cards are undoubtedly the most effective weapon against data breaches and unwanted charges on your credit card. A virtual credit card is a unique 16-digit number randomly generated and associated with your actual credit card account. When signing up for your free trial, use this number instead of your credit card. Because a VCC is only used once per transaction, the vendor is prevented from charging you should you forget to cancel your free trial. The following are a few reasons to use your virtual credit card in your next free trial sign up:
| | |
| --- | --- |
| Fraud Protection | VCC protects your personally identifiable information by limiting the amount of data shared during transactions. Virtual cards also don't come with magnetic strips and visible card numbers typical of physical cards. It makes it difficult for someone to steal your data. |
| Spending Controls | VCC allows you to set spending limits and choose the merchants to pay when using them. You can also select the date to close your card or schedule it to close automatically after a single payment. |
| Subscription Management | You can also manage your online subscription via virtual cards. After setting virtual cards for your subscription, you can easily see if a vendor overcharges you and cancel the card on the spot. With a VCC, you avoid the hassle of canceling a subscription by deleting the entire card in one swift move. |
Why Use DoNotPay's Virtual Credit Card to Sign Up for Alo Moves?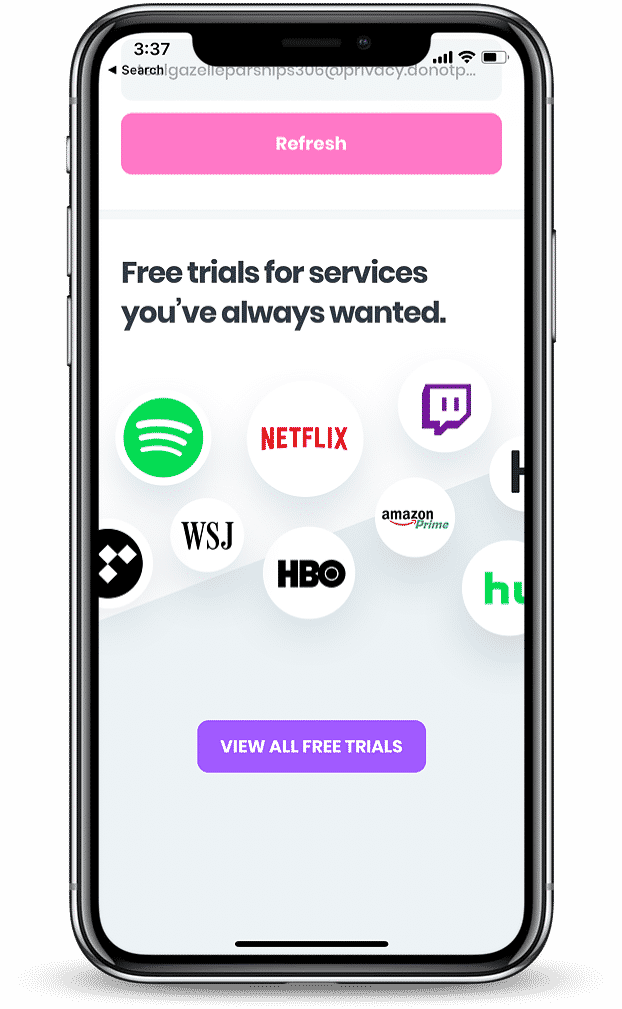 DoNotPay offers a handy virtual credit card designed to prevent unauthorized payments. With this card, you don't have to stress over remembering when to cancel your free trial. Sign up for the trials you want, enjoy them, and never worry about canceling before it ends again. The following is a step-by-step guide on how DoNotPay Free Trial Card ensures users save money and time:
DNP generates a random number and credit card info that you can use to subscribe to any service
Once the free trial period ends, the service can't charge you because there's no money on that card, so you get unsubscribed automatically.
Read this article for more info.
DoNotPay Can Help You Solve Other Problems Too

DoNotPay can help you with almost anything, including: 
Disputing traffic tickets
Fighting speeding tickets
DoNotPay Can Help Save Your Money from Unwanted Charges
Free trials can be a great way to determine the usefulness of a service or product before buying it. Unfortunately, free trials are not meant to be free. Companies offer them while hoping you forget to cancel the subscription before the expiry date. It often results in several charges on your credit card for a service you never utilized. With DoNotPay's virtual credit card, you can rest easy knowing vendors will never charge you again whenever you forget to cancel your free trial subscriptions. Contact us today to learn more.