How to Enjoy an AllTrails Free Trial Without Being Charged

Since its launch over a decade ago, AllTrails has become one of the most popular apps for hikers, mountain bikers, climbers, and other outdoor enthusiasts. With over 20 million users in over 100 countries, AllTrails features over 250,000 trail maps with images and crowdsourced reviews. If you're thinking about signing up for an AllTrails Free Trial, you may have the following questions:
"How can I secure an AllTrails Free Trial?"
"Are there any limitations to an AllTrails Free Trial?"
"How much will an AllTrails subscription cost me?"
"What are some popular alternatives to AllTrails?"
As you get closer to signing up for a free trial, you may wonder if you can secure a trial without the hassle of providing your credit card information. Read on to find the answers to these questions and discover how to secure your  today.
Does AllTrails Offer a Free Trial?
Yes. You can sign up for an  or sign up for a Free AllTrails Pro Trial for seven days. You will need to sign up for the free trial using the AllTrails app on your iPhone. AllTrails is planning to add a free trial option to their other platforms soon. Until these plans are finalized, AllTrails is offering a 30-Day money-back guarantee for paid subscriptions confirmed on their website.
Are There Any AllTrails Free Trial Limitations?
Yes. While the perks of AllTrails' Free Basic Membership Plan and their 7-Day AllTrails Pro Free Trial are generous, there are some limitations to consider. To be able to subscribe for a 7-Day Free trial, you must meet the following criteria:
You must be a first-time user of AllTrails Pro. Anyone with a lapsed subscription is not eligible.
You can only activate the trial if you have the AllTrails app downloaded on your iPhone.
The Free Trial is not set up for family sharing through Google Play or iTunes.
How Much Does an AllTrails Subscription Cost?
The cost of an AllTrails subscription depends on the plan and the subscription length you choose. Depending on your needs and budget, you can choose from one of the following three options:
AllTrails Free Basic Membership: No Charge.
AllTrails Pro Annual Plan: $2.50 per month. Members are billed $29.99 annually.
AllTrails Pro Three-Year Plan: $1.67 per month. Members are billed once for $59.99.
Do AllTrails Free Trials Automatically Renew to Paid Subscriptions After the Free Trial Ends?
Yes. If you sign up for a Free AllTrails Pro Trial, you will automatically be converted to an AllTrails annual subscription at the end of the 7-day free trial. You do have the option of canceling your subscription, but you must cancel within six days, or you will be switched to a paid annual subscription. AllTrails offers instructions to turn off the automatic renewal process within the subscription and billing section of their website.
How to Avoid Automatic Renewal of Paid Subscriptions With a DoNotPay Virtual Credit Card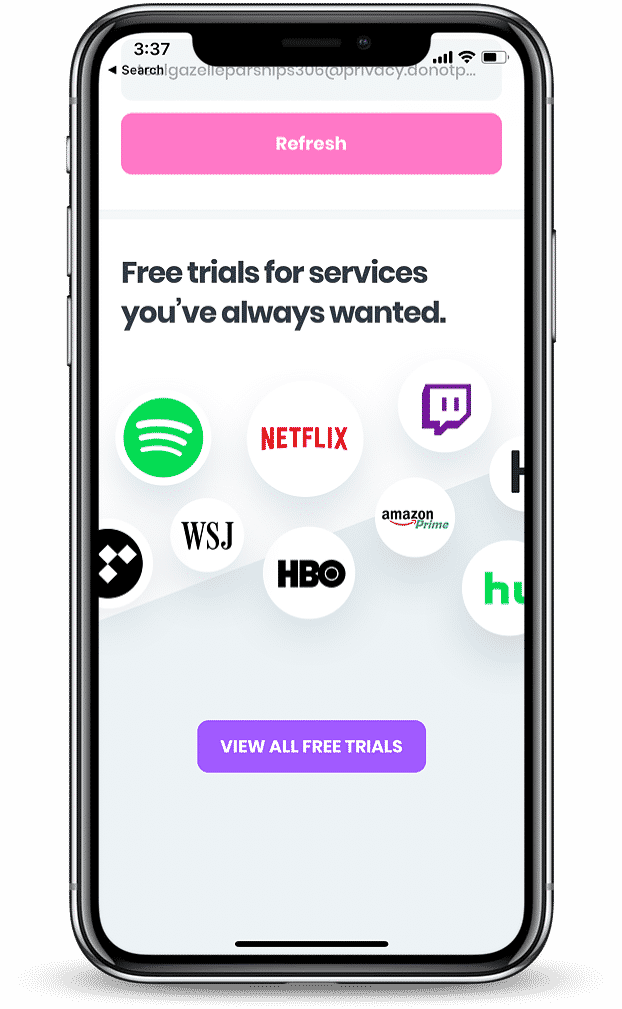 The opportunity to experience AllTrails Pro FREE for seven days is exciting. Many people love their experience so much that they are happy to subscribe to one of the paid plans above. But with most free trials, there is almost always a small percentage of people who would not move forward with a paid subscription.
If this happens with your AllTrails Free Trial and you forget to cancel or turn off the automatic renewal process, you will end up being automatically billed for a subscription you don't want. Fortunately, there is now a fast, easy way to ensure your card isn't automatically billed after your free trial. With the help of a DoNotPay virtual credit card, you can subscribe to an AllTrails free trial without providing your credit card details. The process works like this:
Locate the AllTrails Pro Free Trial button.
Obtain a free virtual credit card from DoNotPay. This card will contain randomly generated digits.
Use the free virtual credit card (rather than your credit card) to sign up for the AllTrails Free Trial.
The virtual card number will then deactivate after you finish. It prevents you from being automatically billed on the seventh day.
What Are Some Popular Alternatives to AllTrails?
While AllTrails is certainly a leading "Hike, Bike, and Run!" app, you may feel more comfortable exploring some other options before you commit to an annual or three-year plan. Fortunately, there are quite a few alternatives to AllTrails available on the market, including the following:
GAIA GPS | Outside
Gaia GPS is a user-friendly hiking app that features a stellar topographic map and an impressive amount of information about each hike. For example, you can view an elevation graph, speed graph, and even view a breadcrumb trail on the map! With Gaia, you can choose from the following three plans:

Limited Gaia GPS FREE Plan
Gaia GPS Premium Plan
Outside+ Plan. This plan also includes Gaia GPS Premium.

komoot
komoot is a popular choice for hikers and backpackers seeking great graphics and turn-by-turn voice navigation. With a quick tap, you can quickly calculate the best and most direct route to your destination. While it is easy to import GPS tracks, you will have to purchase offline maps.
Other Alternatives to AllTrails
How Else Can DoNotPay Boost Your Free Time and Savings?

Receiving a free trial without being charged is just one example of the many benefits you can enjoy through DoNotPay. Here is a shortlist of some of the many other ways DoNotPay can boost your free time and savings:
If you are looking for a quick, convenient way to increase your free time and maximize your savings, we invite you to . Signing up is a fast, easy process, and you will soon be on your way to a more stress-free life!