Get An Air Optix Colors Free Trial Without Getting Charged Using This Virtual Credit Card

Air Optix Colors is one of the most popular brands of colored contacts on the market right now. For customers interested in experimenting with different contact colors, the  could help them see if they like the product.
Does Air Optix Colors Offer Free Trials?
According to their website, the company does offer an . It includes a pair of monthly contact lenses.
However, this free trial works differently than something like a free trial to a streaming service. Because Air Optix Colors are contacts, customers may be required to get an eye appointment to claim their trial pair of contacts. If this is the case, then the cost of a "free trial" will depend on the cost of the appointment.
How Can I Get a Free Trial From Air Optix Colors?
If you are interested in getting a free trial of Air Optix Colors, consider the following steps:
Go to the Air Optix Colors free trial website. You should see a form to fill in to sign up for the trial.
State which brand of contacts you would like. Air Optix Colors, a monthly pair of contacts, should be an option.
Indicate if you have an eye appointment scheduled. It is important in determining eligibility.
Click "Continue" to see if you are eligible for a free trial. By submitting this form, you agree to be emailed by the company. There is no way to opt-out of emails until after you sign up.
At this point, you will receive further information about whether you need an eye appointment for a trial pair of Air Optix Colors lenses.
Does the Air Optix Colors Free Trial Automatically Turn Into a Paid Subscription?
Again due to the unusual nature of a free trial of contact lenses, it is difficult to say how it turns into a full subscription. With a premium website subscription, automatic renewals often occur if the trial period ends without the user canceling the subscription. In the case of Air Optix Colors, though, the free trial may come with unexpected costs due to the eye appointment and prescription.
For example, a customer may have a prescription that is higher than standard contact lenses. It may not fall under the free trial and could result in an unexpected charge.
How Can I Get Free Trial and Avoid Getting Charged on My Own? 
It is easier to forget to cancel your free trial and end up paying for a subscription service you don't enjoy. Here are a few ways you can cancel a free trial and avoid getting charged:
Cancel payment once you sign up for the free trial.
If you cancel a free trial after signing up, you will still use it for the entire trial period without getting charged. It is one of the best and easiest ways to ensure you don't get billed.

However, remember that not all free trials operate in the same manner. Some services will stop your trial immediately you unsubscribe, e.g., Hulu and Apple Music.

Set a reminder a few days before your trial period ends.
Don't wait until your free trial ends to cancel your subscription. That's because you may take forever to find instructions on how to unsubscribe, and this could push you past your deadline.

Another reason why you shouldn't wait till the last minute is that most services will still charge you if you cancel less than 24 hrs before your free trial period ends.

Go virtual.
If you signed up with a free virtual credit card and forgot to cancel your subscription before your trial period ended, you can never get charged.

DoNotPay's Virtual Credit Card works by generating temporary credit cards that expire when you please. Some advantages of virtual credit cards include:

Reducing costs
Increasing security
Managing cash flow better
More convenient than physical credit cards
Protecting you from fraudulent activities
Helping you manage subscriptions

Speak with Customer Support.
Do not disregard how powerful personal appeal can be. If you thought you canceled your subscription before your free trial ended or your request was unsuccessful, you can contact Customer Support to help you out. Just ensure you remain humble and courteous in your request.
DoNotPay Can Help Avoid an Automatic Renewal With a Virtual Credit Card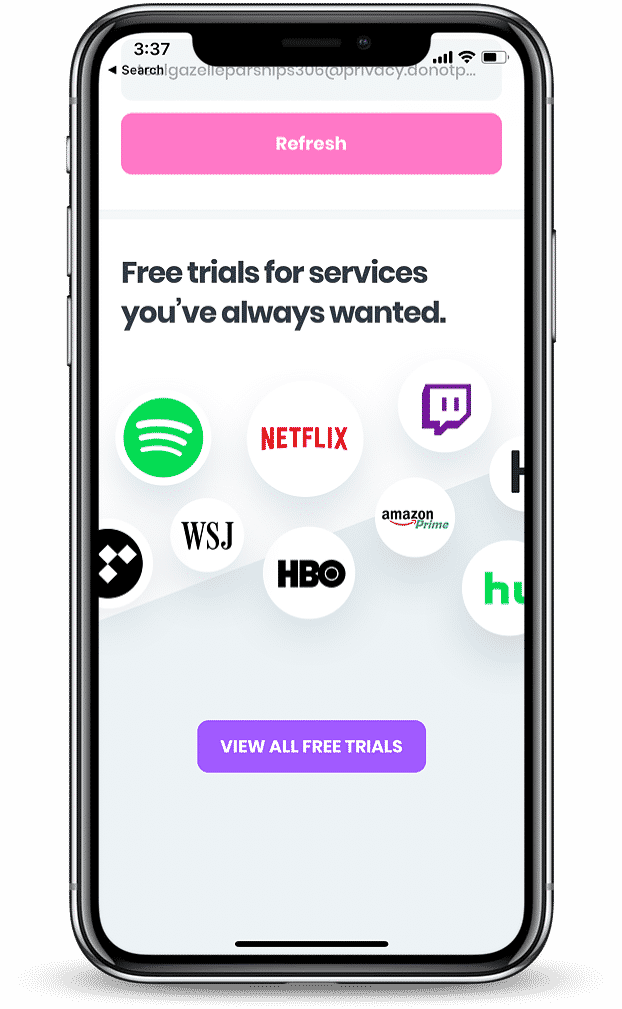 If you are on the fence about signing up for an , consider signing up for a virtual credit card from DoNotPay. Virtual credit cards are not connected to your banking information and are randomly generated. It means that you can use them when signing up for a free trial, and if it has automatic renewal, you won't be charged.
By using a virtual credit card, you will get past the most common trick that companies use with their free trials. Customers will sign up for a free trial, and their credit card information is part of the sign-up process. Once the trial period ends, the credit card is automatically charged. With a virtual credit card from DoNotPay, you can avoid this charge even if you forget to unsubscribe from the trial.
How Much Does an Air Optix Colors Plan Normally Cost?
Once again, the cost of Air Optix Colors is a bit difficult to determine because of the variations that come with different prescriptions and other factors. However, 1-800 Contacts, one of the leading sellers of contact lenses, has a pair of Air Optix Colors priced at $30.09. This price is for standard colored lenses, but lenses for far- or near-sightedness may not cost the same.
What Will Air Optix Colors Charges Look Like on a Statement?
If you have signed up for a free trial of Air Optix Colors and are worried about being charged afterward, it is important to monitor your bank or credit card statements. From these statements, you will be able to see if you have received any surprise charges from Air Optix Colors. The following names may appear in a statement if you are charged for Air Optix Colors:
Alcon
Air Optix Colors
Popular Alternatives to Air Optix Colors
If you are uncertain about trying Air Optix Colors, there are other major colored contacts brands on the market. It is important to note that trials of other contact lenses will likely involve the same requirements of potential eye appointments. The following are other major brands of colored contacts:
Expressions Colors
Freshlook Colorblends
Solotica Color Lenses
What Else Can DoNotPay Do?

After you have used a virtual credit card from DoNotPay to avoid charges from a free trial, there is still a lot that DoNotPay can do for you. Some services offered by DoNotPay include:
These are just a few things that DoNotPay can do. Sign up today to see how the world's first robot lawyer can help you with whatever tasks you have.