Yes, You Can Enjoy an Adult Swim Free Trial Without a Credit Card

Adult Swim is a late-night adult cartoon-based channel that is a part of the Cartoon Network. Adult Swim airs from 8 p.m. to 6 a.m., and then Cartoon Network for kids airs during the day. For adults who want more of their favorite shows,  are available.
However, it isn't always easy to access. DoNotPay can show you how to easily enjoy a free trial of Adult Swim television. You simply must be willing to think outside the box.
Is There Really an Adult Swim Free Trial?
Often,  is only accessible through cable television or paid streaming services. The good news for you is that watching free content can be as easy as downloading an app on your favorite device or visiting Adult Swim on your web browser.
If you have an Android or iPhone, your app store will have Adult Swim. You can watch your favorite episodes and shows easily through it if you do not mind ads, which will be a part of the "free to use" trial.
How to Start Watching Adult Swim's Free Trial?
To start watching for free, you only have to download the app and accept the "terms of service" agreement. You can then scroll and watch the large variety of shows that are available to you.
The downside is that if you want to watch a live stream or the newest episodes on the air, you will need to log in using your cable television or streaming provider.
Will Adult Swim Become a Subscription I Must Pay to Watch?
The app will not charge you to watch what it has available to you. However, there is a chance that eventually, you will run out of episodes of your favorite show unless you log in.
To avoid this, you may want to sign up for a free trial of popular services if you are not already a member. This can be done through:
Hulu Live TV
Sling TV
DirecTV Stream
YouTube TV
If you want to give live-streaming of Adult Swim a try, then DoNotPay can help without the risk of you ending up with a subscription service that you do not want.
With DoNotPay, You Can Enjoy a True Adult Swim Free Trial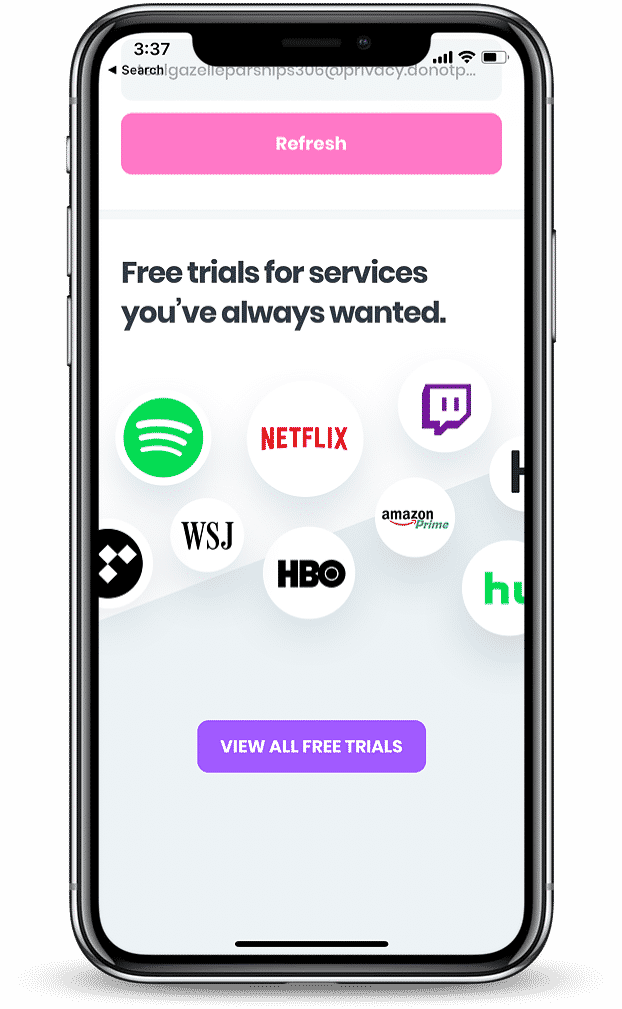 Virtually all streaming services with access to Adult Swim come with a free trial period. Therefore, if you get bored with the available shows on the app or website, DoNotPay can help you take advantage of those live streams. We do it without any risk to you, so you can avoid getting roped into a streaming service you do not enjoy by providing you with a virtual credit card.
The way it works is simple. Just four easy steps to get started.
Choose the Streaming Service You Want to Try
There are many streaming services you may try. All will be risk-free with our help.
Visit DoNotPay and Find Our Free Virtual Credit Card Product
Complete the request for your new, temporary credit card in just a few easy steps.
Complete the Sign-Up for Your Streaming Option Using Our Virtual Credit Card
Pick your service. There is no risk, so you can choose anything that sounds worth trying!
Enjoy Your Free Trial and All the Live Streaming of Adult Swim You Want
You will never be charged for enjoying your service to the max. As a bonus, you never have to remember to cancel before the charge hits your private bank or credit card account!
At the end of the free trial period, when the streaming service tries to charge you for the full subscription price, they will not succeed. The virtual credit card will expire moments after you get these three:
Number
Expiration
CVC code
It will never link back to you or your bank account.
To keep using the streaming service, if you choose to, you will need to go in and add a valid credit or debit card.
If you still aren't sure that you want the streaming service to have access to your bank account, you can also add another of our free virtual credit cards.
When you sign up for our virtual credit card service, you will need to provide access for us to pull payment if it is necessary for you to continue with your subscription service.
How Much Will Adult Swim Cost After the Trial?
Adult Swim should never "charge" you for their free video library on the app or the website. Where you may run into cost is if you choose to stream the content live. This cost will vary based on the streaming service you choose.
| | |
| --- | --- |
| Streaming Service | Price |
| Sling TV | $35.00 to $50.00 per month |
| DirecTV Stream | $69.00 to $149.00 per month |
| Hulu Live TV | $69.99 to $75.99 per month |
| YouTube TV | $54.99 (first 3 months) $64.99 per month after |
Each of these services may provide other benefits or features that you may enjoy, so you are encouraged to check them all out before making your final decision.
DoNotPay Protects Privacy and More

DoNotPay can do more than provide you with a safe way to stream live television to get a full Adult Swim free trial using a virtual credit card. In fact, we can help anyone with almost anything.
We can help you:
Our list of services goes on and on. DoNotPay, as the first lawyer of its kind, can even help you protect your family. To view a full list of all that we can do or to take advantage of one of the services listed above, you simply need to visit DoNotPay.