Sign Up For Adobe Captivate Free Trial Using a Virtual Credit Card

If you're in the eLearning sector and want to introduce or expand an interactive learning experience, you may be considering purchasing Adobe Captivate. Adobe Captivate is designed specifically with online teachers, instructors, and trainers in mind. However, it's not just for remote teaching/training. It works just as well for those who teach, instruct, or train in real-world environments.
With so many choices on the market, nonetheless, it's a good idea to try out various software first. The majority of authoring software offers free limited-time trials that last anywhere from seven to 14 days. Of course, there are a few great open-source authoring software out there as well. The good news is that with DoNotPay you can try the  at no risk of using a free virtual credit card.
What You Should Know About Adobe Captivate
 is great authoring software for people who need to create eLearning content. It's specifically designed for creating branched scenarios, software simulations, software demonstrations, as well as randomized quizzes in HTML5 and Small Web Format (Shockwave Flash) formats.
You can either stream the content live or convert Captivate-generated .swf file format (an Adobe Flash file format that comprises videos and vector-based animations) to .mp4. The .mp4 files can then be played with a media player and cast to a larger monitor for in-person classes or uploaded to video hosting websites like YouTube. In addition to that, Adobe Captivate can convert Microsoft PowerPoint presentations to either .sft files or HTML5.
What Is Authoring Software?
Authoring software with pre-programmed elements for developing interactive multimedia software. It allows users to produce multimedia programs for manipulating multimedia objects. Authoring software such as Adobe Captivate allows users with no programming experience to develop educational software with programming features. These programming features are hidden behind buttons and other devices, so the author doesn't need programming experience.
Users of this type of system are usually designers or technologists who either teach, train or instruct others. Thus, authoring software provides instructors and learners with a multitude of graphics, plenty of interaction, among other tools. The primary elements you should look out for in authoring software include the following:
Administration features
Content organization
Control of content delivery
Templates and themes
A host of interactive features
Asset, media, and content organization
Plenty of collaborative options
Accessibility features
Publishing requirements that meet your needs
Assessment features
Support and training features
Authoring software typically comprises an authoring and programming language with written or expanded functionality that represents the tutoring system. The functionality offered by Adobe Captivate's authoring language expands into both programming (for programmers) and domain illustration functionality (for subject experts).
This is also somewhat of an overlap between Adobe's authoring languages. This overlapping occurs with the domain-specific and domain representation languages.
What Does the Captivate Free Trial Entail?
According to the Adobe website, Captivate costs $33.99 per month. The terms and conditions stipulate that "Annual commitment and monthly payments required; early termination will attract a cancellation fee." Additionally, Adobe's cancellation policy stipulates that if the trial is canceled before the 14-day window, Adobe will issue you a full refund.
If you fail to cancel within 14 days of starting the trial, Adobe will bill you for 50% of the remaining contract obligation. The page also states that if you ever wish to cancel, you should contact its customer support.
Customer Complaints Concerning Adobe
Over the years, customers have complained that Adobe's customer service has been less than helpful when it came to assisting them with getting refunds, particularly when their trial ended. One prior customer wrote to the Adobe Support Community that they had forgotten to cancel an Adobe Stock trial subscription.
When they tried to cancel it after five months of being charged, Adobe customer service refused to cancel. Not only that, but they refused to refund any portion of the money despite the customer never using the service. The customer went on to explain that they felt "ignored" and were only provided "scripted answers." Rather than trying to help them, the customer service agent "...pushed more and more 'special offers.'"
How Much Does Adobe Captivate Cost After the Trial?
The price of $33.99 is the price found on Adobe's online direct store in the United States. Prices from resellers are likely to vary, meaning that purchasing it directly from Adobe is most likely the best choice. Adobe doesn't provide a price for Captivate Prime but rather asks that you contact its customer service department for more details.
What Are the Most Popular Alternatives to Adobe Captivate?
Some of the top competitors for Adobe Captivate include the following:
Product
Cost
iSpring Solutions

iSpring Suite
iSpring Suite Max

$770.00 per author/year
$970.00 per author/year

Click 4 Course

$94 per month for 100 active users
$199 per month for 500 active users
$299 per month for 1,000 active users
$999 per month for 5,000 active users

Articulate 360

(from Articulate Global)

Free Version
Paid Version - $999 annually

Microsoft-based ToolBook

(from SumTotal Systems)

Starts at $2795.00 for a single user license but doesn't specify whether that's a one-time payment or annually.
Open eLMS Creator

(from eLearning WMB)

Free Version
Paid Version - $92.51 per month per individual user
Avoid Automatic Renewal With DoNotPay Virtual Credit Card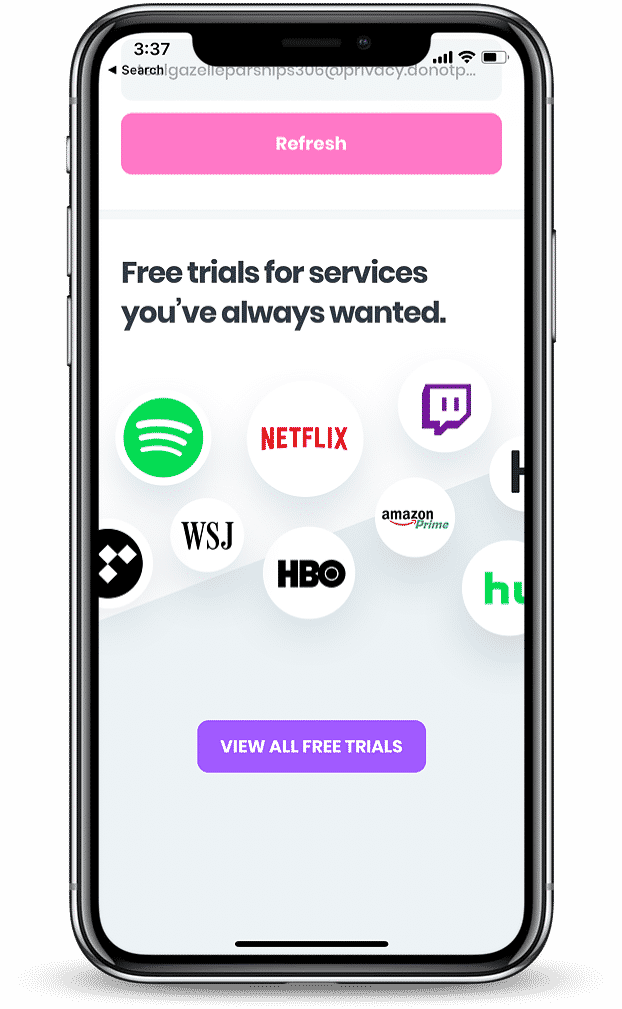 With DoNotPay's virtual credit card, you don't have to worry about marking that subscription cancellation on your calendar. Here is how you get started:
Search Free Trial Card on DoNotPay and enter the company you want a free trial for.
We'll automatically generate a virtual credit card that you can use for that merchant. Copy the card details shown on your screen.
Use the card to sign up for your free trial and sit back to relax and enjoy!
Note that the card will be deactivated and not usable after it's been used once.
What Else Can DoNotPay Do?

Whether you paid for a product or service that you're not happy with, or you simply want to try something without giving your real credit or debit card number, we offer a solution. You might be interested in these additional DoNotPay products:
If you have any questions about scanning terms of service or have a concern, please  today!