Get Your Action Alerts PLUS Free Trial Without a Credit Card

If you've been considering signing up for an  from The Street but are wondering if the risk of forgetting to cancel outweighs the benefits of using the service for free, you're not alone. Free trials are favored by companies precisely because they have a high conversion rate. Many people who sign up for them do not cancel when the free trial expires.
It is great if you sign up for a free trial and then continue using the service because you find it helpful and worth the cost. If you're concerned that you'll forget to cancel (or that the company itself will make the process opaque to keep you on the hook), never fear. DoNotPay has a product designed just for you.
Our Get Free Trials and Don't Get Charged feature does that. It allows you to sign up for free trials risk-free.
The Action Alerts PLUS Offer a Free Trial and How to Get It
Trying an  before signing up as a long-term customer allows you to see if the service is right for you.
Action Alert PLUS Free Trial
The good news is that Action Alert PLUS has a 14-day free trial. While you're experiencing the free trial, you will have access to:
Real-time investment alerts from Jim Cramer
Access to Jim Cramer's investment portfolio
Stock market indexes
Access to an investor forum
During the two weeks, you can dive right in and take advantage of all these benefits.
All of this is very helpful, especially if you are starting in the stock market. It's easy to get lost in the details, and having someone to act as a guide can keep you from making unwise investments.
Of course, it's still important to do your due diligence:
Scam artists read the headlines, too. Often, they'll use a highly publicized news item to lure potential investors and make their "opportunity" sound more legitimate. The SEC recommends that you ask questions and check out the answers with an unbiased source before you invest. Always take your time and talk to trusted friends and family members before investing.
How to Get Your Action Alerts PLUS Free Trial
Signing up for your Action Alerts PLUS free trial is as simple as visiting The Street's website.
Click Action Alerts PLUS at the top of the page.
Follow the three-step instructions at the top of the page (giving your email, name, and contact information).
Enter your credit card information (to be stored in case you forget to cancel the service at the end of your free trial.
Alternately, you can sign up for a free trial by calling 1-800-708-8569, Monday - Friday, 8 a.m. - 6 p.m. ET. (Or 1-212-321-5200 if you are calling internationally).
Will the Action Alerts PLUS Free Trial Automatically Renew Into a Paid Subscription?
Yes. If you do not cancel your Action Alerts PLUS' free 14-day trial, it will automatically renew into a paid subscription. The catch? You must call Action Alerts PLUS to cancel. That's right, an actual phone call.
If you do not cancel your trial, your card will be charged $59.95 per month until you cancel. That is unless you have a plan in place to avoid getting charged for "free trials" by using our stellar product designed to do exactly that.
How Can I Get Free Trial and Avoid Getting Charged on My Own?
It is easier to forget to cancel your free trial and end up paying for a subscription service you don't enjoy. Here are a few ways you can cancel a free trial and avoid getting charged:
Cancel payment once you sign up for the free trial.
If you cancel a free trial after signing up, you will still use it for the entire trial period without getting charged. It is one of the best and easiest ways to ensure you don't get billed.

However, remember that not all free trials operate in the same manner. Some services will stop your trial immediately you unsubscribe, e.g., Hulu and Apple Music.

Set a reminder a few days before your trial period ends.
Don't wait until your free trial ends to cancel your subscription. That's because you may take forever to find instructions on how to unsubscribe, and this could push you past your deadline.

Another reason why you shouldn't wait till the last minute is that most services will still charge you if you cancel less than 24 hrs before your free trial period ends.

Go virtual.
If you signed up with a free virtual credit card and forgot to cancel your subscription before your trial period ended, you can never get charged.

DoNotPay's Virtual Credit Card works by generating temporary credit cards that expire when you please. Some advantages of virtual credit cards include:

Reducing costs
Increasing security
Managing cash flow better
More convenient than physical credit cards
Protecting you from fraudulent activities
Helping you manage subscriptions

Speak with Customer Support.
Do not disregard how powerful personal appeal can be. If you thought you canceled your subscription before your free trial ended or your request was unsuccessful, you can contact Customer Support to help you out. Just ensure you remain humble and courteous in your request.
Avoid Automatic Renewals With DoNotPay Virtual Credit Card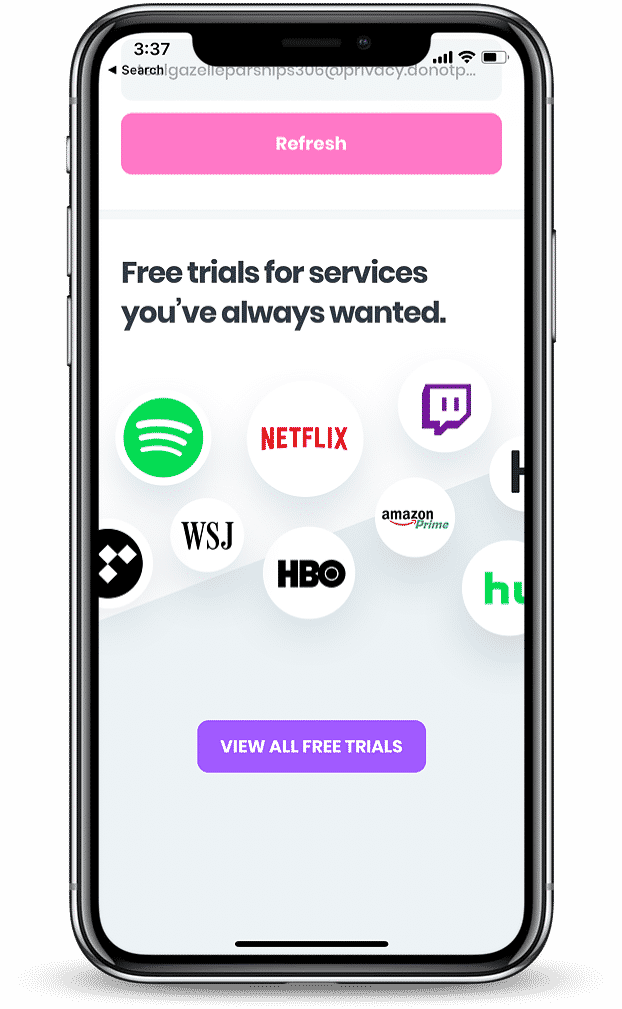 If you are ready to  without the risk of incurring charges, this is where you learn exactly how it's done. In a few simple clicks, we can set you up with a free virtual credit card number that is not connected to your current accounts.
Log into DoNotPay and search for our Virtual Credit Card feature.
Following the prompts, enter the required information.
In just a few seconds, DoNotPay will generate a random number and credit card info that you can use to subscribe to any service.
Because it's not linked to your accounts, you are risking nothing.
The process could not be simpler.
DoNotPay Has What You Need to Maximize Your Life

Helping you sign up for free trials without risk is only one of the many services that we offer.
Our products can help you:
We can also help with contesting parking tickets and getting rid of spam text messages. Come learn more about all our easy-to-use products.