How to Get ABC Free Trial Without a Credit Card

ABC is one of the most popular channels on network TV, with hundreds of great programs from all genres. Even if you don't have cable, you can get an  through several streaming providers.
However, many people forget to cancel their free trials, and the company often won't notify you in advance! Stay on top of your credit card information with a DoNotPay free virtual credit card.
Does ABC TV Offer a Free Trial?
If you have a cable subscription, the ABC app is already free to download and use. All you have to do is:
1. Search for 'ABC' on your streaming device's app store.
2. Start downloading the app and open it once finished.
3. Sign in using your cable provider and your login information for that service.
You can also watch live TV from your computer, though many providers require you to be connected to your home Wi-Fi. Simply go to your TV provider's website and select the 'Stream' option to pull up a channel guide.
Without cable, you can only get access to certain episodes and clips through the app. The ABC TV app is available for:
Android TV
Apple TV
Samsung Tizen
Google Chromecast
Roku
Amazon Fire TV
As for ABC itself, there's no option to get a free trial for the standalone channel. You can still access it through the following streaming services:
DIRECTV Stream
Formerly known as AT&T TV Stream, this service offers four different packages with popular live TV channels. You can try DIRECTV Stream free for 14 days before your card will be charged.
Hulu Live TV
You can watch ABC live through Hulu Live TV free for seven days before you receive a charge. Hulu Live TV also includes the entire Hulu streaming library and 50 standard hours of DVR storage.
fuboTV
This service typically has a seven-day free trial, but it's often extended to two weeks around the holidays. You can use fuboTV to stream ABC along with over one hundred other channels, plus enjoy 250 hours of DVR storage.
YouTube TV
New YouTube TV subscribers can watch ABC, along with several other cable channels, free for seven days. Unlimited DVR storage is also included, as well as access to YouTube TV's on-demand library.
No More Automatic Renewals Thanks to DoNotPay's Virtual Credit Card!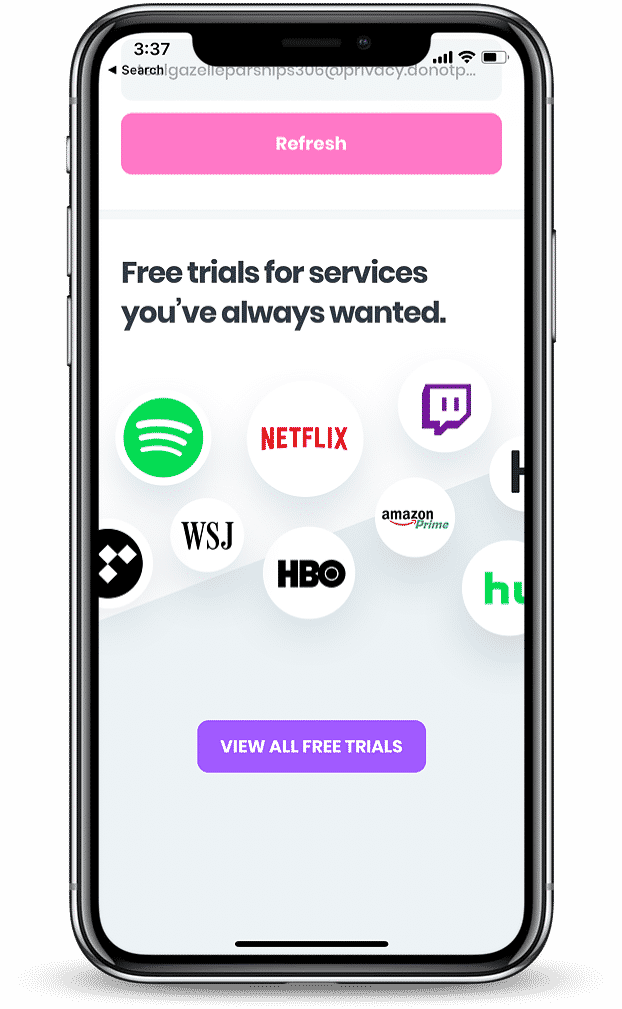 Many people get so caught up enjoying a subscription that they forget to cancel it once it ends. Pretty much every cable or streaming service requires you to hand over your credit card information before the trial starts.
The terms and conditions of these trials are also likely to change at any time! The trial could end early, or the price of the service itself could increase.
In the case of ABC, you may end up paying the full price of a streaming service just for one channel! If this happens, there are a few things you can try to get the charge reversed:
1. Initiate a chargeback on your credit or debit card.
2. Reach out to the provider directly, explain the situation, and request a refund.
3. Get a partial refund by asking the streaming service for a prorated charge.
However, in all these situations, there's no guarantee that you'll get your money back. It's best to avoid the trouble in the first place by using a virtual credit card, courtesy of DoNotPay!
Each virtual credit card is unique, using a randomly generated string of numbers and cardholder information. This card only works once as it processes the free trial's activation price of $0. 
It automatically expires after that, so there is virtually zero chance of unwanted charges. You also can't use this card to make purchases, so that's another potential mistake you won't have to worry about!
Best of all, you don't need to provide any personal details or credit card information to use DoNotPay's virtual credit card. Simply search for the free trial you'd like to use, copy the number, and enjoy!
How Much Does ABC Live TV Cost After the Trial Period?
Since you can't get an  by itself, you'll be paying for the streaming service after the trial ends. The cost for each one is:
| | |
| --- | --- |
| Service: | Price: |
| DIRECTV Stream | Varies monthly by package; $69.99 for Entertainment, $84.99 for Choice, $94.99 for Ultimate, $139.99 for Premier |
| Hulu Live TV | $69.99 per month |
| fuboTV | $64.99 per month |
| YouTube TV | $64.99 per month |
| ABC Go app | Free with your cable subscription |
What Else Can DoNotPay Do For You?

Our services aren't just limited to virtual credit cards! Here are just a few of our other great products: