Willacy County State Jail: The Information You Need to Connect With a Loved One
The is a privately owned jail in the city of Raymondville, Texas (located in Willacy County). The maximum capacity for this jail is 1,069 inmates, though the actual population that is present there on any given day moves up and down based on the number of arrests and convictions as well as releases during any part of the year.
This is an all-male unit and is considered a medium-security unit.
The offenders who are held here have committed crimes that are deemed to be serious enough that they require more security than the minimum security prisons.
They are not considered to be so hardened that they require the intense scrutiny of a maximum-security prison.
If you wish to connect with someone spending time in Willacy County State Jail, you are going to want to utilize the helping hand of DoNotPay to get you the instructions you require to get in touch with the people you are trying to reach out to.
Basic Information About This Jail
Before you can reach anyone in the jail, you need some basic information about where the jail is and how you can contact people who are housed there. Here is some of the information you don't want to miss:
| | |
| --- | --- |
| Physical Address | 1695 South Buffalo Drive Raymondville, TX 78580 |
| Phone | (956)-689-4900 |
Inmate Mailing Address:
Inmate Name, TDCJ ID Number ​Willacy County State Jail 1695 South Buffalo Drive Raymondville, TX 78580
That last point is particularly important as it is the only way that you will be able to reach out to someone who is behind bars in this facility. You won't hear from your loved one at all if you don't include their name and their TDCJ ID number when addressing the letter. This lets prison guards know which inmate you are specifically trying to reach, as some may have the same or similar names. You need to be crystal-clear in your instructions as to whom you are trying to speak with.
How to Send Money to an Inmate
Sending money to an inmate is obviously a very sensitive matter. In fact, sending anything at all to an inmate can cause a stir if it is not done properly. This is why you need to follow the procedures to a tee if you want that money to get to your loved one without any hangups or problems.
These are the methods that you can use to make it happen.
By walk-in
Over the Internet
By mail
Over the phone
No matter which method you select, there will be prison security monitoring the activity to make sure you are following the procedures as laid out by Texas law. You should keep the amount that you send relatively small as inmates don't have many uses for money behind bars and because you don't want to draw attention or scrutiny from guards and others about how much you are sending and why. You should only be supplying someone in jail with enough funds to buy some basic products that they can buy while in there.
How to Use DoNotPay to Locate an Inmate
In order to have contact with an inmate, you first need to locate where they are in the system. This means looking them up through the long list of options that are available. It would take you a very long time as an individual to track down a particular inmate in the system, and it is important to note that they have moved around a lot. Thus, you might want to lean on the helping hand of DoNotPay to get it done for you instead. Follow these steps to get the help you require:
1. Locate the Connect With an Inmate service on DoNotPay.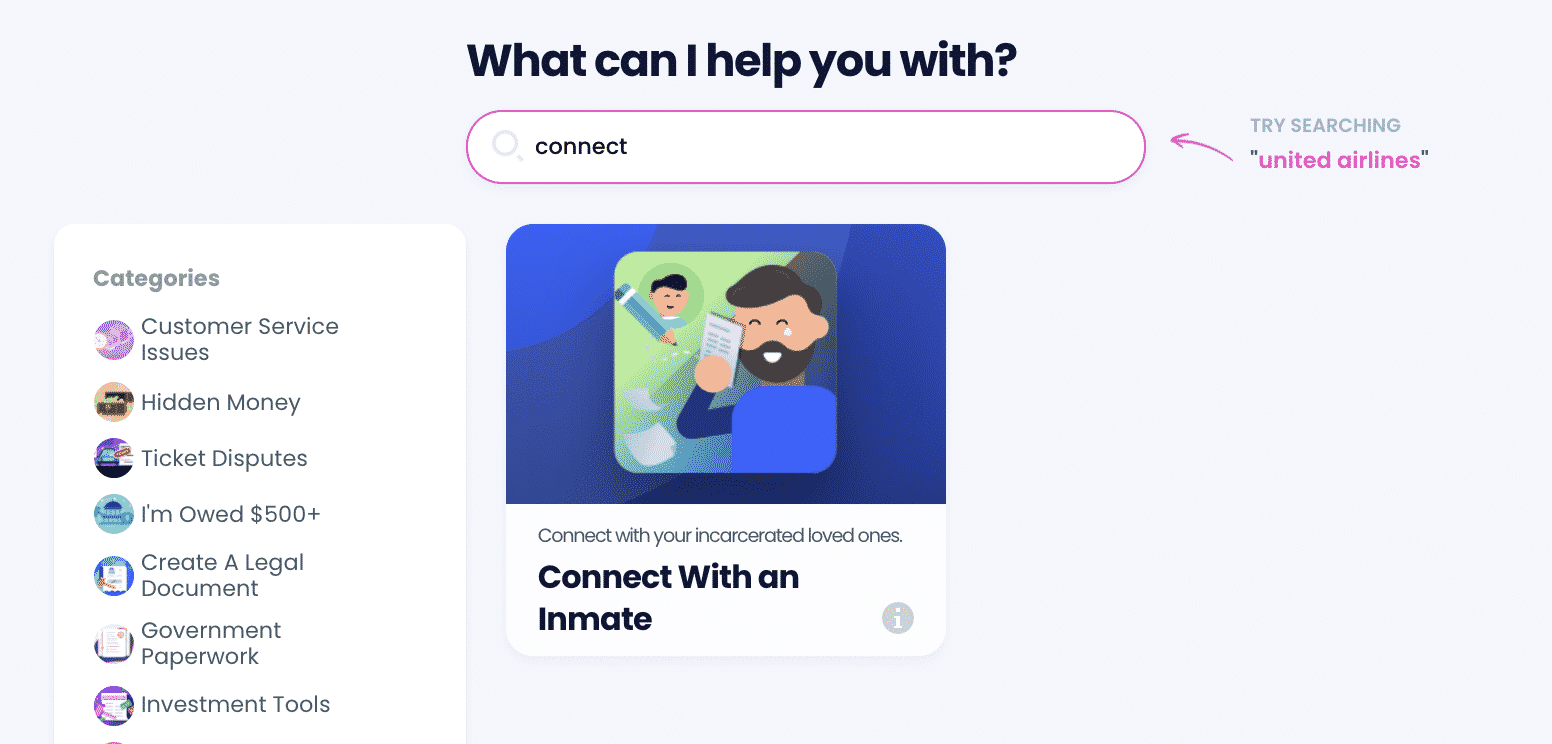 2. Choose whether you want to locate a loved one, create a virtual mailbox, or send a personalized letter.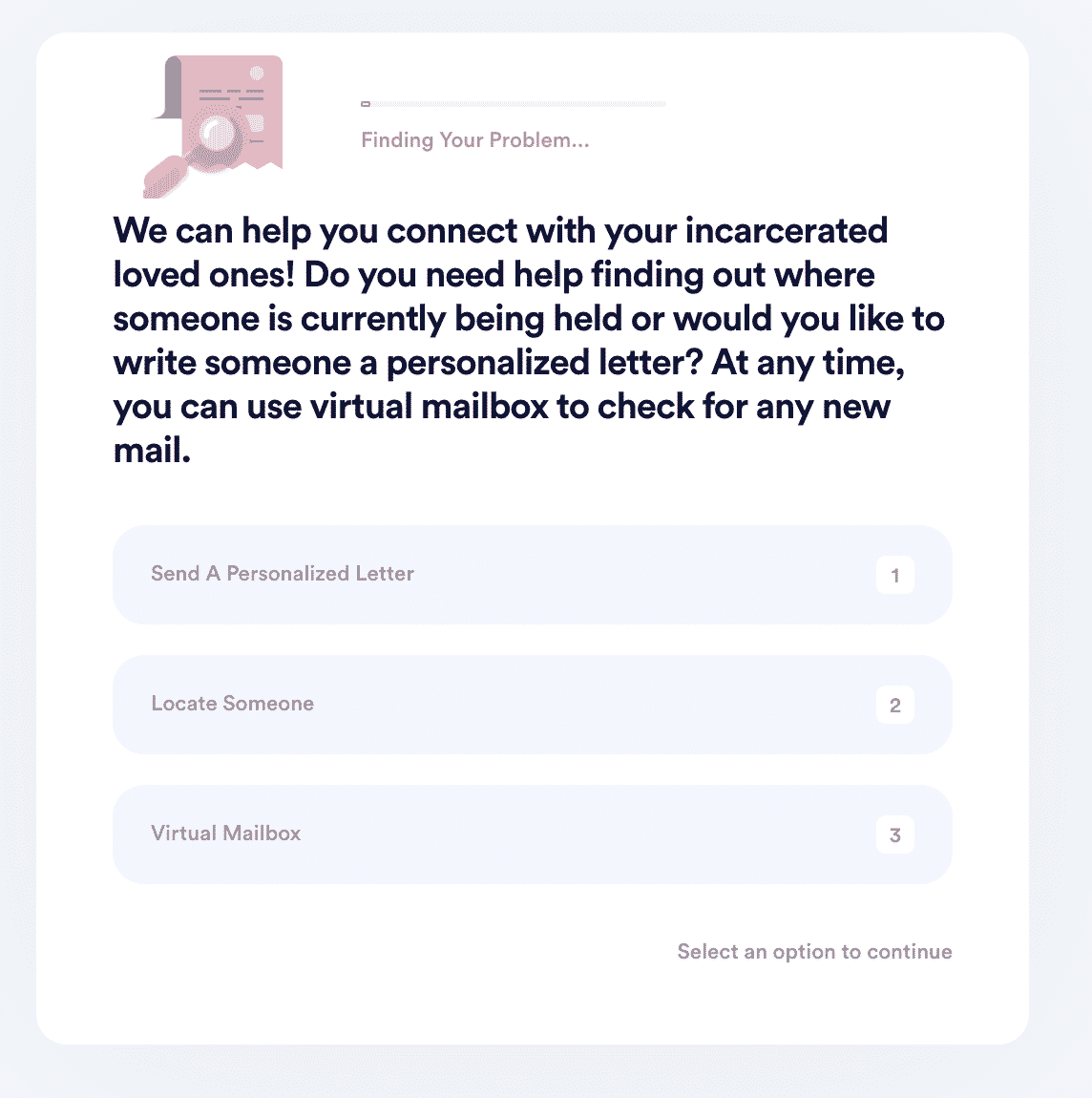 3. If you want us to find your loved one, provide his or her personal details and the state they are located in. We'll then conduct a search on the appropriate state database.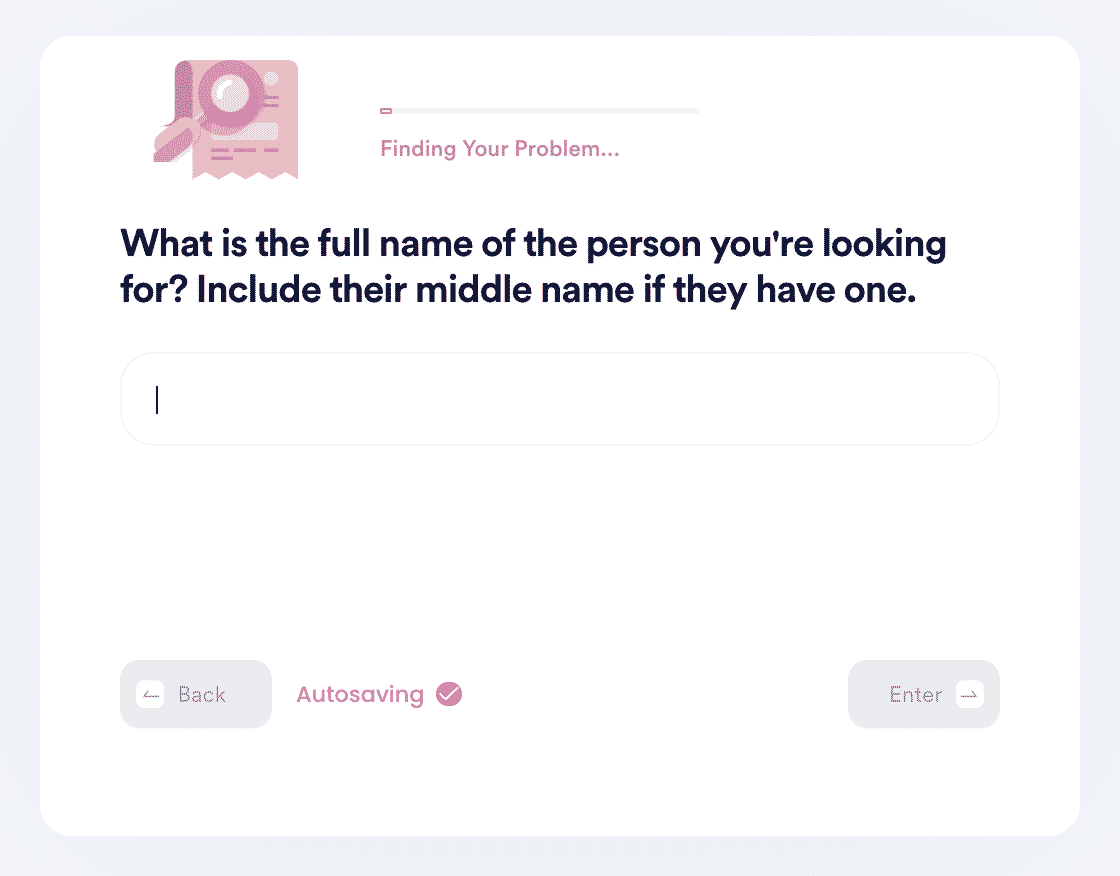 4. If you want to create a virtual mailbox, just provide your full name! We'll set one up for you so you can easily receive incoming mail from your loved one.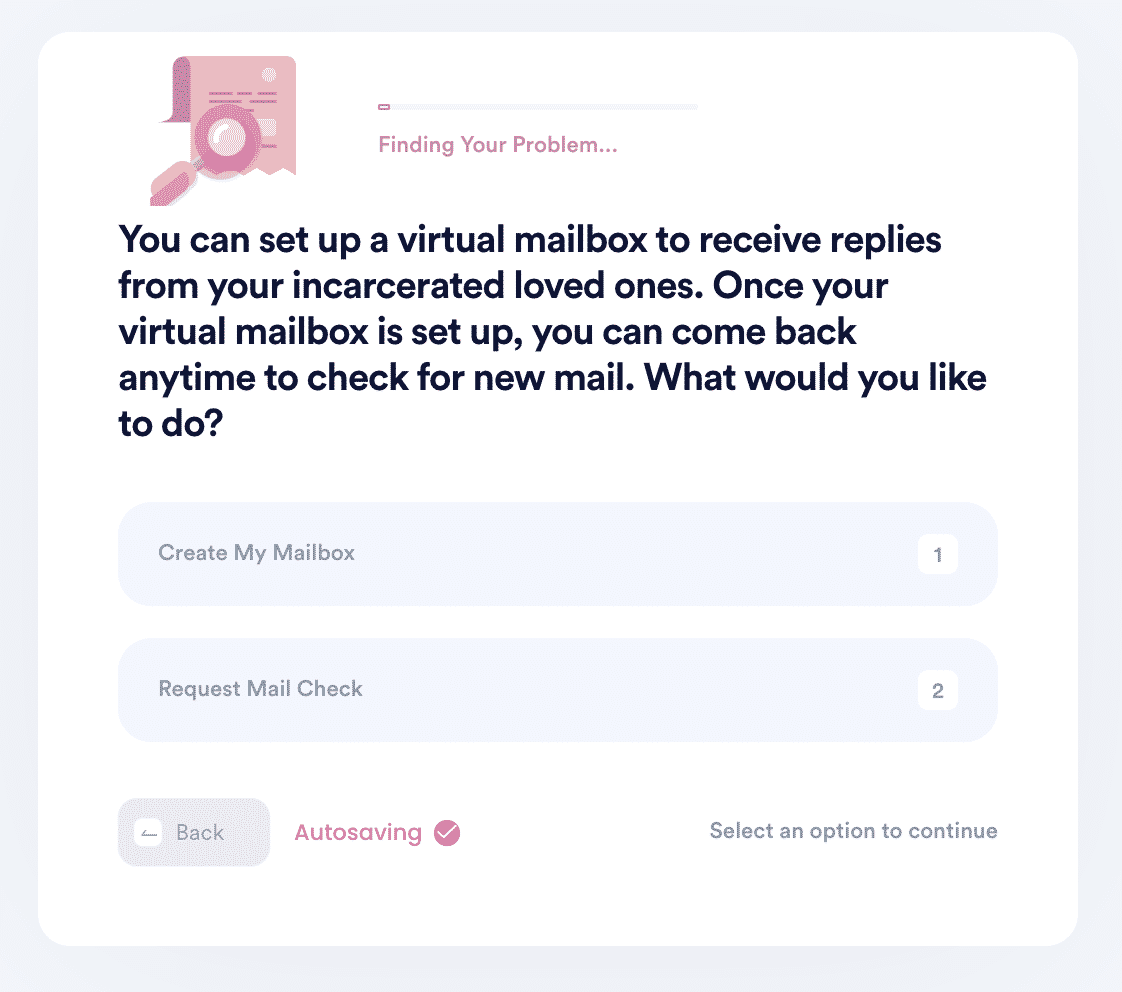 5. If sending a personalized letter, tell us which facility your loved one is located in and what you would like to say to them. You can even include a photo! Your letter will be delivered automatically - just wait 10 days for it to arrive to your loved one!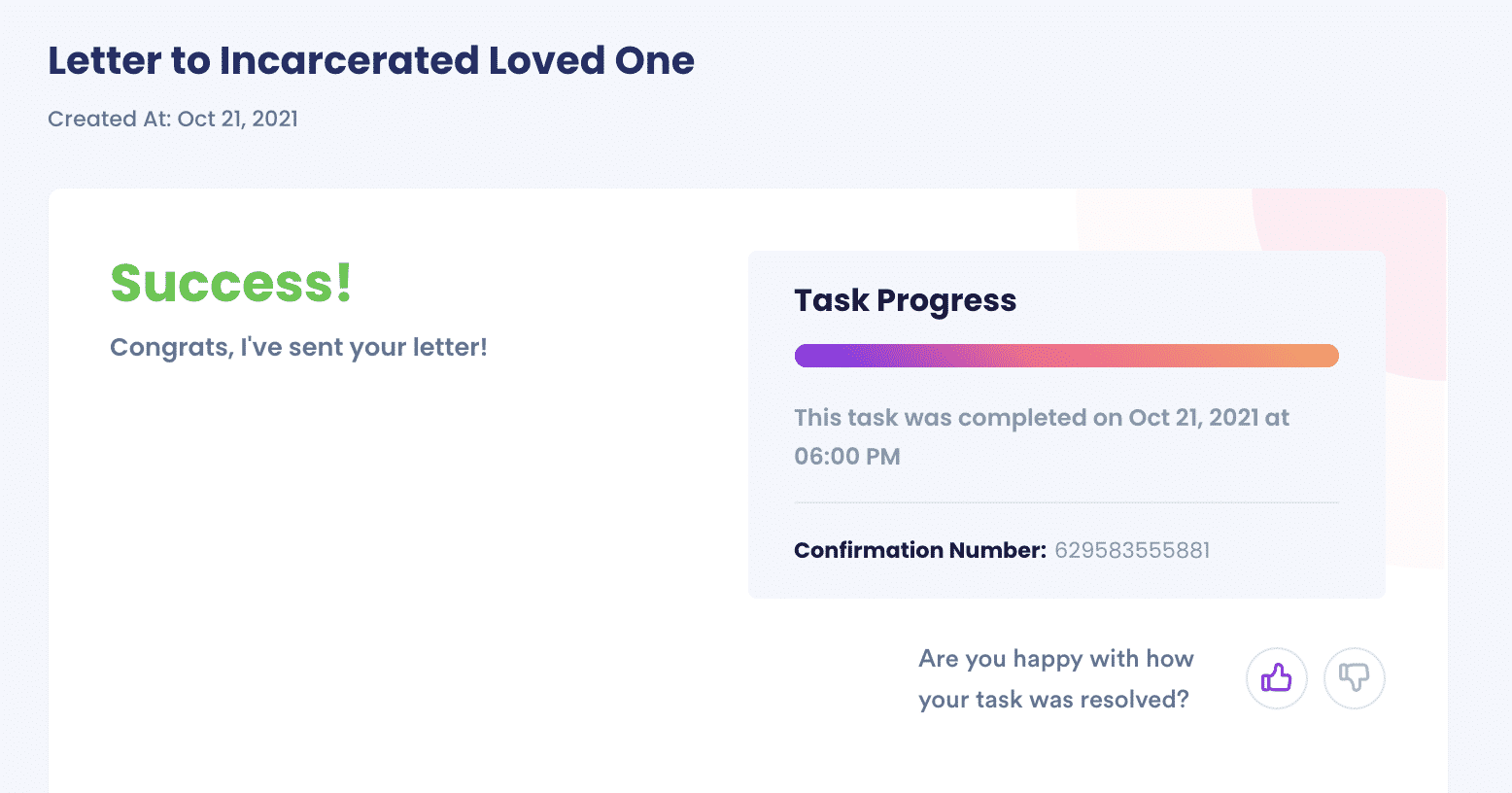 DoNotPay Helps Keep Inmates Connected to Their Loved Ones
Of all of the important work that DoNotPay does, helping people locate inmates so they can reach out to them is probably some of the most important work. This is because getting inmates to connect with their loved ones helps with:
Keeping them firmly connected to reality
Helping them remember that there is a world outside of those bars
Helping them want to get out so they can rejoin their family and restart their life
It is tremendous that people want to reach out to those behind bars, and we are all so lucky that DoNotPay can help make it happen. Our services can help you: