Washington State Senators Contact Information and More
If you live in the state of Washington, contacting your senators is a great way to access important government services and to involve yourself in local politics. Whether you require help with federal agencies, purchasing a flag, or even applying to a Service Academy, the senator of Washington can assist you.
Keep on reading to find out the easiest way to contact your representatives, and how can help you reach out to the senator of Washington State faster than ever.
Who is the Senator of Washington State?
Every state has two senators, one senior and one junior. This is measured by the amount of time that they have been in office, the senator with the longest time will be the senior of the two.
The senior senator has more power within certain boards and committees, simply by virtue of having been in charge of them for longer. But aside from this, they can share many of the same duties within the state.
The Senior Senator of Washington State is: Senator Patty Murray
The Junior Senator of Washington State is: Maria Cantwell
Both senators are members of the democratic party, and for the purposes of contact information, we will be giving you the contact information for the Senior Senator, Patty Murray.
Reaching the Senior Senator of Washington: Patty Murray
What Services Can Senator Patty Murray Assist You With?
As part of her constitutional responsibilities the senator can help you with any of the following services:
Obtaining help with a federal agency
Booking a tour to the nation's capital, including visits to the White House, Supreme Court, and Capitol Hill.
Purchasing an American flag
Applying to the Senate Page Program
Military Service Academy nominations
Applying for a grant and finding out your eligibility.
Applying for an internship within the senator's office (positions are available for both university and high school students).
Why It Can be Relatively Difficult to Contact Senator Patty Murray on Your Own
Although making a phone call might seem like an easy way to contact the senator, you have to consider that the phone lines at Senator Murray's office are often very busy and can be hard to reach.
Not only this, but explaining the extent of your concerns during a single phone call can be frustrating, and there is no way to know whether your message will be communicated properly to the senator.
Finding the time to write a formal email to your government representative can be a challenge, and not everyone feels confident putting their thoughts down on paper in a direct and concise manner.
If your email isn't written well, it could hurt your chances of receiving a satisfactory response from the senator.
We've listed some tips below to help you write a better email, and also explain how DoNotPay can spare you the hassle of finding the right words.
Tips for Writing a Formal Email To Your Government Representative
Keep your tone formal
It's important that you use a formal tone and address the senator respectfully. This will lend formality to your argument and makes it more likely for the senator's office to take you seriously.
Structure your argument well
Keep your introduction brief, and be sure to explain your argument within the first couple of sentences.
Don't make your paragraphs too long and only include what is necessary.
Provide a solution
Be sure to offer a potential solution to the concern or problem that you're writing about, at the very least tell the senator the course of action you would like for them to help you with.
Providing a solution shows the senator that you have researched the details of your concern, and even if your solution wouldn't work it serves as a starting point for them to guide you in the right direction.
Give them your contact information
At the end of your email be sure to list your contact information clearly, ideally, you should underline this section or highlight it so that it stands out visually.
Include your email, phone number, and mailing address. This will guarantee that Senator Murray's office can respond to your email quickly.
How Can DoNotPay Help You Contact the Senator of Washington State?
DoNotPay can help you send a letter to any government representative quickly and effectively. Whether it's a House Representative, your Mayor, Senator, or even the president. Just by answering a few questions and providing the details of your case, DoNotPay can help write the perfect email on your behalf.
Here's how it works:
1. Search for "Contact Representative" or "Legislator" on and select the Contact Your Government Representative product.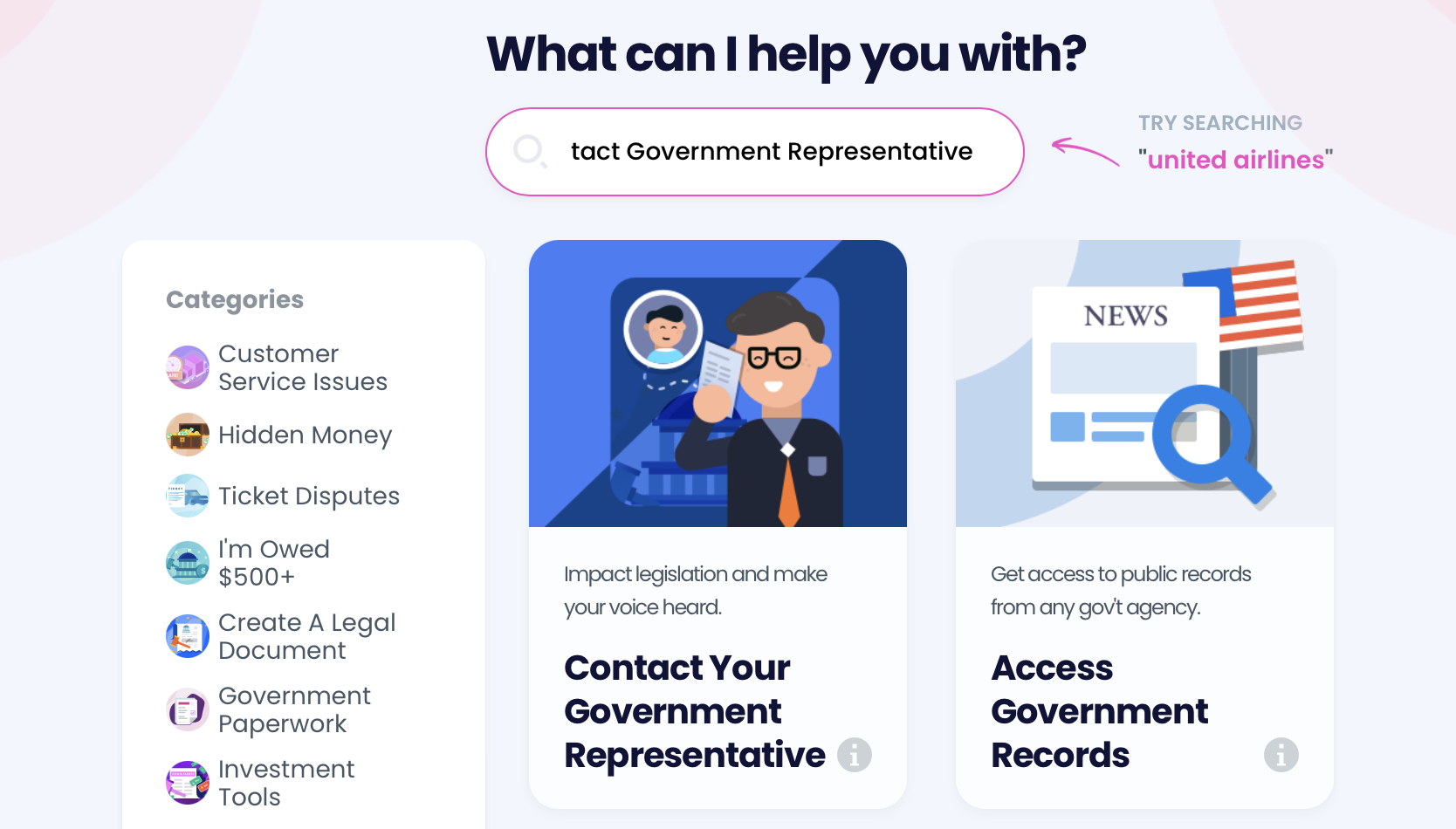 2. Select which representative you wish to contact, your Senator, Governor, President, Mayor, or House Representative.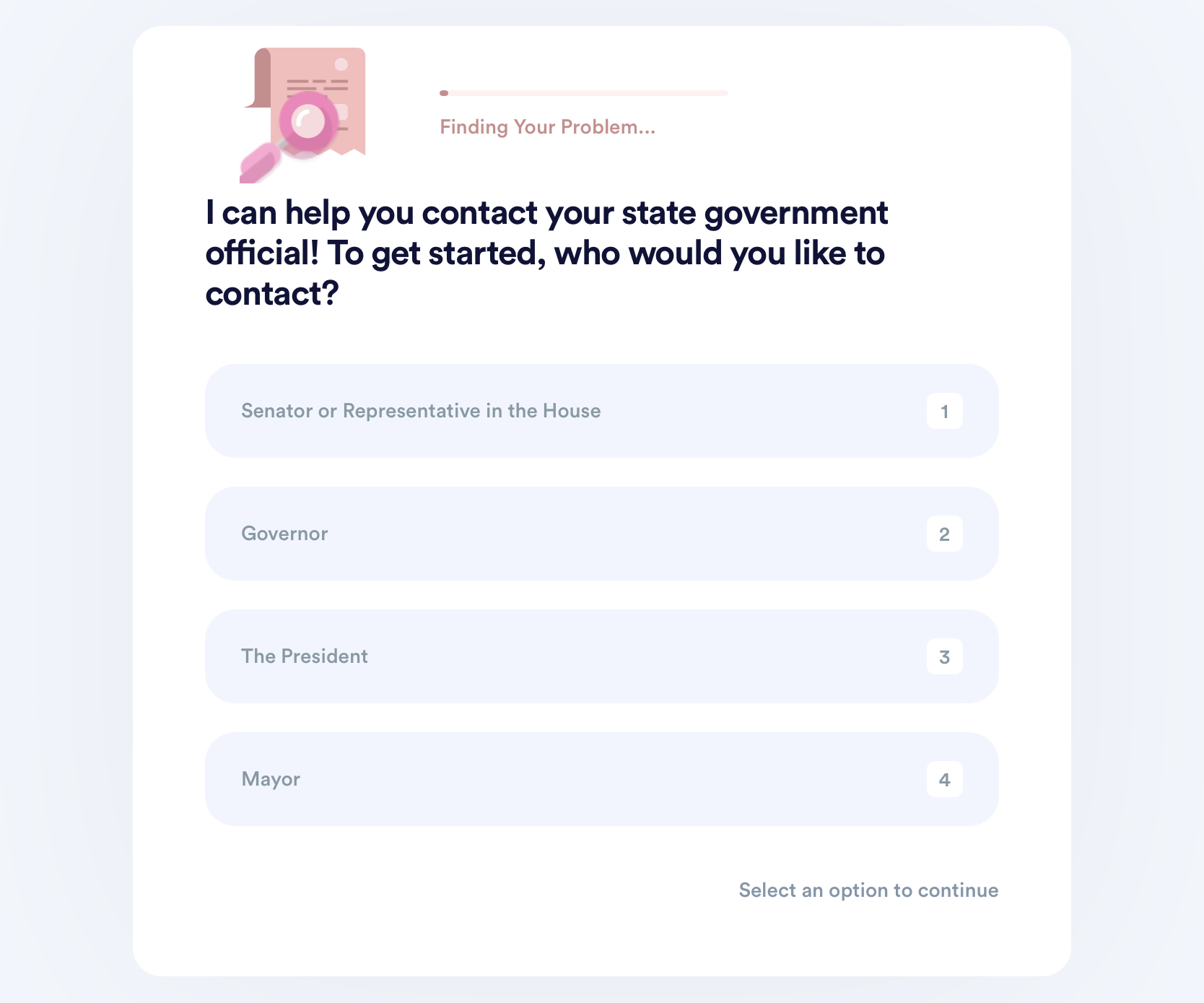 3. Briefly explain the issues you want to get across to them, or whatever bill you're concerned about. Give us details about your position and what action you wish for them to take.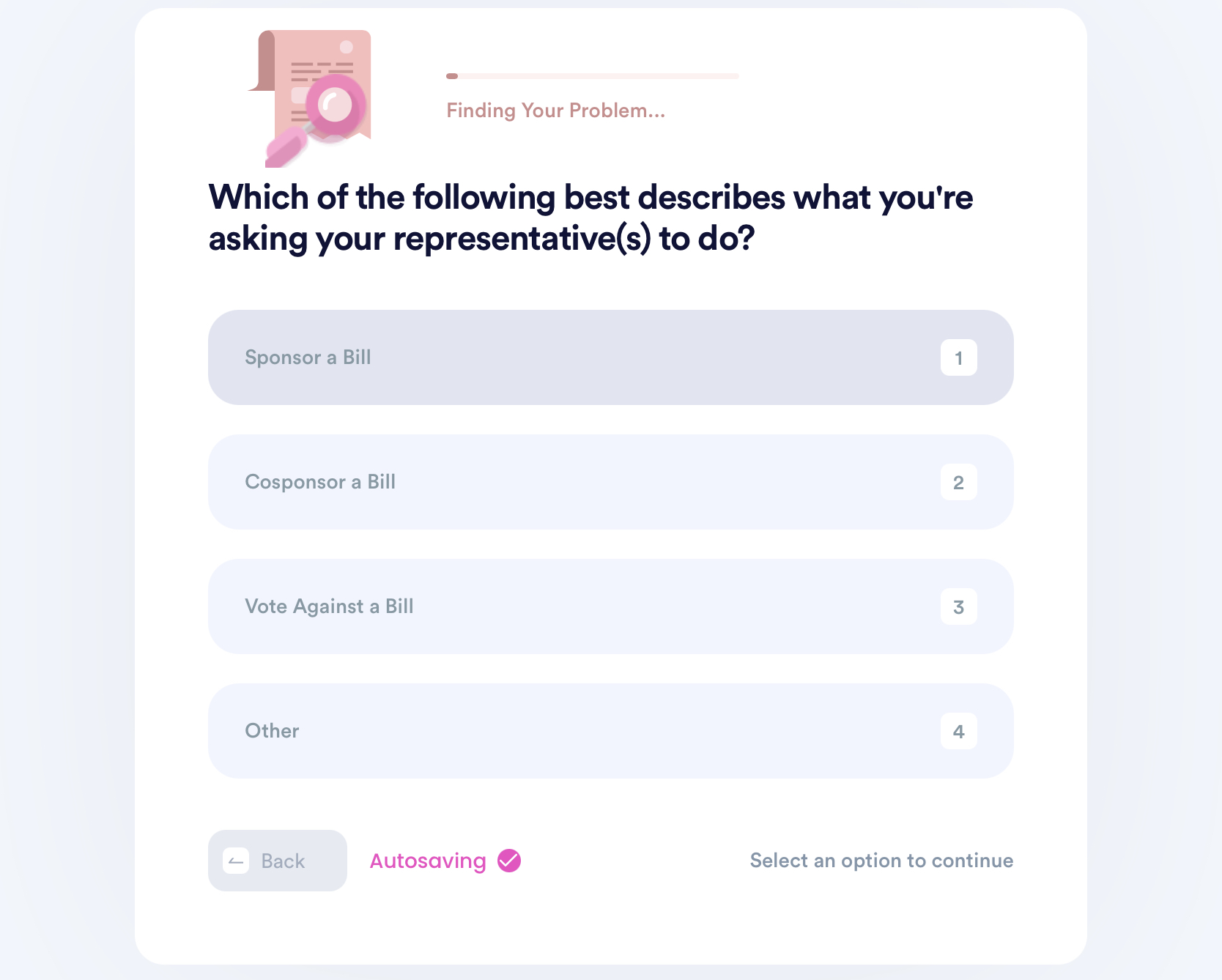 You're done! All you have to do is sit and relax while our bots create the perfect email. They'll fill out all the necessary forms on your legislator's website on your behalf.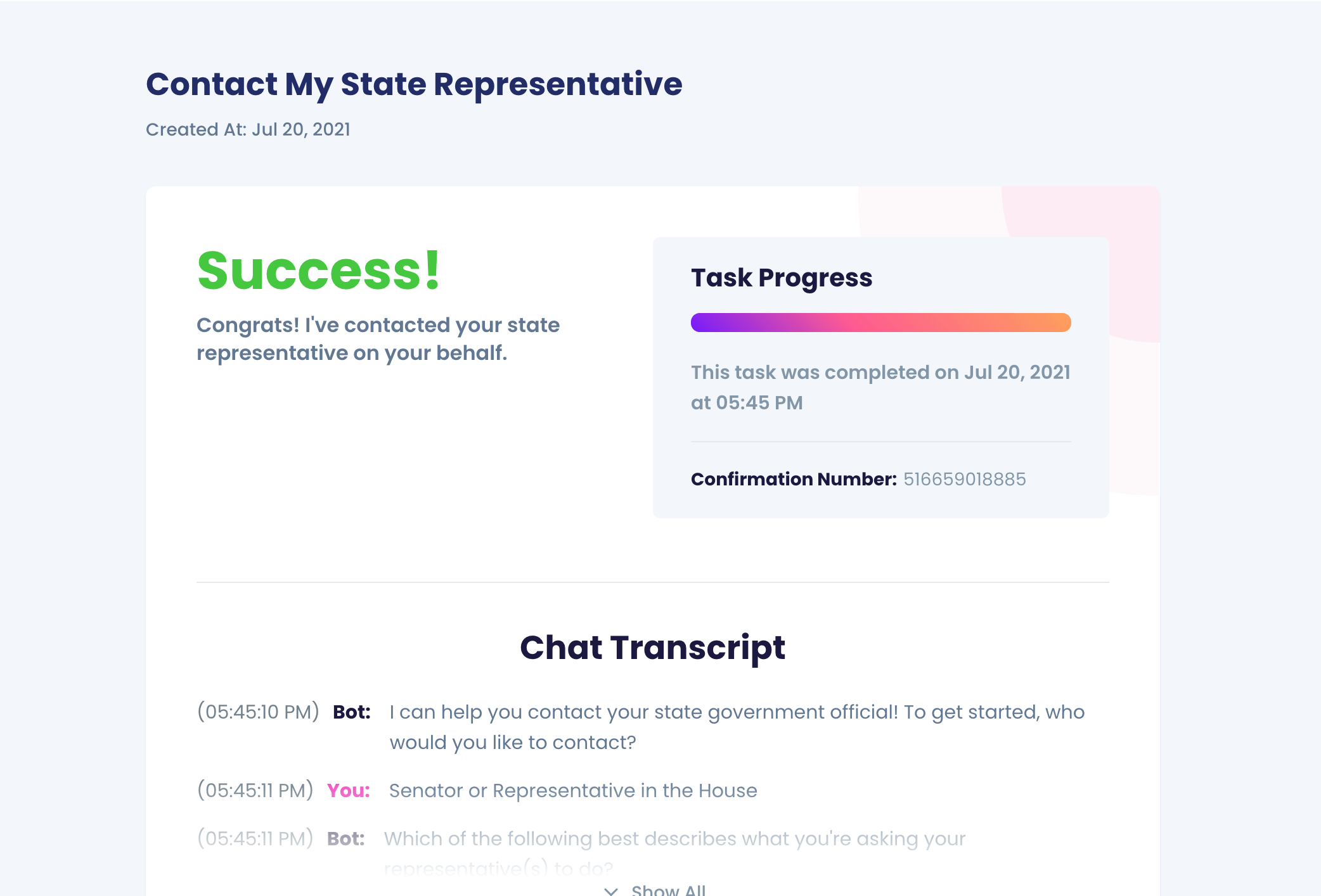 DoNotPay Can Help You with Much More!
Our services do not only include contacting a senator, but we offer a variety of services regarding legal matters! Some of them are: