How to File a USPS Change of Address in Washington State
There are many reasons you would need a USPS change of address in Washington State. One thing is for sure; there's a lot of effort and paperwork involved with the move. Not only do you have to include movers in your plans to get to your new place, but you also have to update your subscriptions and mailing preferences.
That's where the challenge comes in. Before you change your mailing preferences, you have to furnish the US Postal Service with your new address. It is crucial to update your address for the following reasons:
So, how do you go about changing your address?
Changing Your USPS Address Washington by Yourself
The United States Postal Service is the only entity mandated by law to handle all your mail. Whenever you are moving to a new place, you have to notify the USPS of the new location. Changing your address is a straightforward procedure. You can furnish the USPS with the necessary information in two ways.
Filing For Address Change Online
You can start by filling out a PS Form 3575 at the USPS website. You will also fill in your credit or debit card details and the billing address. The USPS will automatically make a charge on your card, and they will get all the information they need from your bank.

The charge is to verify you are the actual owner of the address, and they use it as a measure to deter fraudulent activity. You will also be required to provide your email address.

Filing for Address Change at The Local Post Office
If you have the time, you can also walk into your nearest post office to file for a change of address. This time, there is no charge, and international addresses are also eligible.
What Happens if You Can't Change the Address Yourself?
Moving can be challenging to endure, especially if you have a special attachment to the home or location you are leaving behind, or when you have many moving parts that you need to keep track of for successfully moving.
Because of this, it is not uncommon to come across people who forget to file for a change of address. Sometimes, your application may not go through. Not correctly filing your request means you may end up missing months of mail, parcels, and deliveries as they still get delivered to your old address. Even more, the address change needs to happen immediately, lest you get into trouble.
Why You Need the USPS Change of Address in Washington State
There are several reasons why you should update your address.
The Washington DMV requires you to update your address between 30 and 90 days after the move. If not, the change can end up affecting your day-to-day life, as your creditors will not take it kindly seeing your driver's license or credit report bearing different addresses.
Forgetting to update your address affords room for identity theft to occur. The notorious individuals can take advantage of the address discrepancy to get hold of your personal information, accept deliveries of items purchased on your credit information, open accounts using your name, and so much more.
The provisions of the Patriot Act require financial institutions to verify the identity of people wishing to conduct financial transactions using the bank's infrastructure. If you can't update your address, you risk getting locked out of the banking system.
DoNotPay Simplifies USPS Change of Address in Washington State
What's more, it takes seven to ten business days before your change of address request goes through. This is time you may not have to chase a change of address and any efforts you make towards this change could end up being expensive.
You need a helper to take up this burden on your behalf. There is no one better to handle this change and many other tasks for you than . Here's why:
It's fast
It's an easy-to-use service
Everything you need is 100% completed.
Seamlessly Get the USPS Change of Address in Washington State with the Help of DoNotPay
Moving is a real hassle. While you're trying to keep tabs on all the moving parts involved with a change of address, you're also handling the physical moving of your stuff. Ease your burden and let DoNotPay handle the change of address with the United States Postal Service. 
If you want to file a change of address but don't know where to start, DoNotPay has you covered in 5 easy steps:
1.    Tell us the new address and when you want to start forwarding your mail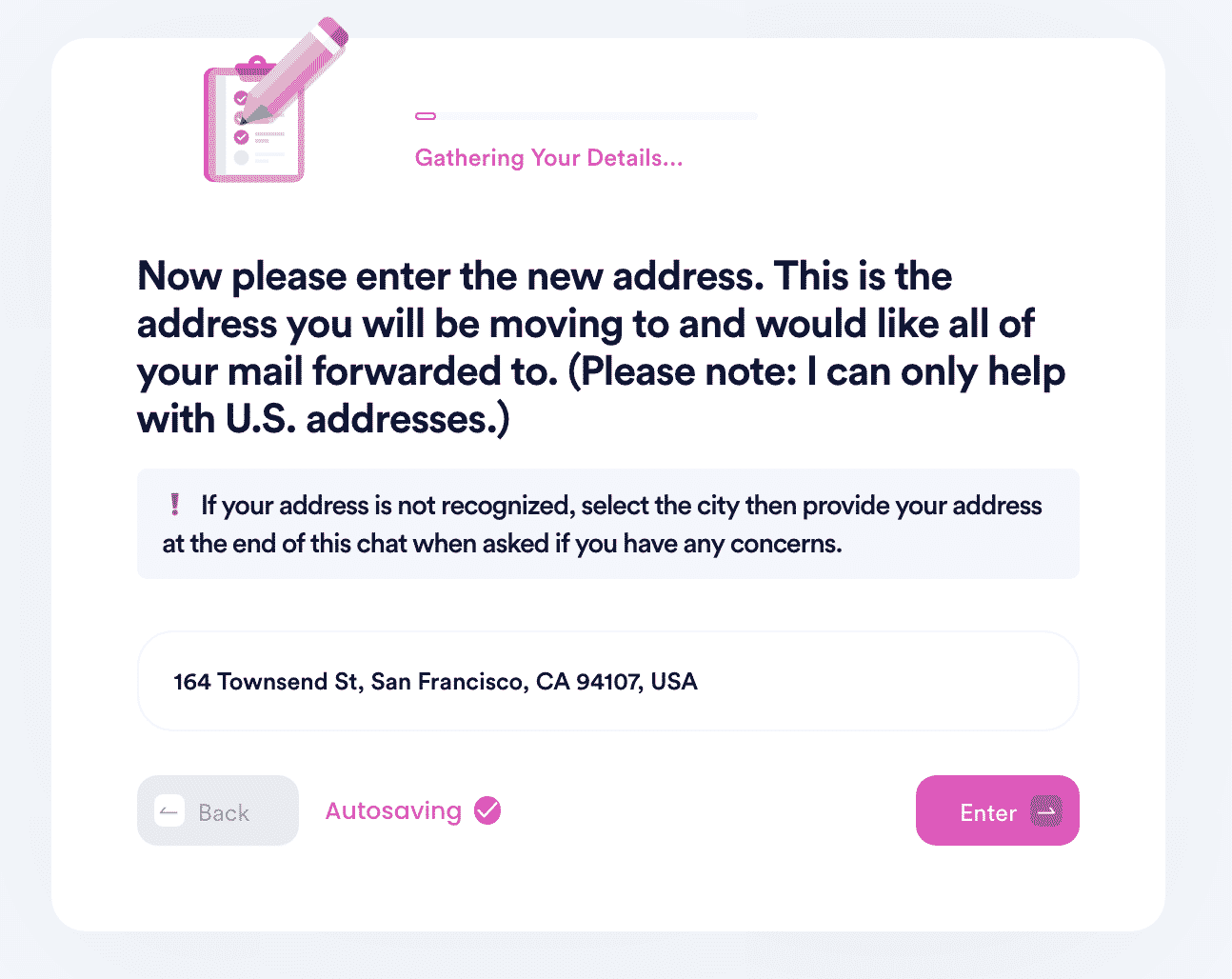 2.    Tell us who is moving (is it just you, your family, or your business)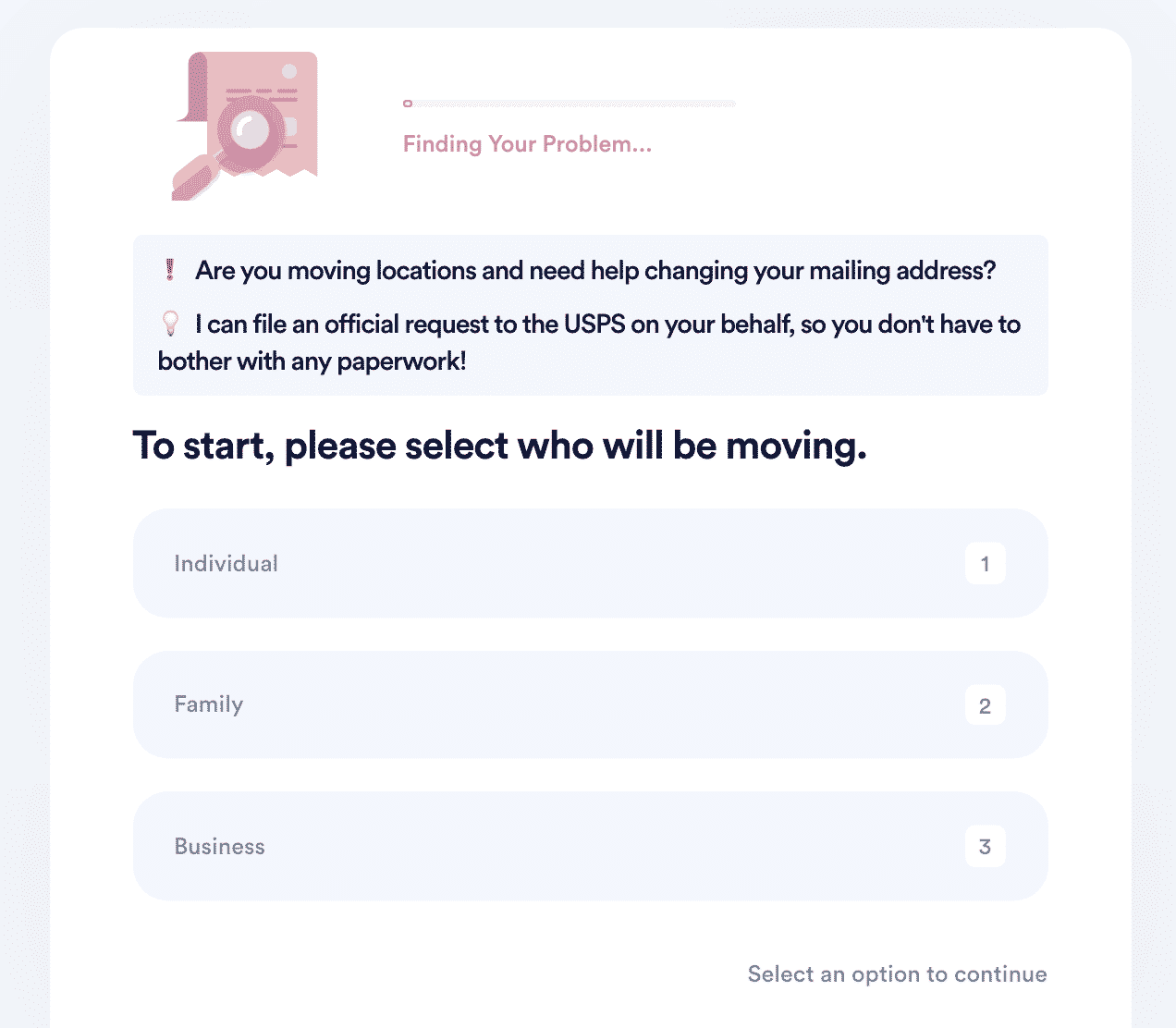 3.    Select whether it's a temporary move or permanent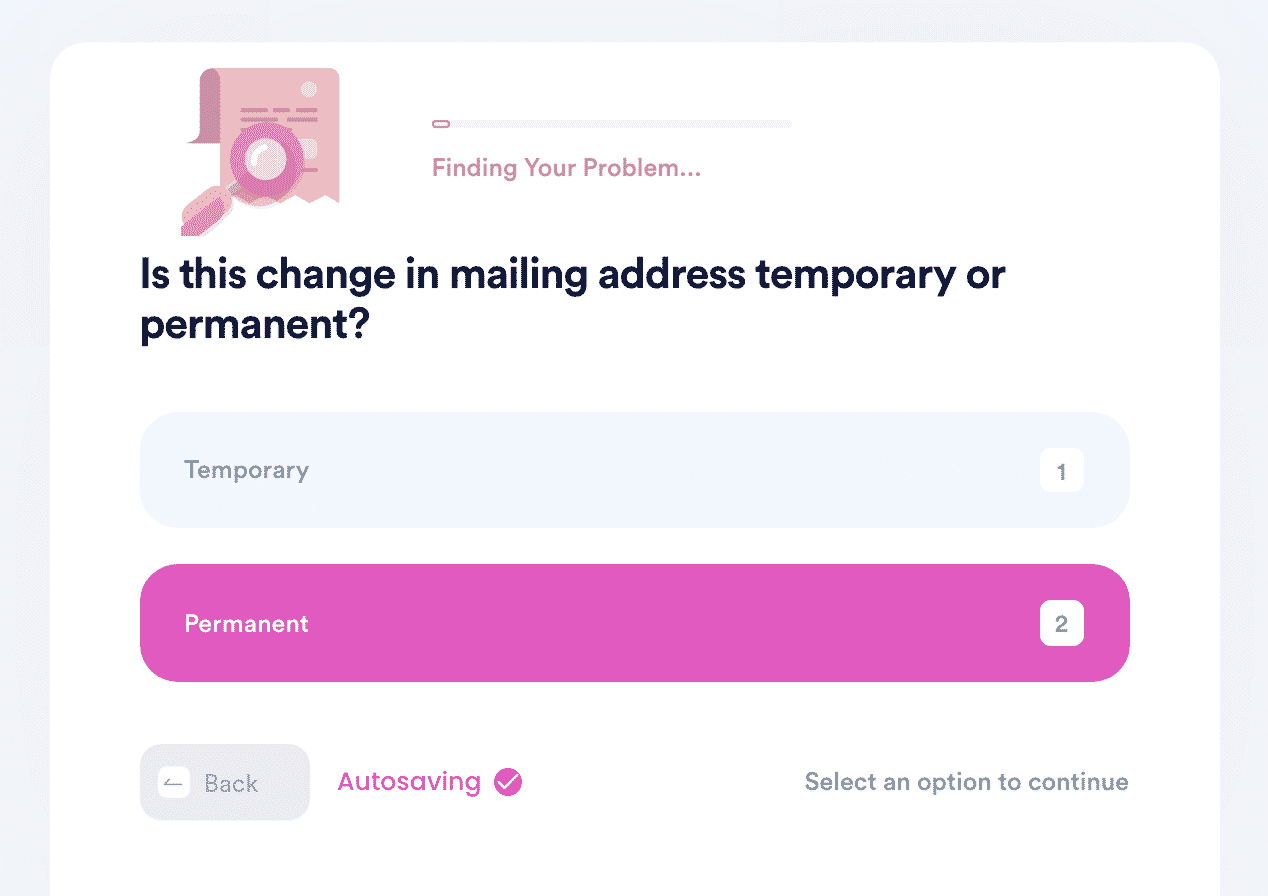 4.    Add the option to extend your mail forwarding period beyond 12 months (you can get your mail delivered from your old address for up to 2.5 years)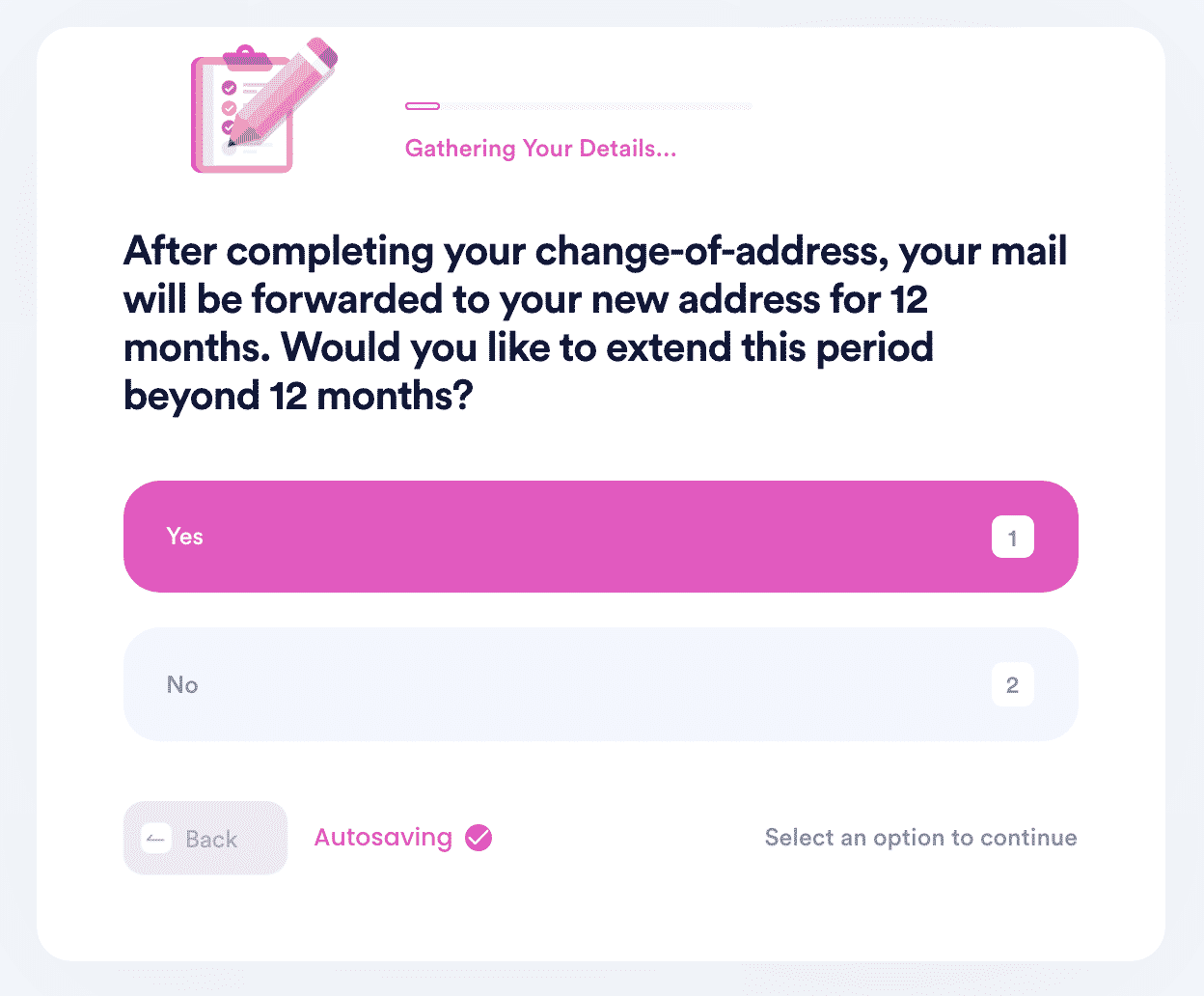 5.    And that's it! DoNotPay will take care of the rest on your behalf. You should receive a confirmation email from USPS after your request is completed.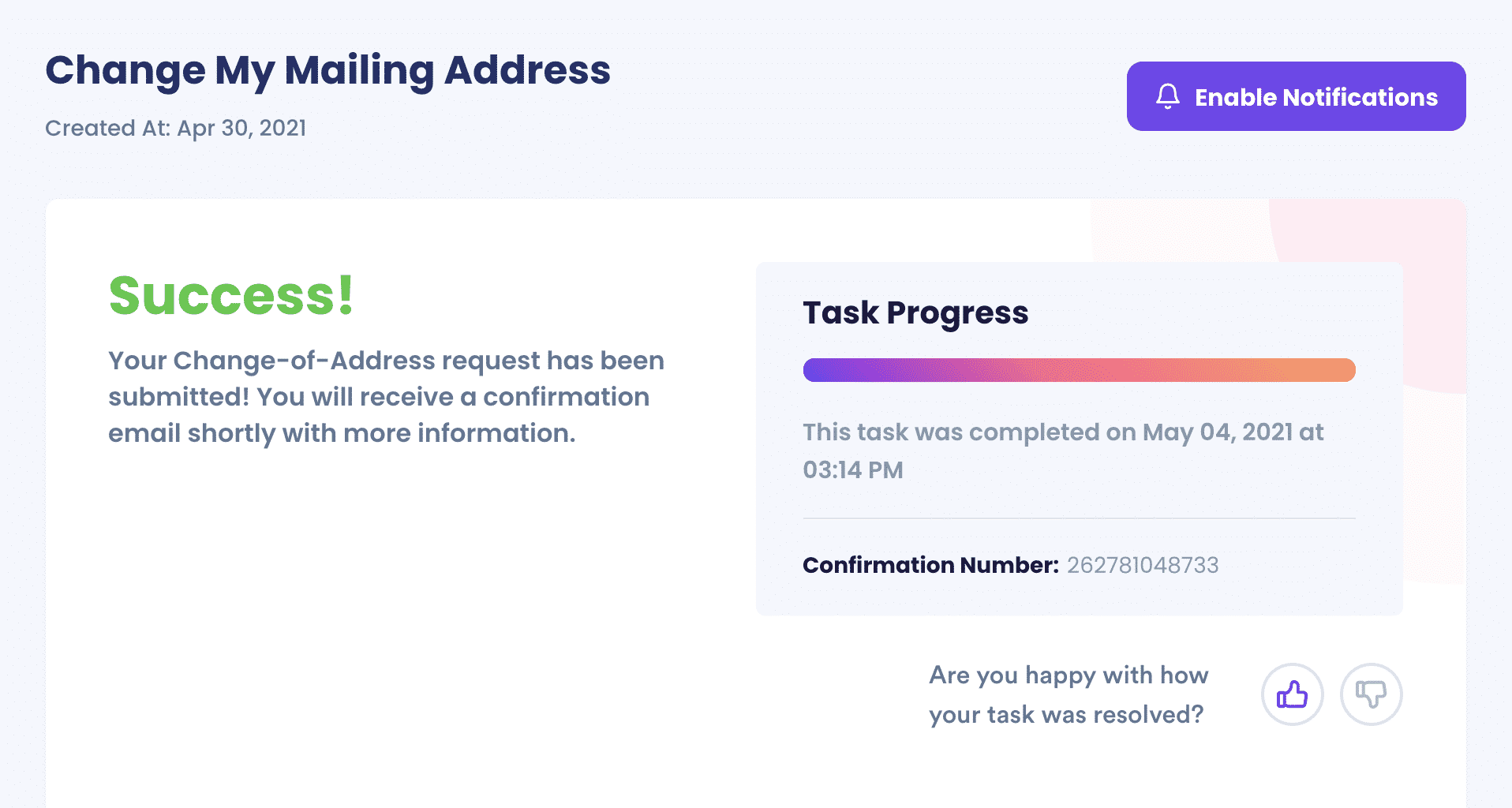 .
Your address is tied to everything necessary in your life. For this single reason, it's essential to always have the correct address in all your documentation and with the USPS, if you want to get your mail.
The process of changing your address is time-consuming and expensive, especially if you choose to go to your nearest post office to sort out the change. Why don't you save yourself some time and money by letting DoNotPay make the change on your behalf?
If you'd like to know more about how DoNotPay can make your life easier, simply us today!