How to File a USPS Change of Address In Florida
Moving can be exciting, but sometimes it can be overwhelming. You have a lot of responsibilities when moving. From sorting and packing, arranging the movers, to canceling services and setting up utilities at your new address, your to-do list is probably getting longer each day. Making sure your address is updated on every single bill and correspondence is something else to add to your ever-growing list. If you are moving and need to fill out a , DoNotPay can help you through the process to make sure your mail goes with you!
Here's How to File a USPS Change of Address in Florida on Your Own
If you file for a , most classes of mail will be automatically forwarded for a specific period of time. This gives you more time to update your information and change your mailing address with individual entities later, without worrying about lost or missing mail during and immediately following your move. The United States Post Office (USPS) handles mail forwarding services, and you can file a change of address form in one of two different ways. 
Change your address online through USPS
Change your address at the Post Office
Change Your Address Online through USPS

Go to the website USPS.com/move and follow all of the prompts.
You will be asked to answer several questions about who in the household is moving, your personal contact information, your old address, your new address, whether the move is temporary or permanent, and the date you want to begin forwarding your mail.
You will need to pay a $1.10 charge with a debit or credit card to change your address online. This is an identity verification measure to help prevent fraud.
If everyone in your household is moving and has the same last name, you only have to file the online form one time. If there are multiple last names, or not everyone in the house is moving, you will need to file a form for each individual that needs a change of address.

Change Your Address at the Post Office

Go to any local post office and request the Mover's Guide packet.
Find PS Form 3575. Fill out the change of address form and give it to the postal worker, or you can drop it into the letter mail slot inside the post office.
Watch for a confirmation letter to arrive at your new address within approximately five days.
Let DoNotPay File a USPS Change of Address in Florida for You
If you don't have time to fill out multiple forms, get to the post office during their business hours, or don't want to add your financial information online to yet another entity, let DoNotPay help you change your address quickly and easily.
How to file a change of address using DoNotPay:
If you want to file a change of address but don't know where to start, DoNotPay has you covered in 5 easy steps:
1. Tell us the new address and when you want to start forwarding your mail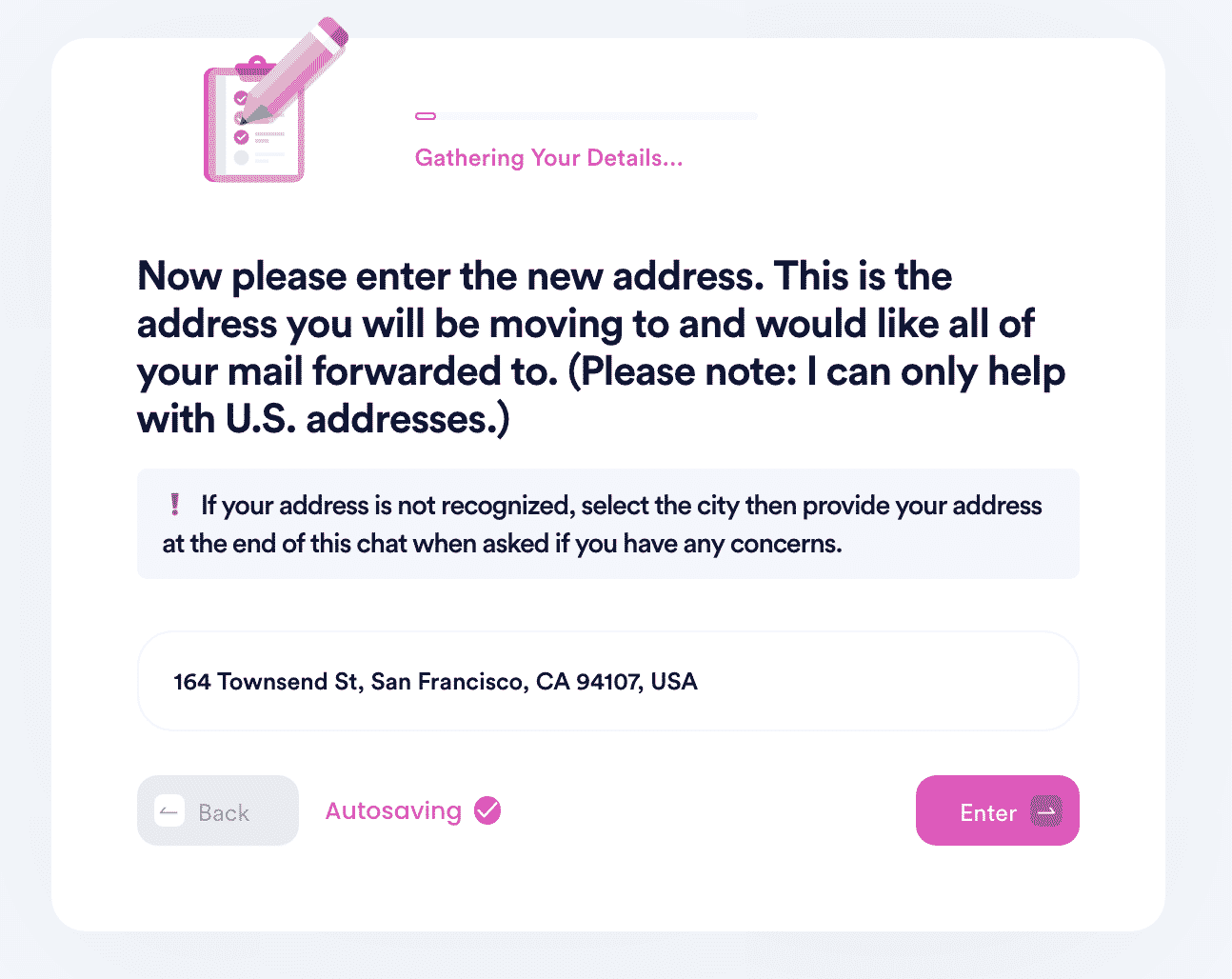 2. Tell us who is moving (is it just you, your family, or your business)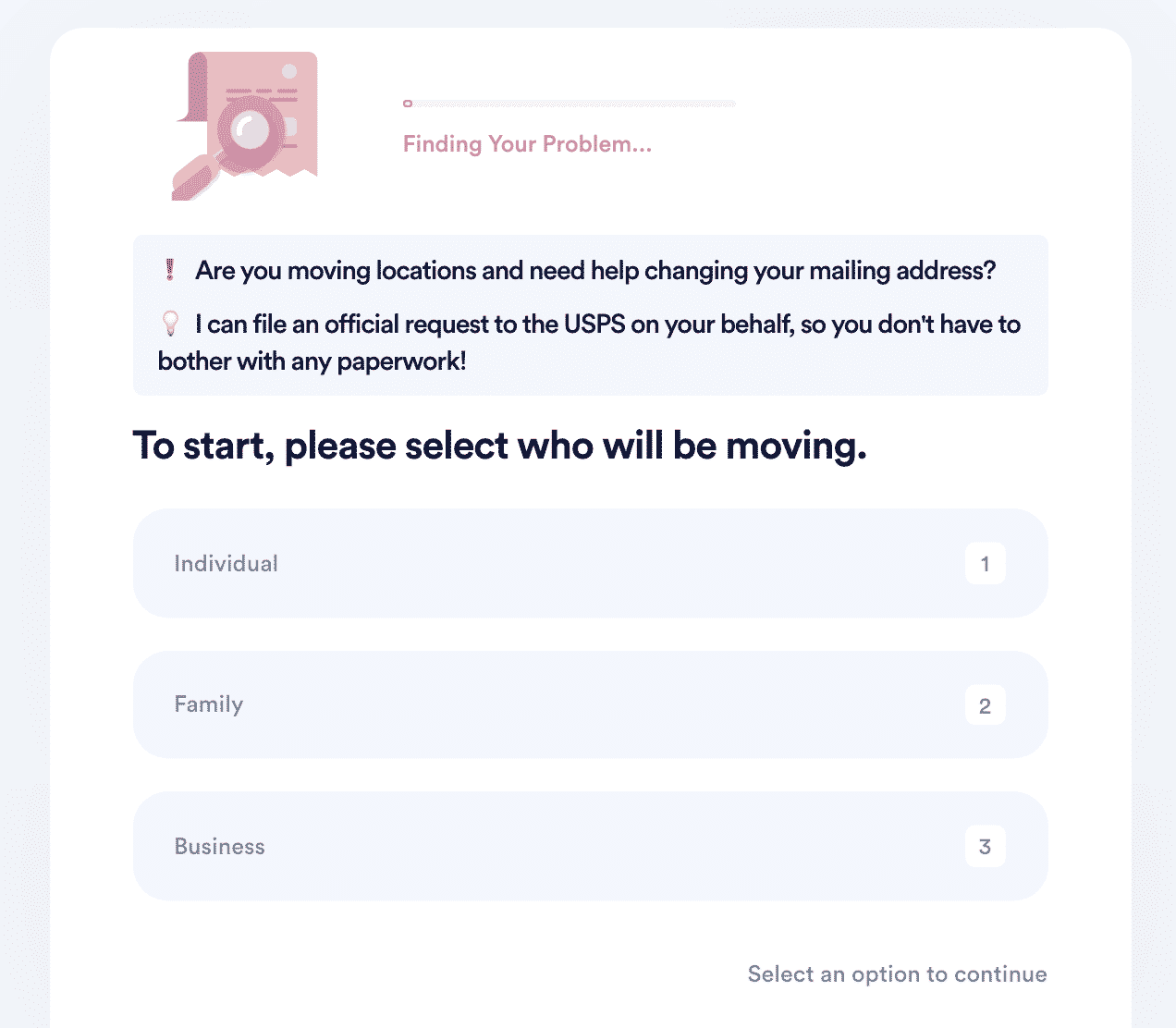 3. Select whether it's a temporary move or permanent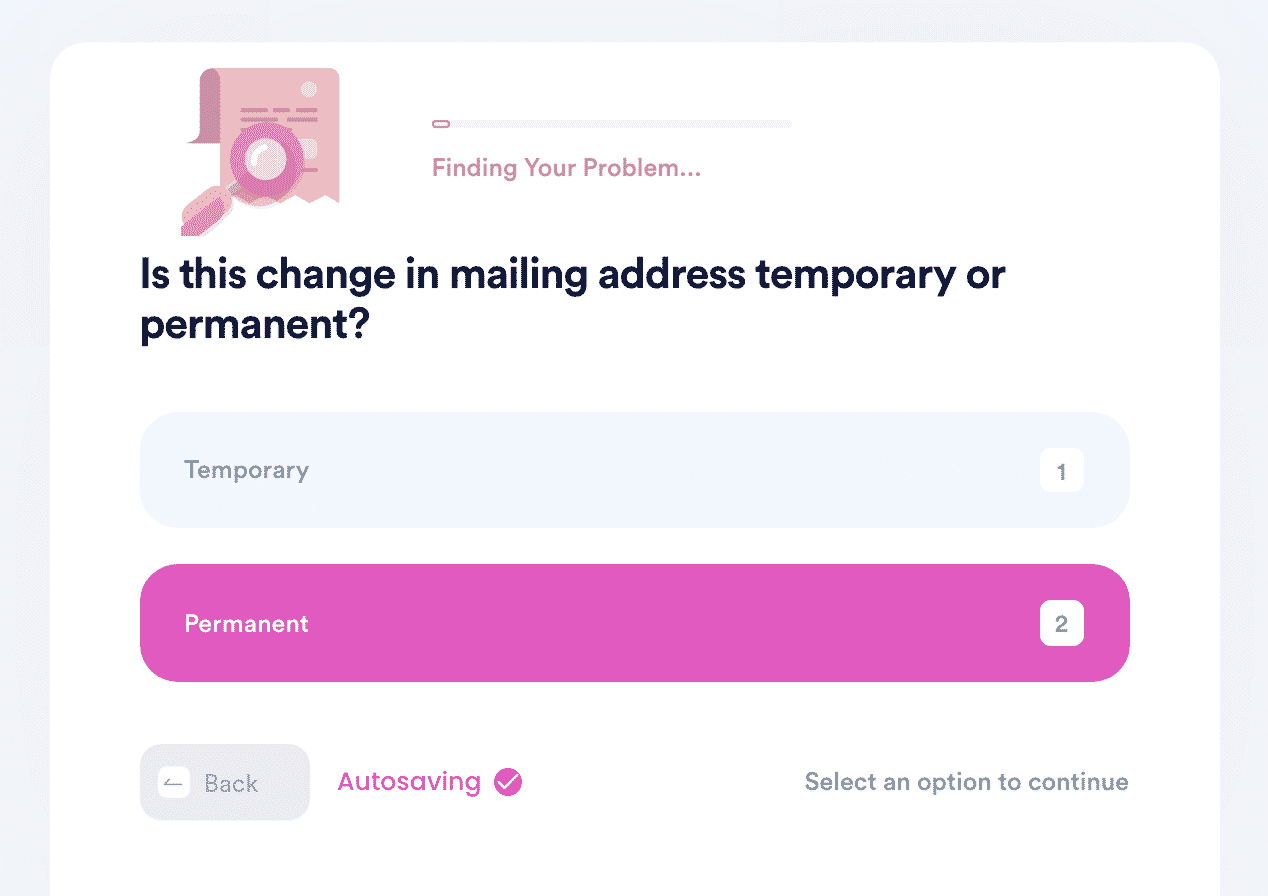 4. Add the option to extend your mail forwarding period beyond 12 months (you can get your mail delivered from your old address for up to 2.5 years)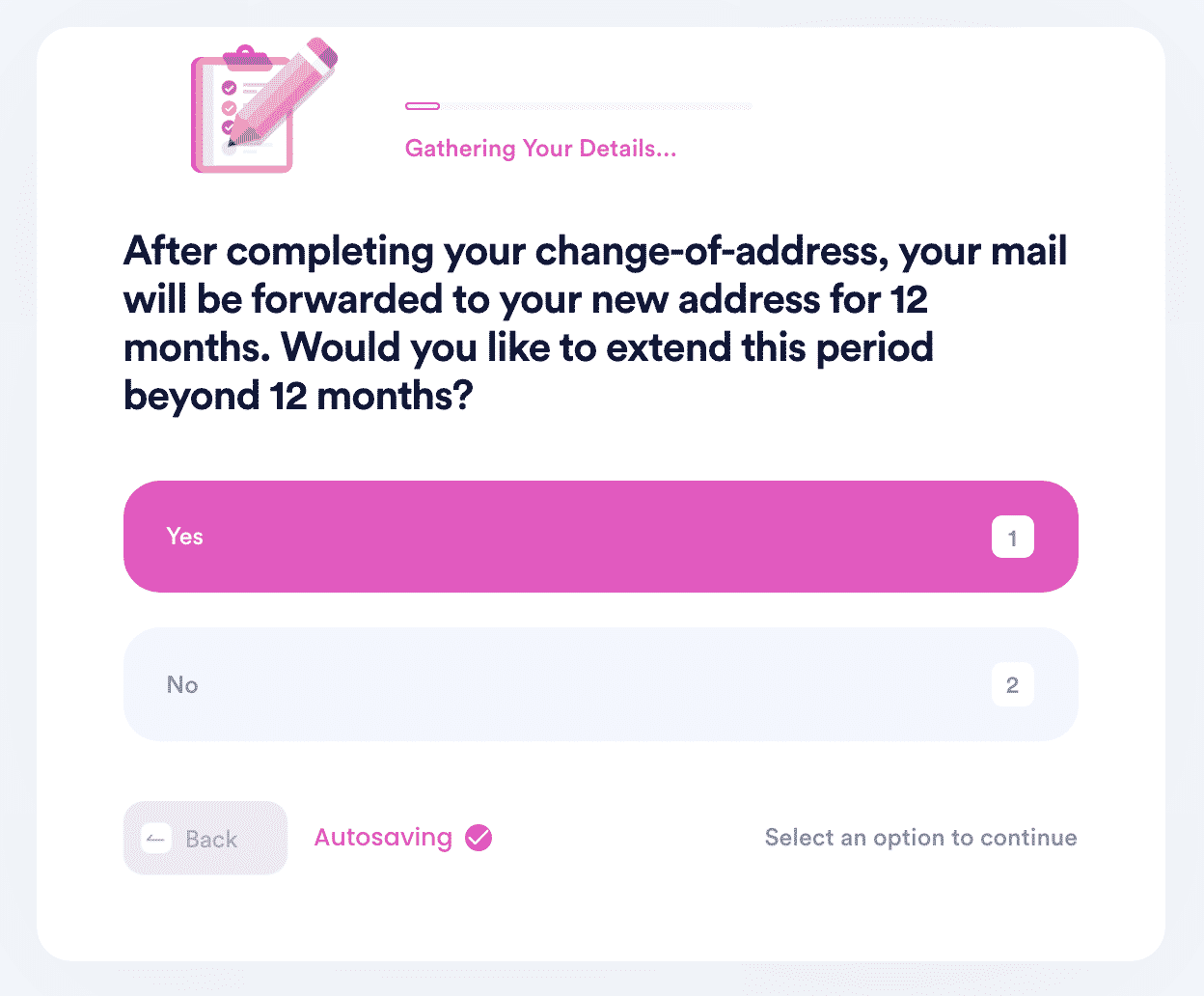 5. And that's it! DoNotPay will take care of the rest on your behalf. You should receive a confirmation email from USPS after your request is completed.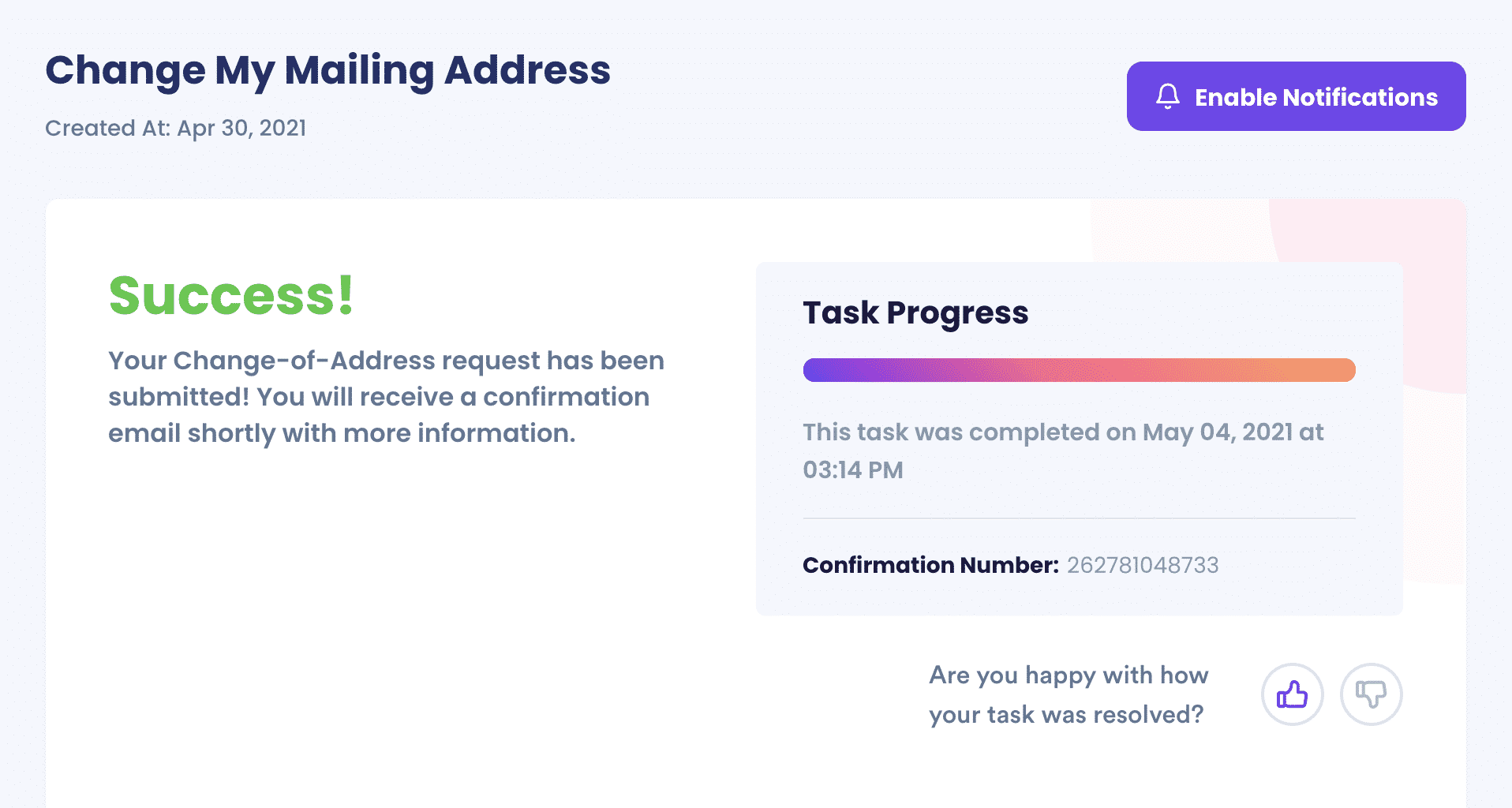 Why Should You Use DoNotPay to File a USPS Change of Address?
Your time is valuable. If you don't want to fill out multi-step forms online or wait in line at the post office, we can help you avoid those frustrations. DoNotPay makes the entire process fast, easy and successful. You only have to provide your information to us one time. You give us the information and simply wait for a confirmation email from USPS, and you're done! It really can be that simple!
DoNotPay Can Help You Change Your Address with Other Entities
DoNotPay can help you do more than just change your home address with USPS. We can help you change a business address as well if your business is relocating. If your USPS address change is not working, we can help solve that issue, or we can help you with informed delivery changes. We can assist you with changing your address with specific agencies like the DMV and Social Security Office as well. DoNotPay wants to make any move easy and stress-free.
What else can DoNotPay do?
Helping you file a USPS change of address is just one of the many things that DoNotPay can do. In fact, here's a sampling of other issues we can help you resolve:
No matter what your concern or issue, DoNotPay has the experience to help you!