How Long Does it Take for USPS Change of Address Confirmation Letter to Arrive?
During a move, one of the first things you must do is complete a change of address form with the U.S. Postal Service. After filling out the form, you must often wait up to three weeks to receive your USPS Change of Address Confirmation Letter. Unfortunately, you could need the letter in order to connect utilities, register to vote, or transfer your vehicle title. Instead of waiting, DoNotPay has a quicker way to obtain a USPS address change confirmation.
How Much Time Do You Have to File a Change of Address With USPS?
The U.S. Postal Service recommends filing a change of address form approximately two weeks prior to your move. However, you can actually change your address at any time, even if you have less than two weeks, or are already at your new residence. The start date for forwarding your mail can be up to 30 days in the past or as much as 90 days in the future. 
How Much Does it Cost to File a Change of Address?
The United States Postal Service provides several ways for you to complete the PS 3575, or Change of Address form. The costs associated with changing your address will depend on the method chosen.
In-Person at the Post Office
Drop by any post office location to pick up a Mover's Guide. Complete the PS Form 3575 that is included with the Mover's Guide and return it to a postal clerk. There is no charge associated with using this method. Even so, remember that you will still need to drive to the location or possibly take time off from work. You must also visit the post office during normal business hours.
Online Change of Address
You may fill out a Change of Address form online 24 hours a day. When doing so, you will need to confirm your identity using a valid credit or debit card. Gift cards or prepaid debit/credit cards are not accepted.

There is a $1.10 fee assessed for using the online method. Even when submitting a change of address online, you will still receive a physical copy of the USPS official change of address confirmation letter.
How to Receive a USPS Change of Address Confirmation Letter by Yourself
Use one of the above methods to complete your PS 3575 form, which will trigger a USPS  Unfortunately, the postal service does not always provide clear instructions for filling out the form. Even when completing the form in person, you may not be able to receive help from a USPS employee if the location is especially busy. 
You could experience problems, even though your form has been filled out correctly. Some common reasons for not receiving the USPS change of address confirmation letter include:
The physical card is lost or misplaced
Internal server errors, which can prevent online requests from being processed
Insufficient credit or debit card funds (when using the online method)
The confirmation letter itself was lost in the mail
Receiving a USPS Proof of Change of Address When You Can't do it Yourself
If you do not receive your  you may need to take further action. This could require you to either:
Visit the location where you completed PS Form 3575 in person. Have a postal employee try to track down the form to see what happened to it.
Contact the USPS customer service line at 1-800-ASK-USPS. This line is only available for limited hours, and you could also experience a significant hold time.
Finding a postal service employee who can resolve this issue for you can be tedious at best. Many people become frustrated with the process and completely give up on the notion of receiving an official USPS change of address confirmation letter. Fortunately, there is a way to easily rectify this issue using DoNotPay.
Solve the Missing Change of Address Confirmation Letter with the Help of DoNotPay
Skip the long lines at the post office and begin having your mail forwarded in as soon as 7 days. DoNotPay will file a Change of Address Form with the United States Postal Service on your behalf, which will help you eliminate any confusion about the form itself.
How to File a Change of Address Using DoNotPay
If you want to file a change of address but don't know where to start, DoNotPay has you covered in 5 easy steps:
1. Tell us the new address and when you want to start forwarding your mail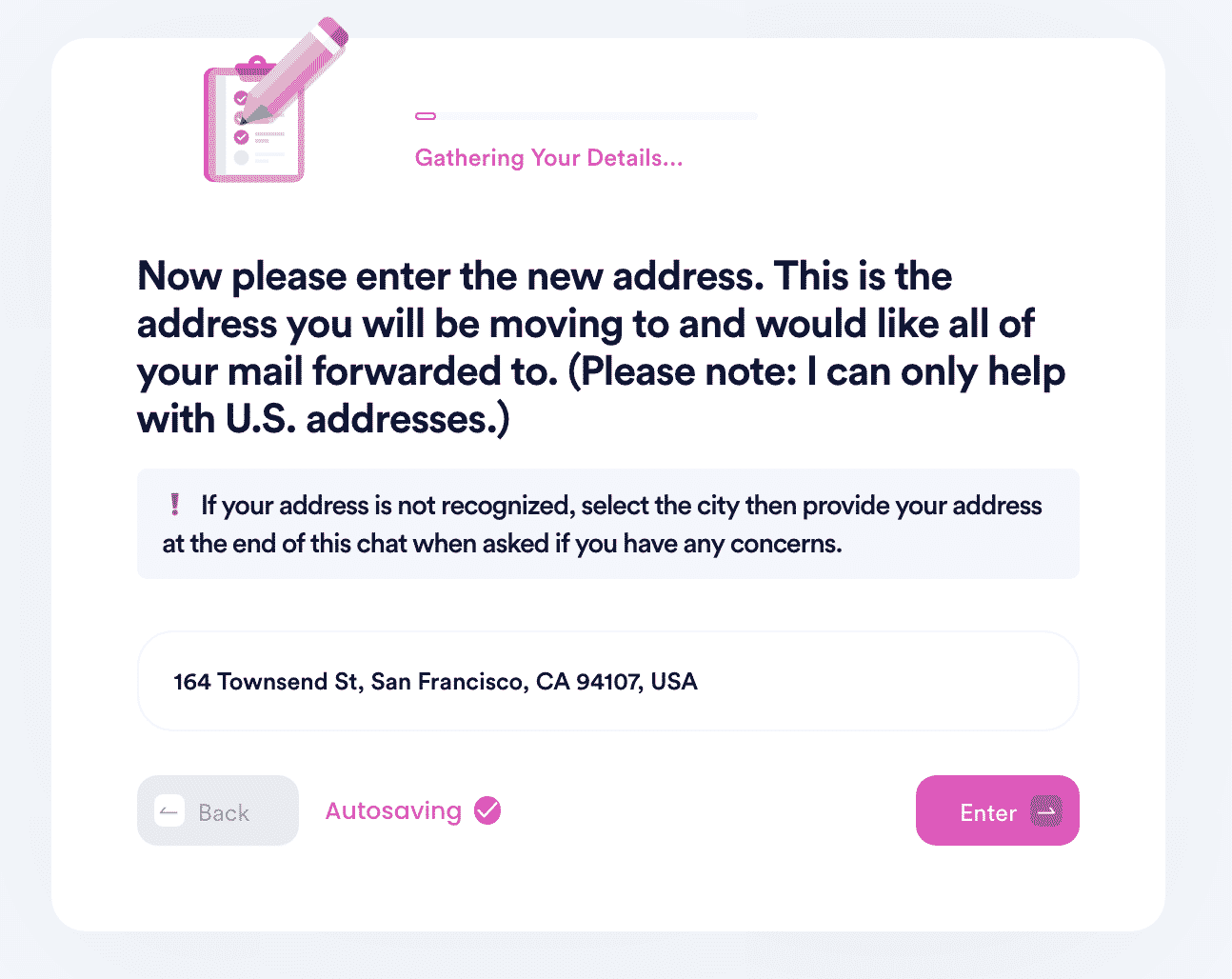 2. Tell us who is moving (is it just you, your family, or your business)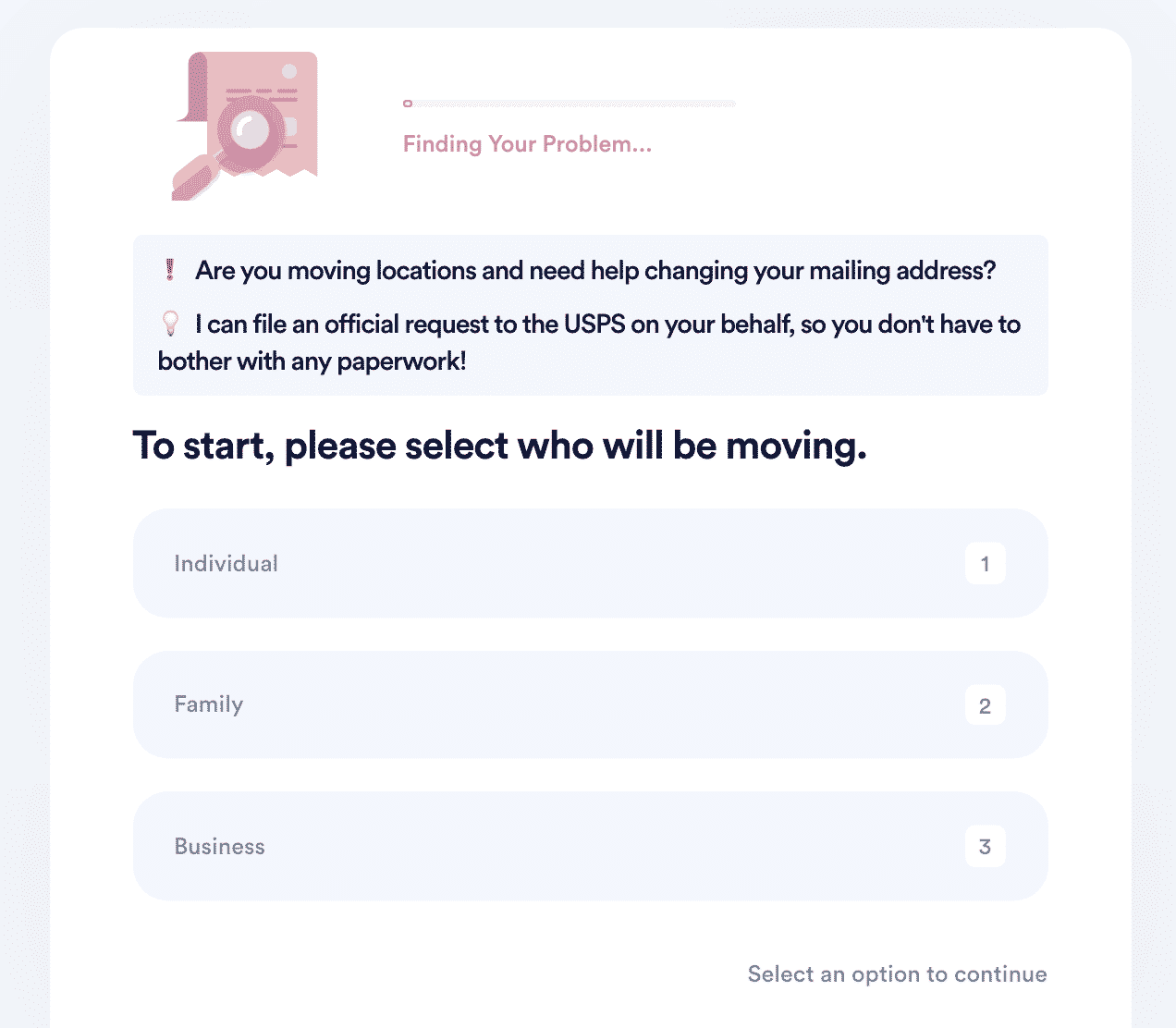 3. Select whether it's a temporary move or permanent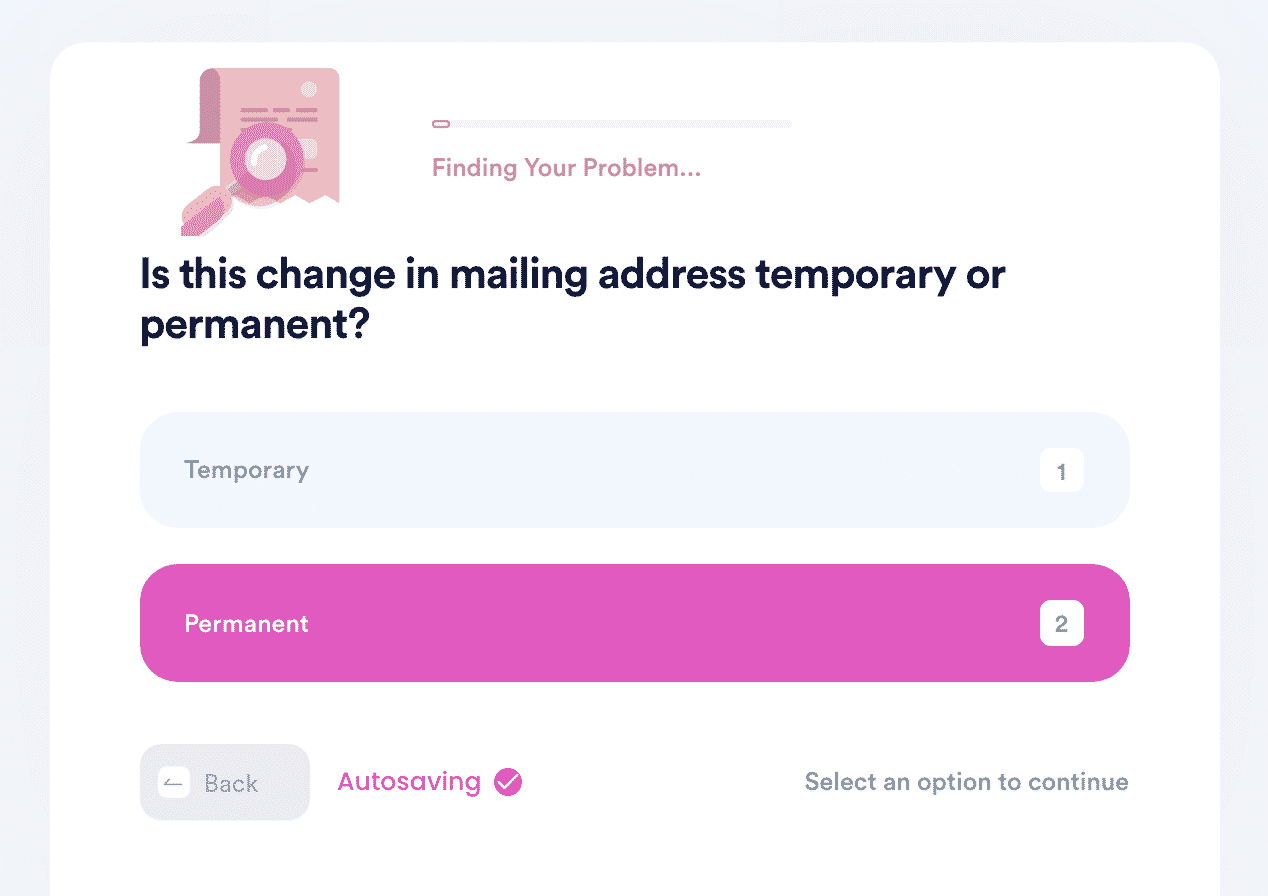 4. Add the option to extend your mail forwarding period beyond 12 months (you can get your mail delivered from your old address for up to 2.5 years)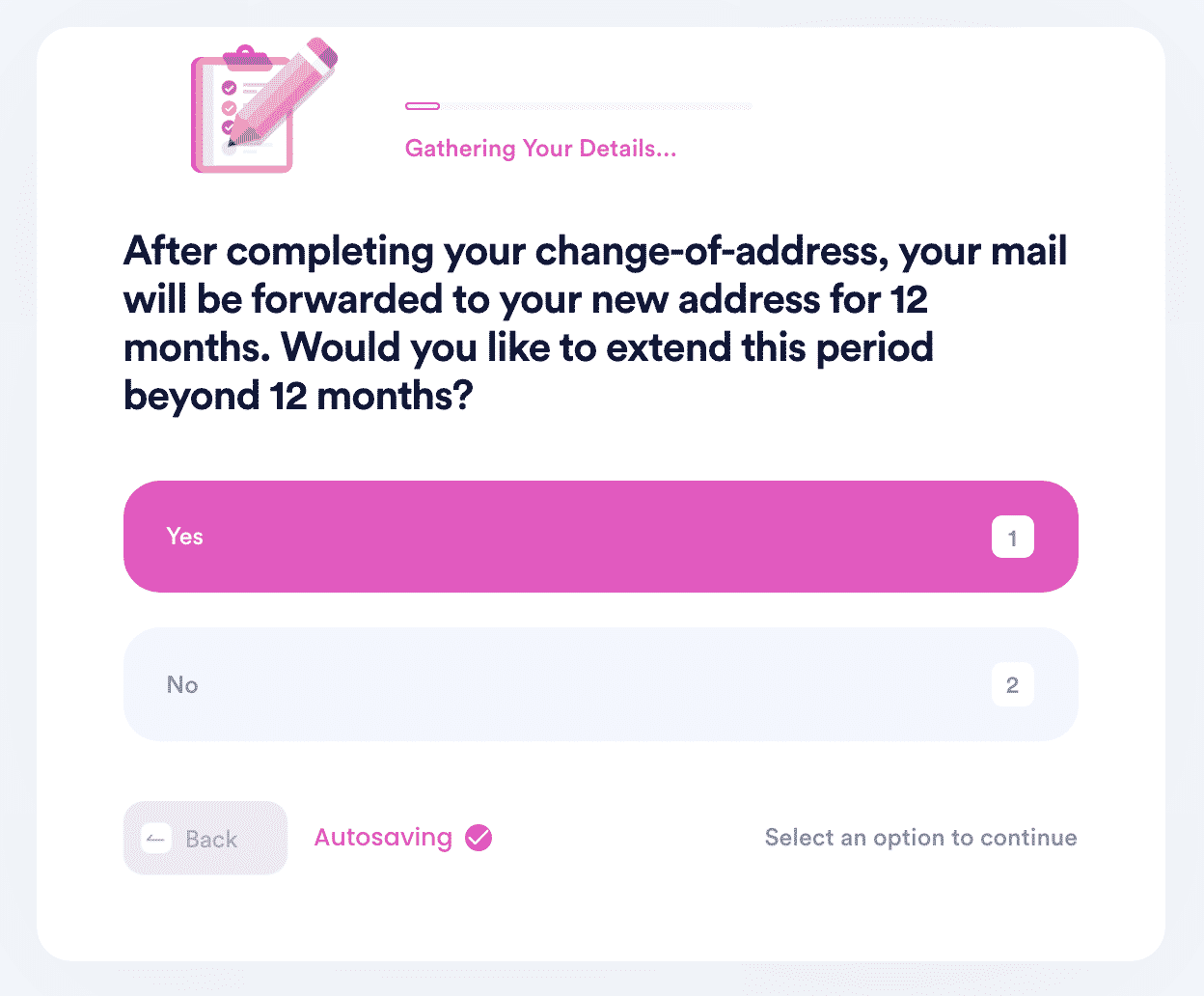 5. And that's it! DoNotPay will take care of the rest on your behalf. You should receive a confirmation email from USPS after your request is completed.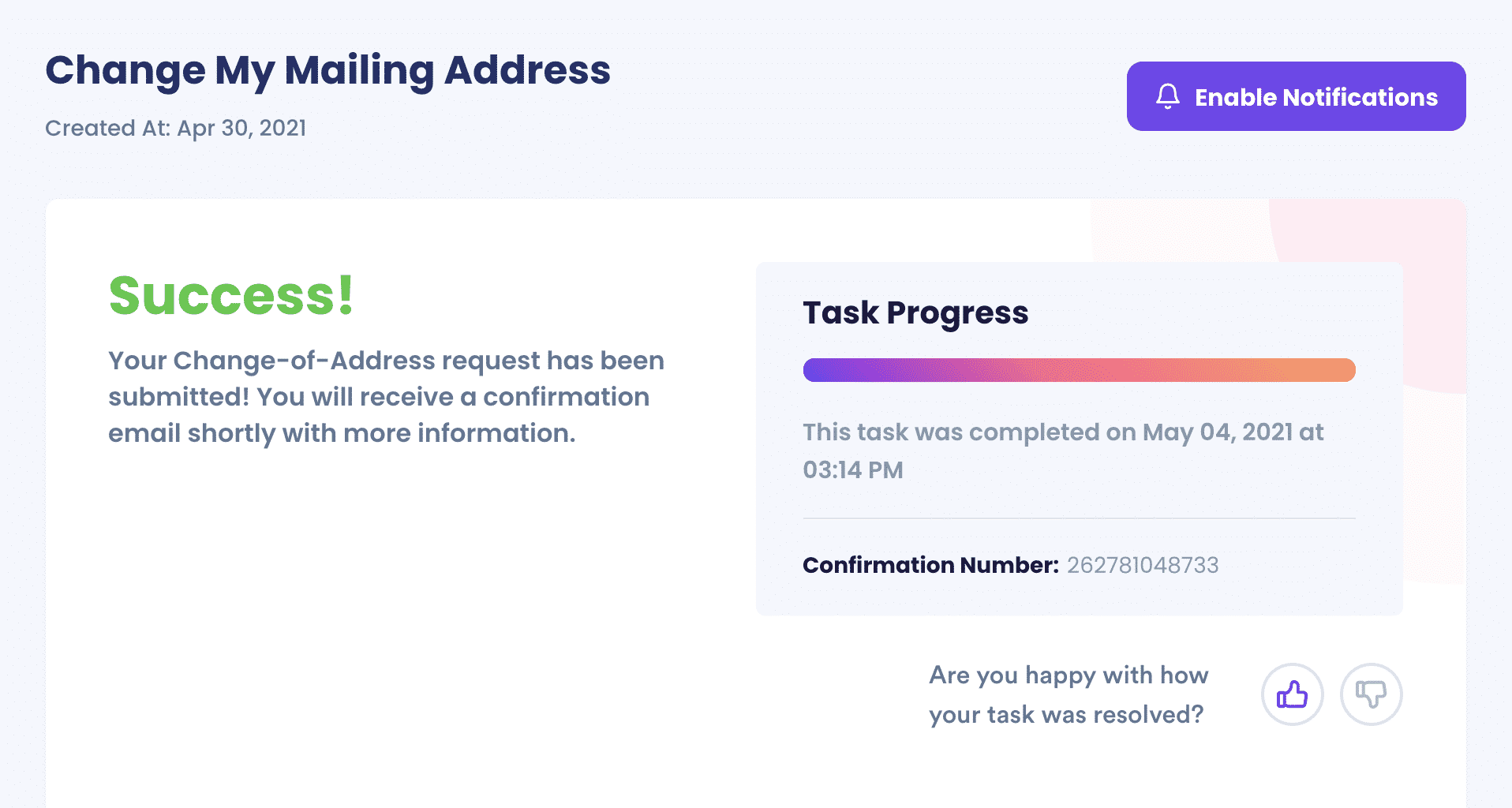 Why Use DoNotPay to Receive a USPS Change of Address Confirmation Letter?
DoNotPay offers a straightforward process for changing your mailing address. When you use DoNotPay, you can be sure the procedure is handled correctly without any of the glitches that often occur when dealing with a government agency. You'll also save time, and will not have to worry about printing any online forms. Accordingly, you can rest easy knowing that you will receive your USPS proof of a change of address in a very timely manner.
What Else can DoNotPay Do?
With DoNotPay, you can do more than just receive a USPS change of address confirmation letter. In fact, we can help you handle a number of issues such as:
As the world's first robot lawyer, our service has since expanded to include a variety of other legal and social problems.  We make everyday tasks such as obtaining a USPS address confirmation letter as seamless as possible. Explore our website to learn more about the plethora of other services we offer.
DoNotPay: Helping you Obtain a Valuable USPS Change of Address Confirmation Letter
If you're moving, you have plenty of things on your to-do list. Why waste time filling out forms or haggling with government bureaucrats when DoNotPay offers an easy solution? Allow us to  obtain a USPS Change of Address Confirmation Letter so you can spend more time getting settled into your new place.