How To Transfer United Miles To Chase With Ease
If you try to transfer Chase points to United, you will likely be pleased with how simple and easy the process is. But trying to is a completely different story. If you are not sure how to approach the process, you could easily spend hours trying unsuccessfully to transfer your United miles to Chase.
Fortunately, there is now a fast, easy way to make sure the value of your United mileage is reflected on your Chase account. Read on to discover how DoNotPay's simple solution can put an end to your frustration and ensure your United miles are put to good use.
How Does the United Miles Program Work?
When you fly with United, you have the option of joining the airline's United MileagePlus loyalty program. The MileagePlus program costs nothing to join and enables you to earn miles with each United flight you take. You can also earn miles by flying with United partner airlines.
The number of miles you earn increases with the amount of money you spend with United. For example, first class and international flights typically yield more points than short, domestic economy flights. When you sign up for the MileagePlus program, you can earn five miles for each dollar you spend on United flights.
As you earn additional miles, you can increase your status beyond your basic membership to Premier Silver, Premier Gold, Premier Platinum, and Premier 1K levels. United's most loyal customers may be eligible for the United Global Services program, which is an invitation-only program. Here are the benefits you can enjoy once your status begins to rise:
Free checked bags
Upgraded flights
Free same-day flight changes
Once you collect these miles, you have options on how to use them. For example, you can or other popular airlines and credit cards.
What Are Some Options for Transferring United Miles?
As a United MileagePlus member, you can transfer miles to family members and third-party buyers. You cannot transfer them directly to Chase, but you can explore one of the following transfer options:
Transfer miles to a spouse
Transfer miles to children or parents
Transfer miles when you sell them to a third party buyer, such as milesbuyer.com or buyairlinemiles.com
Depending on which option you choose, you may have to complete paperwork or remit a transaction fee. For example, you can expect to pay a $30 processing fee to transfer miles to another person, plus a transfer fee of $7.50 per 500 miles.
How Much Are United Miles Worth?
United miles are worth between 1 and 2.4 cents per mile. The exact value will vary depending on how and where you decide to redeem your points. Generally speaking, United miles tend to be worth more when they are used to purchase tickets for lengthy international flights in First Class or Business Class.
| | | | |
| --- | --- | --- | --- |
| Airline Reward Program | Miles | Standard Mileage Value (in Dollars) | Priority/Business/First Class Mileage Value (in Dollars) |
| United MileagePlus | 1 | $0.010 | $0.024 |
What Are Some Reasons to Consider Transferring United Miles to Chase?
Before you decide to transfer your United miles, it's a good idea to make sure the transfer benefits you. Here are a few of the many reasons why people decide to transfer their United miles to Chase:
You are closing your United MileagePlus account and do not want to find a way to put the miles to use.
You are physically unable to travel by air anytime in the near future, so you need to find a way to cash in on your miles.
You simply like the increased flexibility and options Chase offers.
How to Transfer United Miles to Chase on Your Own
Trying to transfer United miles to Chase on your own will require some time and research on your part. The process is different from simply transferring United miles to another person. Here is a look at how the process works:
Phase One: Decide How Many Miles You Would Like to Transfer
If you still intend to travel with United in the near future, you may wish to keep some of your miles on your account.
Phase Two: Conduct a Search for a Third-Party Vendor Who Buys United Miles
Take a few minutes to run a search for third-party vendors who will buy your mileage for cash or facilitate a swap with a person who has Chase rewards. A quick Google search for "Buy Sell United Miles" shows there are dozens of vendors who buy and sell miles and points.
Phase Three: Make Sure the Vendor Also Works With Chase and Will Do Point Swaps
Using a third-party vendor to sell, buy, and exchange miles can work in your favor if you find a reputable third-party option who will facilitate a swap. Look for vendors with these three qualities:

Well-established
Easily accessible
Highly rated and regarded by users and reviewers
How to Transfer United Miles to Chase With the Help of DoNotPay
Most busy people barely have the time or patience to attempt a straightforward mileage transfer. Learning how to is definitely not a straightforward process — especially considering you may have to find a flexible partner program that works with both United and Chase. Here's how to get started with DoNotPay's simple process:
1. Search "points" or "rewards" on DoNotPay, and select the rewards program you're a part of / the type of points you have.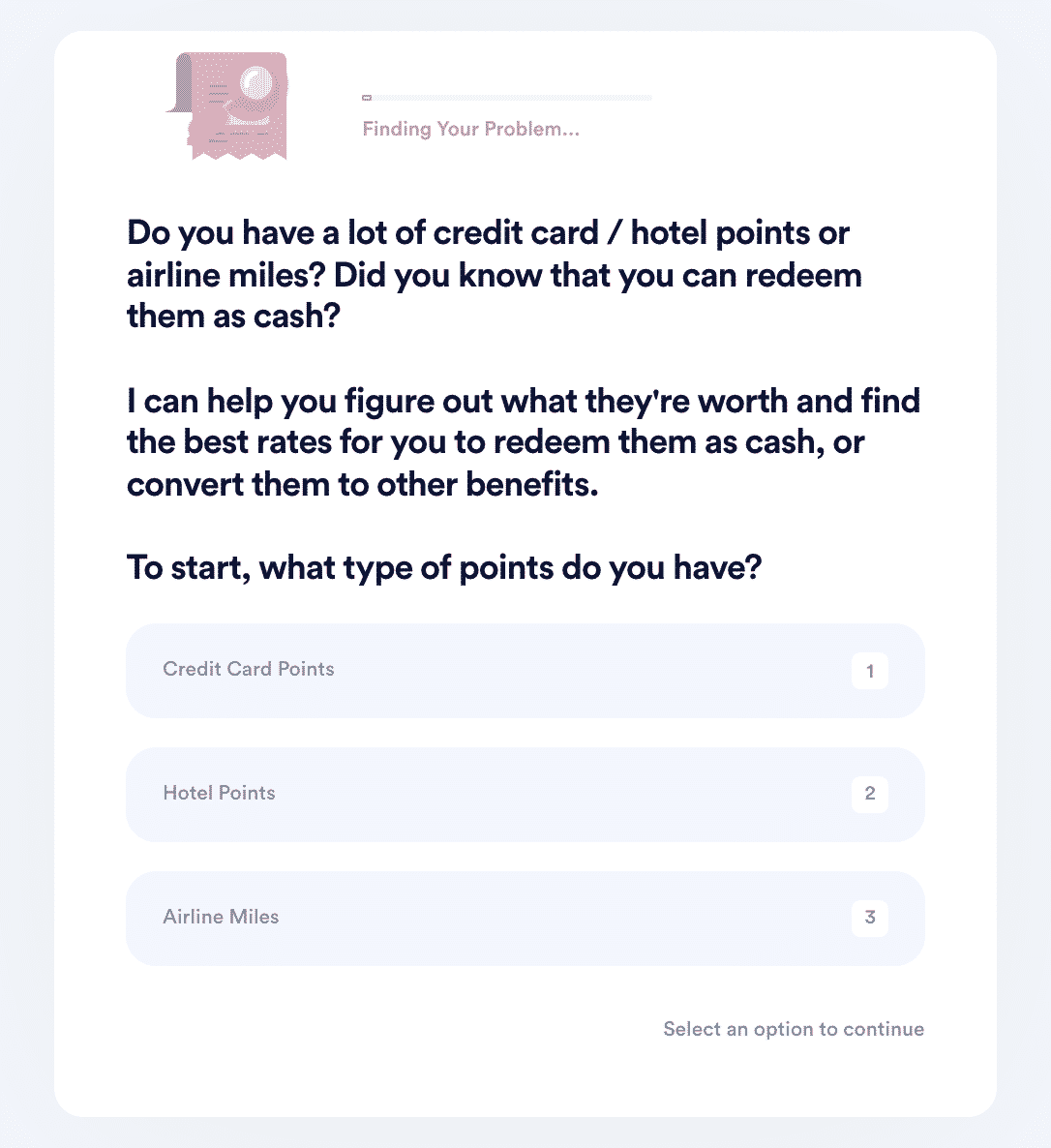 2. Choose whether you want to check your points balance, transfer your points, or sell them for cash.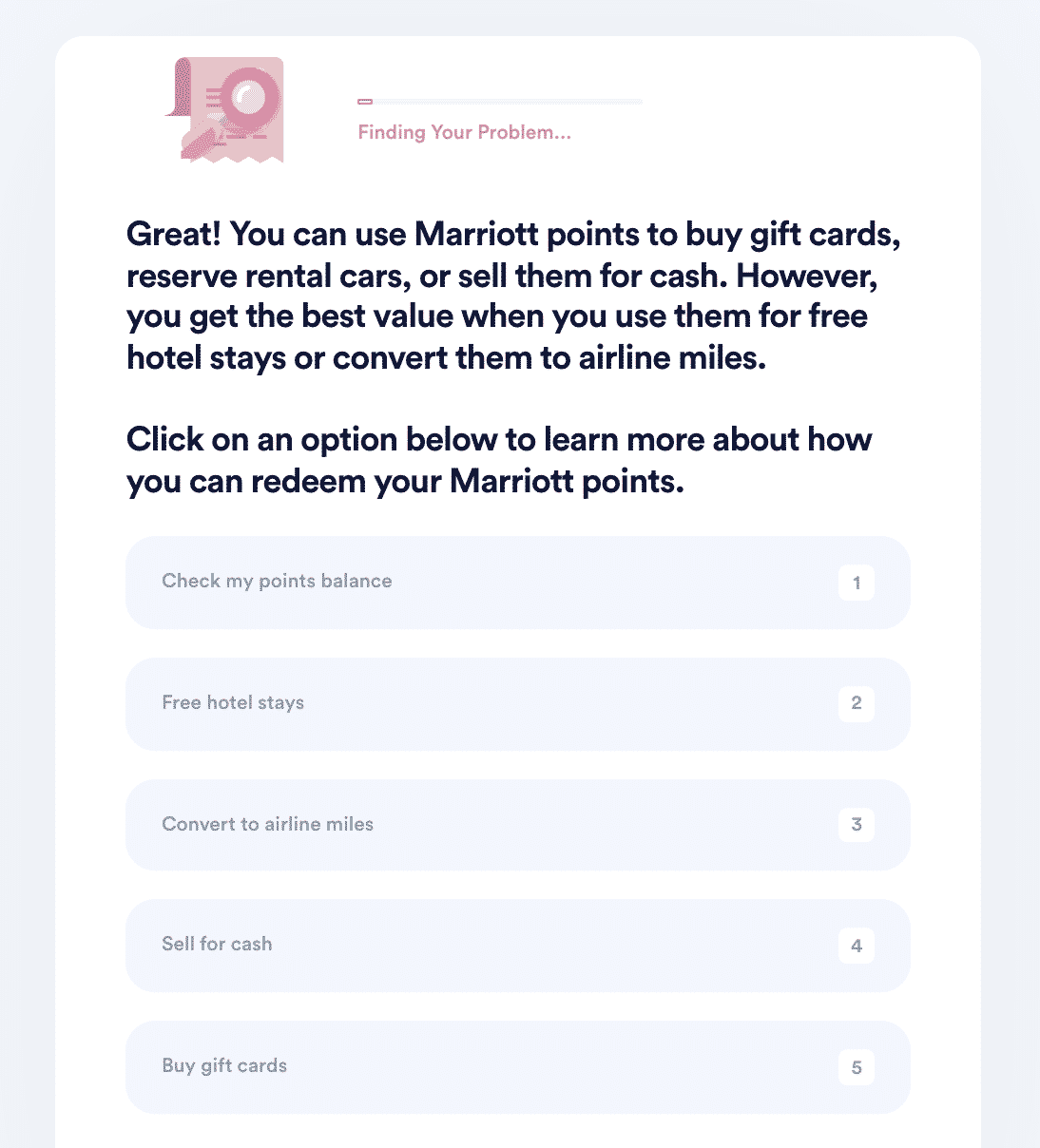 3. If you selected one of the first two options, DoNotPay can check your points balance or transfer your points for you. Otherwise, we can help you find the best deal through third-party vendors.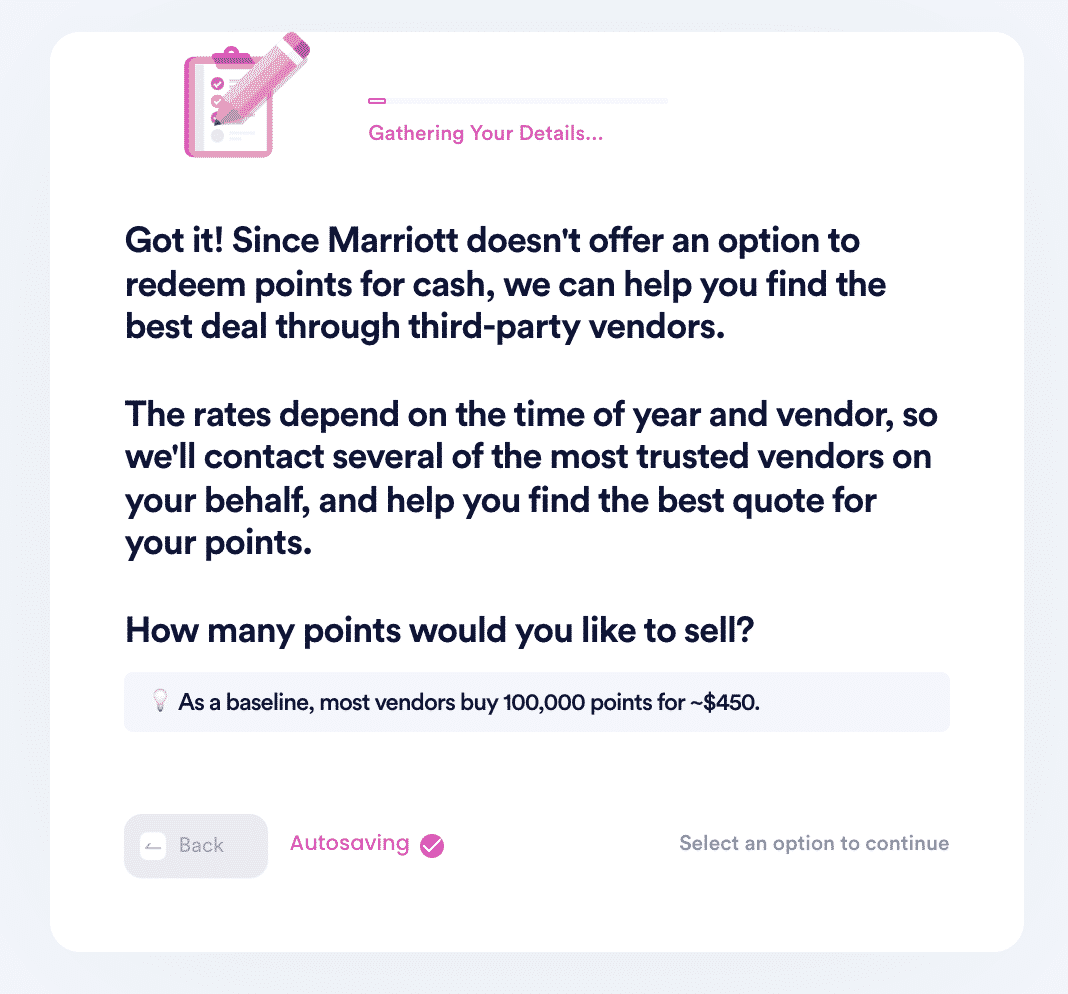 For example, if you have a United MileagePlus account, DoNotPay can do the legwork for you by finding a reputable partner program that works with both United and Chase. If you decide you would like to sell your United miles, DoNotPay can help you secure an attractive deal through a third-party vendor. We can even help you confirm your current MileagePlus balance so you can make the best choice.
Why Use DoNotPay to Transfer United Miles to Chase?
DoNotPay is the easiest and most efficient way to . By following DoNotPay's proven 3-step process, you can quickly transfer your United miles to Chase without enduring frustrating delays or roadblocks. Here are three reasons why DoNotPay is the "go-to" solution for anyone looking to transfer United miles without any hassle:
Quick Steps: You can whiz through DoNotPay's three steps in just a couple of minutes.
Easy to Use: The DoNotPay app is simple, convenient, and easy for anyone to use — even while on the go.
Successful: You can feel confident knowing your transfer was a success when you use DoNotPay to transfer your miles to Chase.
DoNotPay Can Help You Transfer and Sell Points From Many Airlines, Hotels, and Banks
Once you use the DoNotPay app to , you might be wondering if you can use DoNotPay to transfer or sell points you accumulated on some of your other accounts. Fortunately, the answer is yes. DoNotPay's simple three-step solution for transferring points and miles is so effective that you can use it with many other providers beyond United and Chase. Check out some of the ways DoNotPay can help you get the most out of your miles and points:
How Else Can DoNotPay Make Your Life Easier?
Helping you transfer United miles to Chase is just one small way DoNotPay can make life easier for you. From helping you find missing money to helping you deal with pesky robocalls, DoNotPay exists to help you quickly accomplish life's tedious and challenging tasks. Here are some other examples of the ways DoNotPay can benefit your life:
By delivering simple solutions to important tasks, DoNotPay is a powerful tool for busy Americans. We invite you to to get a taste of DoNotPay's impressive capabilities. We look forward to helping you make each day a more productive one!