How to Transfer Points to ANA
Do you know you can and use it to fly on its partner airlines? ANA Mileage Club enables members to transfer United miles or convert airline mileage with a click. But the issue is knowing how to navigate your membership account portal.
Many companies like Marriot use the membership reward system to appreciate loyal customers. But many people have little idea about points transfers, letting those points expire or lose value. If you want to exchange airline miles for ANA Mileage, DoNotPay can guide you.
A Little Background on ANA Mileage Club
ANA is short for All Nippon Airways, one of the major airlines in Japan. It flies local and international routes. ANA boasts a lucrative reward program for their customers called ANA Mileage Club. Besides being able to , there are other ways you can get ANA miles.
How to Earn ANA Mileage
Below are the options available for you to earn ANA points:
Fly with ANA
Transfer points from Marriott Bonvoy to ANA
Transfer membership rewards from Amex to ANA
Shop with ANA Global Mileage Mall
Earn with ANA Global Hotels
For this article, we will focus on how to earn mileage through transfers. Also, we're going to look at Marriott and Amex.
Here is a look at how ANA points compare with other travel partners:
| | |
| --- | --- |
| Hotel/Airline | Point Value (Cents) |
| Air Canada Aeroplan | 1.9 |
| Air France / KLM Flying Blue | 1.4 |
| Alaska Airlines Mileage Plan | 1.1 |
| American Airlines AAdvantage | 1.2 |
| ANA Mileage Club | 2 |
| Best Western Rewards | 0.7 |
| British Airways Avios | 0.8 |
| Delta Airlines SkyMiles | 1.3 |
| Emirates Skywards | 1 |
| Frontier Miles | 0.7 |
| Hawaiian Airlines HawaiianMiles | 1 |
| Hilton Honors | 0.5 |
| Hyatt | 1.9 |
| IHG Rewards | 0.8 |
| Marriott Bonvoy | 0.7 |
| Radisson Rewards | 0.6 |
| Southwest Airlines Rapid Rewards | 1.4 |
| Spirit Airlines Free Spirit | 1.1 |
| United Airlines MileagePlus | 1 |
| Virgin Atlantic Flying Club | 1.1 |
| Wyndham Rewards | 0.9 |
Why Should You Transfer Points to ANA?
ANA's miles are highly valuable when compared with other airlines. You can also take advantage of ANA's stop-over and open-jaw rules to increase your destinations.
If you transfer your hotel or airline rewards to ANA, you can use it for:
Car rental services
Hotels reservations
Dining
Fly partner airlines
Shopping in ANA e-commerce sites
Competing in ANA Selection Awards
Of course, ANA should be your best option when converting your airline and hotel membership rewards.
How Can I Join ANA's Mileage Club?
You can only transfer points to ANA after enrolling in its Mileage Club Program. Use these steps to get started:
Open this website.
Complete the form.
Get your ANA profile and password.
After enrollment, you can check how many ANA miles are available for flights and purchases. If you don't have enough ANA mileage, consider moving points on your Marriott or Amex accounts to ANA.
How to Sign in to Your ANA Mileage Club Account
To sign in to your ANA mileage club account, follow these steps:
Go to the ANA homepage.
Fill in your ANA number.
Enter your password.
Click 'enter.'
Interesting Facts About ANA Number and Passwords
If you didn't specify your password when applying, ANA would deliver one to your mail. Here are more things you should know about your ANA number and password:
Your 10-digit ANA number becomes essential when you want to book flights, redeem awards, and earn mileage.
Your ANA number also doubles as your user ID.
The carrier will not respond to inquiries without this number.
Your ANA number is different from your credit card number.
You will get a new ANA number when they issue a new card.
Your card and passport must bear the same name.
You can also create the ANA 8 – 16 alphanumeric web password for easier access to online services.
When Can My ANA Points Expire?
ANA miles expire 36 months after the day you earned them. For instance, if you got ANA miles on 16 September 2018, they will expire on 30 September 2021. You can extend your ANA miles if you hold ANA Diamond membership status.
How to Transfer Points to Your ANA Account
Follow these steps to transfer points from different sources to your ANA account:
How to Transfer Marriott Bonvoy Points to ANA
Transferring your Marriott Bonvoy to ANA is one of the most guaranteed ways to earn ANA miles. If the transfer is successful, you can log in to your ANA account to claim the points.

So, let's walk you through the steps of transferring your Marriott points to ANA:

Go to the Marriott website
Locate the 'Transfer Points' button.
Click it.
Enter your email or member number.
Tap 'Sign In.'
Select ANA.
Enter your ANA number.
Insert the number of points you want to transfer.
Click 'Continue.'

How to Transfer American Express Miles to ANA
Follow these simple steps if you want to move your Amex points to ANA:

Go to the Amex homepage on your browser.
Tap 'Earn and Redeem.'
Scroll to 'Transfer Points.'
Enter your Amex account login credential.
Choose your designed transfer partner — in this case, ANA.
Insert your 10-digit ANA number.
Choose the number of points you want to transfer.
Accept the terms and conditions.
Confirm the reward points to complete the transaction.
Move to your ANA account to confirm the transfer.
Issues You Might Encounter When Moving Funds to ANA
Points transfer from Amex to ANA at a 1:1 ratio and will update in two business days. You get a 5000-miles bonus when you transfer up to 60,000 Marriott points to ANA. Since Marriott transfer bonuses come with expiry dates, you should calculate the best time to initiate the transfer.
Sometimes, many people don't know how many points they have in their membership account. Even if they do, they have little idea how to convert the funds. If you have issues transferring your points to ANA, DoNotPay can help.
If you forget your password, transferring your points will be more challenging. But not to worry, because you can restore your account via the DoNotPay Recover Password Product.
How Can You Transfer Your Points to ANA Using DoNotPay?
Let's see how DoNotPay can seamlessly help you transfer to ANA with these easy steps. Here's how to get started:
1. Search "points" or "rewards" on DoNotPay, and select the rewards program you're a part of / the type of points you have.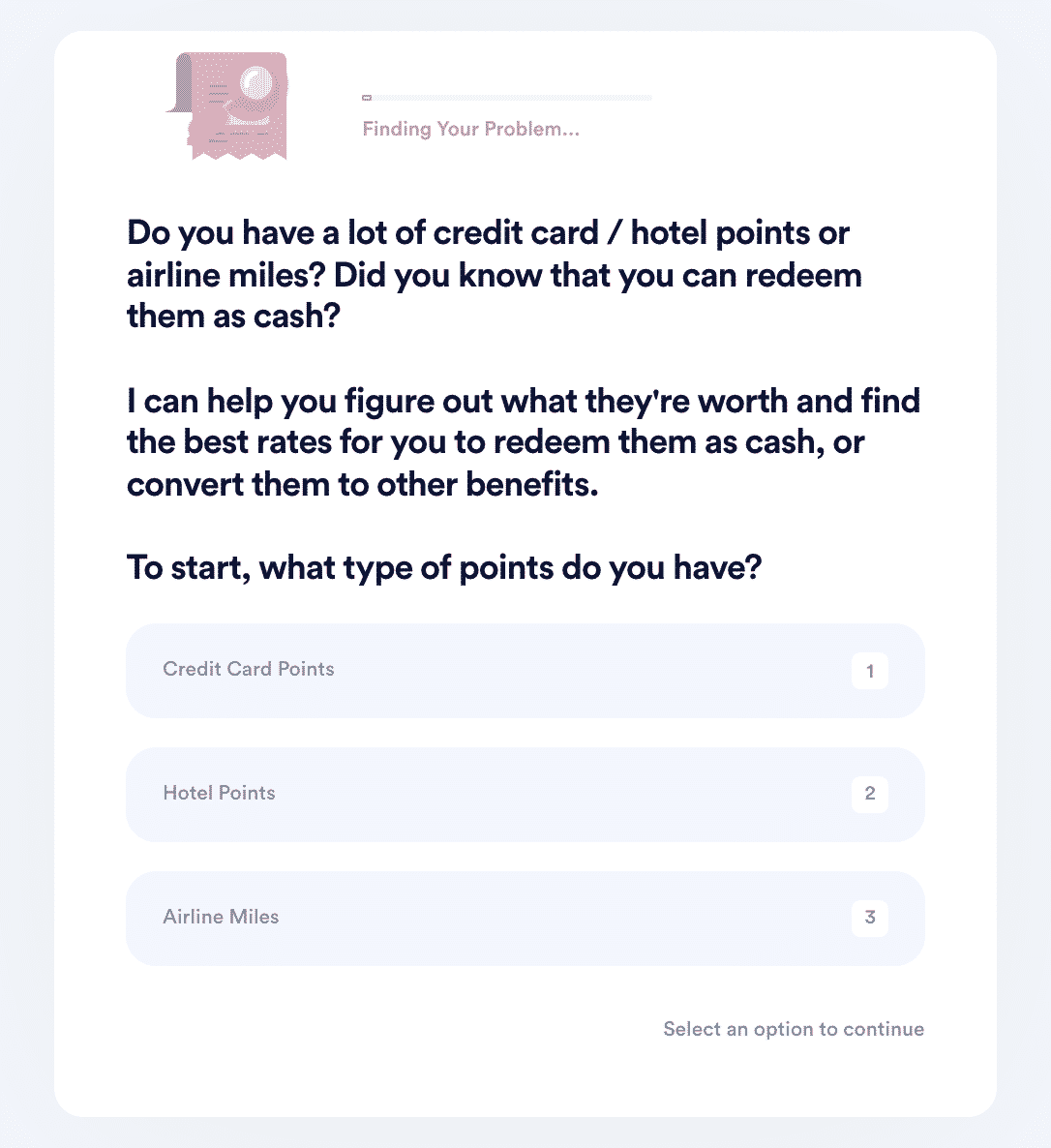 2. Choose whether you want to check your points balance, transfer your points, or sell them for cash.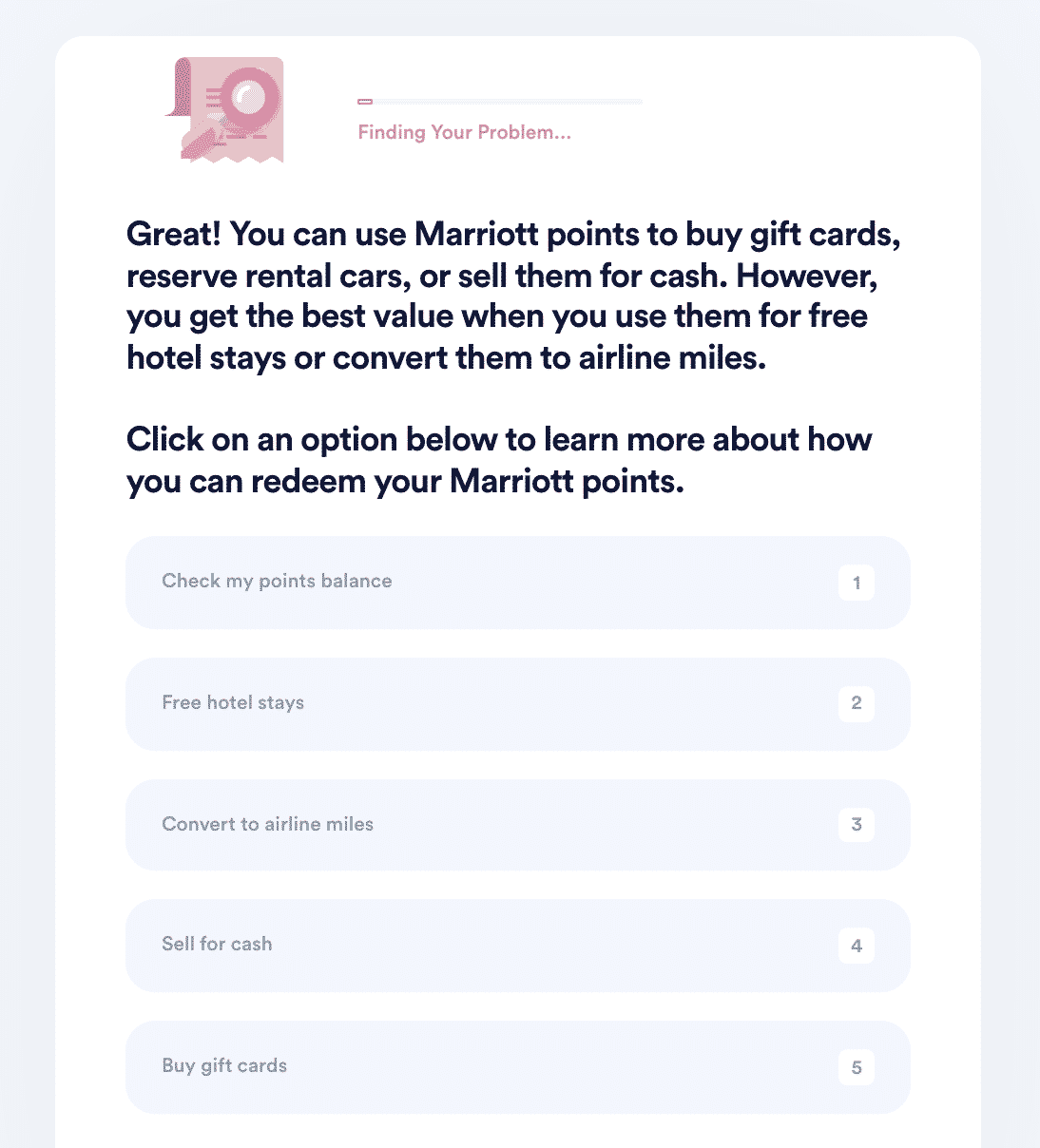 3. If you selected one of the first two options, DoNotPay can check your points balance or transfer your points for you. Otherwise, we can help you find the best deal through third-party vendors.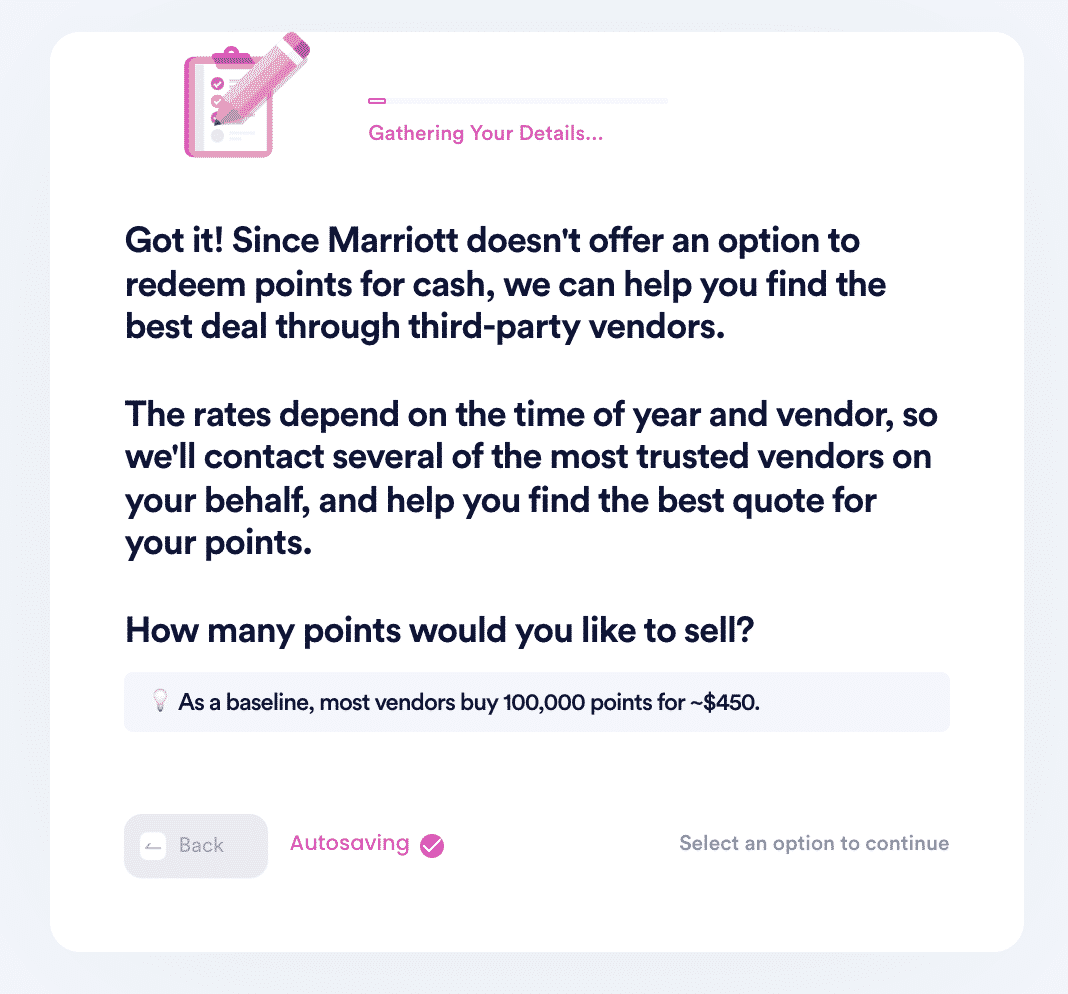 What Else Can DoNotPay Do for You?
DoNotPay presents an excellent opportunity for you to solve issues you may have with service companies and entities. Besides helping you transfer to ANA, we can also help you to:
Contact DoNotPay so we can help you process and manage your transfers of points to ANA.