All About Alaska Airlines Miles
If you find yourself traveling a lot, you have likely found yourself with quite a few flying miles. When you go on a flight, you earn miles and can later use them for a variety of things. If you use Alaska Airlines frequently, you might want to know how to .
With your miles, you can do many things like use them for free or reduced flights or buy items. It can be hard to determine just how you should use your miles. You want to find the best way to use your miles so that you get the most for what you have.
The good news is, you don't have to decide on your own. Instead, contact DoNotPay, and we will figure out the best way to use your miles for you.
How You Can Get Alaska Airlines Miles
Getting Alaska Airlines Miles is pretty simple. You can:
Fly with Alaska Airlines or one of its partners
Getting an Alaska Airlines credit card
Referring a friend to the card
Shopping with that card
Eating at certain restaurants
Staying at partner hotels
Once you get these points, you can use them to get discounts, go shopping, or to use in a different airline.
Here is how Alaska Airline miles compare to other travel partners:
| | |
| --- | --- |
| Hotel/Airline | Point Value (Cents) |
| Air Canada Aeroplan | 1.9 |
| Air France / KLM Flying Blue | 1.4 |
| Alaska Airlines Mileage Plan | 1.1 |
| American Airlines AAdvantage | 1.2 |
| ANA Mileage Club | 2 |
| Best Western Rewards | 0.7 |
| British Airways Avios | 0.8 |
| Delta Airlines SkyMiles | 1.3 |
| Emirates Skywards | 1 |
| Frontier Miles | 0.7 |
| Hawaiian Airlines HawaiianMiles | 1 |
| Hilton Honors | 0.5 |
| Hyatt | 1.9 |
| IHG Rewards | 0.8 |
| Marriott Bonvoy | 0.7 |
| Radisson Rewards | 0.6 |
| Southwest Airlines Rapid Rewards | 1.4 |
| Spirit Airlines Free Spirit | 1.1 |
| United Airlines MileagePlus | 1 |
| Virgin Atlantic Flying Club | 1.1 |
| Wyndham Rewards | 0.9 |
Ways to Use Your Alaska Airlines Miles on Your Own
The most common things to do with your Alaska Airlines Miles are to get free or reduced flights or go shopping. Here's a quick breakdown of your options:
Flights
Follow these steps to use your points:

Start by going to their website to set up your flight details.
Fill in all the information asked for about your flight. Make sure to check the Use Miles box on the left side.
On the right side of the bar, select one of these three options:

Miles only
Miles & money- lowest price
Miles & money-unrestricted

Click on Find Flights and select the flight you wish to take.
Then follow the prompts as they come up.

Shopping
Follow these steps to start shopping:

Head to their website and log in to your Alaska Air account.
At the top of the page, you can search for products by category, offers, and popular stores. You can also search for a specific product using the search bar.
Click on the item or items you wish to buy and follow the prompts to use your miles.
If you're not sure whether it's better to use your Alaska Airlines Miles for free or reduced flights or shopping, you're not alone. Let DoNotPay figure out the best option.
Use DoNotPay to Figure Out How to Use Your Alaska Airlines Miles
If you want to avoid having to spend a bunch of time trying to compare things to find the best use for your miles, do it another way. Let DoNotPay determine how you should use your miles.
You may end up spending a lot of time and energy trying to figure out the best way to use your Alaska Airlines miles. Instead, let DoNotPay do it for you.
Here's how to get started:
1. Search "points" or "rewards" on DoNotPay, and select the rewards program you're a part of / the type of points you have.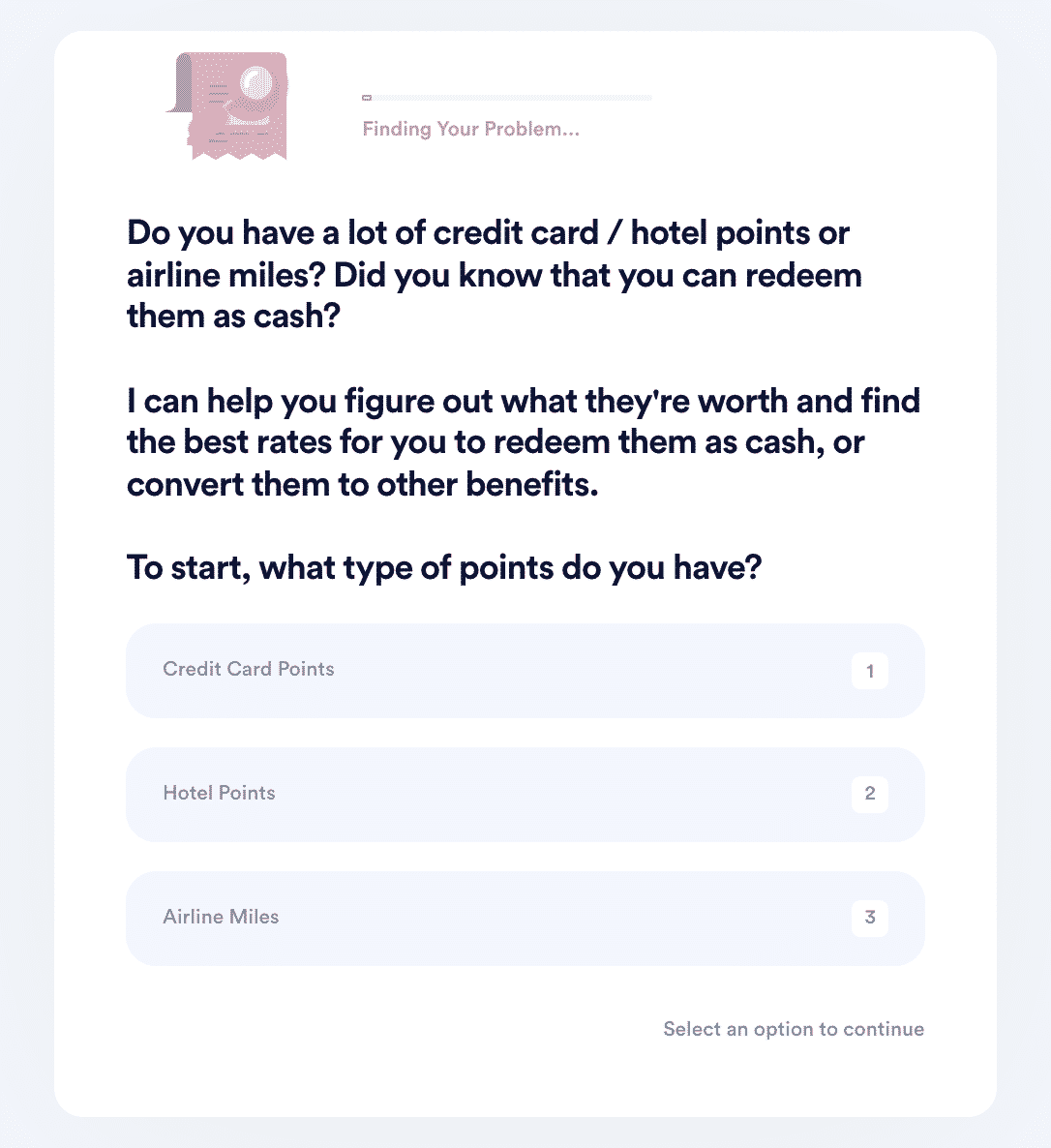 2. Choose whether you want to check your points balance, transfer your points, or sell them for cash.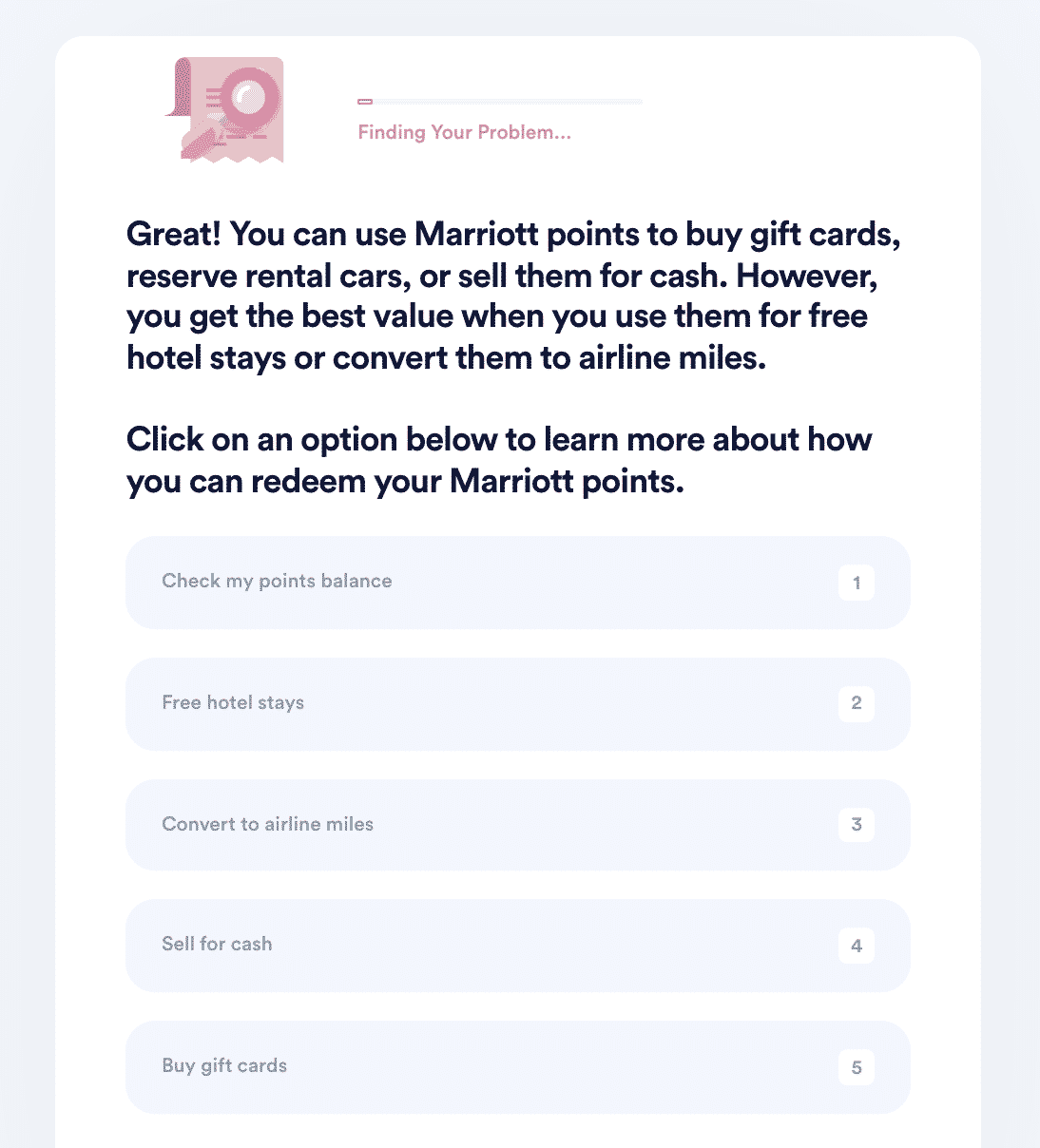 3. If you selected one of the first two options, DoNotPay can check your points balance or transfer your points for you. Otherwise, we can help you find the best deal through third-party vendors.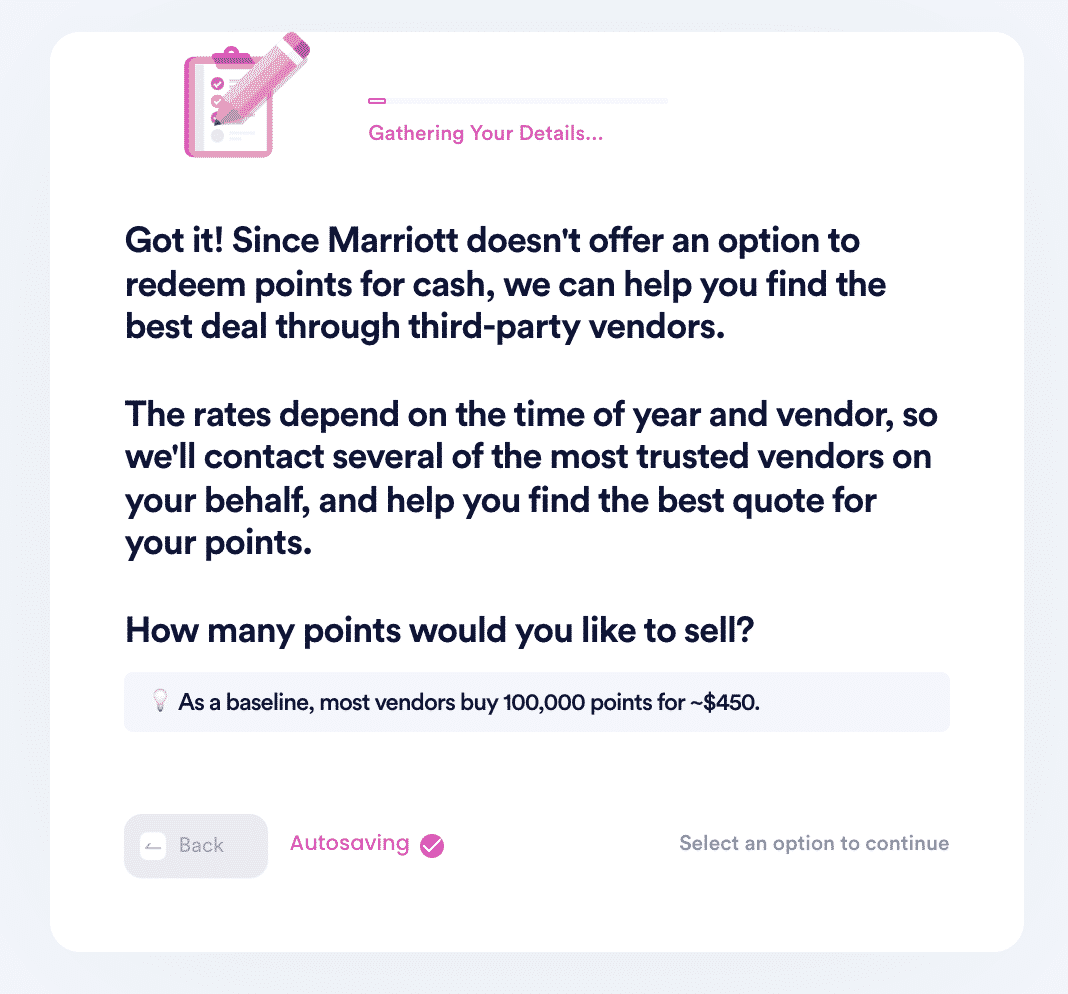 DoNotPay Can Help You With Many Things
Figuring out the best way to use your Alaska Airlines miles is just the tip of the iceberg in what DoNotPay can do for you. Here are more examples of what we can help you with.
If you have more travel and credit card points you want to convert or sell, DoNotPay can streamline the process as you:
Flying can be a great experience for people, and it can be made even greater when you earn frequent flier miles. When you sign up for a mileage program, you earn miles when you fly, shop, and stay at hotels. Alaska Airlines has a pretty good mileage program and has plenty of ways you can use the miles you earn as well.
The trouble is that with so many different ways to use your miles, it can be tough to figure out the best way to go. Of course, you want to choose the option that gives you the most for your miles, but that isn't always the easiest to figure out. DoNotPay is ready to step in and help you out. We can take a look at your miles and figure out the best way for you to use them. So, reach out to us today and see how we can help with your miles and many other helpful things.