How to Transfer Frontier Miles Fast
Frontier Airlines has long been the favorite low-cost carrier in the United States. Frontier Miles, the airline's frequent flier program, offers consistently inexpensive ticket pricing on new Airbus jets. Consumers love to , and redeem them for free flights on Frontier's huge domestic route network.
Frontier Miles, which replaced Frontier's old Easy Returns program, was introduced two years ago. Some of the founding principles of the original mileage program, such as distance-based mileage earning, were retained. New elite ranks, bonuses, and a redesigned award chart were also included. These factors elevate Frontier Miles over Easy Returns, making the loyalty program beneficial for frequent Frontier Airlines flyers.
If you're wondering how to transfer Frontier Miles, you're in the right place. This article covers four important topics:
How to earn Frontier Miles
How to transfer Frontier Miles using DoNotPay
Why you should use DoNotPay to transfer miles from Frontier to Delta (or any airline)
And a few other ways you could use DoNotPay
Now, let's get into Frontier airline miles.
How Does One Earn Frontier Miles?
Frontier is one of the few US airlines that's very consistent with their miles and pricing. International award flights start at 15,000 miles one-way while domestic award flights start at 10,000 points one-way. There are certain costs to be aware of, so be sure to read the part on redeeming miles on this page for more information.
Frontier Airlines does not have any partner airlines, making earning miles difficult. You can do a few things in your daily life to optimize your Frontier Miles earnings.
This table illustrates all the ways you can earn Frontier miles.
Earn Miles by Flying
The distance of your flight will determine how many you receive. So, if you go from Chicago-O'Hare (ORD) to Newark (EWR) with Frontier, you'll get 719 Frontier miles at the end of the journey.

Despite how much you spend on your ticket, you'll get the same number of miles.

Individuals who have achieved Frontier elite level will receive even more points.
Because Frontier does not provide a business class cabin, there are no other ways to earn more miles on a Frontier ticket.
You can earn more miles if you can pay for your ticket using a Frontier Airline credit card.

Use a Frontier Airlines Credit Card
The Frontier Airlines World MasterCard gets:

5 miles for every $1 spent on Frontier goods
3 miles for every $1 spent in restaurants
and 1 mile for every $1 spent elsewhere

In addition, after spending $500 in your first 90 days as a card user, you may receive 50,000 Frontier miles.

Zone 2 boarding is included and waived award redemption costs on all Frontier flights.

Frontier charges a fee if you purchase an award ticket fewer than 180 days before traveling. Depending on the departure, these costs range from $15 to $75. You can save a lot of money by paying with your Frontier Airlines World MasterCard.

Earn and Transfer Points from Hotel Points Program
Radisson Rewards, Marriott Bonvoy, and Wyndham Rewards are the three hotel brands with whom Frontier Airlines presently has relationships.

Marriott points may be transferred at a 3:1 ratio, whereas Radisson Rewards points can be moved at a 10:1 percentage, and Wyndham points may be shared at a 5:1 ratio.

These aren't great odds, and you'd be better off using your points to book a hotel stay. However, if you ever need to top up your Frontier Miles account, it's a good idea to be aware of this alternative.

If you have credit cards, hotel, or airline points, DoNotPay can also assist you in figuring out your best options based on your rewards program and how much each point is worth in terms of money.
That's a lot to remember, we know. The great news is that DoNotPay makes it easy to transfer rewards points from one program to the next. The app works with all airlines, hotels, resorts, credit cards and service providers.
Now let's see how easy it is to transfer your Frontier Miles with DoNotPay.
Transfer Frontier Miles with the Help of DoNotPay
Need to send your miles to a family member so they can travel affordably? Use DoNotPay to transfer your Frontier miles quickly with these steps.
Here's how to get started:
1. Search for "points," or "rewards" on DoNotPay, and select the rewards program you're a part of / the type of points you have.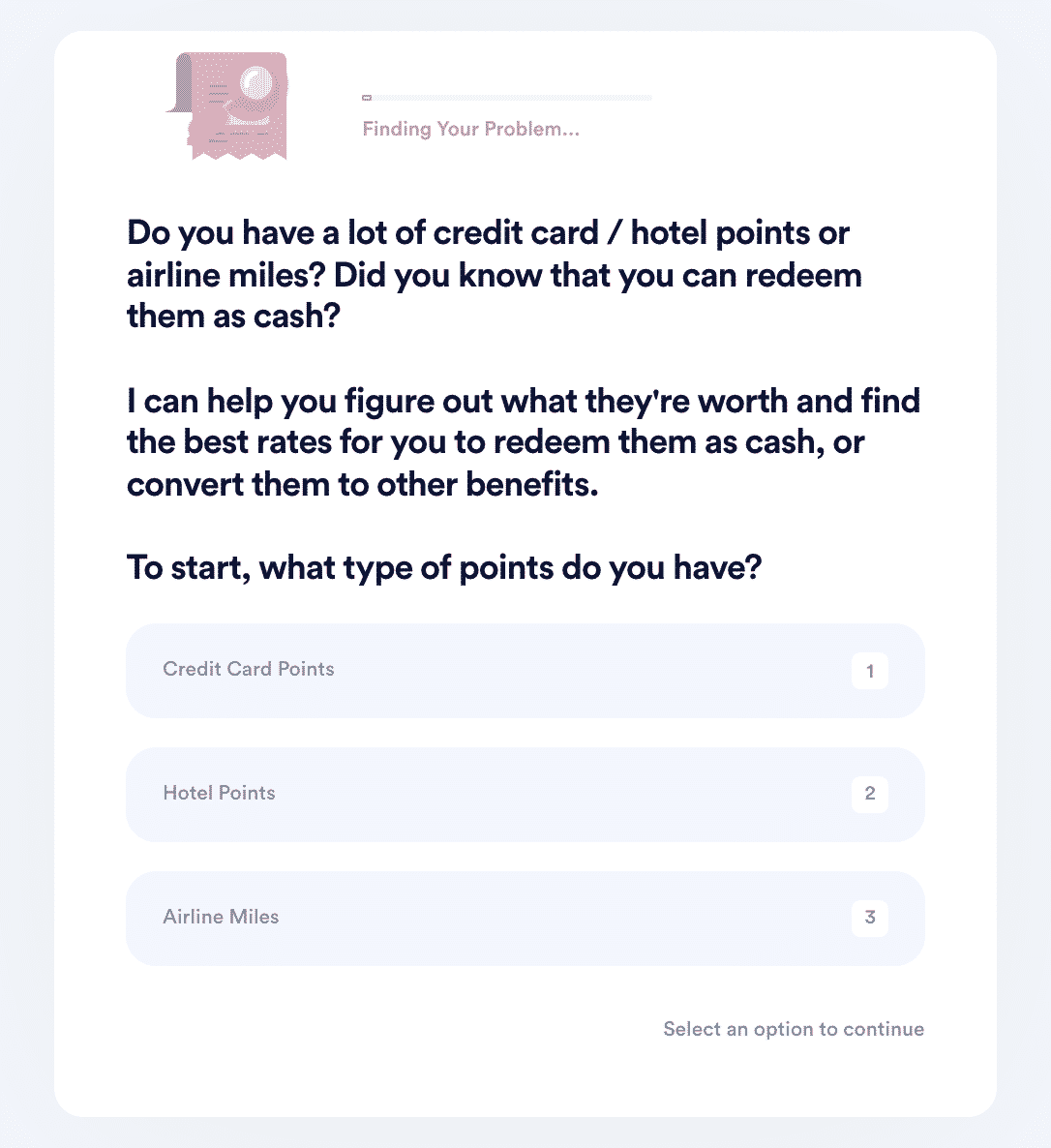 2. Choose whether you want to check your points balance, transfer your points, or sell them for cash.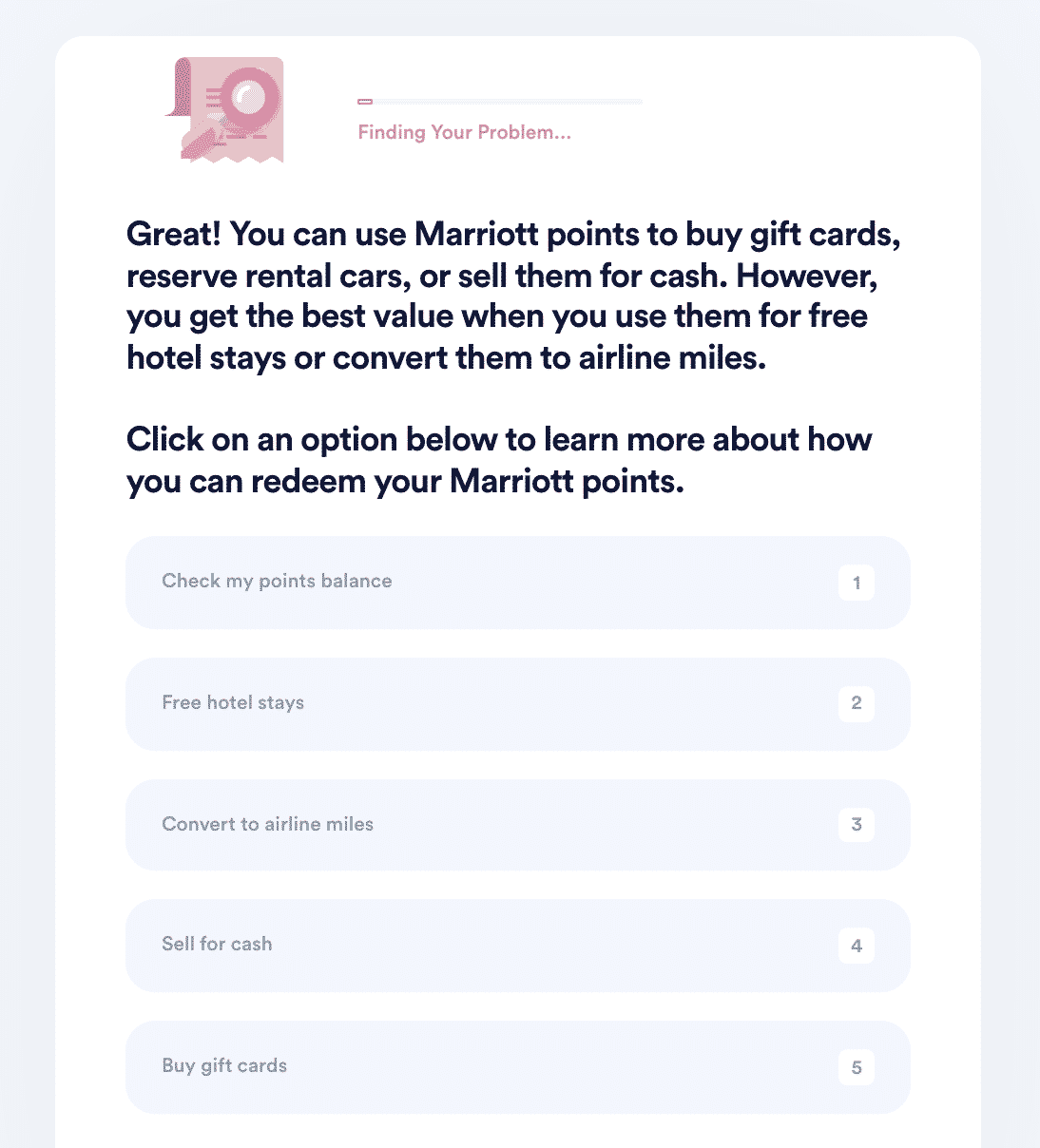 3. When you pick one of the first two options, DoNotPay can check your points balance or transfer your points to you. Otherwise, we can help you find the best deal through third-party vendors.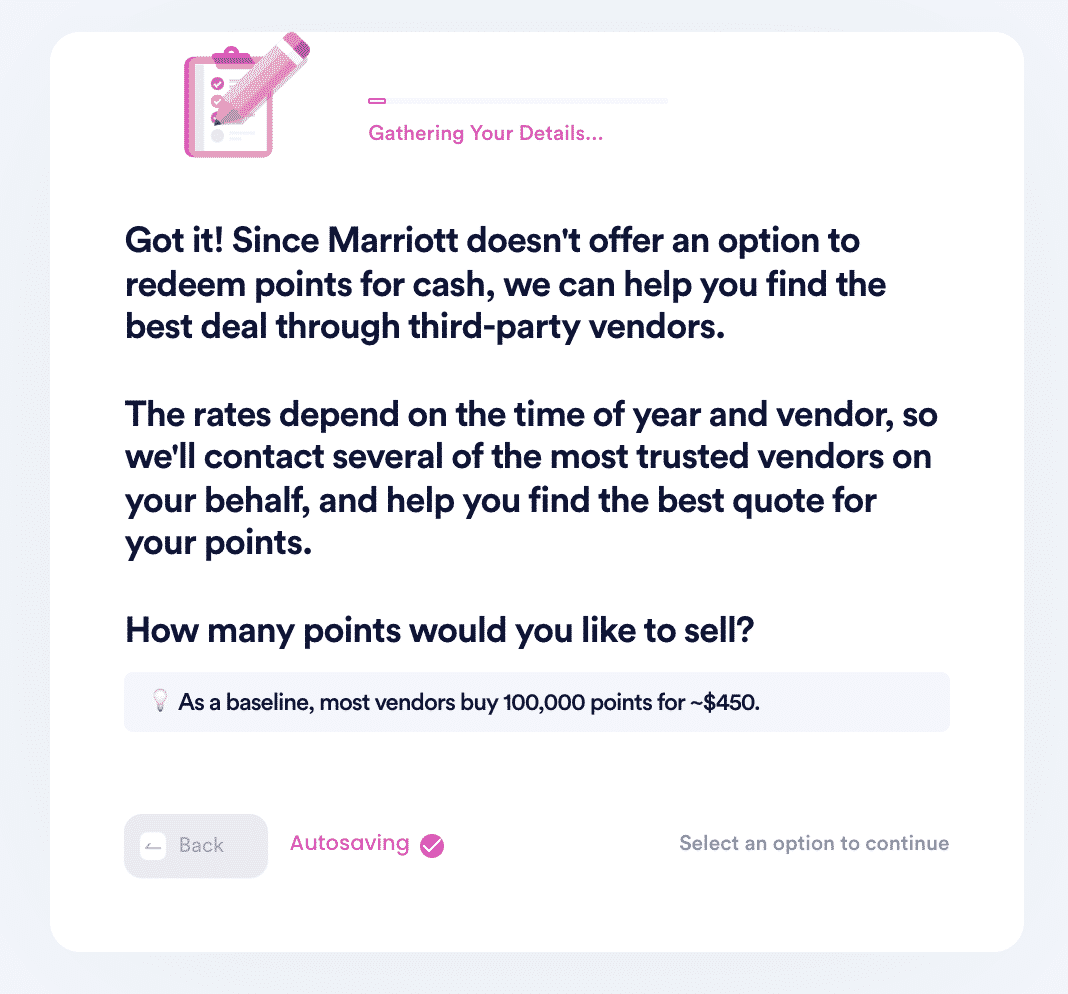 It's that easy.
Why Use DoNotPay in Frontier Airlines Transfer Miles to Delta (or any airline)?
One of the most common requests we hear is: "Can I transfer points from one airline to another?" Yes. DoNotPay can help you get it done. We work with all the major airline programs.
Try it for:
Use DoNotPay to transfer your points because it is:
1. Fast— You won't have to check-in and transfer your points for hours.
2. Easy — You won't have to waste time filling out lengthy documents or learning how to transfer points.
3. Successful — DoNotPay really works, every time.
It's a Great Tool for Anyone Who Travels
DoNotPay is great for people who travel for work or pleasure. It can help you resolve all kinds of issues with all sorts of companies. For instance:
Did you know you can sell airline rewards points? DoNotPay can help.
Did you know you can appeal your hotel fees and get them refunded? DoNotPay knows.
And that's only the beginning.
What Else Can DoNotPay Do?
Transferring reward points is just one of many things DoNotPay can help you with. Here are some other services you might love:
Are you frustrated with the time-consuming and inconvenient methods of? For a simple and easy transaction, contact DoNotPay now!