How to Transfer Etihad Miles?
For some people, traveling is something that is frequently a part of their lives. If that's the case, you are probably gaining quite a few frequent flier miles. Every time you make a flight, you earn miles that can then later be used for various things. If you wish to to other airlines, this guide will show you how.
You can transfer your Etihad Miles to quite a few different airlines to make flights cheaper or at no cost. It can be challenging to figure out which is your best option. You want to make your choices carefully, or you won't end up getting the most bang for your buck.
Reach out to DoNotPay, and we will search for the best deals for your Etihad Miles. This allows you to avoid the work but still get the most for your money.
How to Earn Etihad Miles
Here is a breakdown of how to earn :
Fly using Etihad or one of their partner airlines.
Some examples of partner airlines include Air New Zealand, Air Canada, and American Airlines.
Use an Etihad Guest payment card on purchases.
Stay at certain hotels.
Shop with certain partners.
Use the Walletplus prepaid Visa card.
Buy from the inflight magazine, Vibe.
Here is how Etihad Miles compare to other travel partners:
| | |
| --- | --- |
| Hotel/Airline | Point Value (Cents) |
| Air Canada Aeroplan | 1.9 |
| Air France / KLM Flying Blue | 1.4 |
| Alaska Airlines Mileage Plan | 1.1 |
| Asia Miles | 1.2 |
| American Airlines AAdvantage | 1.2 |
| ANA Mileage Club | 2 |
| Best Western Rewards | 0.7 |
| British Airways Avios | 0.8 |
| Delta Airlines SkyMiles | 1.3 |
| Emirates Skywards | 1 |
| Etihad Miles | 1 |
| Frontier Miles | 0.7 |
| Hawaiian Airlines HawaiianMiles | 1 |
| Hilton Honors | 0.5 |
| Hyatt | 1.9 |
| IHG Rewards | 0.8 |
| Marriott Bonvoy | 0.7 |
| Turkish Miles & Smiles | 1.3 |
| Radisson Rewards | 0.6 |
| Southwest Airlines Rapid Rewards | 1.4 |
| Singapore Airlines KrisFlyer | 1 |
| Spirit Airlines Free Spirit | 1.1 |
| United Airlines MileagePlus | 1 |
| Virgin Atlantic Flying Club | 1.1 |
| Wyndham Rewards | 0.9 |
How to Use Your Etihad Miles on Your Own
Two of the most common ways to use your Etihad miles are for flights or shopping. Here's a quick breakdown of how those options work:
Flights
Follow these steps to use Etihad miles on flights:

Head to the website for the partner airline you wish to fly with.
Set up your flight information.
You should have the option to select to use your miles.
Select the number of miles you wish to use.
Pay any remaining balance and book your flight.

Shopping
Follow these steps to use Etihad for shopping:

Head to this site and sign in to your Etihad Guest account.
Scroll through the page, and you will see categories like fashion, entertainment, health & beauty, and others.
You can click on any of the categories listed to be brought to a page with more items.
Select what you want to buy and pay with your miles.
Trying to figure out which of these options is the best route for you can be tough. Instead, let DoNotPay help you figure it out.
Let DoNotPay Determine the Best Way to Use Your Etihad Miles
You may end up spending a lot of time and energy trying to figure out the best way to use your Etihad Miles. Instead, let DoNotPay do it for you. We can help you use them, transfer them, and fly on partner flights.
Here's how to get started:
1. Search "points" or "rewards" on DoNotPay, and select the rewards program you're a part of / the type of points you have.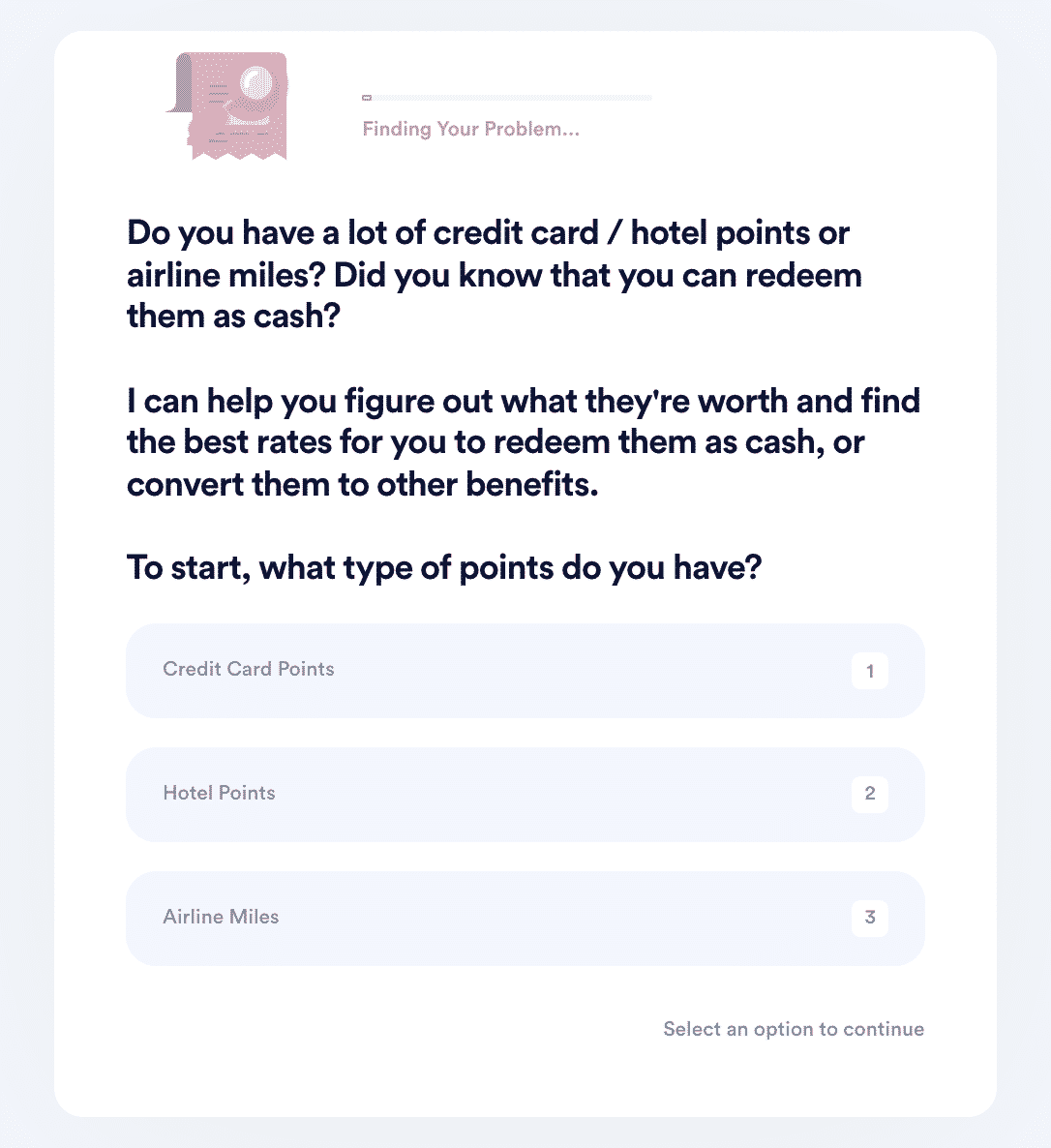 2. Choose whether you want to check your points balance, transfer your points, or sell them for cash.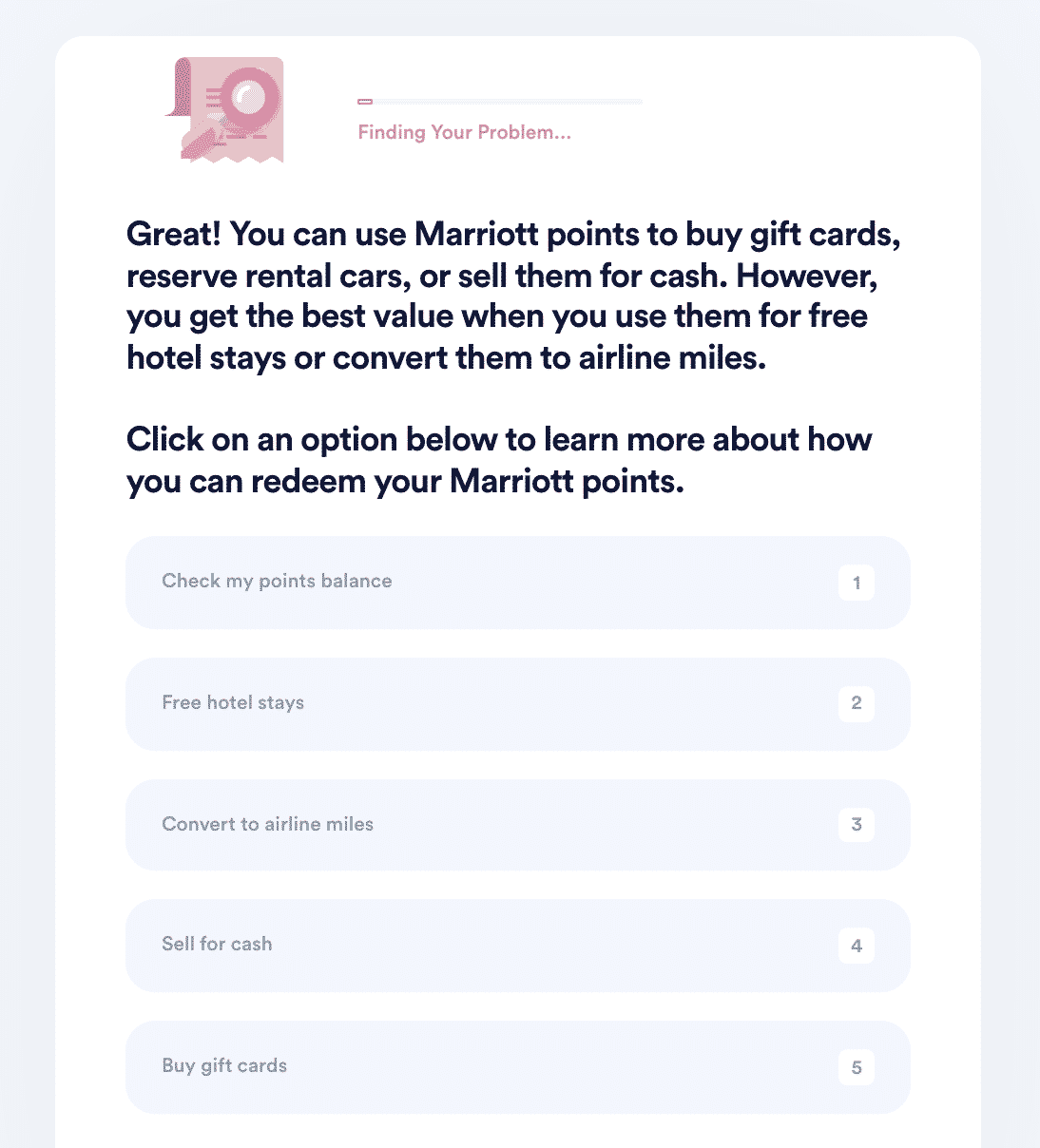 3. If you selected one of the first two options, DoNotPay can check your points balance or transfer your points for you. Otherwise, we can help you find the best deal through third-party vendors.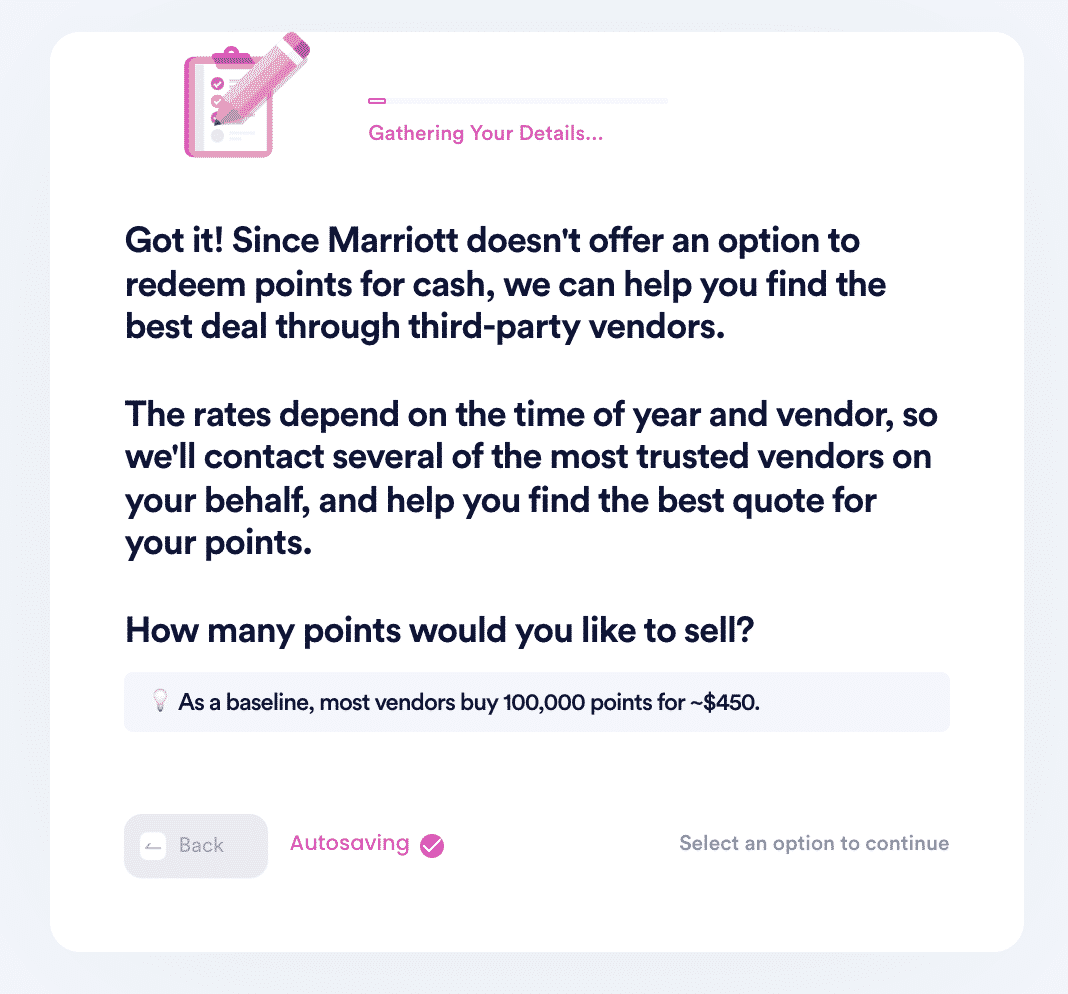 DoNotPay Can Help You With Many Things
We are happy to help you find the best way to use your Etihad Miles, but that is just one of the many things we can do. We work with a wide variety of companies and can do quite a few tasks because of it. Here are a handful of examples of how we can help you:
We can also help you:
It's Time to Use DoNotPay
For people who love to travel or are required to do so for work, you can earn quite a few miles when you fly through Etihad airlines or its partners. Every time you fly through one of these airlines, you earn miles that you can then use elsewhere. You can also earn miles by staying at certain hotels and making purchases under certain conditions.
Once you have accrued a certain number of miles, you can start using them in various ways. For example, you can use them to get free or reduced flights through Etihad or its partners. You can also use the miles to shop through Etihad's Guest shop.
However, it can be difficult to determine the best way to use your miles. You want to ensure you are using the miles in the best way so that you get the most out of your money. DoNotPay can look at the number of miles you have and determine the best place for you to use them. So, contact us today to see how we can help you with your Etihad miles and discover everything else DoNotpay can do for you.