How to Transfer Asiana Miles to United
You can find a South Korean carrier named Asiana in the Star Alliance. This airline is known to have an excellent loyalty program. While the program is pretty good, it isn't always easy to work with. You need to know a few ins and outs to use the loyalty program rightfully.
Asiana has partnered with a few airlines so that customers can transfer their miles. One of Asiana's best partners is United Airlines. Many people look for how to transfer Asiana miles to United. If you're one of them, this article will help you find the answer. However, transferring miles from one airline to another isn't easy. If you are looking for an easy way to transfer miles, we have an easy solution called DoNotPay. Here's how you can convert miles and points to get extra perks.
Can You Transfer Asiana Miles to United?
This is pretty tricky to understand as it involves certain facts. The direct transfer of Asiana miles to United isn't possible. But you can use the Asiana miles program to book with United. Keep reading to learn more about it.
Asiana and United, being two different airlines, have different programs. For this reason, it isn't easy to transfer the points from Asiana to United. Here are the two most important strategies for mile transferring that you need to know:
| | |
| --- | --- |
| Using Credit Card Points | Many credit card companies help you to earn points. Then the points are transferred to United Airlines. Meaning, it is possible to transfer credit card points to airlines. But it isn't possible to transfer Asiana miles to United directly.  |
| Redeeming Miles | Next, you can redeem the Asiana miles and use them on United Airlines. However, this isn't the same as the case of transfer. Your miles remain in Asiana, but you can utilize them to book. All your contact will be with Asiana at first. But you will be able to book with United. |
To recap, you can't transfer Asiana miles to United. You can book United Airlines by using the Asiana Miles program. 
Here is a comparison of the value of United Miles and Asiana Miles:
| | | |
| --- | --- | --- |
| | United | Asiana |
| Mileage Value (in dollars) | 1 Cent | 1.2 Cents |
How to Transfer Asiana Miles to United Using DoNotPay
If you can't do it yourself, DoNotPay can provide you with the best help. You can easily contact the platform and transfer miles. The easy and smooth platform will make everything simple. You don't have to spend or waste your time dealing with things. Also, you don't have to search for the best deals to redeem points. Instead, within a few clicks on the platform, you're ready to use DoNotPay.
Don't know where to start or how to transfer Asiana miles to United with DoNotPay? Fret no more; here are three simple steps you need to follow:
1. Search "points" or "rewards" on DoNotPay, and select the rewards program you're a part of / the type of points you have.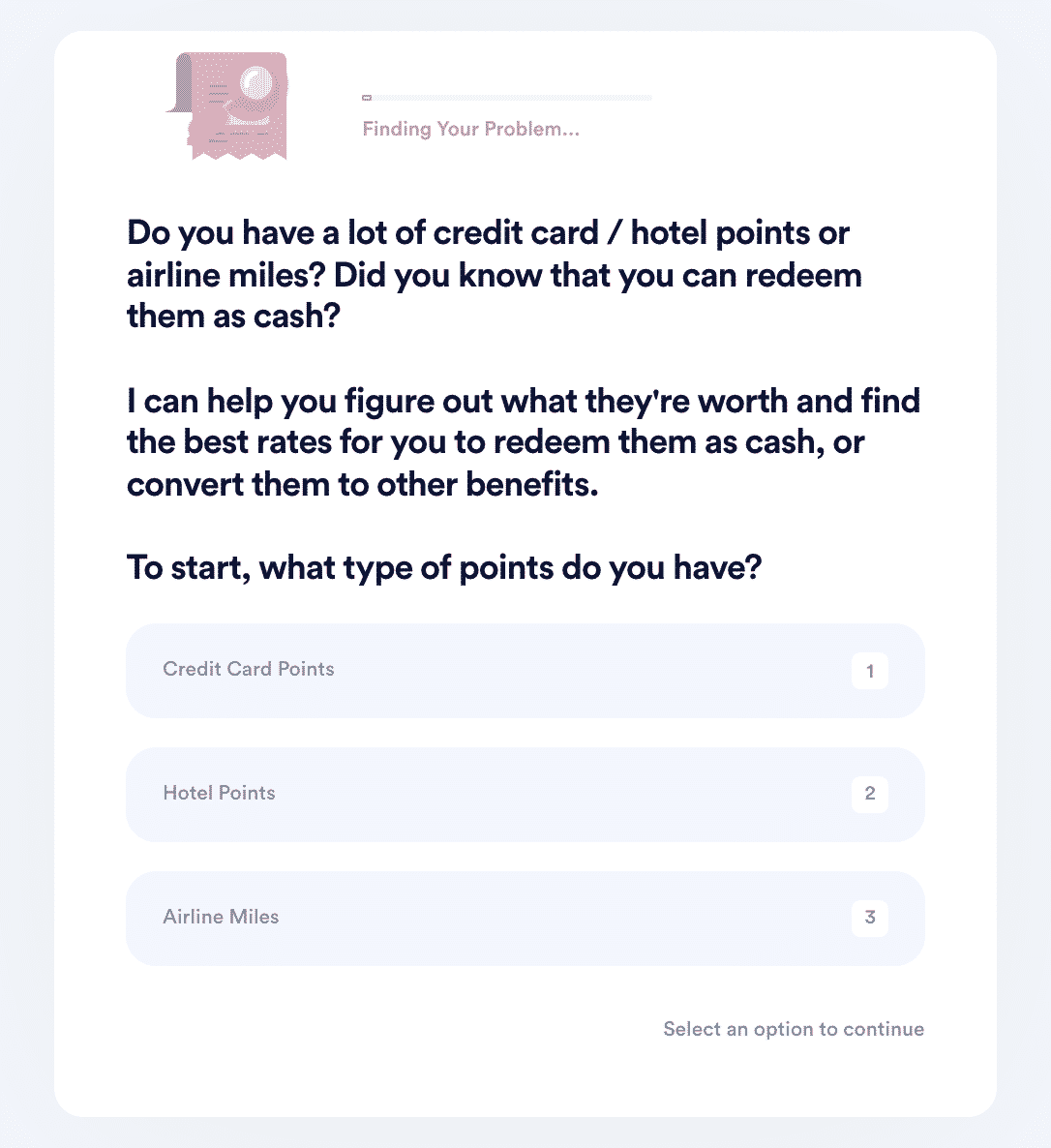 2. Choose whether you want to check your points balance, transfer your points, or sell them for cash.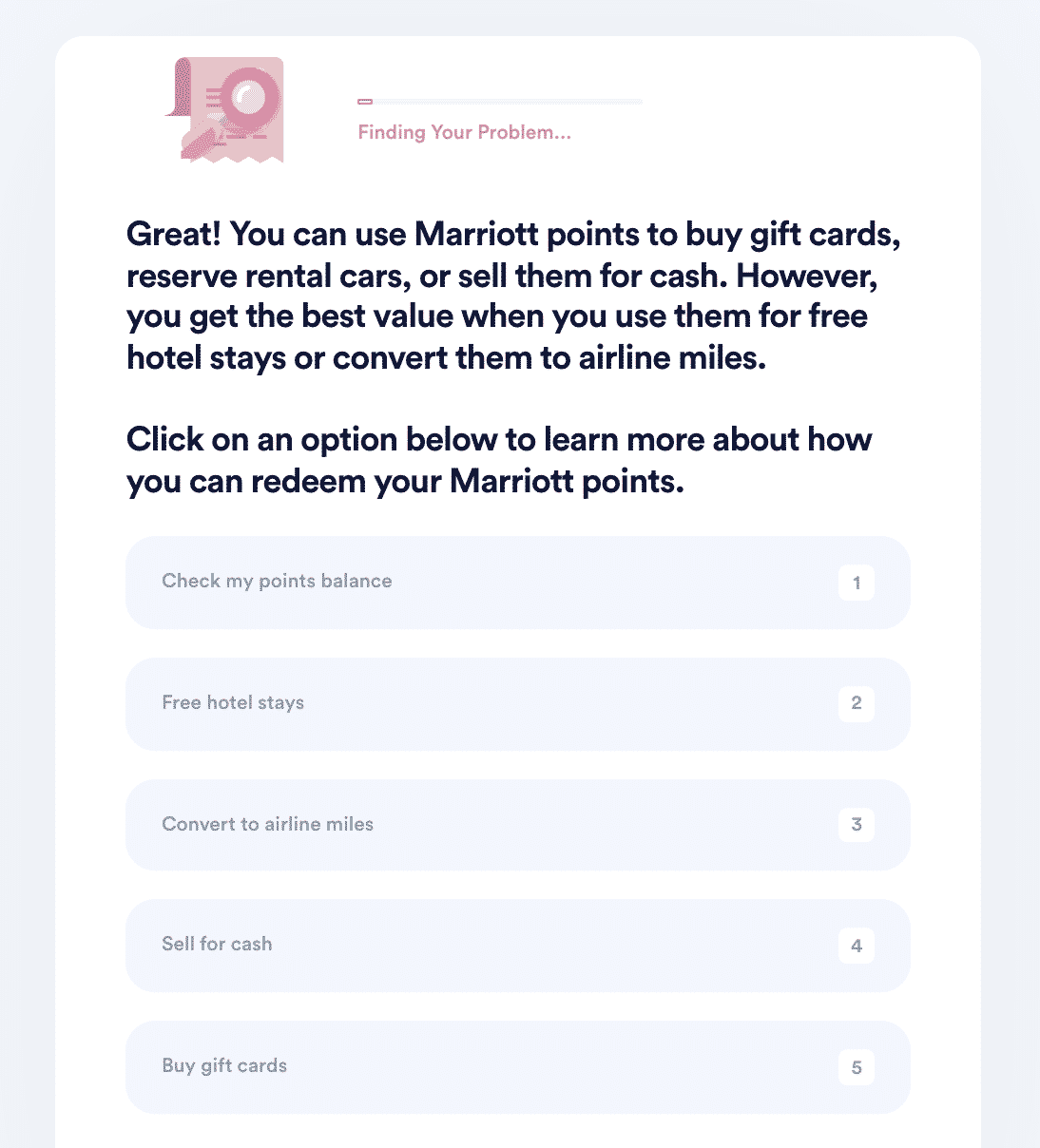 3. If you selected one of the first two options, DoNotPay can check your points balance or transfer your points for you. Otherwise, we can help you find the best deal through third-party vendors.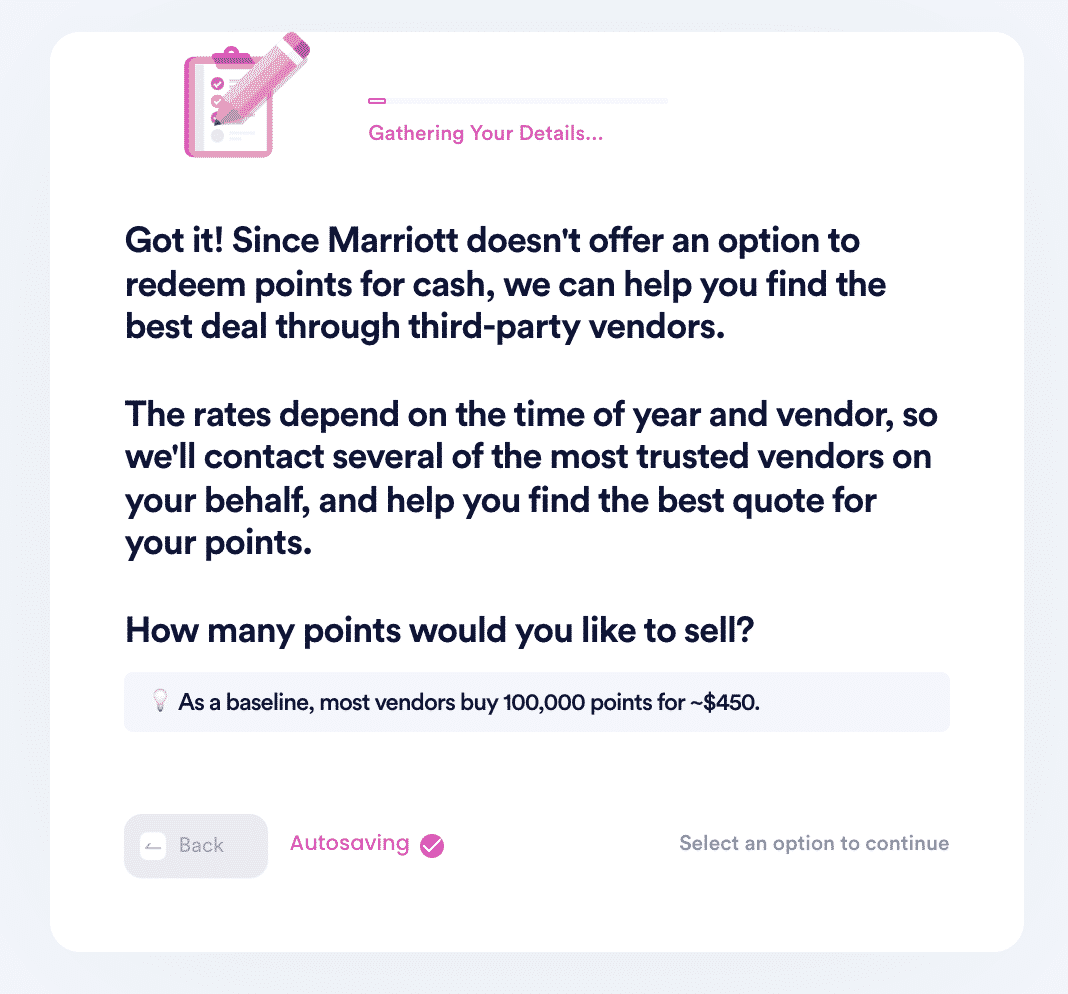 For example, if you are a Marriott Rewards member, you can transfer your points to airline miles or find discounted hotel rates to redeem the best value. We can help you find the best deal through third-party vendors if you want to sell your points. Lastly, we can also help you check your latest points balance automatically.
And that's it; DoNotPay will search and find the best use case for you. We will help you transfer Asiana miles to United easily. 
Why Choose DoNotPay to Transfer Asiana Miles to United?
DoNotPay is one of the best platforms to transfer and convert miles. You just need to contact the team and relax. Also, there are many perks of using DoNotPay. It is:
The Best Solution: One of the best things about DoNotPay is the ease of the process. You don't have to worry about anything related to converting miles. Once you've opted for the help, you can rest assured. The platform will do everything without any hassle.
An Easy-to-Use Platform: Another perk is that the platform is extremely easy to use. With just a few clicks on the platform, you can solve the matter. Also, there is nothing to worry about or spend time dealing with.
Fast and Simple: Once you've contacted DoNotPay, you will get results in no time. It is a platform that is trusted by thousands of consumers. Being fast and simple, you will get the best results in real-time.
If you're looking to enjoy the perks of DoNotPay, contact the team right now. We will help you get the best deals for your miles and points. 
DoNotPay Works Across Other Platforms and Groups
DoNotPay can help you to transfer the points from other companies, too. You can easily transfer and convert miles and points from one platform to another. Here are a few links that DoNotPay can help you with. These are just a few services of DoNotPay:
What Else Can DoNotPay Do For You? 
Aside from transferring miles and points, DoNotPay offers other services, too. Here you can:
Easily recall claims and unban your account.
Delete accounts. You can easily delete and recover your social media accounts. DoNotPay works across platforms like Instagram, Facebook, PayPal, and more.
Find the best deal for you when selling rewards points. We help you to find the deals that suit your needs.
You can make the most out of your reward points. Contact us today to get help from DoNotPay.