How to Transfer Asia Miles to American Airlines
HK Express and Hong Kong-based Cathay Pacific have a loyalty program known as Asia miles. The airlines can connect various parts of the world, including major Asian cities. The Asia airlines connect with another major carrier, American Airlines. Their loyalty program changes from time to time, though the main aim is to provide excellent value to loyalty program holders.
But before you transfer Asia miles to American Airlines, here are a few points to know. The transfer process can be cumbersome and daunting. With a lot of things to consider, you need to invest a great deal of time before transferring.
Looking for an alternative path that consumes less time? Fret no more; DoNotPay comes with the best help. We can help you to earn miles and then redeem them to get extra perks.
How Can You Earn Asia Miles?
Earning Asia miles is quite easy and straightforward. Are you looking to stock up on Asia miles? If so, you can earn miles both on and off the plane. Here is a quick explanation of how you can earn Asia miles before you transfer Asia miles to American Airlines:
Earn Miles by Flying
Are you planning to fly with Asian Airlines? If yes, here is a good chance to earn Asia miles. You can earn miles based on the zone where you are flying to. Remember, earning miles won't depend on how much you are spending. Meaning, it is completely based on the fare class you're booked in. In other words, the longer the flights you spend in premium cabins, the more points you earn. Here's a quick breakdown:

Economy class earnings: 330-8,700 miles
Premium economy class earnings: 650-10,010 miles
First-class earnings: 1,140-15,230 miles
Business-class earnings: 810-11,750 miles

By Flying on Partner Airlines
Another way to earn Asia miles is by flying on its partner airlines. All you need to do is book with American Airlines. The earning will depend on the distance covered, along with fare class.

For more information, you can check the website. There you will find different partners of Asia airlines. Click and check the Asia miles you will receive after the journey. Confused about how to calculate the Asia miles on different flights? Feel free to utilize the Asia miles calculator for the event.
Though there are other ways to earn Asia miles, they are quite complicated. If you don't want to invest more time, you can contact . We can help you transfer Asia miles to American Airlines — without any inconvenience or hassle.
How to Transfer Asia Miles to American Airlines
Transferring miles from one airline to another isn't an easy feat. The reason is that directly transferring Asia miles to others isn't possible, but you can book partner airlines using the Asia miles. Remember, you must scroll through the options so that you get the most out of your investment. Also, it's important to check the different strategies available and find the one that suits your needs.
If tedious planning is not your cup of tea, then feel free to contact DoNotPay. We would help make everything possible without any worry.
Here is a table comparing Asia Miles and American AAdvantage Miles to other travel partners:
| | |
| --- | --- |
| Hotel/Airline | Point Value (Cents) |
| Air Canada Aeroplan | 1.9 |
| Air France / KLM Flying Blue | 1.4 |
| Alaska Airlines Mileage Plan | 1.1 |
| Asia Miles | 1.2 |
| American Airlines AAdvantage | 1.2 |
| ANA Mileage Club | 2 |
| Best Western Rewards | 0.7 |
| British Airways Avios | 0.8 |
| Delta Airlines SkyMiles | 1.3 |
| Emirates Skywards | 1 |
| Frontier Miles | 0.7 |
| Hawaiian Airlines HawaiianMiles | 1 |
| Hilton Honors | 0.5 |
| Hyatt | 1.9 |
| IHG Rewards | 0.8 |
| Marriott Bonvoy | 0.7 |
| Turkish Miles & Smiles | 1.3 |
| Radisson Rewards | 0.6 |
| Southwest Airlines Rapid Rewards | 1.4 |
| Singapore Airlines KrisFlyer | 1 |
| Spirit Airlines Free Spirit | 1.1 |
| United Airlines MileagePlus | 1 |
| Virgin Atlantic Flying Club | 1.1 |
| Wyndham Rewards | 0.9 |
How To Transfer Asia Miles to American Airlines Using DoNotPay
You don't have time to scroll through the long list of offers? Or do you find the whole process difficult? Either way, DoNotPay can help you with the best help. You just need to contact us, and we will give you the best offers. Also, you don't have any need to search for the best deals to transfer points. All you have to do is go to our platform and:
1. Search "points" or "rewards" on DoNotPay, and select the rewards program you're a part of / the type of points you have.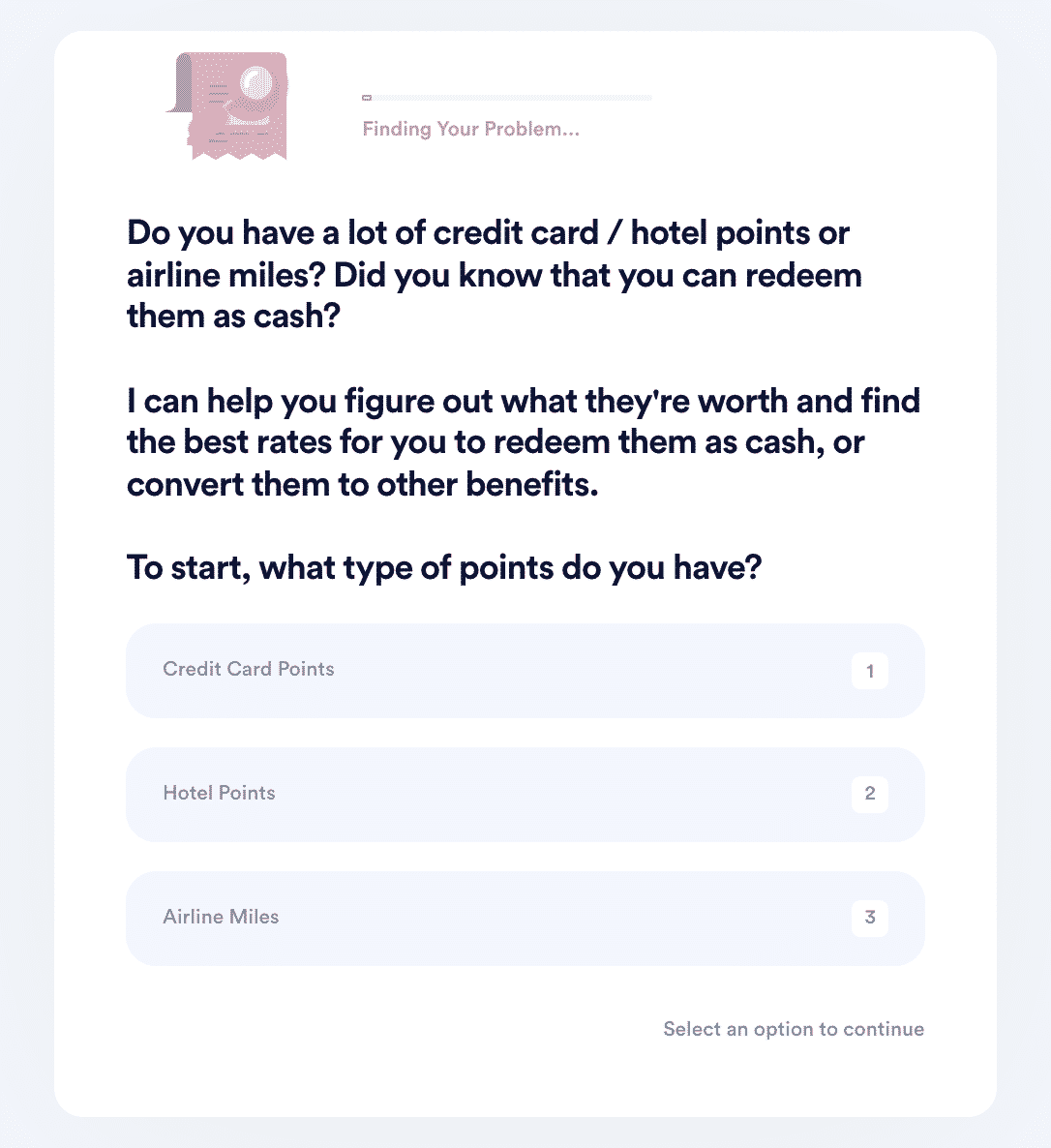 2. Choose whether you want to check your points balance, transfer your points, or sell them for cash.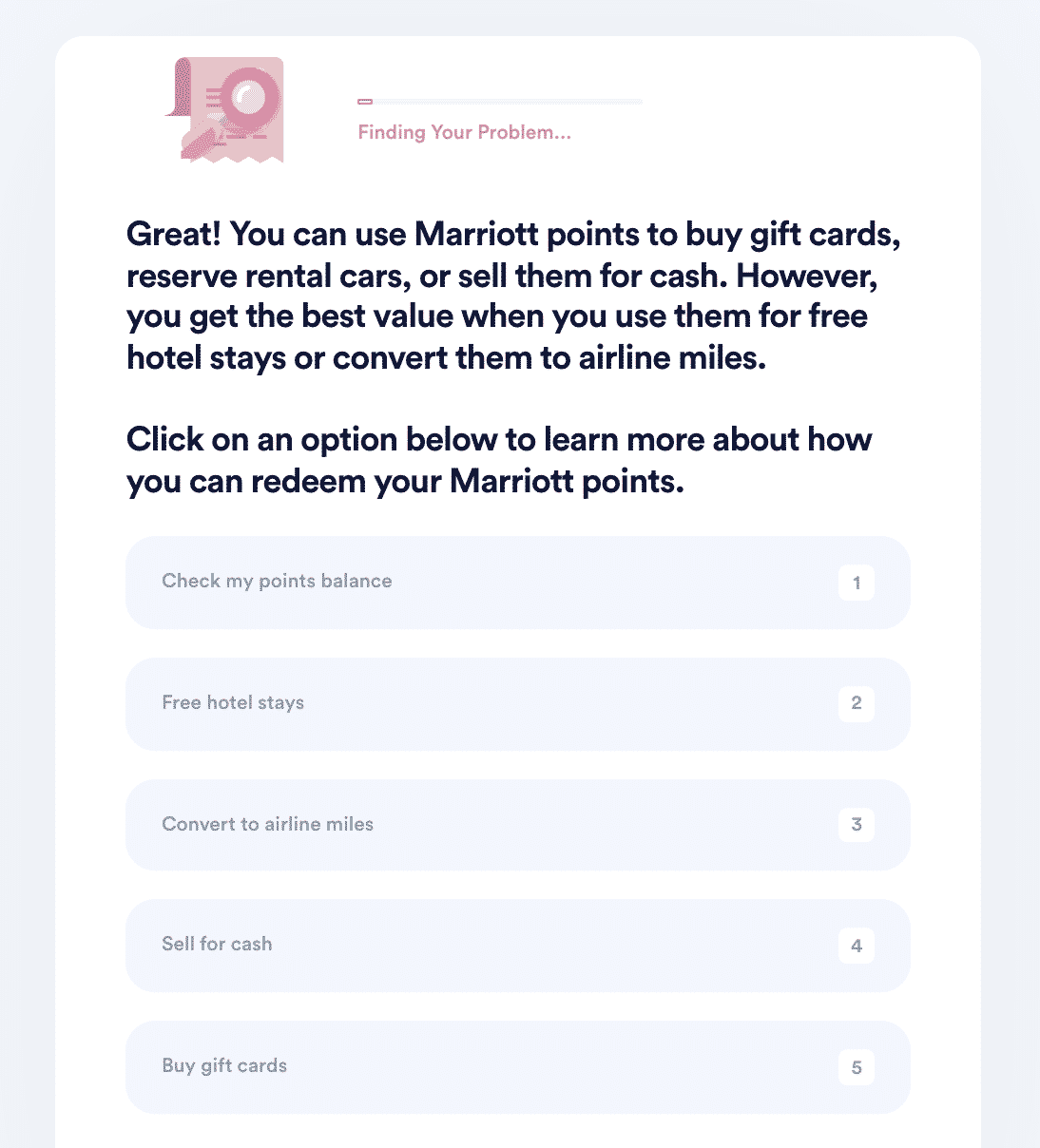 3. If you selected one of the first two options, DoNotPay can check your points balance or transfer your points for you. Otherwise, we can help you find the best deal through third-party vendors.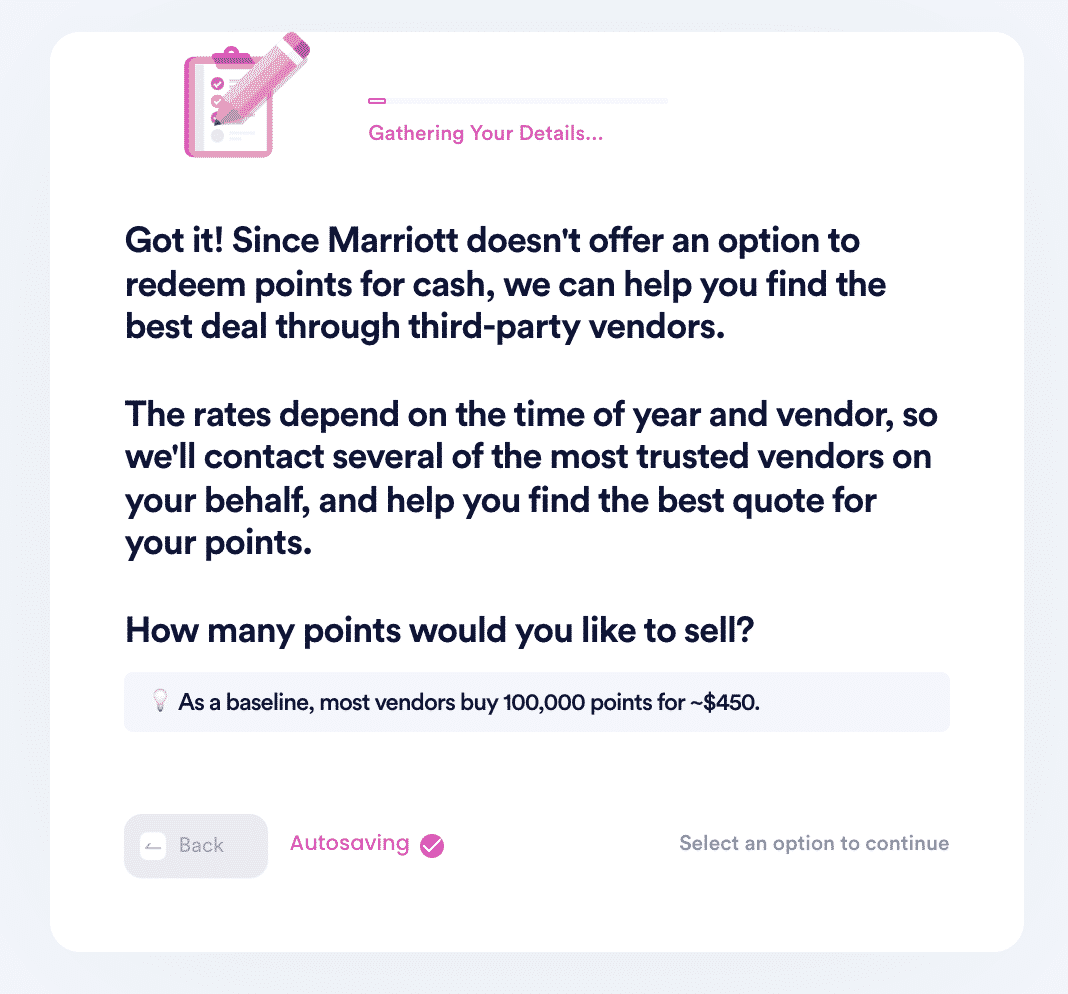 For example, if you are a Marriott Rewards member, you can transfer your points to airline miles or find discounted hotel rates to redeem the best value. If you want to sell your points, we can help you find the best deal through third-party vendors. Lastly, we can also help you check your latest points balance automatically.
And that's it. This simple procedure will provide you with the best deal.
Why Choose DoNotPay to Transfer Asia Miles to American Airlines?
Because DoNotPay is an easy online platform, many people love to use it. All the work can be done from the comfort of your home. All you need to do is press a few clicks on your phone or laptop, and the team will be ready to serve you with the best deals. We will scan the web to find the best deal for you to transfer Asia miles to American Airlines.
Benefits of working with DoNotPay include:
Transferring or converting miles and points isn't an easy chore. Wrong decisions can lead to huge financial loss and less profit. For this reason, it's important to contact the pros.
There are an array of deals available in the market. Choosing the best from a tonne of wdeals available can be confusing. Therefore, we can help you to do the whole chore without any hassle.
DoNotPay is known to find the best case for all people. Reach out to us, and we would love to serve you with the best.
What Else Can DoNotPay Do for You?
There are a lot more things that DoNotPay can help you with. Check out the other services that DoNotPay provides:
To get the best from transferring Asia miles to American Airlines, reach now!