How to Transfer Amex Points to Hyatt in Three Easy Steps
American Express (Amex) is known for having the world's largest rewards program. With over 114 million cards in circulation, Amex offers cardholders a plethora of ways to redeem membership rewards points or transfer points to an Amex partner, such as Hilton Honors or Marriott Bonvoy. But what happens if you want to or another organization that is not an Amex partner?
Fortunately, there is now a fast, easy way to transfer Amex points to virtually any major hotel with a membership rewards program. In fact, there are multiple ways to put your Amex points to good use with Hyatt. Read on to find out how you can transfer Amex points to Hyatt in just three easy steps.
How Does the Amex Points Program Work?
The Amex Membership Rewards Program enables you to earn a minimum of one point for each dollar you spend with your American Express card. Certain purchases, such as those spent at restaurants or on travel, may earn three to five points per dollar spent. You can participate in the program and begin earning points if you have one of the following cards:
Amex Green Card
Amex Gold Card
Amex Platinum Card
Amex points do not have an expiration date. Amex makes it easy for members to redeem points through the Amex app. Here is a look at some of the many uses for the Amex points you accumulate:
Airfare and other travel expenses
Hotel expenses
Gift cards
Credits on your statement
Shopping purchases
Charitable donations
As you acquire these points, you can spend them directly or and other businesses.
How Much Are Amex Points Worth?
Amex points vary in value but are typically worth roughly 0.7 to 1 cent apiece. However, your points could be worth much more if you choose to transfer them to an Amex preferred partner. For example, if you decide to transfer your Amex points to Hilton Honors, your points could suddenly be worth twice as much. But if you decide to apply them to purchases through vendors who are not Amex partners, your points could be worth significantly less.
What Are Some Reasons to Transfer Amex Points to Hyatt?
Before you transfer your Amex points to Hyatt, it's wise to compare your options to make sure a transfer is your best option. Here are a few reasons why people may decide to transfer their Amex points to Hyatt:
They are planning to close their Amex account or cancel their Amex card(s) but plan to continue staying at Hyatt Hotels regularly.
They are a bit short of cash and need a way to pay for an upcoming hotel stay at a Hyatt Hotel.
They are very loyal to Hyatt and prefer not to stay with Hilton or Marriott.
How Can You Transfer Amex Points to Hyatt on Your Own?
Amex makes it easy and enticing to transfer points to their three hotel partners: Hilton, Marriott, and Choice. But because Hyatt is not an Amex partner, there is no easy way to transfer Amex points to Hyatt. If you would like to apply your Amex points to your next Hyatt stay, you can explore one of the options below:
Option #1: Select A Buyer Or Third Party Broker To Buy And Transfer Your Points
Some third-party buyers are willing to pay you cash for your Amex points. Alternatively, you can ask the vendor to apply the cash value of your Amex points to your Hyatt account. As you consider potential buyers, look for those with the following three qualities:

Industry Experience: Providers who are well-established with outstanding customer reviews are typically good options. .
A Focus On Data Security: The best buyers take a variety of steps to protect your personal data.
Reliable Pre-Payment Options: Look for buyers who are willing to pay you via PayPal, ACH, or wire transfer before you sign over your points.

Option #2: Use Your Points to Purchase Gift Cards to Spend On Hyatt
While Amex does not offer a way to transfer points directly to Hyatt, you can use your Amex points to purchase gift cards that you could use to pay for your next Hyatt stay. If you decide to purchase Amex gift cards with your points, remember the value of your points may decrease to as little as 0.5 cents per point.
Although Amex does not offer a way to transfer points directly to Hyatt, it does offer direct transfer with a few other partners:
| | | | |
| --- | --- | --- | --- |
| Partner | Amex Membership Reward Points | Partner Points | Minimum Transfer |
| Delta Skymiles | 1 | 1 Skymile | 1000 points |
| Asia Miles | 1 | 1 Asia Mile | 1000 points |
| British Airways | 1 | 1 Avios | 1000 points |
| Emirates Skywards | 1 | 1 Skywards Mile | 1000 points |
| Radisson Rewards | 1 | 3 points | 3 points |
| Marriott Bonvoy | 2 | 3 Marriott Points | 400 points |
| Hilton Honors | 1 | 2 Hilton Honors Points | 200 points |
| Choice Hotels | 1 | 1 Choice Point | 1000 points |
How To Transfer Amex Points To Hyatt With The Help Of DoNotPay
DoNotPay eliminates the hassles associated with finding the best way to transfer Amex points to Hyatt on your own. By doing all the legwork and research for you quickly, DoNotPay saves you time and minimizes headaches.
Here's how to get started:
1. Search "points" or "rewards" on DoNotPay, and select the rewards program you're a part of / the type of points you have.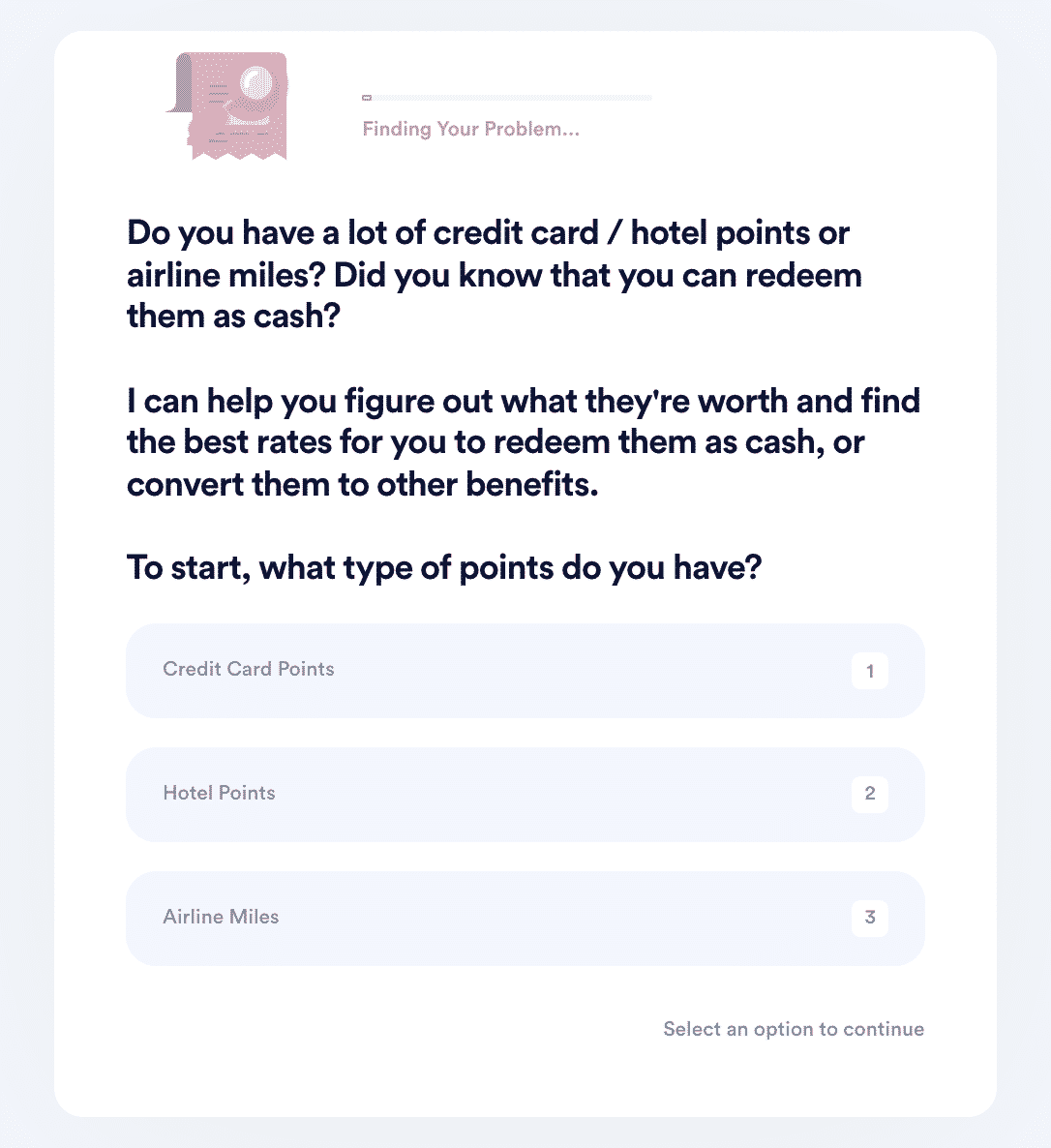 2. Choose whether you want to check your points balance, transfer your points, or sell them for cash.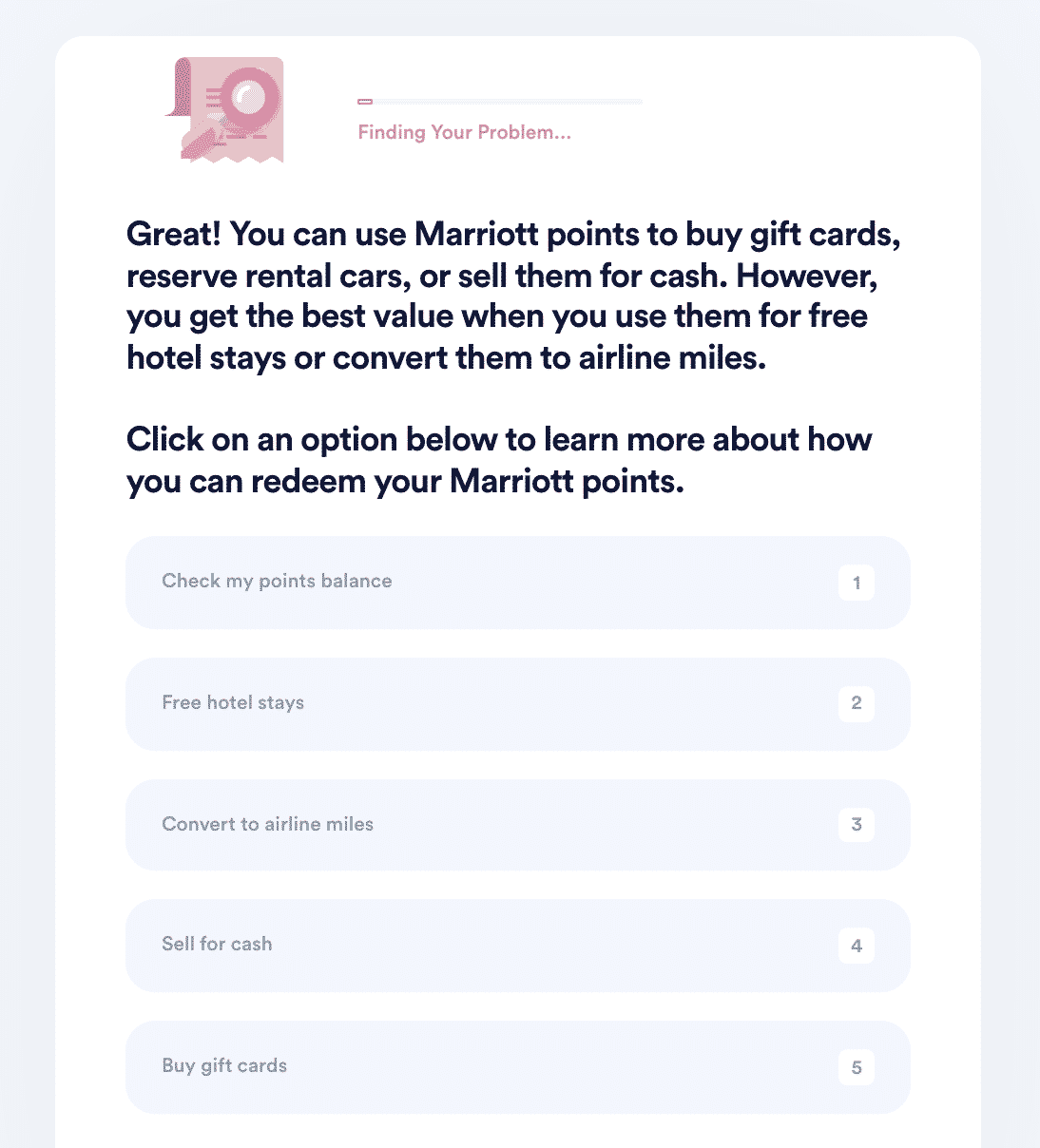 3. If you selected one of the first two options, DoNotPay can check your points balance or transfer your points for you. Otherwise, we can help you find the best deal through third-party vendors.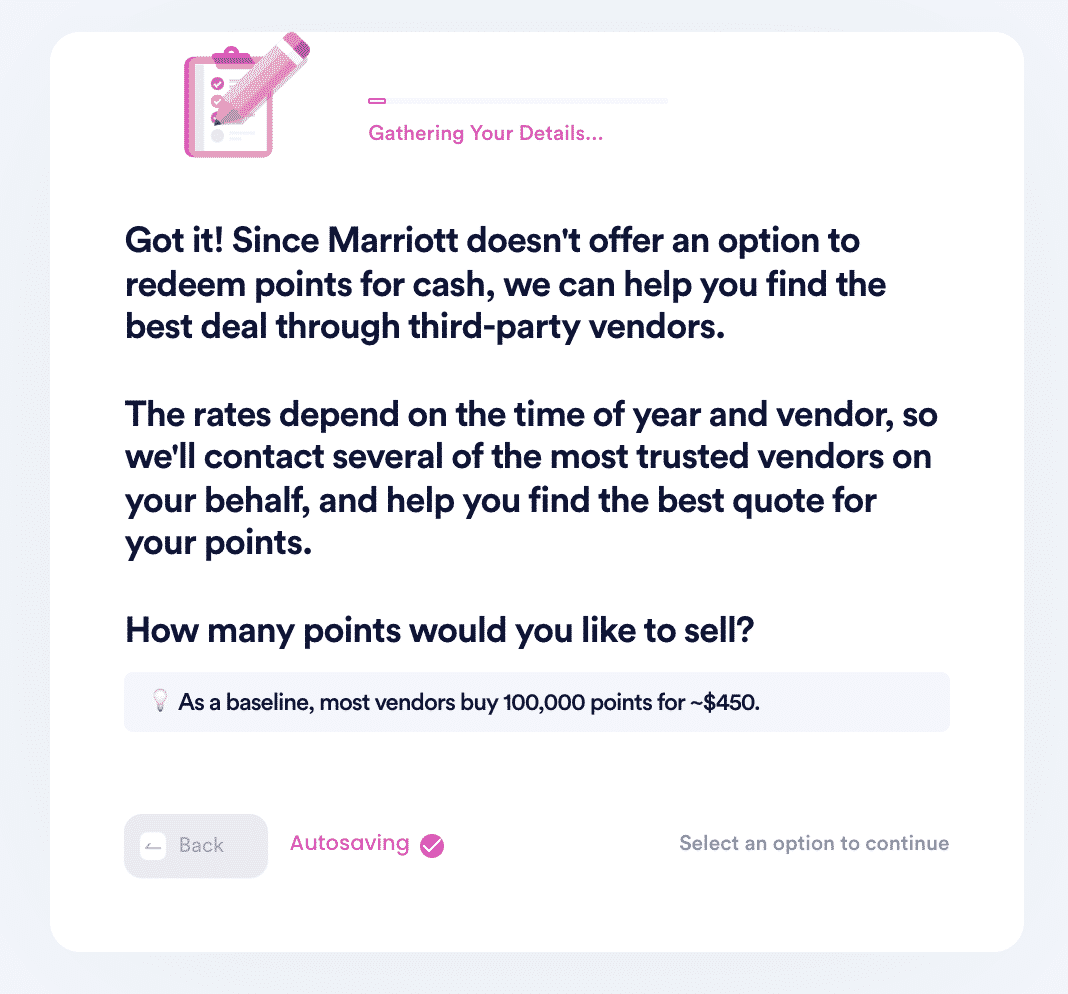 For example, if you are an Amex member, you can transfer your Amex points to Hyatt hotels — including those with discounted rates. If you decide you would prefer to sell your points, we can help you score the best value through a third-party vendor. Finally, DoNotPay will even help you retrieve your current Amex point balance so you can select the best option!
DoNotPay Can Help You Transfer, Convert, or Sell Points and Miles From a Variety of Providers
After you use DoNotPay to , you might be curious to know if you can use DoNotPay to transfer points and miles you have on other accounts. Fortunately, you can. DoNotPay's solution for transferring points and miles is so efficient that you can use it with many other providers beyond Amex and Hyatt. Check out some of the many other ways DoNotPay can help you put your points and miles to the best possible use:
How Else Can DoNotPay Help You Be More Productive?
Helping you transfer Amex points to Hyatt is just one small example of DoNotPay's impressive capabilities. Here is a sample of the wide variety of types DoNotPay can help you accomplish with ease:
By helping you minimize the time you spend on tedious but necessary tasks, DoNotPay maximizes your free time. As a result, you can spend less time searching for information and enduring long hold times and spend more time on tasks you truly enjoy. We invite you to to learn all about the many benefits DoNotPay can bring to your life.