A Beginner's Guide to Managing Star Alliance Mile Transfers
As a loyal Star Alliance member, you've probably accumulated a lot of miles over the years. But they're not much good unless you know how to redeem them for the best value. With , shifting rewards to another frequent flyer program is not allowed. But depending upon which Star Alliance frequent flyer program you're a part of, you can transfer miles to someone else within the same program.
You will have to pay a fee to transfer your miles, so it's important to weigh the costs and benefits of transferring miles instead of simply using your miles to buy a ticket for someone else, buying additional miles, or redeeming your Southwest, United, American, Delta, or other hard-earned miles for something else entirely. It takes time and effort to research your options, but DoNotPay can make it easy for you by scanning the web to help you transfer or sell your airline miles.
Earning Star Alliance Miles
Each member airline of the Star Alliance has its own frequent flyer program with . You can register for any of them to earn miles on any flight you take with a member airline. These member airlines include:
Aegean Airlines
Air Canada
Air China
Air India
Air New Zealand
ANA
Asiana Airlines
Austrian Airlines
Avianca
Brussels Airlines
Copa Airlines
Croatia Airlines
EGYPTAIR
Ethiopian Airlines
EVA Air
LOT Polish Airlines
Lufthansa
Scandinavian Airlines
Shenzhen Airlines
Singapore Airlines
South African Airways
Swiss
TAP Air Portugal
Thai Airways International
Turkish Airlines
United
Every time you take a flight, you can enter your membership number during booking. The points will be credited to your account. Each frequent flyer program has its own perks and benefits, and some of them offer additional ways to earn miles. For example, the United MileagePlus program allows you to turn gift cards into miles, convert Marriott Bonvoy points into miles, or use Award Accelerator to buy reward miles at a reduced price.
How Can I Redeem or Transfer Star Alliance Miles?
You have to look at the specifics of your frequent flyer program because all the miles you accumulate on any Star Alliance flight will fall under the rules of that program. Many of the Star Alliance airlines allow you to transfer your miles to other accounts (within the same frequent flyer program) and use miles to rent cars, book hotels, and go shopping.
Let's take a closer look at the United MileagePlus program and how they allow you to redeem and transfer miles:
| | |
| --- | --- |
| Transfer | You can transfer up to 100,000 miles from your account to another MileagePlus account for a fee of $7.50 per 500 miles, plus a processing fee of $30 per transaction. |
| Upgrade | Start on this page to use your miles to upgrade your seat to a premier cabin. |
| Subscribe | Use miles to get a United Club membership, Economy Plus subscription, a baggage subscription, an inflight Wi-Fi subscription, and more. |
| Hotels | Book a stay at a variety of hotels around the world. |
| Cars | Use miles to rent a car. |
| Vacations | Your miles can go toward a cruise. |
| Shop | Buy jewelry, electronics, luggage, toys, tools, wine, gift cards, and more with your miles. |
| Events | Buy tickets to concerts, Broadway shows, and other events with your miles. |
| Donate | You can donate your miles to a charity of your choice. |
The trick is in knowing how to stretch your miles the farthest. Are they worth more when you apply them to airline tickets or to a shopping spree? Is it better to transfer your Star Alliance miles to a friend or simply buy them some more miles?
Figuring it all out can be time-consuming as you create charts to compare the pros and cons of each type of transaction and keep track of the numbers. Fortunately, DoNotPay can make those comparisons quickly and easily to help you figure out the best way to use your miles.
Why Would You Want to Transfer Star Alliance Points?
Even though there are many ways to use your frequent flyer miles, some people may prefer to transfer them for a variety of reasons:
You don't have enough miles to buy anything you want.
Your points are going to expire before you get a chance to use them.
You have a friend or family member who is close to having enough points for an airline ticket, a seat upgrade, or another purchase of their choice, and by contributing your miles, they'll have enough to make that purchase.
Keep in mind that transferring miles is often costly. It may be more cost-effective to simply buy the miles for someone else or to give them the cash you would have spent on transfer fees.
How to Figure Out What to Do With Your Star Alliance Miles on Your Own
Research, research, research. Most airlines provide a lot of information about their frequent flyer programs and how to earn and redeem miles, so you'll be able to find most of the information you need by logging into your frequent flyer account. Follow these steps:
Visit the website for your frequent flyer program.
Take a closer look at all the options you have for miles redemption.
Compare the cost of using miles for airline tickets, car rental, seat upgrades, admission to events, and more.
Make sure you take notes! Be prepared to take some time to examine all your options and determine which is best for you. If it gets to be too confusing, you may need to call customer service. Keep in mind that the airline will encourage you to sort through the FAQ to find an answer to your question before they want you to contact them, and then you may have to wait on hold until someone can help you.
If you know you want to use your miles for a flight, for example, you might not be concerned about how it compares to transferring them to someone else or using them for a cruise or a hotel. However, if your primary goal is to get the best value for your miles, especially if you're considering transferring them to someone else to help that person earn a reward more quickly, you'll want to make sure you're using them effectively. DoNotPay can help.
Here is a breakdown of a few ways you can use your miles to fly on various airlines:
| | | | | |
| --- | --- | --- | --- | --- |
| Cabin | United MileagePlus | Aeroplan | Singapore/SA | Avianca |
| Economy | 12,500 | 12,500 | 12,500 | 7,500 - 12,500 |
| First | 25,000 | 25,000 | 20,000 | 15,000 - 25,000 |
How to Transfer Star Alliance Miles With the Help of DoNotPay
Instead of endlessly researching your options, wondering about black-out dates and restrictions, and questioning whether you're getting the best deal, DoNotPay makes it easy to transfer miles or redeem them for rewards. Most importantly, we can help you find the best deals.
It's easy to get started. Just follow these steps:
1. Search "points" or "rewards" on DoNotPay, and select the rewards program you're a part of / the type of points you have.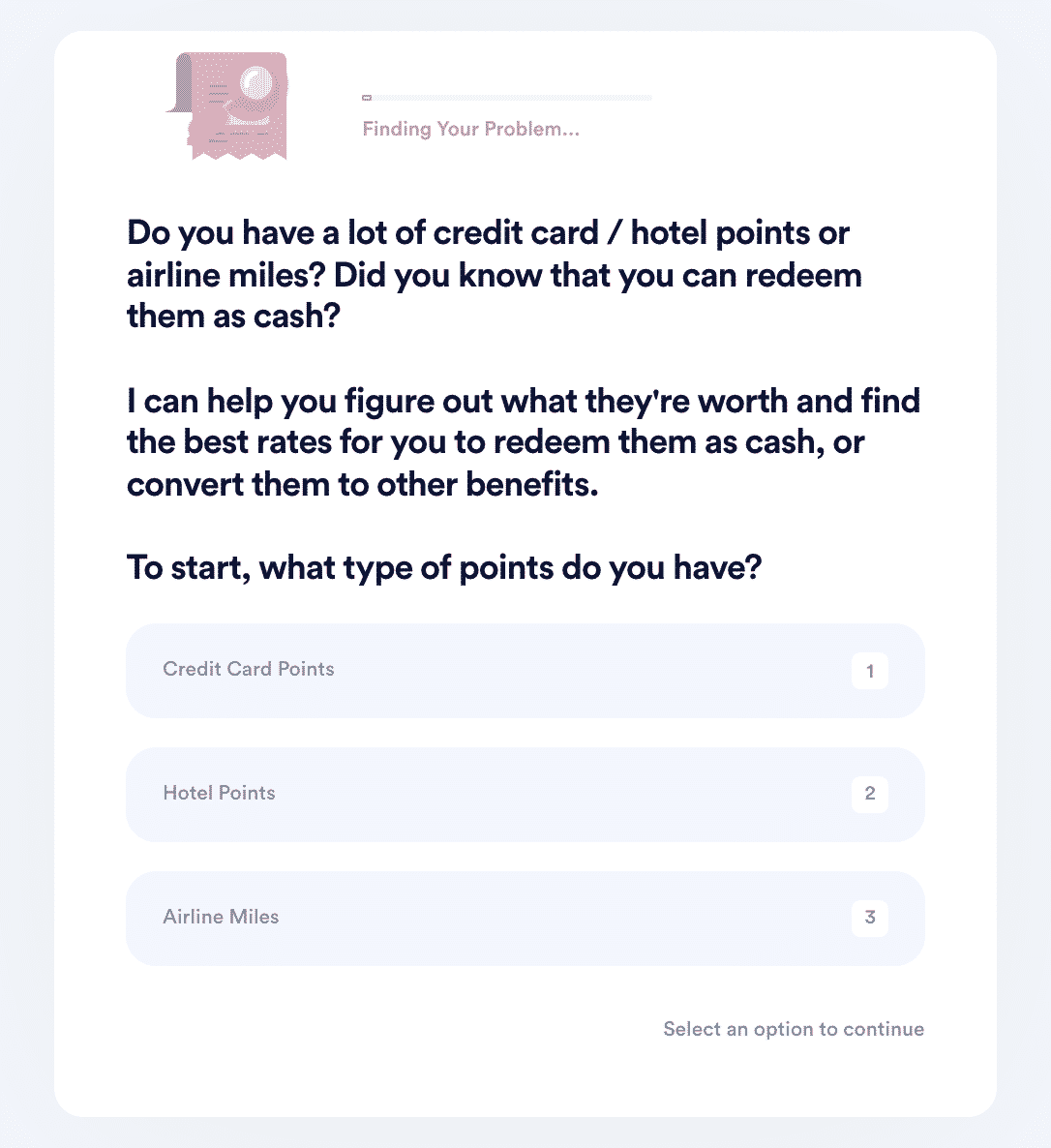 2. Choose whether you want to check your points balance, transfer your points, or sell them for cash.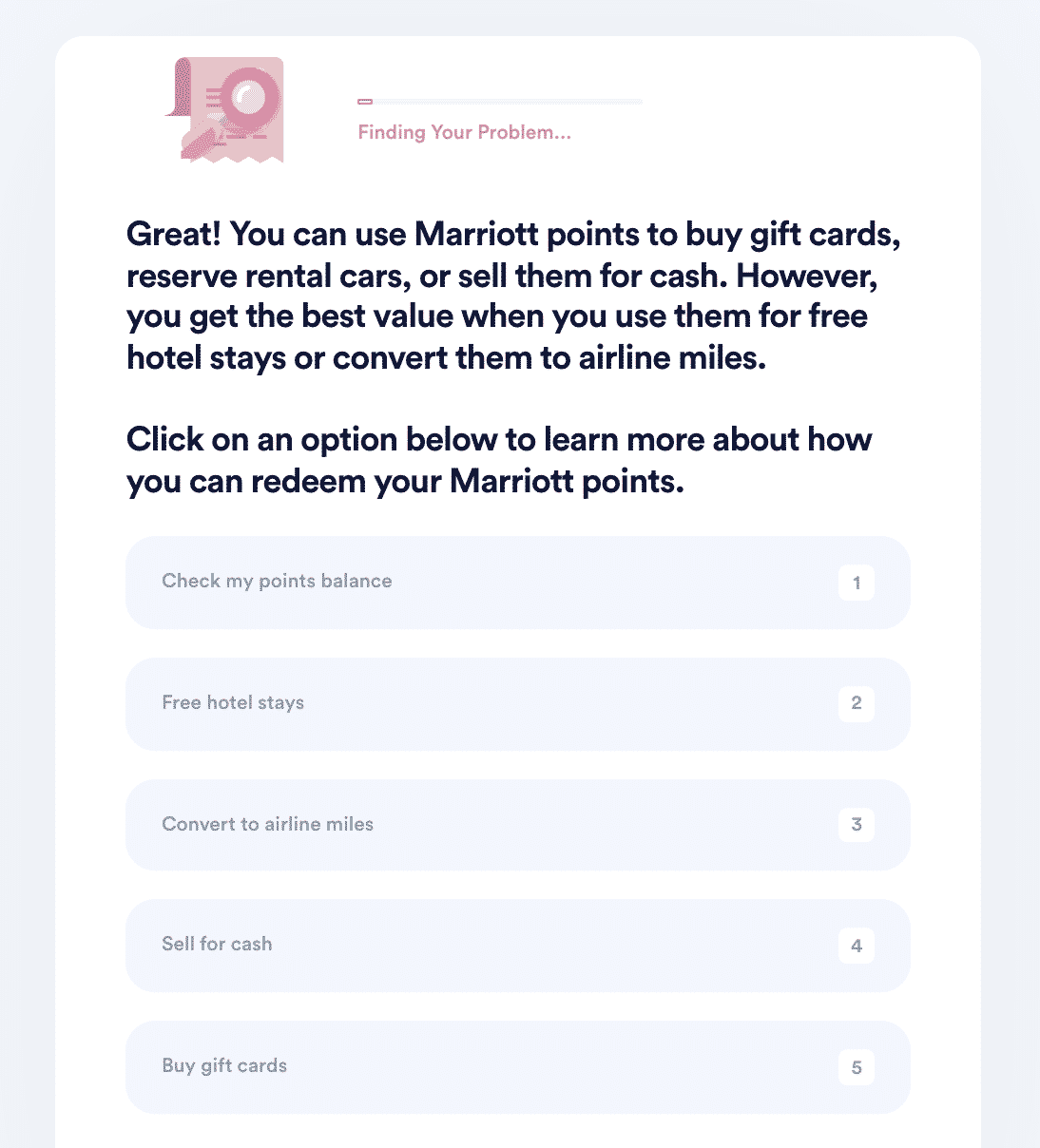 3. If you selected one of the first two options, DoNotPay can check your points balance or transfer your points for you. Otherwise, we can help you find the best deal through third-party vendors.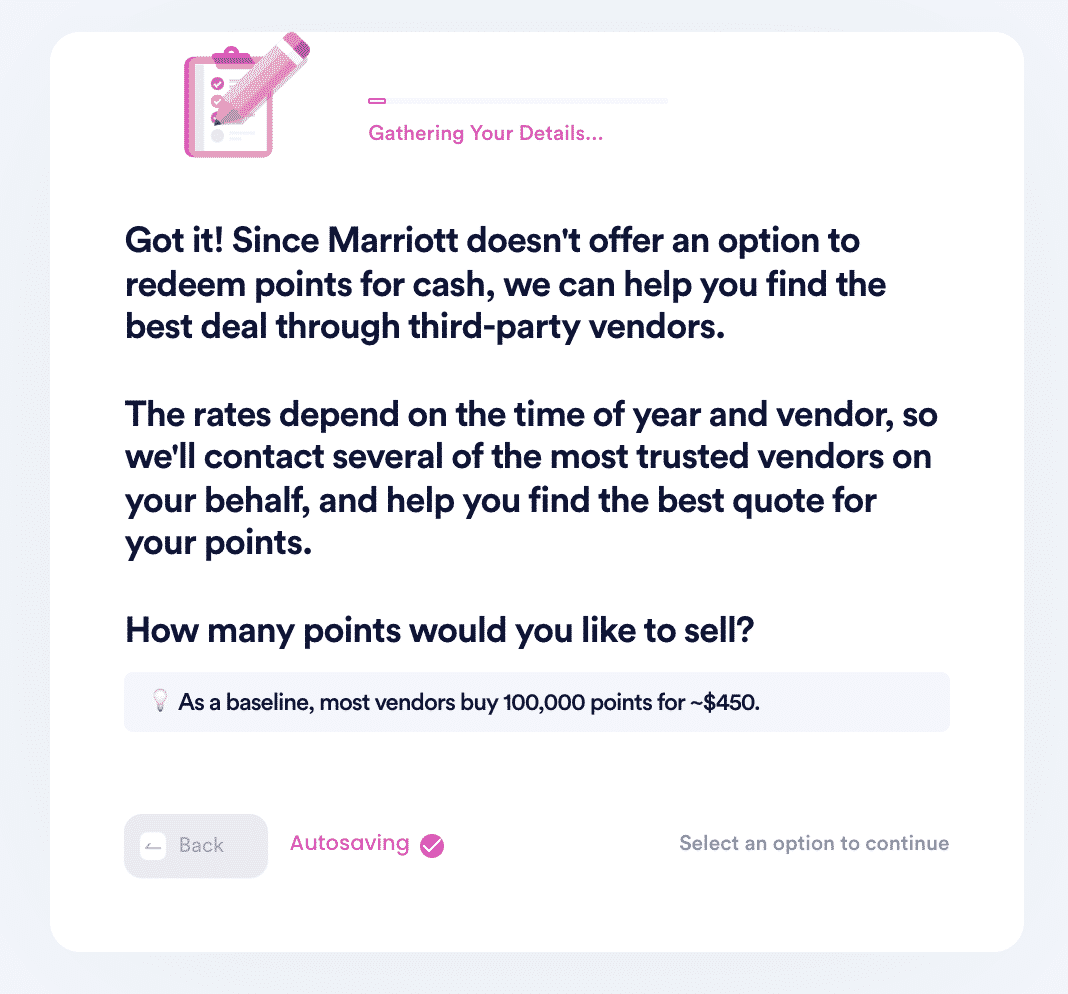 This works for any rewards program, not just Star Alliance members! For example, if you are a Marriott Rewards member, you can transfer your Marriott reward points to airline miles or find discounted hotel rates to redeem the best value. If you want to sell your Marriott points, we can help you find the best deal through third-party vendors. Lastly, we can also help you check your latest points balance automatically!
Why Use DoNotPay for Star Alliance Miles Transfer, Redemption, and Balance Checks
It's all about efficiency. DoNotPay can scan the web for you to find the best ways to use your miles. We can help you understand if and how you're allowed to transfer Star Alliance miles and whether it's worth the cost. We're here to save you time and money while getting the best value for the miles you've earned.
Our points product works the same way for any rewards program, and DoNotPay can help with:
What Else Can DoNotPay Do?
The robot lawyers at DoNotPay are here to help save you time and hassle with the most common legal and financial challenges. From to helping with your bills, this is just the beginning of how DoNotPay can work for you:
Get started today with DoNotPay to reduce stress and manage challenges like these quickly and efficiently.