Senator Tammy Duckworth Contact Info, Bio, and More
Government representatives can offer a wide range of services to help and assist you. More than that, representatives encourage people to share their thoughts and opinions with them on the issues of the nation and legislation. Contacting a representative is a great way to ensure that your voice is being heard!
The following article will be a comprehensive guide on how you can contact United States Senator of Illinois, Tammy Duckworth. It will also introduce you to the best way to contact any government representative using DoNotPay.
About Senator Tammy Duckworth
Tammy Duckworth is an American politician and a former Army National Guard, Lieutenant Colonel. She is currently serving as the junior United States Senator from Illinois along with Dick Durbin. This is a seat she has held since 2017. Before being elected to the U.S. Senate, Duckworth represented Illinois's 8th Congressional District in the United States House of Representatives from 2013 to 2017.
She graduated from the University of Hawaii at Manoa and George Washington University. Duckworth fought in the Iraq War, serving as a helicopter pilot for the U.S Army. In 2004, her helicopter was hit by a rocket-propelled grenade and she suffered several combat wounds that ultimately caused her to lose both of her legs and some mobility in her right arm. She served as the director of the Illinois Department of Veterans Affairs for three years, from 2006 until 2009.
How to Contact Senator Tammy Duckworth
There are several ways you can reach a senator. You can call a senator or government representative, or email or mail documents to their offices.
Senator Tammy Duckworth has six office locations, five in the state of Illinois and one in the Senate Office Building in Washington DC. Here is how you can contact each office location through the phone or by postal mail:
Chicago, Illinois: located on 230 South Dearborn Street Suite 3900 Chicago, IL 60604, Phone Number: (312) 886-3506
Carbondale, Illinois: located on 441 East Willow Street Carbondale, IL 62901, Phone Number: (618) 677-7000, Fax: (618) 351-1551
Springfield, Illinois: located on 8 South Old State Capitol Plaza Springfield, IL 62701, Phone Number: (217) 528-6124
Rock Island, Illinois: located on 1823 2nd Ave., Suite 2 Rock Island, IL 61201, Phone Number: (309) 606-7060, Fax (309) 786-1799
Belleville, Illinois: located on 23 Public Square, Suite 460 Belleville, IL 62220, Phone Number: (618) 722-7070, Fax (618) 235-4011
The following table gives an overview of the main ways you can contact U.S. Senator Tammy Duckworth:
State
Illinois
Political Party
Democratic
Entered Office
3rd of January 2017
Term Expires
3rd of January 2023
Main Mailing Address
524 Hart Senate Office Building

Washington, DC 20510

Main Phone Number
(202) 224-2854
Email Address
To send the senator an email, fill out the form found here.
Website
http://www.duckworth.senate.gov/

Social Media
Services Offered by the Offices of Senator Tammy Duckworth
Grants
Internship opportunities
Visiting Washington DC (The Capitol and the White House)
Flag Requests
Academy Nominations
Special Recognitions
Share your thoughts with Senator Tammy Duckworth
Senator Tammy Duckworth is open to any thoughts and ideas that her constituents may have. The senator encourages people to contact her and voice their opinions on matters relating to the nation. Here is a list of topics you can discuss with Senator Tammy Duckworth:
Agriculture and Farm Bill
Animals
Arts and Humanities
Banking and Finance
Budget
Campaign Finance Reform and Elections
Civil Rights
Children and Families
Defense and Military
Disability Rights
Economy and Jobs
Education
Energy and Environment
Federal and Postal Employees and Retirees
Foreign Relations
Government Oversight and Accountability
Gun Control
Health Care Policy
Homeland Security
Housing
Immigration
Indian Affairs
Judiciary and Criminal Justice Reform
Labor
LGBTQ
Medicare and Medicaid
National Service and Community Service
Nutrition and Hunger
Pensions
Regulatory Reform
Senior Citizens
Science, Space, and Technology
Small Business
Social Security
Taxes
Telecommunications
Trade
Transportation and Infrastructure
Veterans
White House
What is the Best Way to Contact a United States Government Representative?
You can try to call a senator. However, if you decide to do so, we recommend that you follow a script so that you can clearly get your message across. However, calling is the worst option as you cannot be sure that the person delivering the message to the senator will even deliver it accurately.
Writing an email is recommended, however, there are extended wait times and it can be intimidating writing a professional email to a senator. Therefore, contacting a representative through DoNotPay is your best option!
Let DoNotPay Contact United States Senator Tammy Duckworth for You!
Forget about the long wait times and busy phone lines, let DoNotPay can contact any representative of the United States government on your behalf in minutes while you stay in! All you have to do is:
1. Search "Government" and on the DoNotPay search bar and select the "Contact Your Government Representative" product.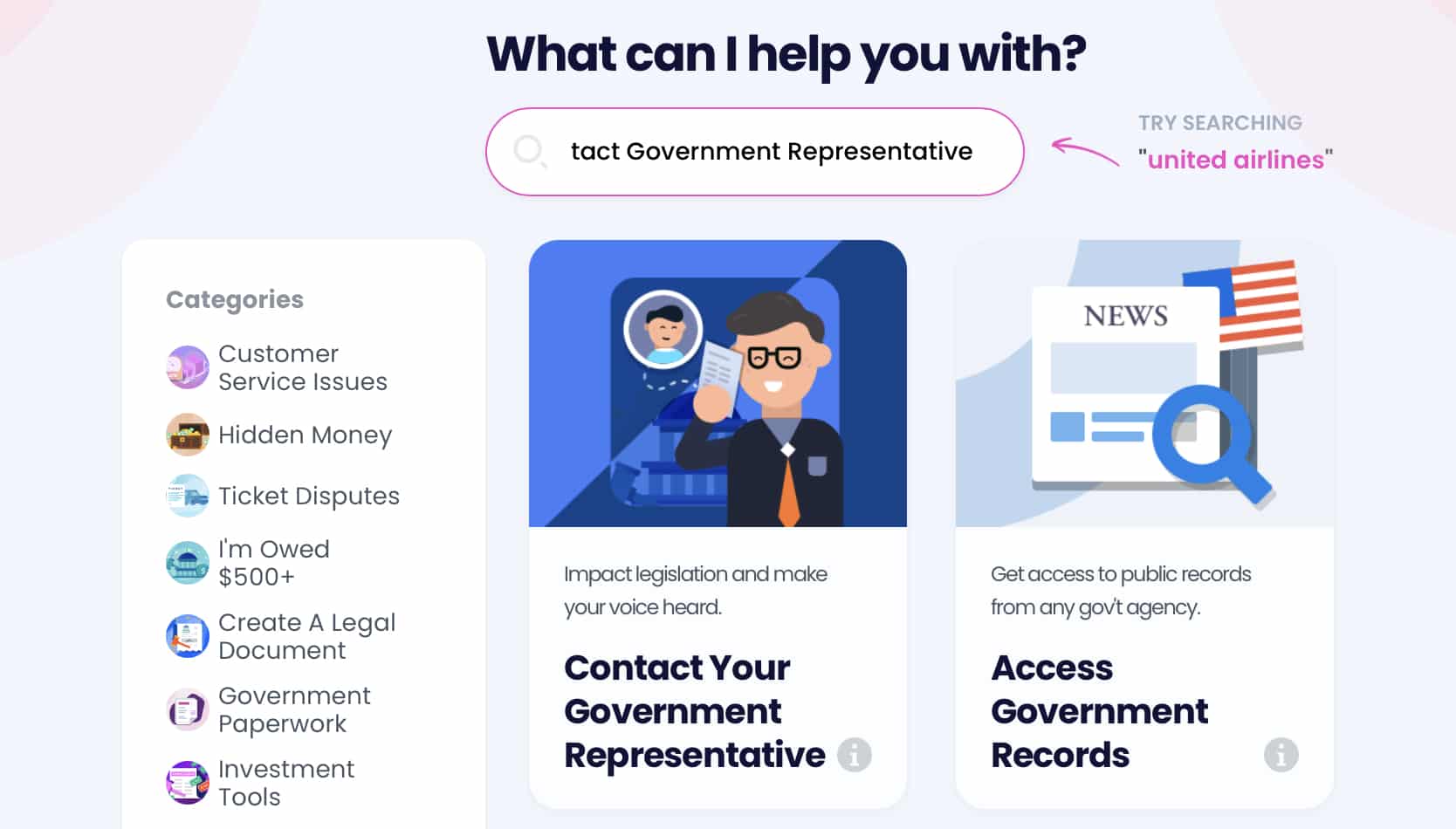 2. Choose whether you want to contact your Senator, House Representative, Governor, President, or Mayor.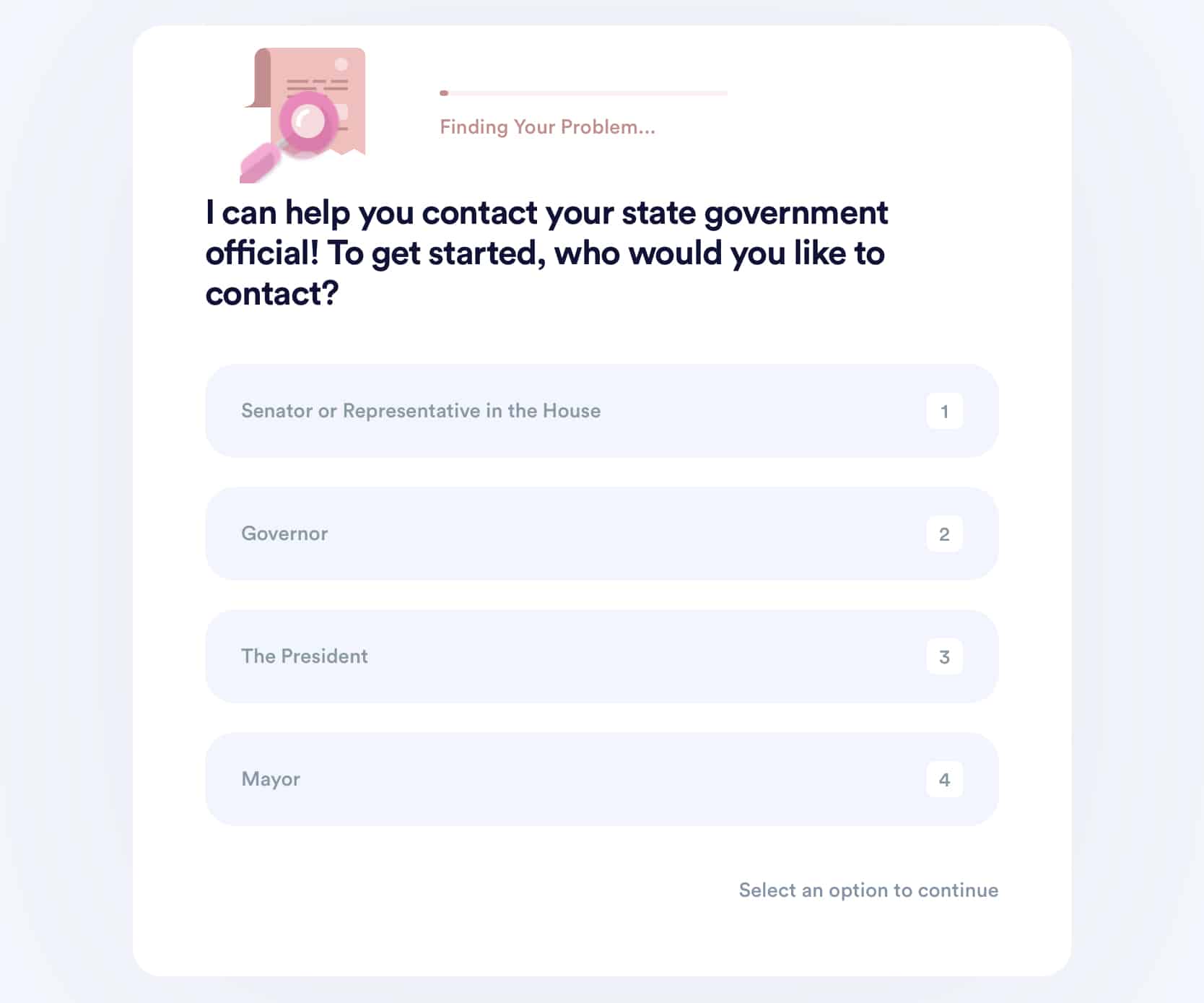 3. Explain why you are contacting your government official and what you would like them to know.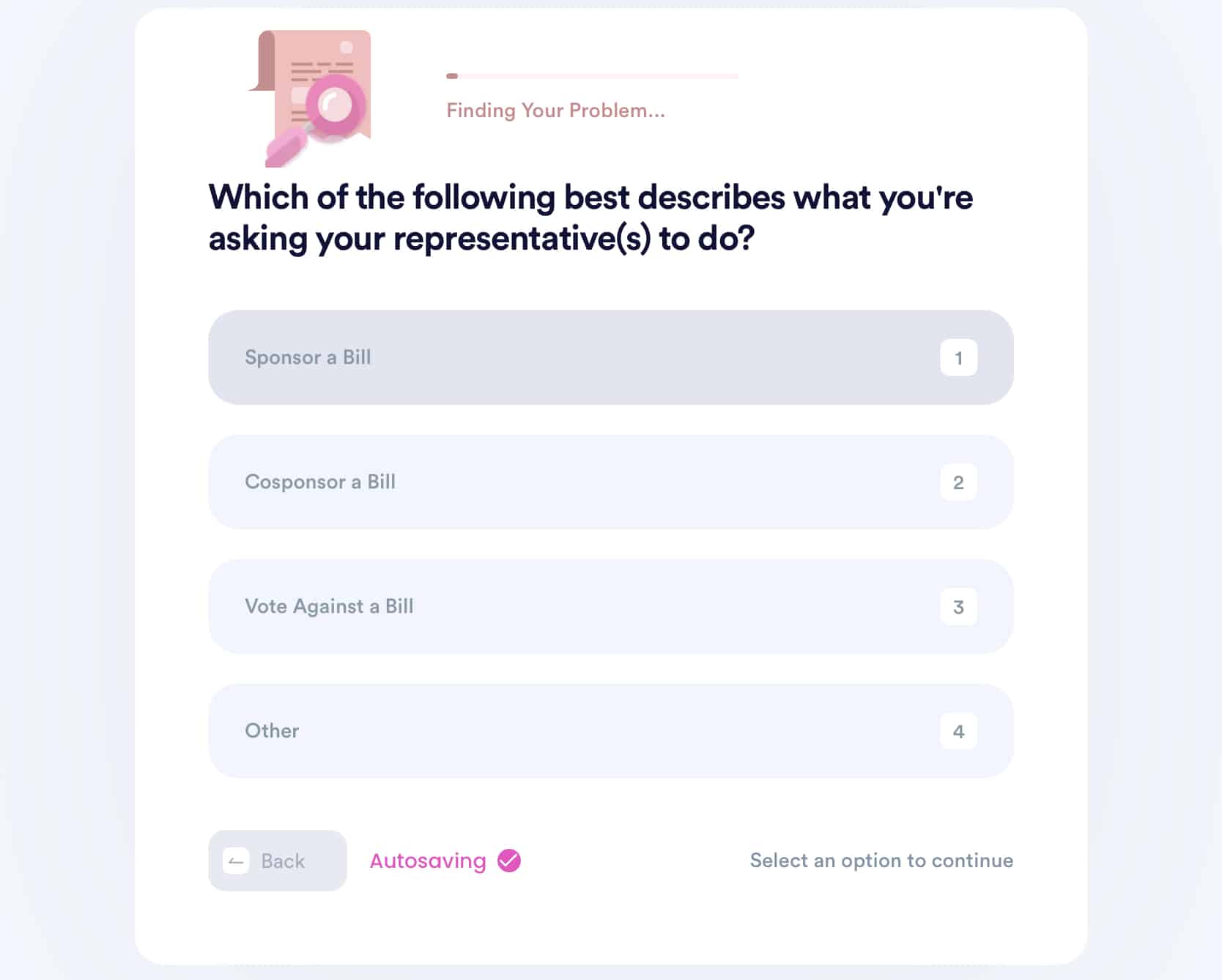 That's it! Once you're done, DoNotPay will automatically create a nicely formatted message and send it on your behalf!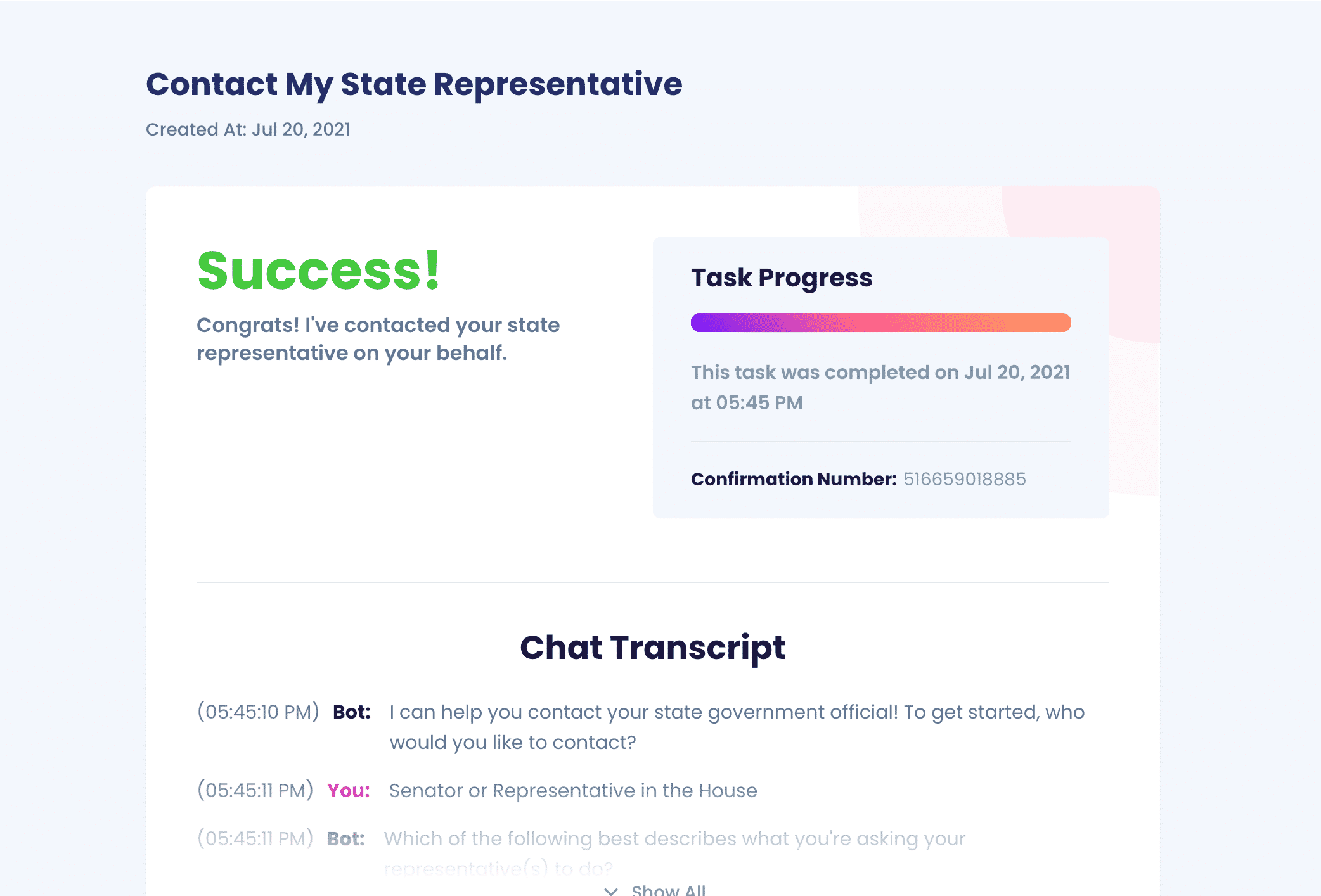 DoNotPay can do More than You Think