Senator Sherrod Brown Contact Info, Bio, and More
Your opinion on legislation matters and can make a difference! If you want to ensure that your voice is heard and that your thoughts are taken into account, you should contact a United States government representative. Representatives welcome the general population to share their opinions as they wish to be reelected, therefore they take into account the concerns of their constituents.
If you are a resident of Ohio, then this article will inform you how you can contact Senator Sherrod Brown. The article will also introduce you to the best way you can contact your senator, or any other government representative using DoNotPay.
About Senator Sherrod Brown
Sherrod Brown is an American Politician and retired educator who is currently serving as the Senior United States Senator for the state of Ohio, a set he has held since 2007.
Brown received his Bachelor of Arts in Russian Studies from Yale University, and later received a Master of Arts in education and a Master of Public Administration from Ohio State University at Columbus.
During his senior year in college, he was recruited by a local Democratic leader to run for Ohio's statehouse, where he won and became the youngest person elected to that body.
Brown was then elected the United States Representative for Ohio's 13th Congressional District from 1993 until 2007.
He was also the 47th Secretary of State of Ohio from 1983 to 1991.
In the 2006 election for U.S. Senate, Sherrod Brown defeated two-term Republican incumbent Mike DeWine and was later reelected in 2012 and in 2018.
In the Senate, Brown served as the chair of the Agriculture Subcommittee on Hunger, Nutrition and Family Farms as well as the Banking Subcommittee on Economic Policy.
He is a member of the Committee on Finance, the Select Committee on Ethics, and the Committee on Veterans' Affairs.
In 2015 and until 2021, he was the Ranking Member of the Senate Banking, Housing, and Urban Affairs Committee, and in 2021, he became the Chair of the Senate Banking Committee.
In 2011, Brown became Ohio's Senior U.S. Senator after George Voinovich retired. Since then, he has been the only Democratic elected official in the state of Ohio.
How to Contact Senator Sherrod Brown
You can choose to call a senator or government representative. You can also email a representative or mail their office locations.
Senator Sherrod Brown has five office locations you can contact, four of them are in the state of Ohio and one is in the Senate Office Building in Washington DC. Here is a list of how you can contact each office locations:
Cleveland, Ohio: 801 West Superior Ave., Suite 1400 Cleveland, OH 44113, Phone Number:(216) 522-7272. Fax:(216) 522-2239.
Cincinnati, Ohio: 425 Walnut St., Suite 2310 Cincinnati, OH 45202, Phone Number:(513) 684-1021. Fax:(513) 684-1029.
Columbus, Ohio: 200 North High St., Room 614 Columbus, OH 43215, Phone Number:(614) 469-2083. Fax:(614) 469-2171.
Lorain, Ohio: 200 West Erie Ave., Suite 312 Lorain, OH 44052, Phone Number:(440) 242-4100. Fax:(440) 242-4108.
Washington, DC: 503 Hart Senate, Office Bldg. Washington, DC 20510, Phone Number: (202) 224-2315. Fax: (202) 228-6321.
State
Ohio
Political Party
Democratic
Entered Office
3rd of January 2007
Term Expires
3rd of January 2025
Main Mailing Address
503 Hart Senate Office Building

Washington DC 20510

Main Phone Number
(202) 224-2315
Email
Fill out the email form found here.
Website
https://www.brown.senate.gov/

Social Media
Share Your Opinion with Senator Sherrod Brown
U.S. Senator Sherrod Brown and his office are able to respond to your concerns on federal legislation and the federal government. The senator encourages his constituents to share their thoughts with him on issues such as:
Arts and Humanities
Animal Welfare
Agriculture
Auto Industry
Civil Rights
Consumer Protection
Defense and Military
Economic Recovery
Education
Election and Campaign Finance Reform
Energy
Environment
Federal Budget
Financial Regulation and Banking
Foreign Policy
Gun Control
Healthcare Policy
Homeland Security
Housing
Immigration
Judiciary and Government Oversight
Labor
Law Enforcement
Manufacturing
Pensions
Postal Services
Reproductive Rights
Science and NASA
Social Security
Taxes
Telecommunications
Trade
Transportation
Veterans Policy
Welfare and Poverty
Why It's Hard Reaching a Government Official
You can try to call a senator to share your thoughts, however, if you do so you should follow a script so that you do not forget any important details. You can also email a senator, which is considered a better option than calling as you can clearly outline your argument and standpoints without the risk of your message being lost in translation.
However, as the senator has warned the residents of Ohio, he has been experiencing a high volume of calls and emails and there are extended wait times and processing delays. It is also intimidating to write an email to a senator as it must be professional and extremely well written. Therefore, DoNotPay is your best option to contact a government representative!
Let DoNotPay Contact United States Sherrod Brown for You!
Skip the processing delays and extended wait times with DoNotPay, an AI-powered robot lawyer that can contact any representative of the United States government on your behalf. All you have to do is:
1. Search "Contact Representative" on DoNotPay and select the product.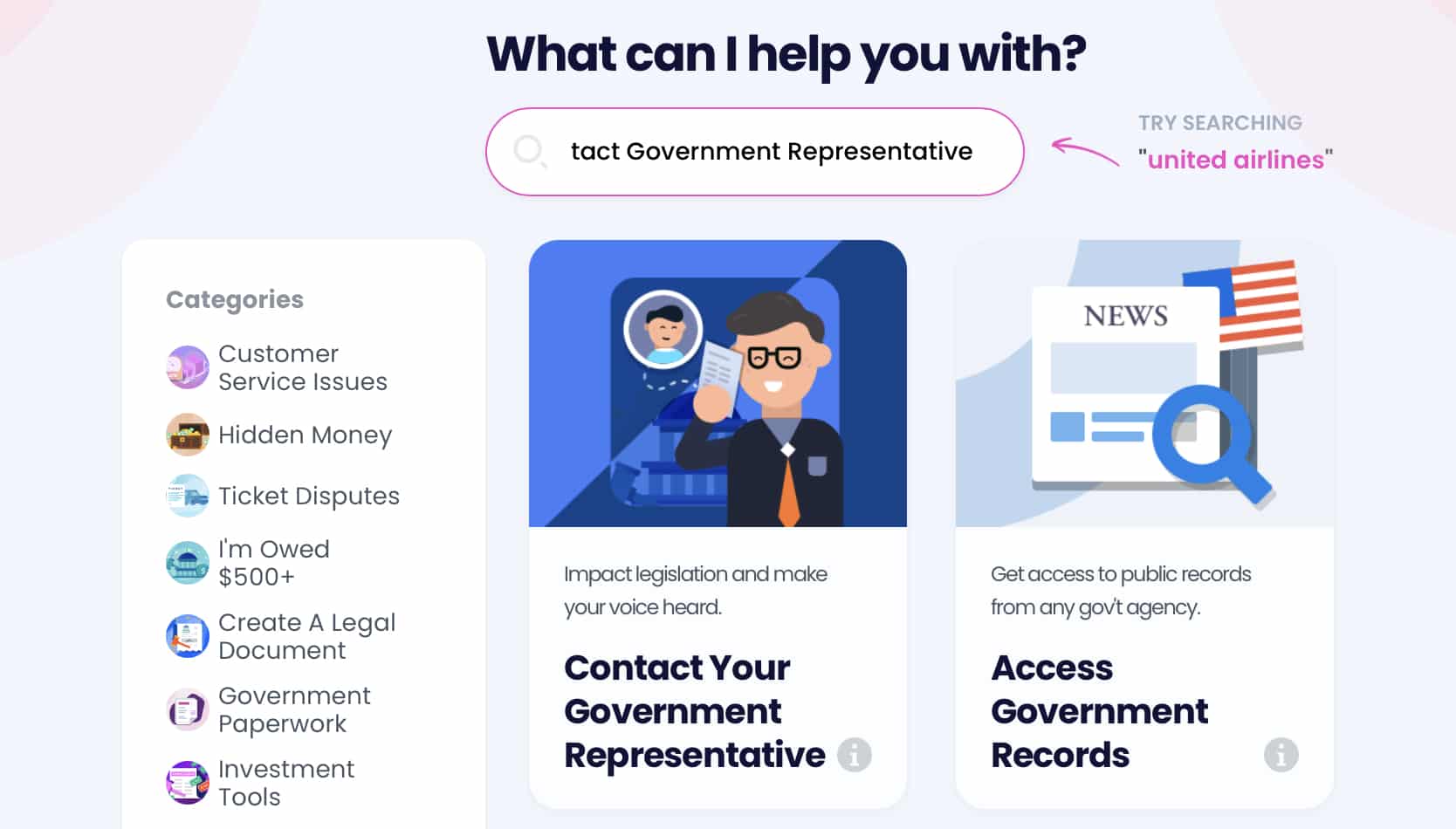 2. Choose whether you want to contact your Senator, House Representative, Governor, President, or Mayor.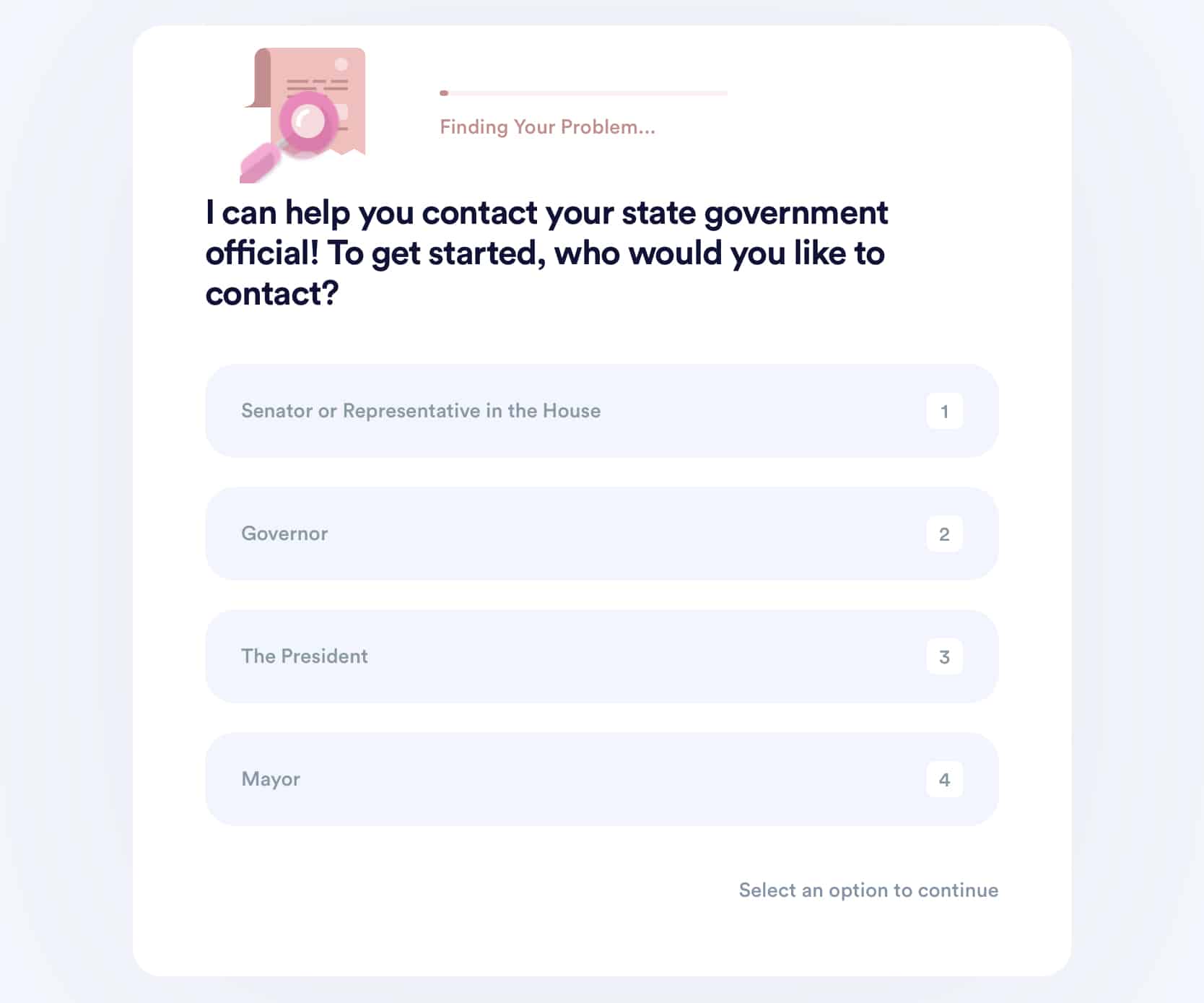 3. Tell us why you're contacting your representative and which bill or issue you're concerned about.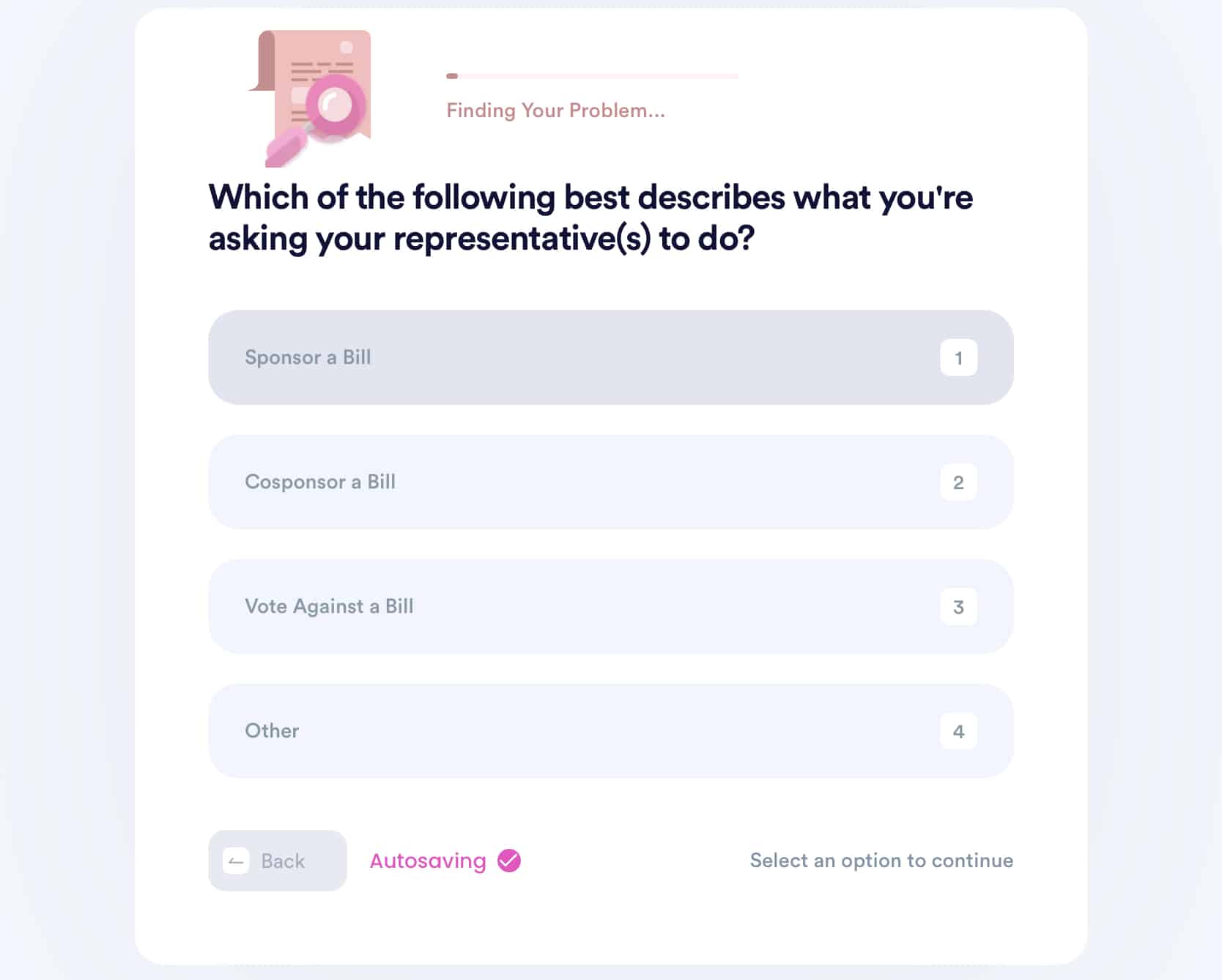 DoNotPay will take it from here. Just wait while we contact your representative! You will receive a response directly from his or her office.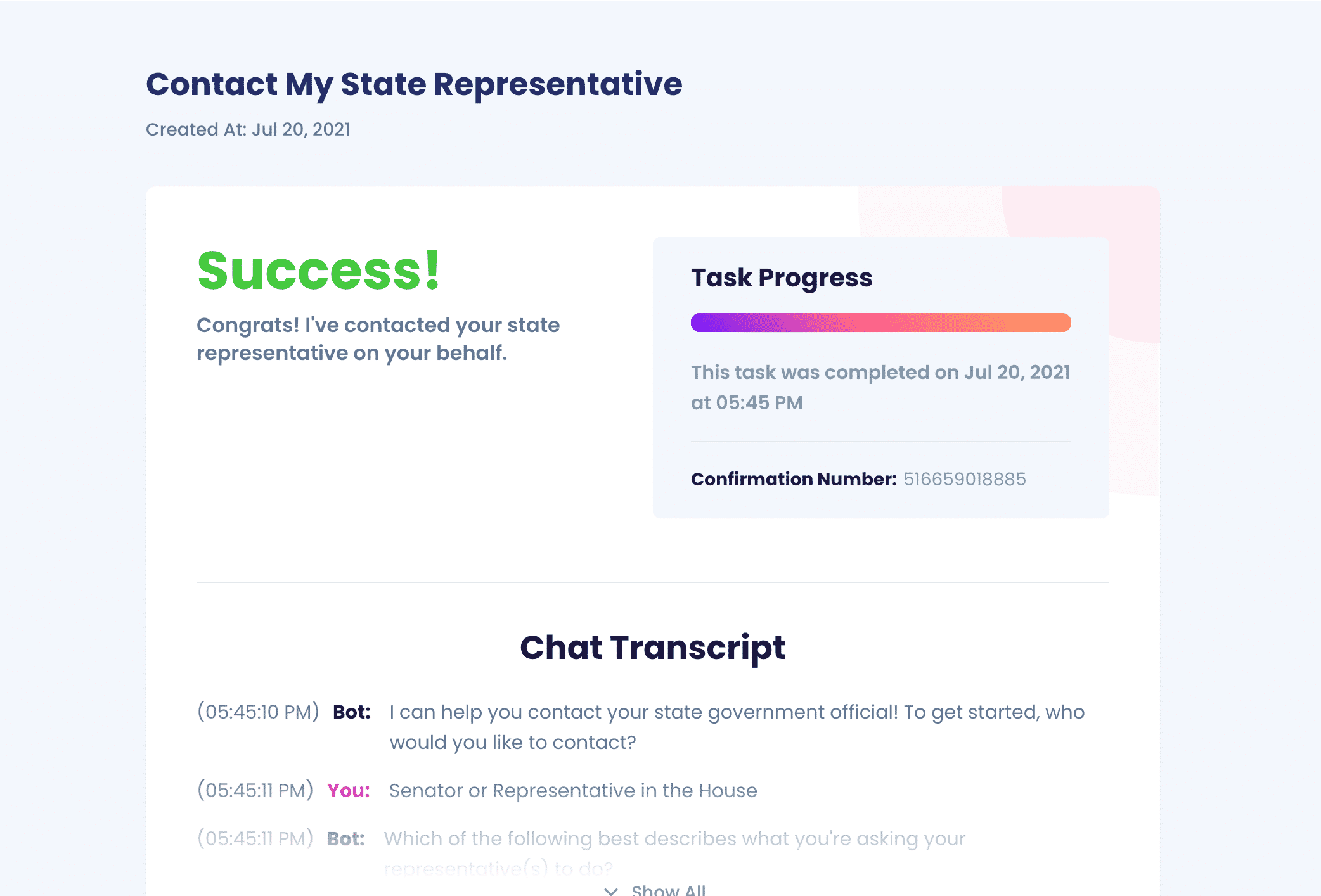 What Else can DoNotPay do for Me?