Senator Shelby Contact Details
Richard Shelby is one of the two senators for Alabama - as the longest-serving one, he is considered the senior senator. He was elected for the first time in 1986, and is currently serving his sixth term. Before serving his senate terms, he was also elected to the House of Representatives and served in the Alabama Legislature. He graduated from the University of Alabama with a degree in law.
Senator Shelby feels strongly about maintaining second amendment rights, job creation, and economic growth in Alabama. He opposes government bailouts and is in favor of a smaller government with a more balanced budget.
What Committees Does Senator Shelby Serve On?
Each senator serves on different committees, each of which has different focuses and subgroups. A piece of legislation will go through the committee that best addresses its purpose before it goes back into the House of Representatives or Senate for final approval. Committee members will have the most direct involvement in shaping the policy and will know the most on the subject.
Senator Richard Shelby is involved in the following committees:
Appropriations
Banking, Housing, and Urban Affairs
Environment and Public Works
Rules and Administration
Here is a table summarizing Senator Shelby's political viewpoints:
| | |
| --- | --- |
| Issue | Stance |
| Cannabis | Pro-Legalization |
| Abortion | Pro-Choice |
| Gun Control | In Favor |
| Police Reform | In Favor |
| LGBTQ+ Marriage | In Favor |
| Immigration | In Favor |
| Climate Change Action | In Favor |
Methods of Contact for Senator Richard Shelby
The table below shows Senator Shelby's general contact information:
Mode of Contact
Information
Email
https://www.shelby.senate.gov/public/index.cfm/emailsenatorshelby
Twitter
@SenShelby

https://twitter.com/SenShelby

Instagram
@senatorshelby
Facebook
https://www.facebook.com/RichardShelby
YouTube
https://www.youtube.com/user/SenatorRichardShelby
Schedule a Meeting
https://www.shelby.senate.gov/public/index.cfm/requestameeting
Senator Website
https://www.shelby.senate.gov
Campaign Website
http://www.shelbyforsenate.com/
Intern with Senator Shelby
https://www.shelby.senate.gov/public/index.cfm/internship-application
Offices of Senator Richard Shelby
Senator Shelby has 4 office locations across Alabama and one in Washington D.C.
Washington, D.C.
304 Russell Senate Office Building Washington, DC 20510 Telephone: (202) 224-5744
Alabama
Birmingham 1800 5th Avenue North 321 Federal Building Birmingham, AL 35203 Telephone: (205) 731-1384 Fax: (205) 731-1386
Huntsville
1000 Glenn Hearn Boulevard #20127 Huntsville, AL 35824 Telephone: (256) 772-0460 Fax: (256) 772-8387
Mobile
113 Saint Joseph Street Room 365 Mobile, AL 36602 Telephone: (251) 694-4164 Fax: (251) 694-4166
Montgomery
FMJ Federal Courthouse 15 Lee Street, Suite 208 Montgomery, AL 36104 Telephone: (334) 223-7303 Fax: (334) 223-7317
Tuscaloosa
2005 University Boulevard Suite 2100 Tuscaloosa, AL 35401 Telephone: (205) 759-5047 Fax: (205) 759-506
What Is the Best Way to Contact Senior Senator Shelby?
You have many options when deciding how to Senator Richard Shelby. Among them, there are pros and cons. Use our handy guides to figure out what the right mode of contact is for you.
1. Choose your method of contact.
Curious on how to choose your method of contact? Check out our article here.
Phone Calls: Check out our article on the upsides and downsides of phone calls and if they really work here before you make your decision.
Meetings: A meeting in person is often the most effective way to get your point across, as emotion and sincerity translates much better when not filtered through the internet. However, you've got to come prepared and make the most of your limited time with the representative. For those who struggle with nerves, this may be a more high-stakes and stressful mode of communication.
Social Media: While social media is a great way of figuring out who your representative is and what they value, it does not serve well as a mode of contact. This is because government representatives' social media accounts are managed by their campaign staff. We would recommend against making formal contact through social media.
Emails: Emails can be effective, but they must be written professionally and clearly to make an impact. Set out in the first sentence or two what specific action you want your representative to take. Use a formal tone throughout and conclude the email by thanking them and reminding the representative of the action they should take.
2. Once you've chosen, locate their contact information
If you are looking to address a specific issue of the bill, make sure to check out the other senators that sit on the committee and consider contacting them as well. Need help finding specific contact information?
Phone numbers for senators can be found here
Phone numbers for the House of Representatives can be found here
3. Do some mental prep
Practice your argument and make sure to perfect it, as you will have limited time to communicate and each senator has many constituents they have to talk to every day. Remember that your voice matters and your senator wants to hear from the people they represent.
How DoNotPay can Simplify the Process for You
With a fast-paced life and many bureaucratic roadblocks, being directly involved in politics isn't always easy. We understand that not everyone has the time or energy to do all of the required preparation or necessary research, or add another phone call to their work day. That's why we've created a way to simplify the process and have collected all of the information for you.
In these 3 easy steps, let do the work - our technology will create a tailor-made professional message on your behalf, and get it to your representative. We want your voice to be heard, without all of the stress that comes with it. Here's how to get yourself started:
1. Click on the Contact Your Government Representative product on .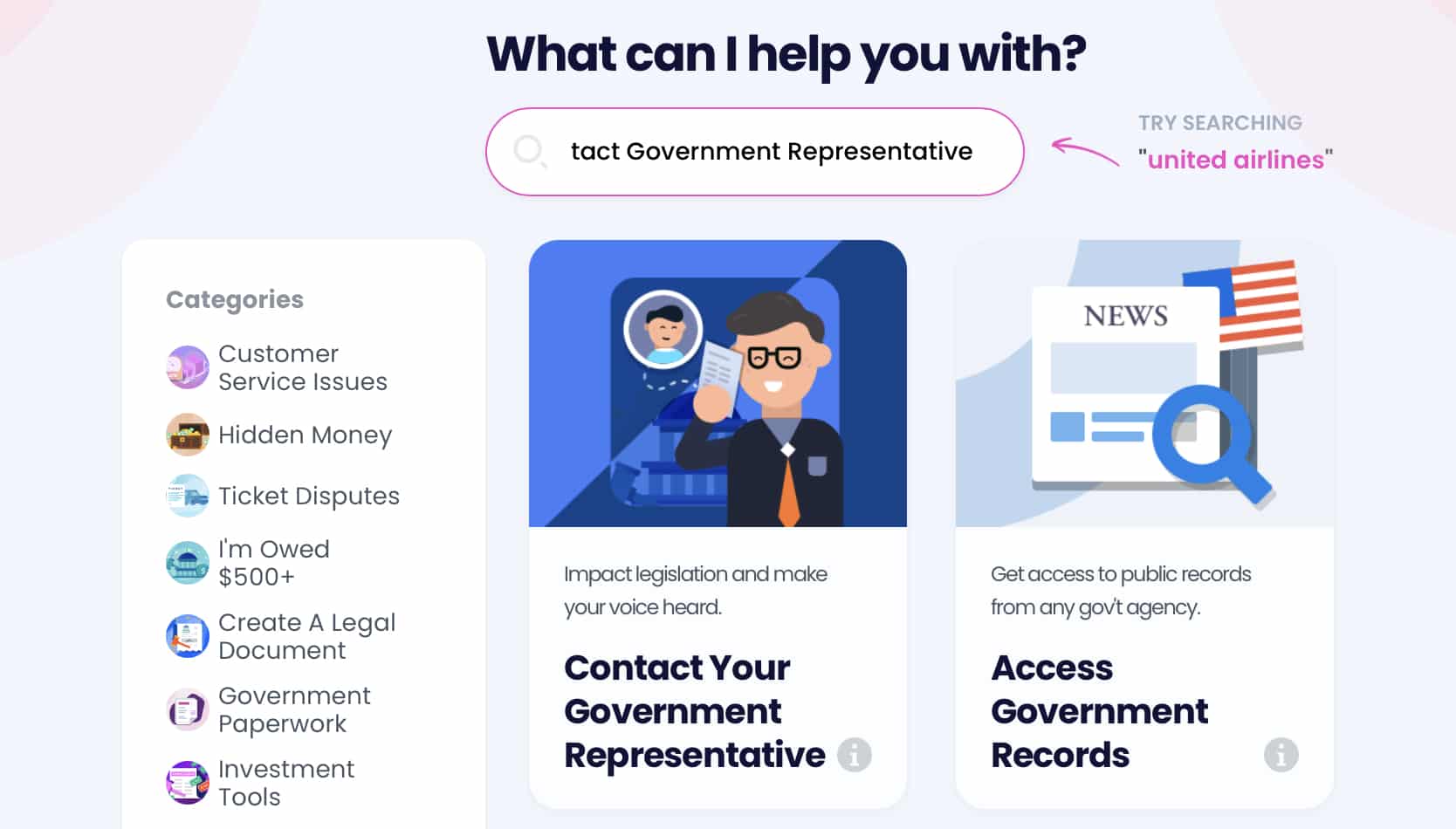 2. Choose your representative of choice from our list.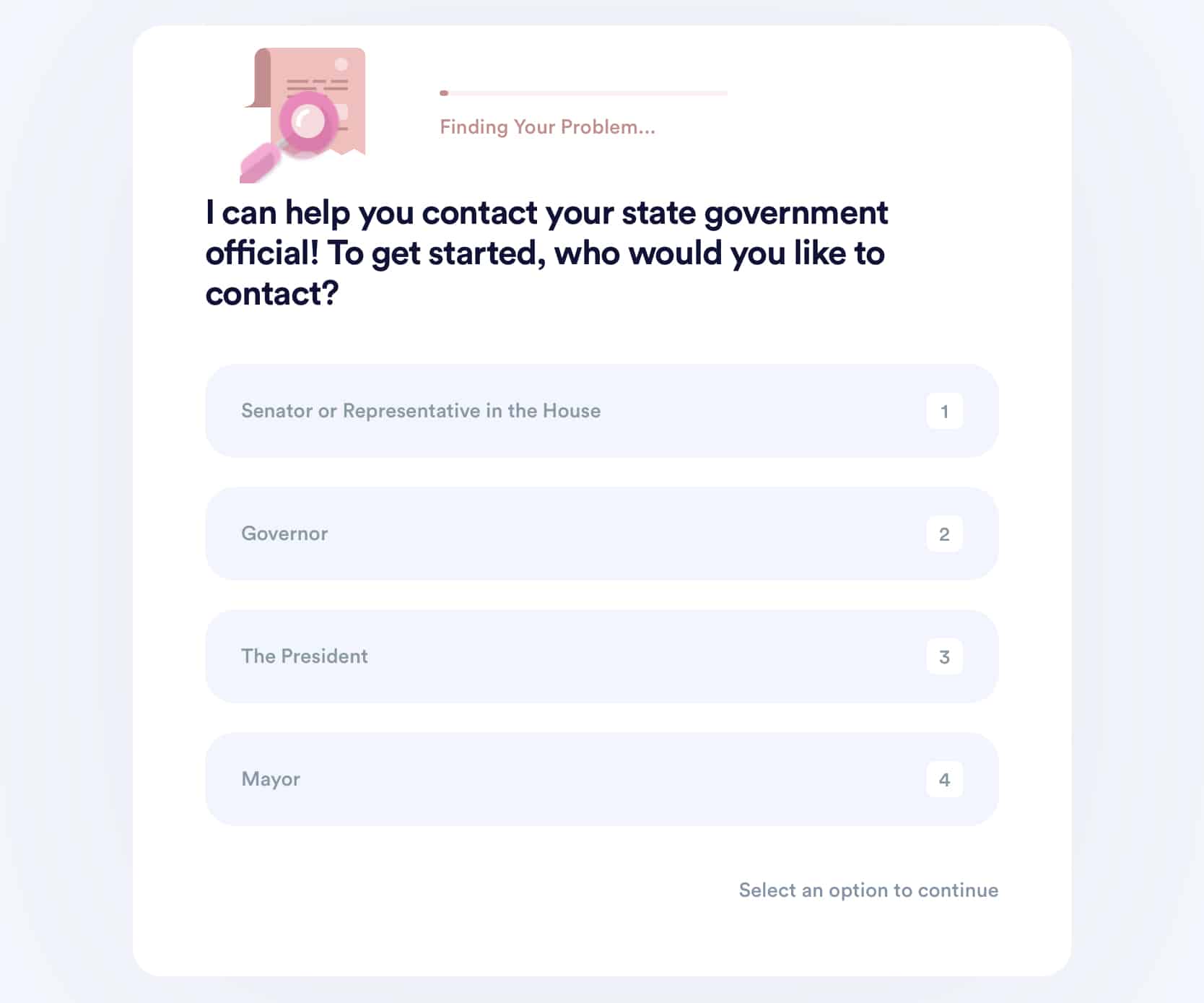 3. Leave us a brief message explaining your issue and why you feel strongly about it.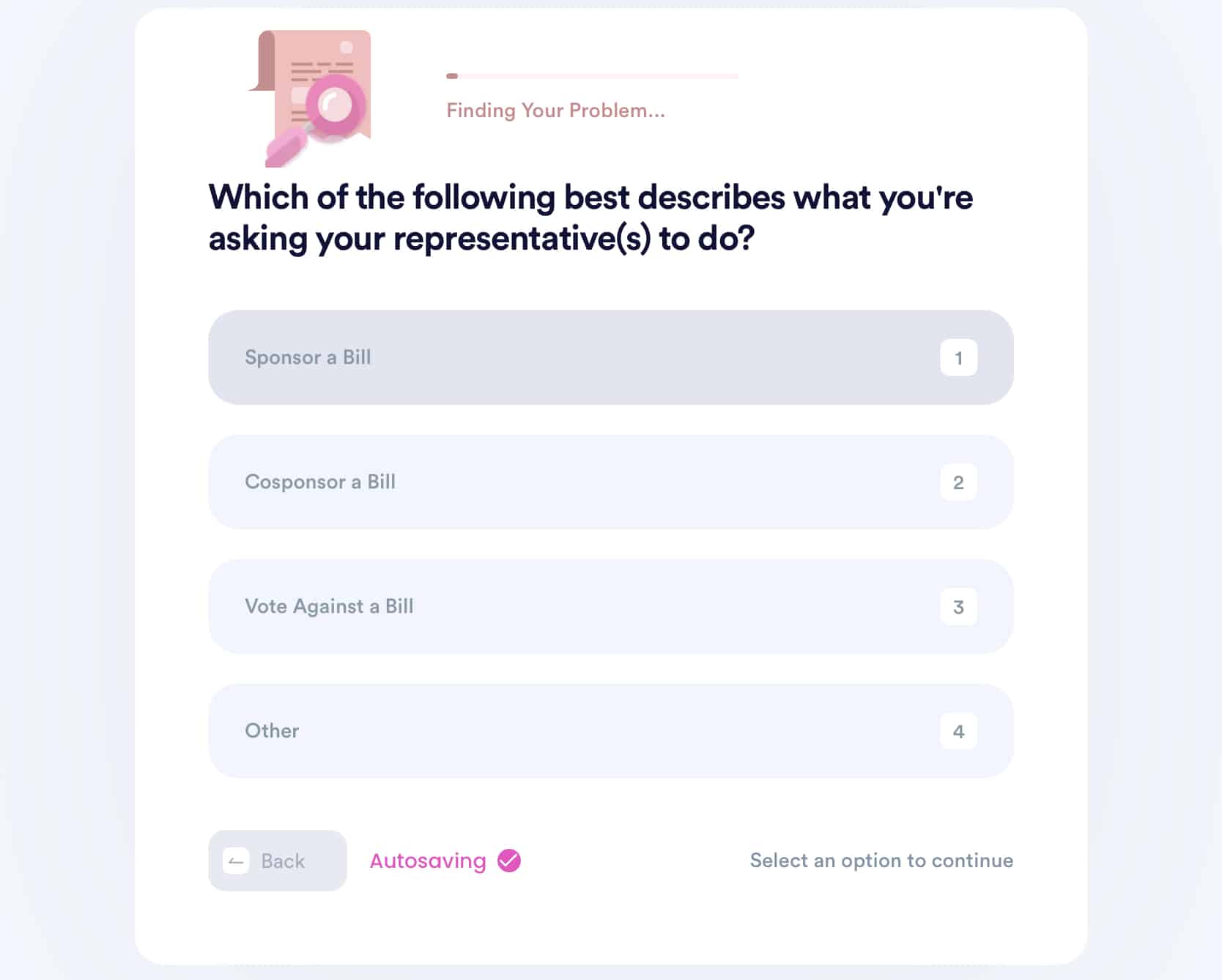 That's it! That's all you need to do for DoNotPay to create a professional message tailored to your needs! We'll make sure it gets delivered to your representative as soon as possible.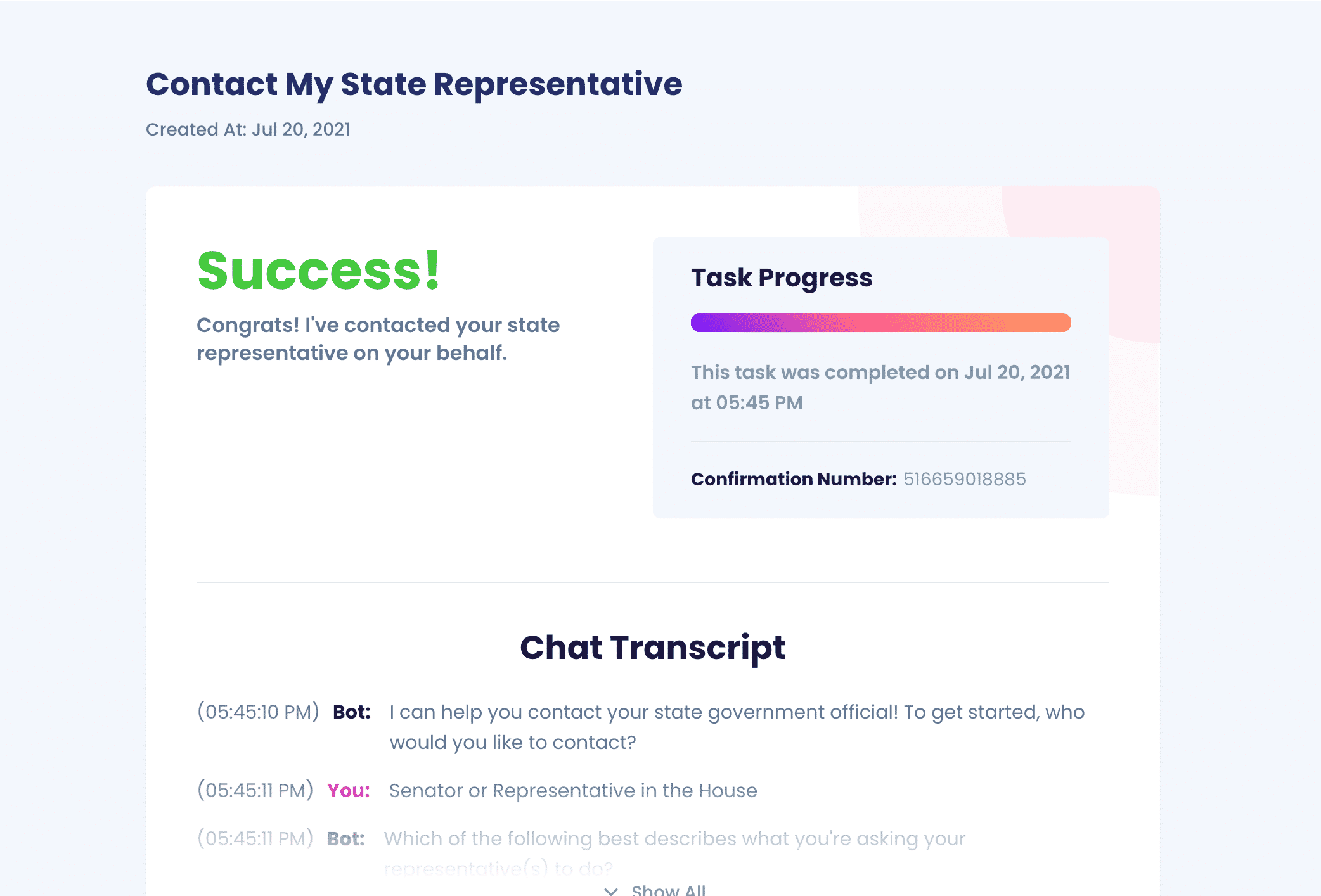 DoNotPay Does More!