Senator Markey Contact Information and More!
Each state has two senators. Senator Markey has been the junior senator representing Massachusetts since 2013, and sometimes contributes as a writer for the Huffington Post. Before his term as senator, he served in the House of Representatives and has served in Congress since 1976.
Senator Markey, along with Senator Ocasio-Cortez, worked together on a fourteen-page summary of their Green New Deal. His work on climate change has been very impactful and he has been very vocal in supporting the LGBTQ+ community as well. Markey has been opposed to many of former President Donald Trump's policies concerning immigration and foreign policy and advocated for his impeachment after the January 6th Insurgency.
What Committees Does Senator Markey Serve On?
Senators each have their own committees, within which they can make the most change and are the most involved. Democratic Senator Edward Markey is involved in the following committees: 
Commerce, Science, and Transportation
Environment and Public Works
Foreign Relations
Small Business and Entrepreneurship
The table below summarizes Senator Markey's political stances:
| | |
| --- | --- |
| Issue | Stance |
| Cannabis | Pro-Legalization |
| Abortion | Pro-Choice |
| Gun Control | In Favor |
| Police Reform | In Favor |
| LGBTQ+ Marriage | In Favor |
| Immigration | In Favor |
| Climate Change Action | In Favor |
Methods of Contact for Senator Ed Markey
The table below goes over Senator Ed Markey's contact information:
Mode of Contact
Information
Send a message
https://www.markey.senate.gov/contact/share-your-opinion
Phone Number (Boston Office)
617-565-8519
Phone Number (Springfield Office)
(413) 785-4610
Phone Number (Fall River Office)
(508) 677-0523
Phone Number (Washington, DC)
(202) 224-2742
Twitter
@EdMarkey

https://twitter.com/EdMarkey

Instagram
@edmarkey
Facebook
https://www.facebook.com/EdMarkeyforMA/
Mailing Address: Boston
975 JFK Federal Building

15 New Sudbury St

Boston, MA 02203

Mailing Address: Springfield
1550 Main Street 4th Floor

Springfield, MA 01103

Mailing Address: Fall River
222 Milliken Boulevard

Suite 312

Fall River, MA 02721

Mailing Address: Washington, DC
255 Dirksen Senate

Office Building

Washington, DC 20510

Senator Website
https://www.markey.senate.gov/
Campaign Website
https://www.edmarkey.com/
Intern with Senator Markey
https://www.markey.senate.gov/services/internships
How Should You Contact Senator Ed Markey?
As you can see, Senator Edward Markey has many different ways he can be reached and several office locations. It can be very difficult to know how to reach him, and it may be wise to contact him in as many modes as possible. The sections below will serve as a guide for you to contact Senator Markey yourself.
Choose a mode of communication
When making the decision as to which mode to pick, make sure you reflect on how much time you have, the best medium for your message, and your physical abilities - a message in person or by voice can be more impactful than an email, but can be poor choices if you aren't a great speaker or the call is taken by an uninterested office worker. While social media can be a good way to get an idea of your representative's daily activities, contact by social media will be less effective, as it is often managed by campaign staff and rarely goes directly to the representative.
To find out the best way to contact your specific representative, check out our guide here. Wondering if calling your representative actually works? Check out our guide here before you make your decision.
Locate their contact info
You've made a great start by looking into the ways to contact Senator Markey. If you are looking to address an issue that may have many senators involved, make sure to find their contact info on our site: a list of phone numbers for senators can be found here and phone numbers for the House of Representatives can be found here.
Do some prep! As each senator has many constituents, you may only get one chance to have your voice heard and you want to make sure that your message gets across to the senator.
Things to keep in mind when making your argument:
Set out clearly the issue
Know the action you would like the senator to take
Practice explaining why this issue is so important and urgent
Remind your representative that they represent you - if you voted for them, let them know!
Nervous? Use our resources! We have a provided script for phone calls, and a guide to writing well structured and professional emails to your representatives.
DoNotPay Can Simplify the Process for You!
Senator Markey is a great example of someone with many platforms – he is available by so many different modes of contact that it can be overwhelming. It can be even more difficult to figure out how to reach him directly, as most modes of contact likely go to his campaign team.
If you're short on time or overwhelmed by the prospect of trying to get through contact forms, let us help you out. DoNotPay's service is here for people like you and aims to make your experience contacting any representative much easier. We can help you skip steps and create a professional message including your concerns.
You don't need to be a lawyer or an academic to have your voice heard – let DoNotPay's AI lawyer do the work for you:
1. Search for the Contact Your Government Representative product on DoNotPay.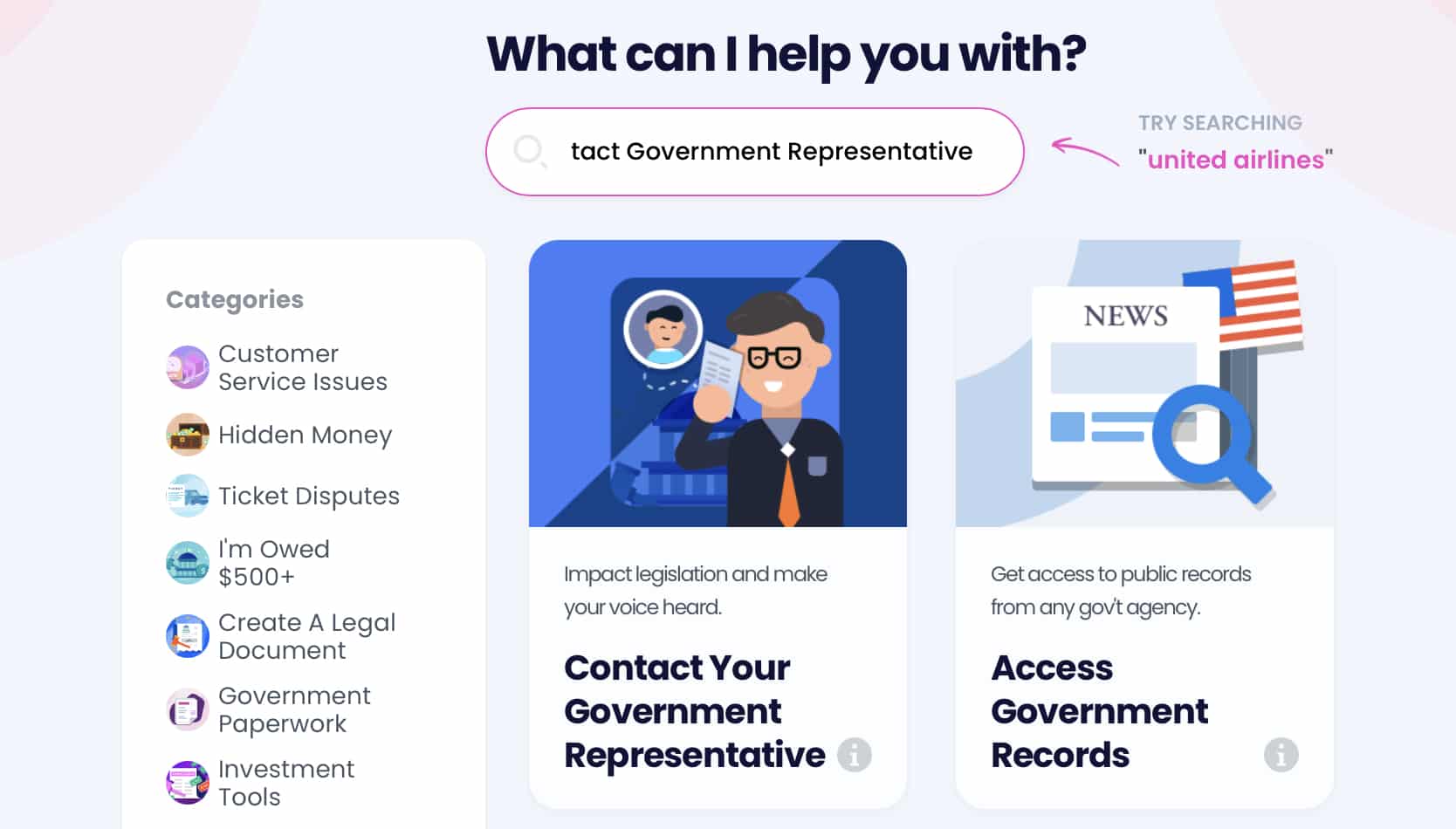 2. Choose your representative of choice from our list. We can contact your Mayor, Senator, House Representative, Governor, or President.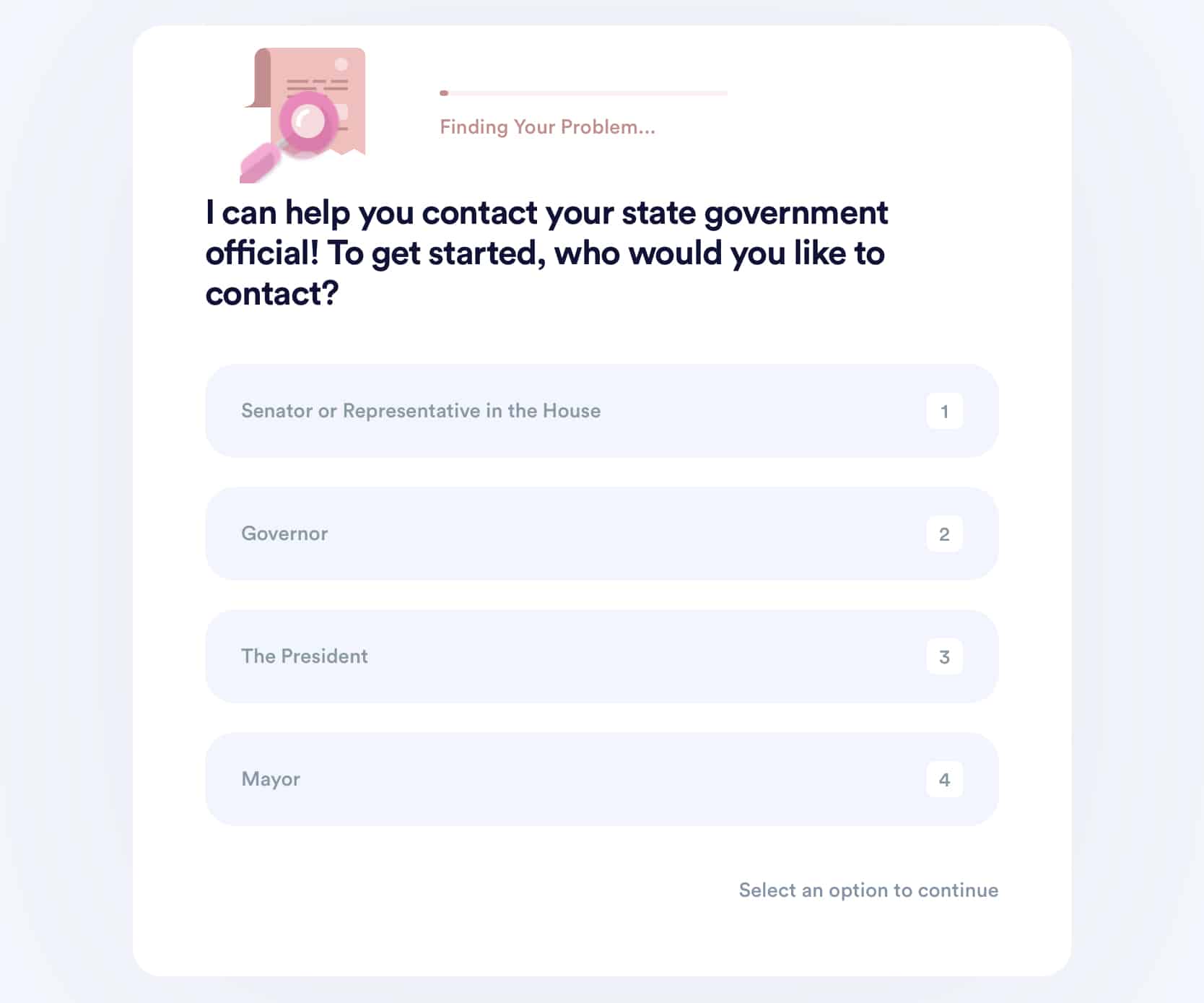 3. Leave us a brief message explaining your issue. Let us know what action you'd like your representative to take, why you feel strongly about it, and why they should also feel strongly!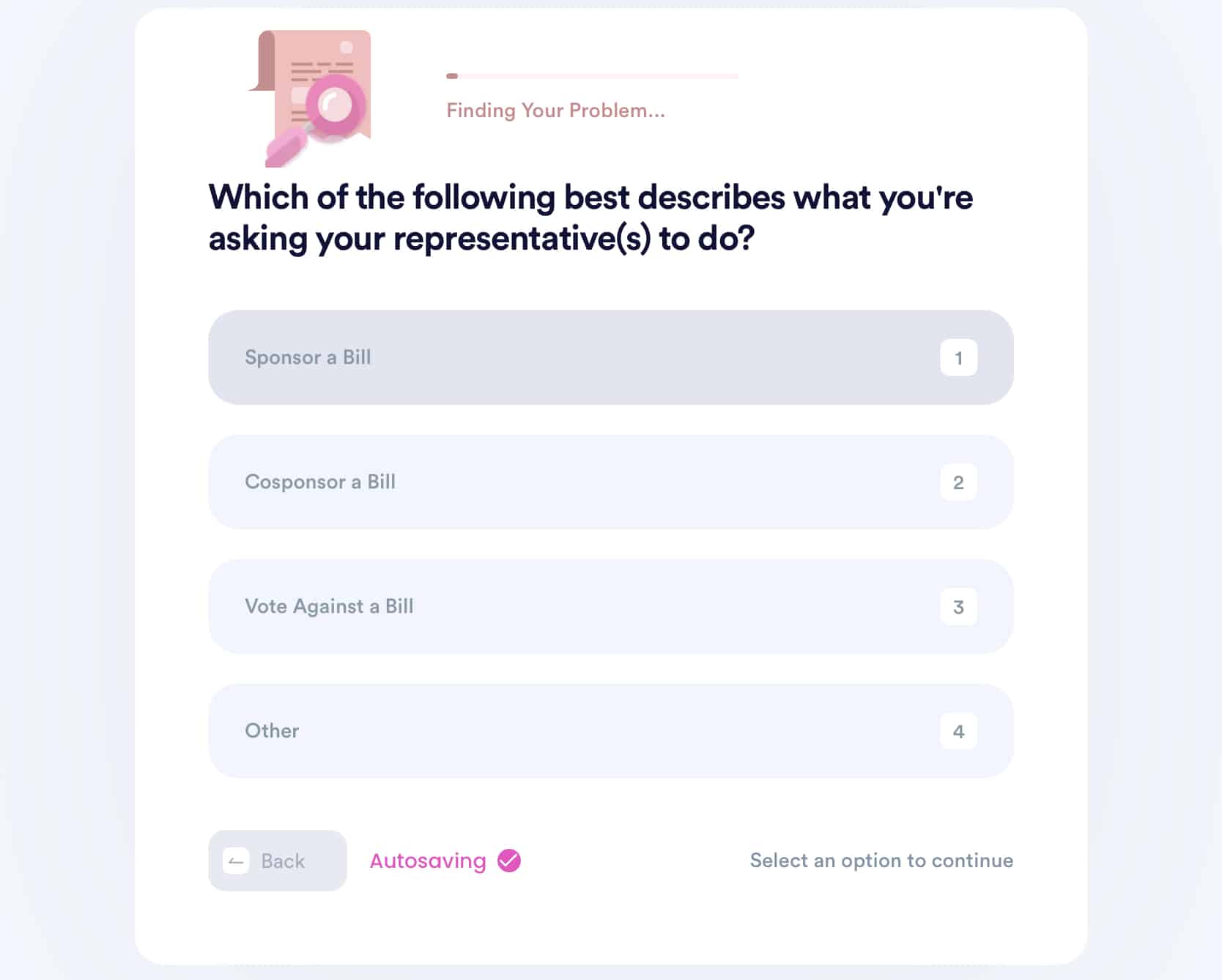 4. Sit back and relax! Let our easy software take care of your message for you. We will formulate a professional message and make sure it gets to your representative as soon as possible.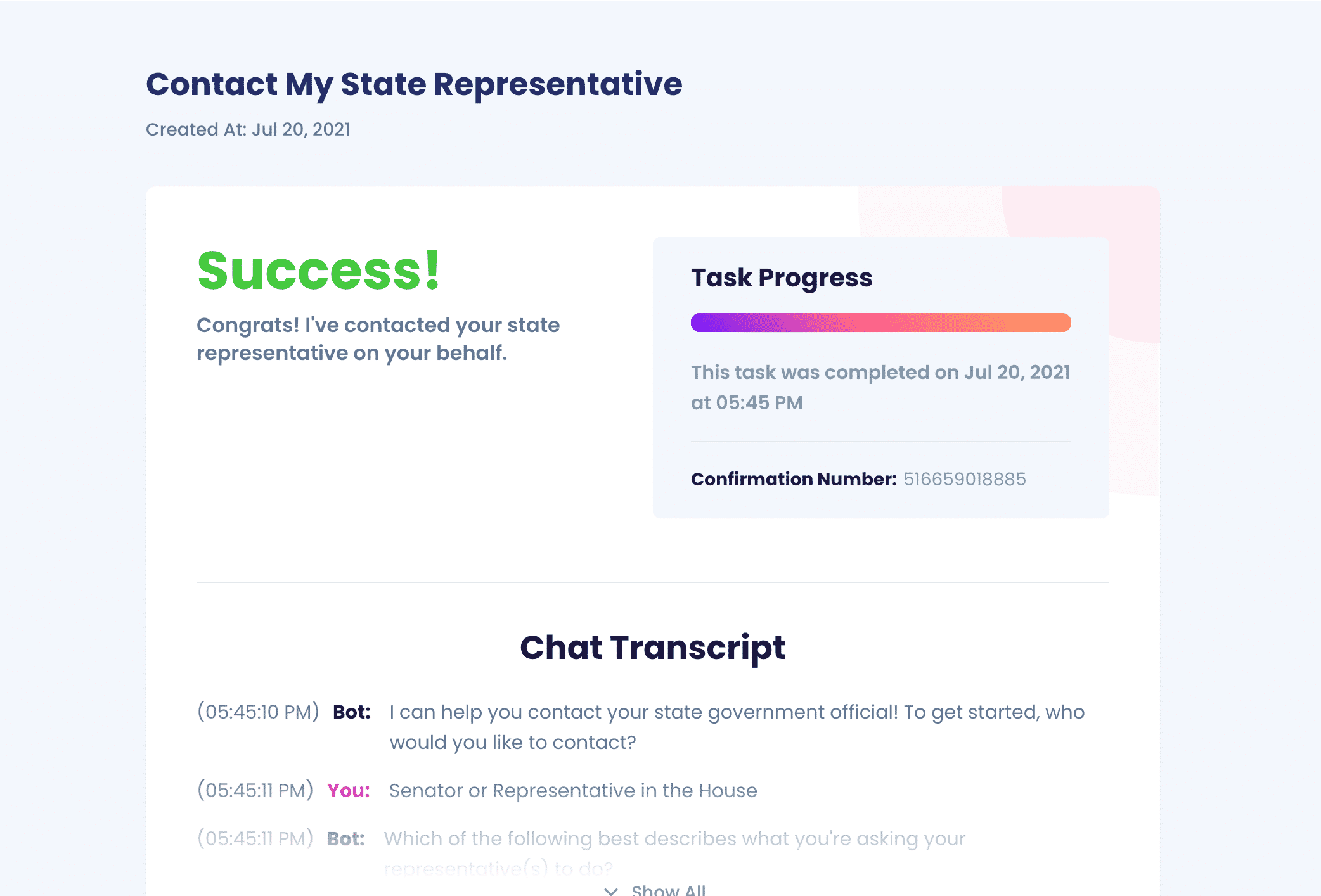 DoNotPay is Your AI Lawyer!
Not only can DoNotPay help maintain your civic rights, it can also assist you on various legal matters: