Senator Maria Cantwell Phone Number and More
The junior (newest serving) senator from Washington State, Senator Maria Cantwell was elected to the Senate in 2001, after serving in the House of Representatives for many years. She is a democrat and the most senior of the junior senators. She was born and raised in Indiana and went on to receive a bachelor's of arts in Public Administration from Miami University in Ohio. She briefly worked in the private sector as the Vice-President of Marketing for the company RealNetworks after leaving politics for a short time.
She returned to the political stage in 2000 with a platform supporting improved social security and campaign finance reform. She has since taken strong stances on protecting wildlife and providing young women with access to free contraception. She has managed to block drilling, support the preservation of animal populations, and pass bills that would increase funding for national parks. Her role on the Finance committee also allows her to advocate for a more accessible health system for Americans.
What Committees Does Senator Cantwell Serve On?
Each piece of legislation that passes through Congress (the Senate and the House of Representatives) will go to a specific committee that deals with a specific area of concern - each of these committees also have their own subcommittees. The committees senators serve in are the place in which they have the most direct involvement in and will be the areas that they are most knowledgeable about. Senator Maria Cantwell is involved in the following committees:
Commerce, Science, and Transportation
Energy and Natural Resources
Finance
Indian Affairs
Small Business and Entrepreneurship
| | |
| --- | --- |
| Issue | Stance |
| Cannabis | Pro-Legalization |
| Abortion | Pro-Choice |
| Gun Control | In Favor |
| Police Reform | In Favor |
| LGBTQ+ Marriage | In Favor |
| Immigration | In Favor |
| Climate Change Action | In Favor |
Methods of Contact for Senator Maria Cantwell
For mailing addresses, phone numbers, or fax information for each of her offices, see the tables below:
| | |
| --- | --- |
| Mode of Contact | Information |
| Email | https://www.cantwell.senate.gov/contact/email |
| Twitter | @SenatorCantwell |
| Instagram | @senatormariacantwell |
| Facebook | https://www.facebook.com/senatorcantwell/ |
| Schedule a Meeting | https://www.cantwell.senate.gov/contact/scheduling-request |
| Have Coffee with Senator Cantwell | https://www.cantwell.senate.gov/contact/coffee |
| For Assistance with Federal Agencies | https://www.cantwell.senate.gov/contact/help |
| Senator Website | https://www.cantwell.senate.gov |
| Campaign Website | https://www.cantwell.com/ |
| Intern with Senator Cantwell | https://www.cantwell.senate.gov/services/internships |
Other platforms Cantwell is on
| | |
| --- | --- |
| Flickr | https://www.flickr.com/photos/mariacantwell |
| YouTube | https://www.youtube.com/user/SenatorCantwell |
The offices of Maria Cantwell
Seattle
915 Second Avenue, Suite 3206
Seattle, WA 98174
Phone: (206) 220-6400
Fax: (206) 220-6404
Spokane
920 W. Riverside Avenue, Suite 697
Spokane, WA 99201
Phone: (509) 353-2507
Fax: (509) 353-2547
Tacoma
950 Pacific Avenue, Suite 615
Tacoma, WA 98402
Phone: (253) 572-2281
Fax: (253) 572-5879
Everett
2930 Wetmore Avenue, Suite 9B
Everett, WA 98201
Phone: (425) 303-0114
Fax: (425) 303-8351
Vancouver
1313 Officers Row
Vancouver, WA 98661
Phone: (360) 696-7838
Fax: (360) 696-7844
Richland
825 Jadwin Avenue, Suite 206
Richland, WA 99352
Phone: (509) 946-8106
Fax: (509) 946-6937
Washington, DC
511 Hart Senate Office Building
Washington, DC 20510
Phone: (202) 224-3441
Fax: (202) 228-051
How Should You Contact Senator Cantwell?
Senator Cantwell has many different offices, each with its own staff. It is most ideal to be able to talk to the Senator in person, but this may be difficult due to her frequent travels. Follow these easy steps to navigate the contact process and feel free to use our provided resources to get prepared:
Learn more about your representative, his or her stances on the issue(s) you care about, and the best way to contact them. Learn more about the different ways to contact a representative and which way might be the best for you in our guide here. We've also provided a helpful rundown on the efficacy of contacting your representative by phone - check it out here.
Find their contact information and get started. You may want to contact more than one representative that is working on the issue.
Helpful Reminders:
Keep your message clear and concise
Use a professional tone
Set out exactly what you would like your representative to do
Let them know where you're located if you are one of their constituents
Check out our provided script for phone calls to your representative
Similarly, this guide to writing emails can provide tips
How DoNotPay Can Simplify the Process for You
Contacting your representative can be exhausting, since you may have to reach out multiple times, and there is a significant amount of research required to find the necessary information for each representative. If you're planning on contacting multiple representatives, or if you're just daunted by the prospect of doing all of the preparation, let us do the hard work for you.
In a couple of easy steps, our software will simplify the process and formulate a professional message for you. We want you to have your voice heard by those that represent you, and we're committed to making that easier in any way possible.
1. Click on the Contact Your Government Representative product on .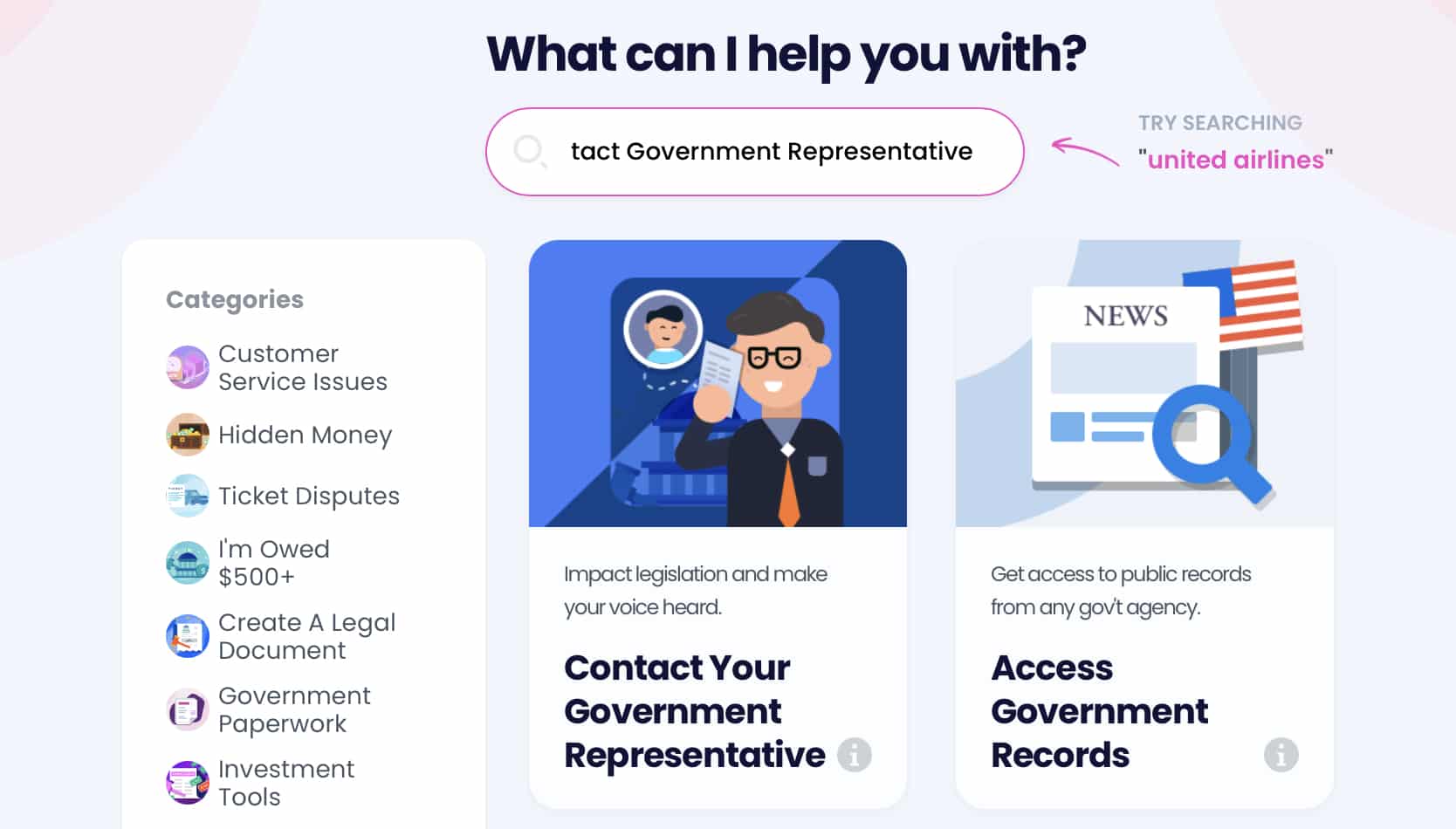 2. Choose the type of government official you want us to contact.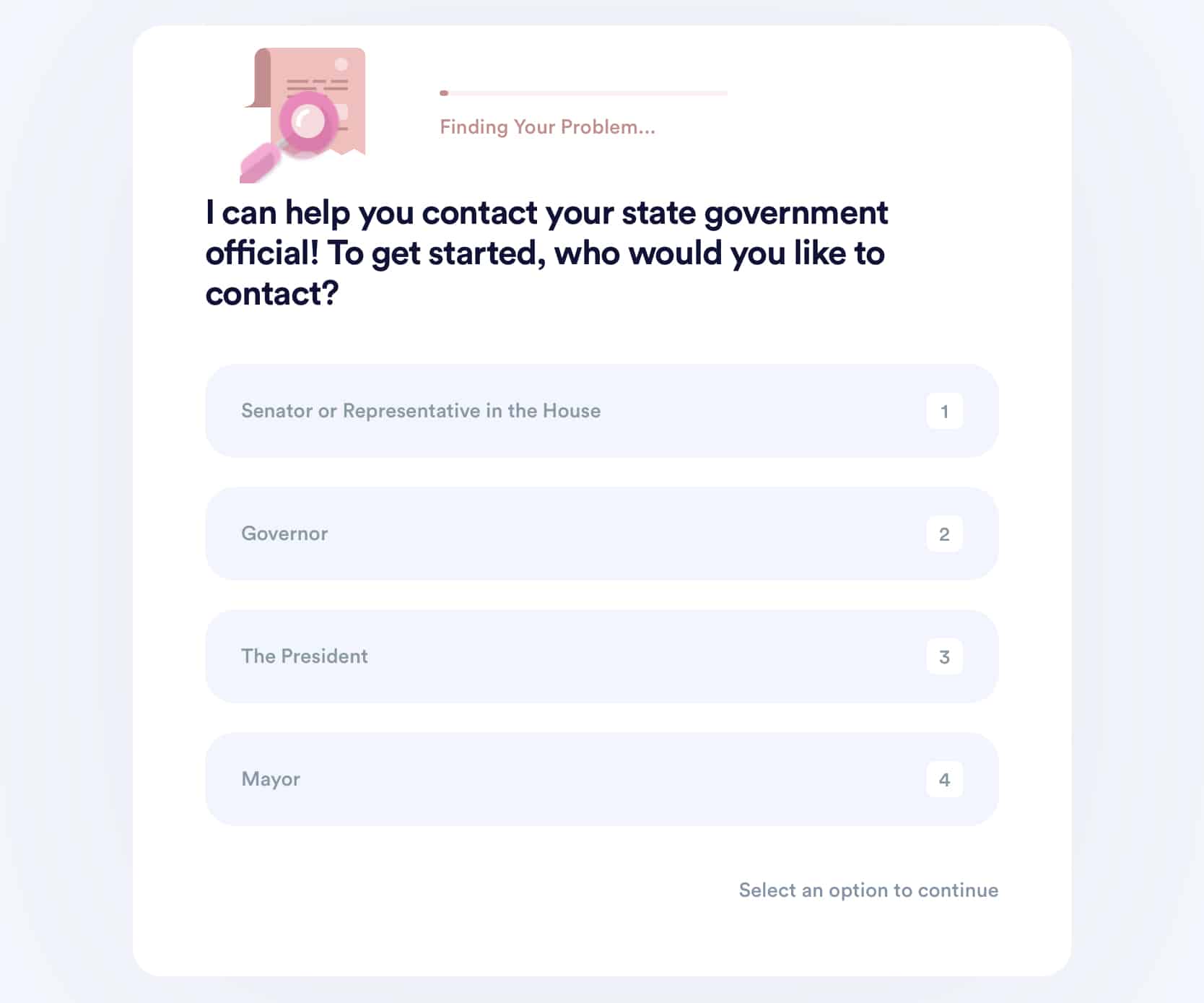 3. Leave us a brief message explaining the issue at hand. Let us know what action you'd like your representative to take and why you feel strongly about the issue.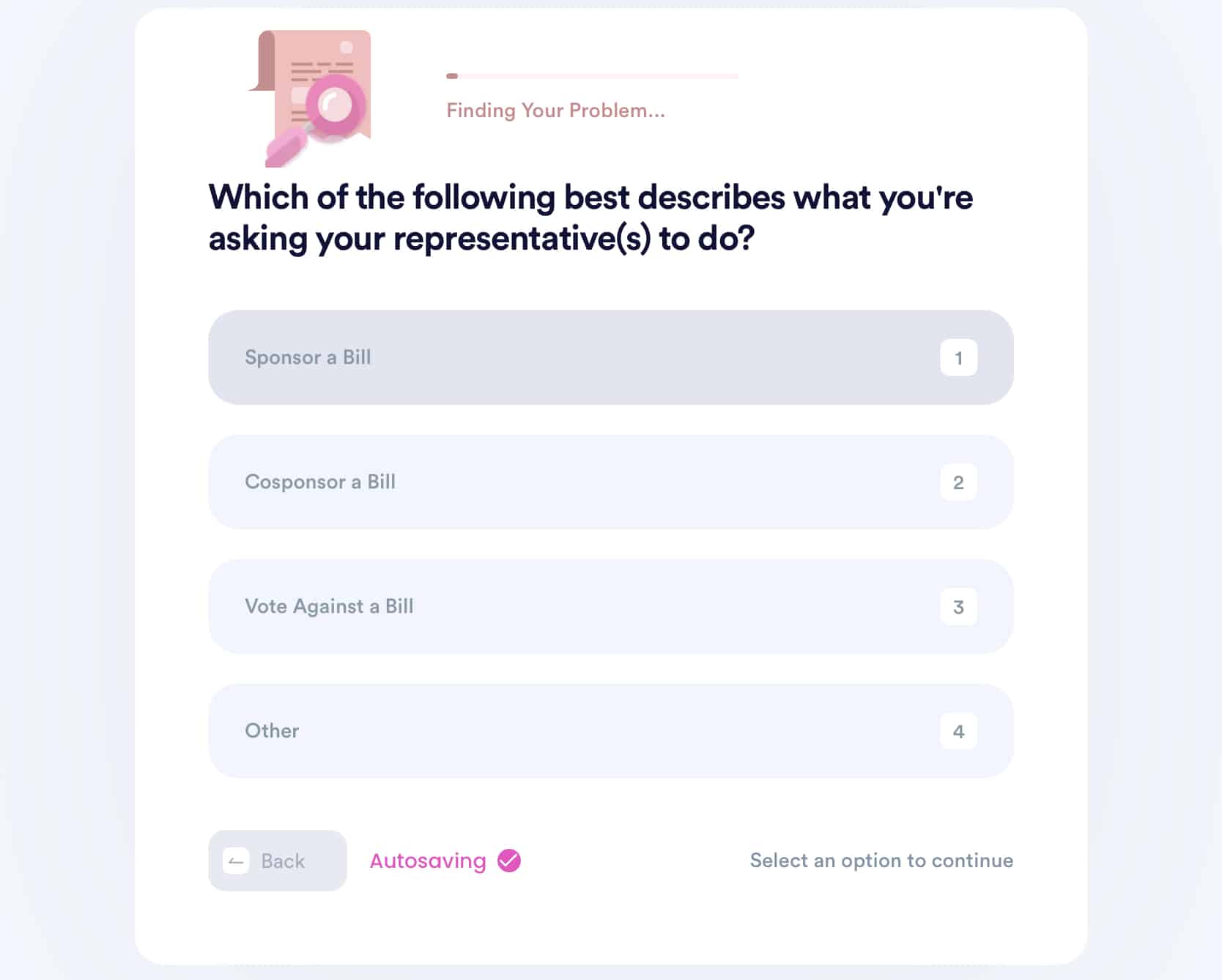 It's as easy as that! Repeat if you need to contact more than one representative, but feel free to copy and paste your answers if it's the same issue being addressed. We're happy to help democracy work the way it should, and will do our absolute best to make sure your message is conveyed in the best way possible.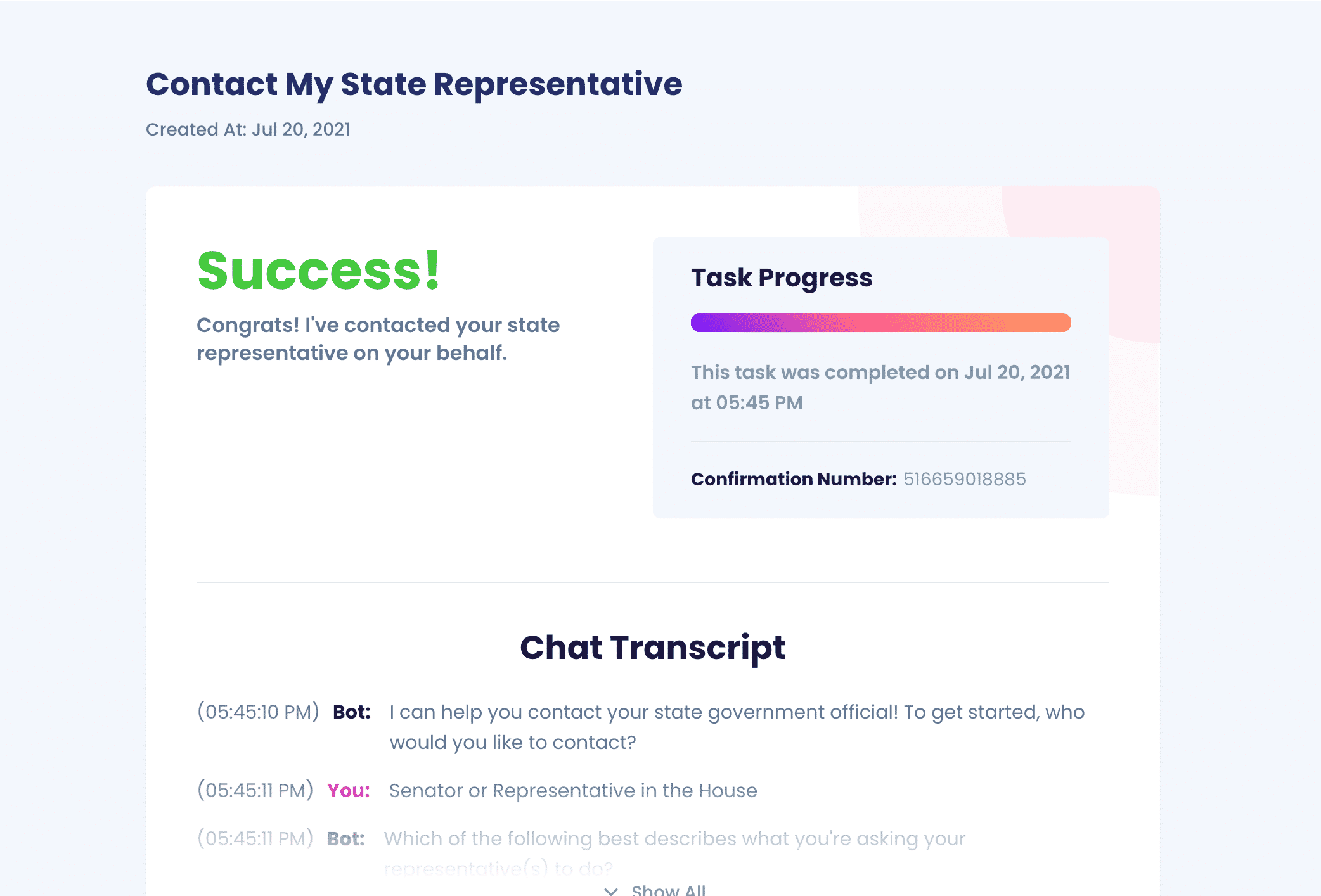 DoNotPay Is Just for You
doesn't just help you with contacting senators, but it also provides you with much more! Some of these services include: