Senator Daines Contact Information and More
The purpose of the senate is to represent the people and make laws, discuss issues, and make sure your interests are best represented. Do you have a bill or issue that you'd like your senator to take action on? Do you have insights into how your country should function? You deserve to have your voice heard, and your opinion represented by your elected official.
Senator Steve Daines of Montana can take direct action on issues such as finance, housing, natural resources, and Indian affairs. This article will be about Senator Daines and how you can best contact him. Read on to learn more!
Who Is Senator Steve Daines?
Republican Senator Steve Daines represents the state of Montana and has been a close supporter of Donald Trump. He was a participant in the attempt to overturn the 2020 election results in favor of the former president, despite his loss. He also recently voted against the creation of an investigation in response to the January 6th insurrection.
The table below summarizes Senator Daines' political stances:
| | |
| --- | --- |
| Issue | Stance |
| Cannabis | Pro-Legalization |
| Abortion | Pro-Life |
| Privacy | Right to privacy should be protected |
| Police Reform | Opposed |
| LGBTQ+ Marriage | Opposed |
| Border Wall | Pro |
| Immigration | Opposed |
| COVID-19 Lockdown Measures | Opposed |
| Climate Change Action | Opposed |
Contact Details of Senator Steve Daines
The table below shows Senator Daines' contact information:
Mode of Contact
Info
Email Address
https://www.daines.senate.gov/connect/email-steve
Phone Number
(202) 224-2651
Twitter
https://twitter.com/SteveDaines
Instagram
https://www.instagram.com/stevedaines/?hl=en
Facebook
https://www.facebook.com/SteveDainesMT/
Mailing Address
320 Hart Senate Office Building

Washington DC 20510

Senator Website
https://www.daines.senate.gov/
Campaign Website
https://www.stevedaines.com/
What Work Can Senators Do?
There are two senators from each state in the Senate, each elected at different times so there is overlap within their terms. The senator that has been serving for longer is referred to as a Senior senator, and the newer one is referred to as the Junior. Senator Steve Daines is the junior senator serving alongside senior Senator Jon Tester.
The Senate plays a very important role in the US government. It along with the House of Representatives make up Congress, which plays the main role in law-making procedures. The Senate also runs trials for impeachment or malfeasance (misconduct by a government official) and can appoint and confirm federal officials.
The House of Representatives and Senate can both create bills, or joint resolutions (between the two of them).
The lawmaking process:
A Bill or Resolution is proposed by the Senate or House of Representatives.
The Speaker will refer this Bill to a specific committee.
If the Bill is urgent and important, a date will be set for public hearing.
Markup and final committee actions. The committee will then report the bill back to the House.
Debate and Second Reading - amendments can be proposed.
Voting.
Final Action. Keep in mind bills have to make it through both houses: both the Senate and House of Representatives.
Presidential approval. The Bill is then sent to the President - the President may veto, and return the bill with objections and feedback, or approve it. If the President fails to return the bill with objections within 10 days of receiving it, it becomes law as if it was signed.
It is wise, then, to know what actions you'd like your senator to take on the issue or bill at hand. When preparing your argument, you may research what step the bill in question is currently in the House or Senate, and what contribution your senator may make.
What committees does Senator Daines serve on?
Finance
Banking, Housing, and Urban Affairs
Energy and Natural Resources
Indian Affairs
Senator Daines will have a greater impact on issues concerning these committees.
What's the Best Way to Reach Out to a Government Representative?
There are many different modes of communication that can be used. Officials also have several different social media platforms, which make it easier for voters to communicate with them. However, it can be difficult to know which is the best way to contact each representative.
Although social media can be a great way to find out more about a senator's platform, our recommended modes of communication are email or phone. To learn about choosing the most effective means of communication for each representative, check out our guide here. Our guide on phoning representatives can also be found here.
Once you have the contact information you need, you'll have to prepare your argument and have a clear sense of the issue. You'll also have to explain why you think they should take a certain action and the specific outcome that you would like to see. If you need help communicating this or are nervous to talk to your representative via phone, check out our provided script.
Things to remember when making contact:
Have a professional tone
Make your stance clear early
Know what action you wish them to take
Remind them that they represent you
Emails should be written in a professional tone and be well-structured. Check out our guide to writing emails to your political representatives here.
How Can DoNotPay Simplify the Process for You?
With current events, the world moves fast, and bureaucracy moves slow. It can be frustrating and time-consuming to try and contact officials in a timely manner and have them take the appropriate action within the right timeline.
Let us take the work off your hands. can simplify this process for you and make it as easy as possible for democracy to work as it should. All you need to do is:
1. Search for "Contact Representative/Legislator" on and select the Contact Your Government Representative product.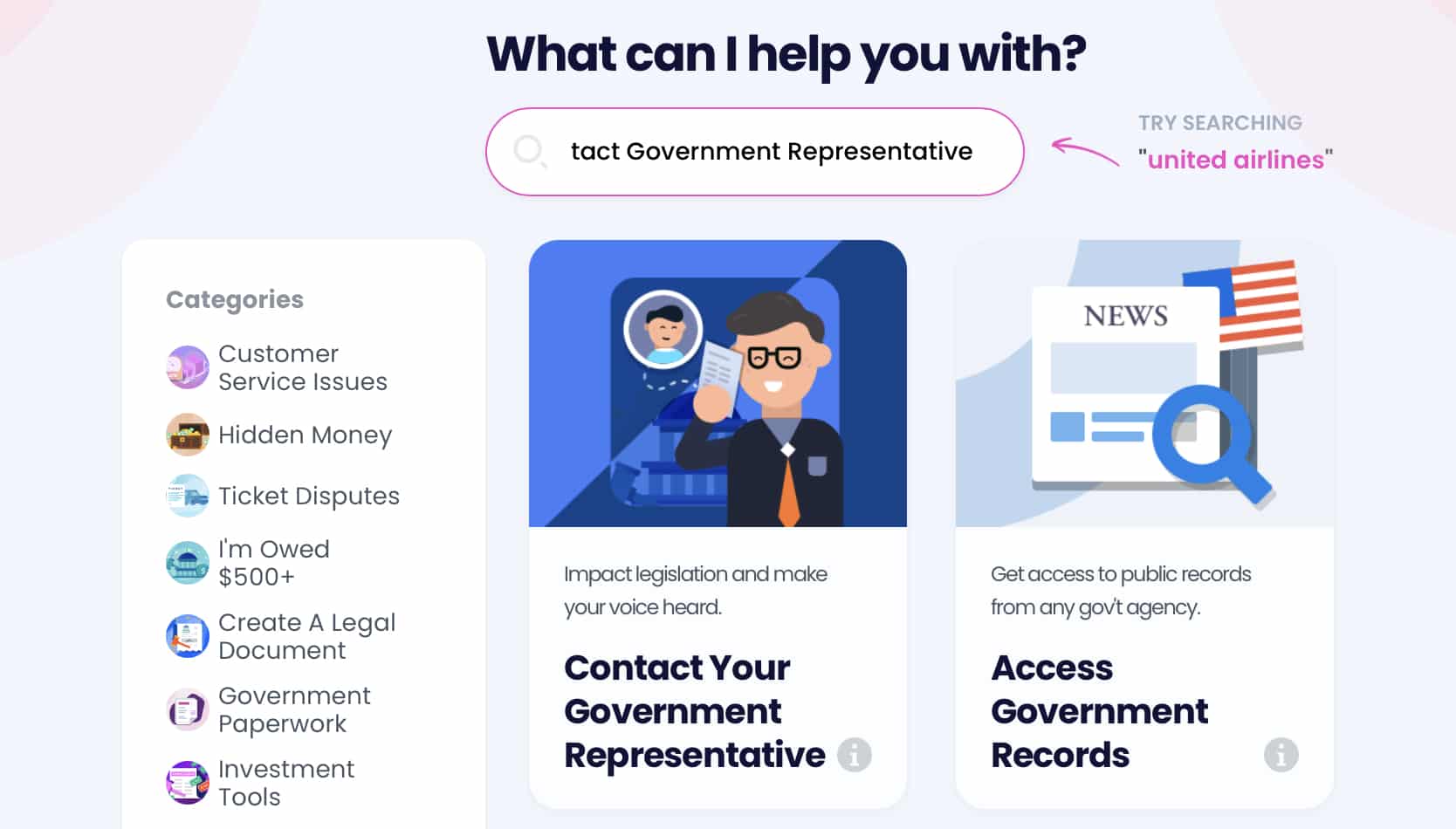 2. Select which representative you want us to contact. Tell us what drove you to contact your representative and what you would like to see implemented.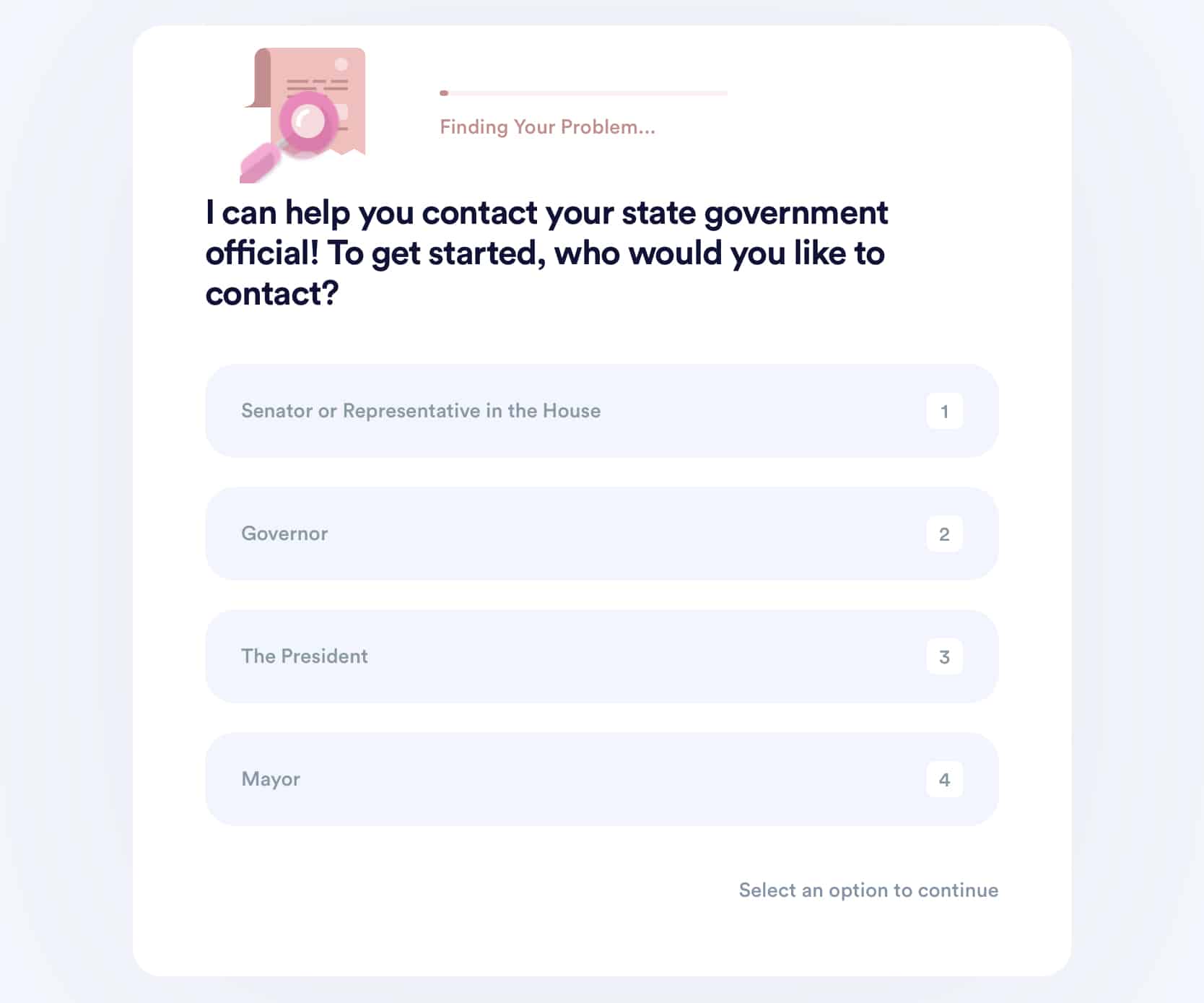 3. Let us know which issue or bill is most important to you and why you feel strongly about it.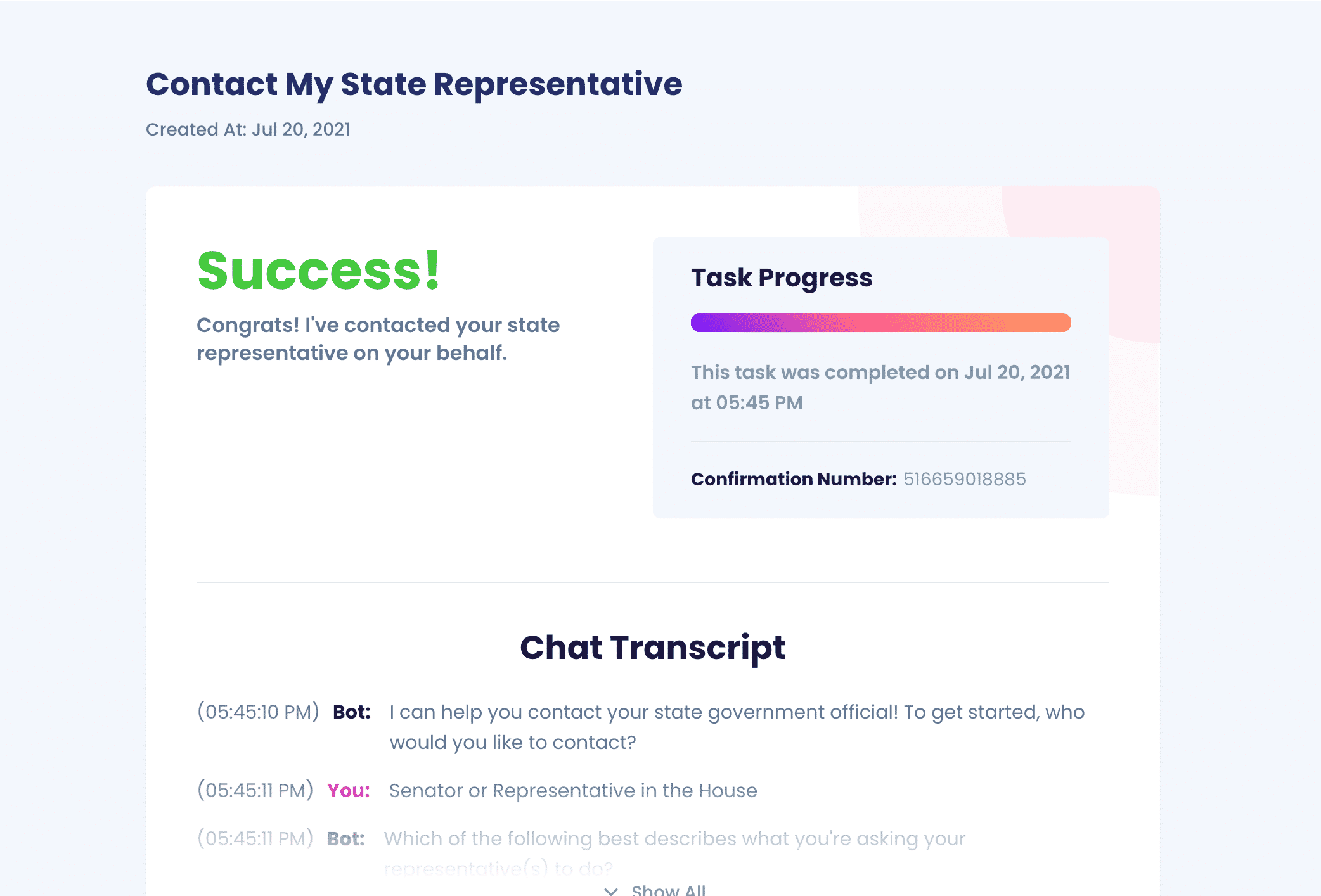 It's as easy as that! DoNotPay's system will make sure your representative receives a professional, focused message on your behalf.
DoNotPay Does More!