Senator Bernie Sanders Contact Info, Bio, and More
Government representatives are always willing to help and assist residents of the United States. All representatives encourage their constituents to share their thoughts and opinions with them on legislative issues and matters concerning the nation. Contacting a representative is a great way to ensure that your voice is being heard!
The following article will be a comprehensive guide on how you can contact United States Senator of Vermont, Bernie Sanders. It will also introduce you to the best way to contact any government representative using .
Senator Bernie Sanders' Contact Information
There are several ways you can reach a senator. You can always call a senator or government representative, and you can email them or mail documents to their offices.
Senator Bernie Sanders has three office locations you can contact him through, one is in Washington DC and two in the state of Vermont. Here is the address, phone number, and fax of each one:
Washington, DC: located in the U.S. Senate 332 Dirksen Building, Washington, D.C. 20510, Phone Number: 202-224-5141, Fax: 202-228-0776
Burlington, Vermont: located on 1 Church St. 3rd Floor, Burlington, VT 05401, Toll-free Number: 800-339-9834, Phone Number: 802-862-0697, Fax: 802-860-6370
St. Johnsbury, Vermont: located on 481 Summer St., Suite 107, St. Johnsbury, VT 05819, Toll-free Number: 800-339-9834, Phone Number: 802-332-6186, Fax:  802-860-6370
The following table gives an overview of the main ways you can contact U.S. Senator Bernie Sanders:
State
Vermont
Party
Independent
Entered Office
January 3rd, 2007
Term Expires
January 3rd, 2025
Main Mailing Address
332 Dirksen Senate Office Building

Washington DC 20510

Main Phone Number
(202) 224-5141
Email Address
To contact Senator Sanders through email, fill out the form found here.
Website
http://www.sanders.senate.gov/
Social media
Twitter
About Bernie Sanders
Bernie Sanders is an American politician and activist who is currently serving as the junior United States Senator from Vermont.

He has held this seat since the 3rd of January 2007
He is serving alongside Senator Patrick Leahy.

He served as the U.S. Representative for the state's at-large congressional district from 1991 until 2007.
He is the longest-serving independent in the congressional history of the U.S.
He has a close relationship with the Democratic Party, as he caucused with the House Democratic Cause and the Democratic Caucus of the United States Senate.
Sanders ran to be the president of the United States in 2016 and 2020 where he sought to be the Democratic Party Nomination, however, he finished in second place in both campaigns.
 Before he was elected to Congress, he was the Mayor of Burlington, Vermont.
Sanders is considered one of the most popular politicians in America.
He identifies himself as a democratic socialist and has been credited for causing a leftward shift in the Democratic Party since his first Presidential Campaign in 2016.
He has always been an advocate of social-democratic and progressive policies and has voiced his opposition to economic inequality and neoliberalism.
He openly supports labor rights, universal healthcare, paid parental leave, tuition-free tertiary education, and a Green New Deal to create jobs addressing climate change.
He also supports reducing military spending, pursuing international cooperation, and emphasizes labor rights and environmental concerns in international trade agreements.
Sanders served as the Chair of the Senate Veterans' Affairs Committee From 2013 until 2015
He was also a Ranking Member of the Senate Budget Committee from 2015 until 2021, and as of February 2021, he serves as the Chair of the Senate Budget Committee.
Get Help with Federal Agencies 
Senator Bernie Sanders and his office ensure that residents of Vermont receive all the federal benefits and assistance that citizens are entitled to. The senator recognizes how complicated and difficult these programs are to navigate, which is why the senator and his office offer assistance with federal agencies.
Share Your Opinion with Senator Bernie Sanders
Senator Bernie Sanders welcomes the thoughts and opinions of his constituents. Through filling out a form found here, you can voice your opinion on legislative matters including, but not limited to, the following topics:
Agriculture
Animal Rights
Appropriations
Arts and Humanities
Banking and Financial Services
Budget
Business and Commerce
Campaign Finance Reform
Children
Climate Change
Conservation
Consumer Protection
Defense and Military
Economy
Education
Energy
Environment
Ethics
Foreign Relations
Guns
Health
Homeland Security
Housing and Urban Development
Hunger and Nutrition
Immigration
Intelligence
Judiciary
Labor
Law Enforcement
LGBTQ
Medical Research
Medicare for all
Native American and Indigenous Peoples
Prescription Drug Prices
Postal Service
Racial Justice
Reproductive Rights
Science and Innovation
Seniors
Small Business
Social Security and Pensions
Supreme Court and Judicial nominations
Taxes
Technology and Telecom
Trade
Transportation
Veterans
Voting Rights
Women's Rights
What is the Best Way to Contact a United States Government Representative?
Many tend to call a senator. If you decide to do so, it is important that you follow a script so that you can clearly get your message across and include all the important details of your request. However, calling is not recommended even if you use a script, as you cannot be sure that the person who answered your call will accurately deliver the message to the senator.
Writing an email is recommended, however, there are extended wait times to get a reply and it can be intimidating writing a professional email to a senator. Therefore, contacting a representative through is your best option!
Let DoNotPay Contact United States Senator Bernie Sanders for You!
Skip the long wait times and busy phone lines, and do not worry about writing a professional email. Let contact any representative of the United States government on your behalf in minutes! All you have to do is:
1. Search "Government" on the search bar and select the product.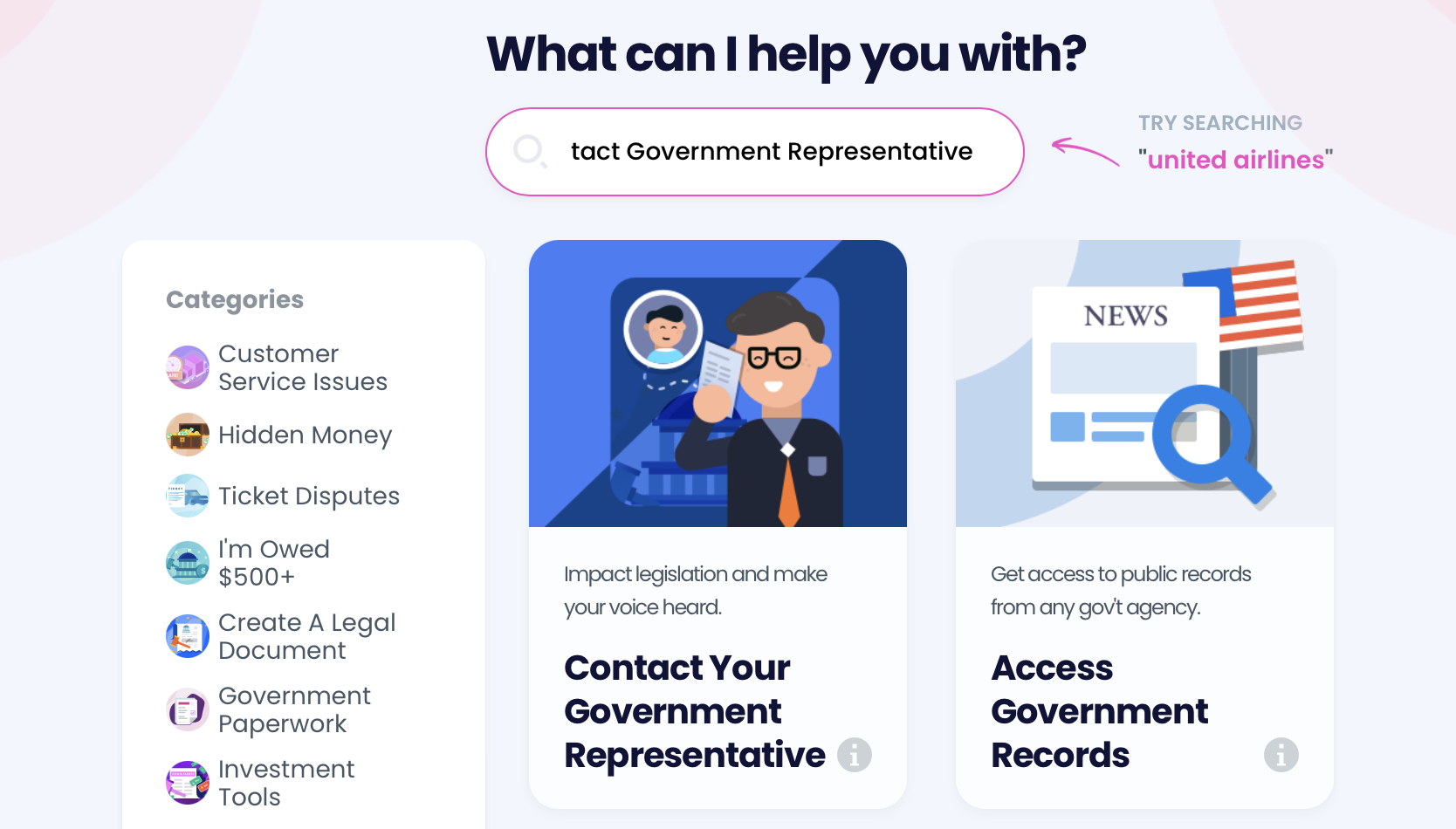 2. Choose whether you want to contact your Senator, House Representative, Governor, President, or Mayor.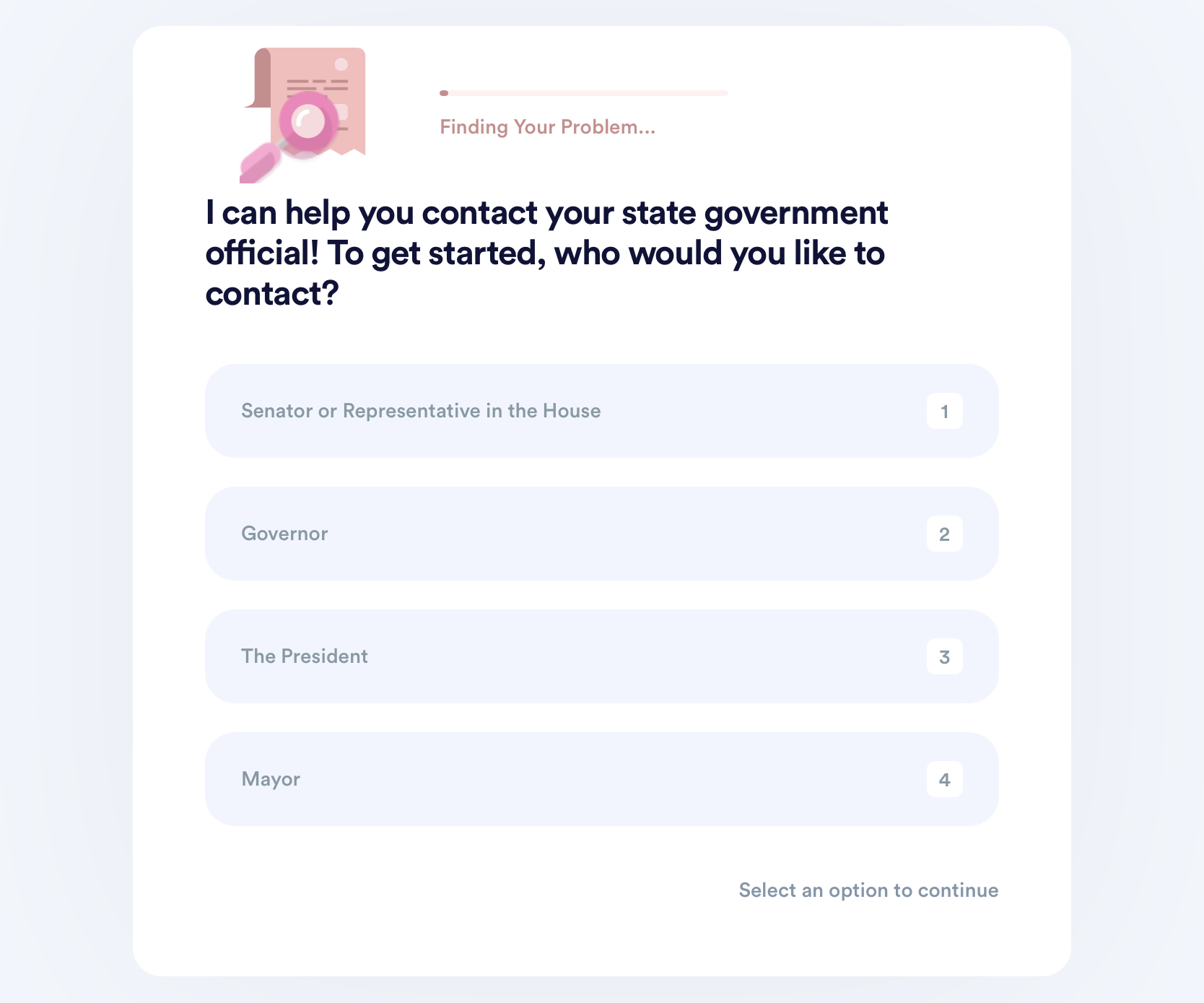 3. Explain why you are contacting your government official and what you would like them to know.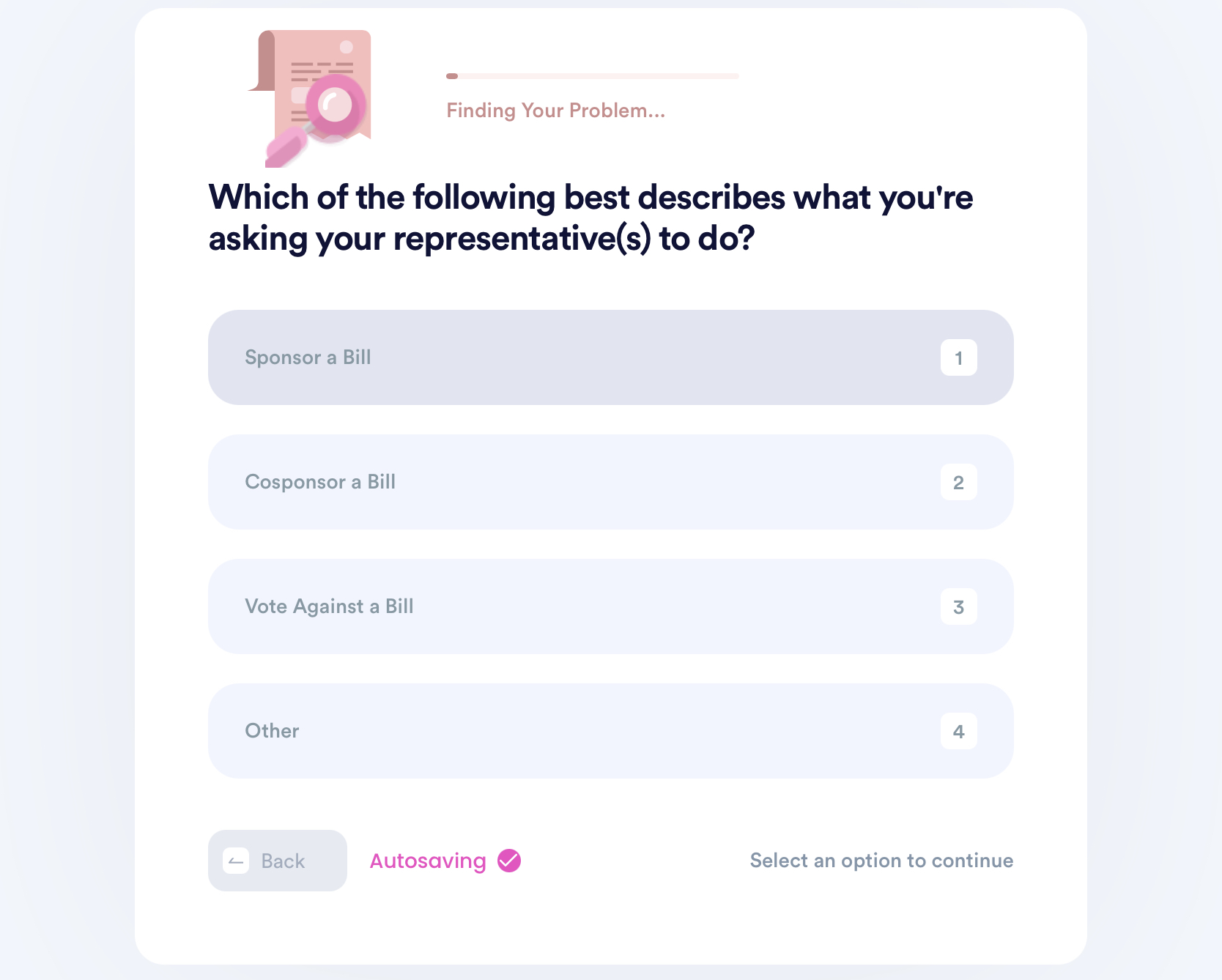 That's it! Once you're done, will automatically create a nicely formatted message and send it on your behalf!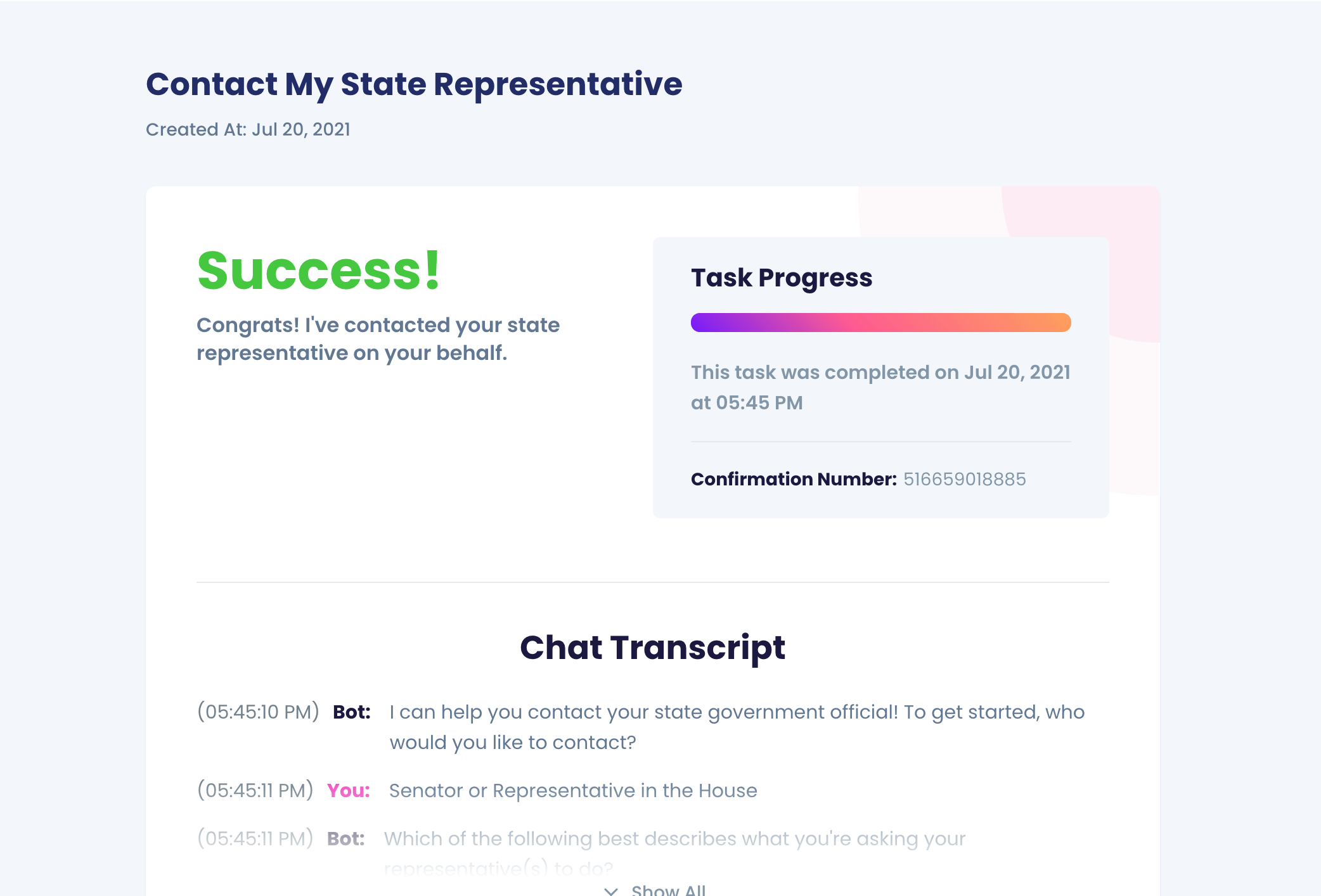 DoNotPay Can Do More Than You Think