Sell Ultimate Rewards Points with The Help of DoNotPay 
While there are several types of reward currencies you can earn when using credit cards, Chase Ultimate Rewards points are the most valuable. This is because they can be earned easily, and they have a flexible way of being redeemed. These points can be redeemed and used to carry out things like renting cars, booking hotels, flights, tours, and many other activities.
Nowadays, selling Ultimate Rewards points has become popular as sellers can earn a substantial amount of cash. If you want to sell your Ultimate Rewards points, there are several options. For instance, you can get cash back or transfer these points to people traveling together. However, finding the best options and deals based on your points is a challenge. DoNotPay can help. Read through the article to find out how.
How Ultimate Rewards Points Work 
Ultimate Rewards points can be earned through bonus promotions or by purchasing items in certain categories such as food, travel, fuel, and more. It is important to note that some credit cards offer high reward points for specific categories compared to others. Therefore, it would be best if you conducted extensive research and considered how you would use your reward cards.
How Much Money Are Ultimate Rewards Points Worth? 
The worth of Ultimate Rewards points greatly depends on the credit card and how you choose to redeem them. You should get at least 1 cent per Ultimate Rewards point if you choose to redeem for cash back.
| | |
| --- | --- |
| | Ultimate Rewards |
| Mileage Value (in dollars) | 1 Cent |
However, you may get much more value for your Ultimate Rewards points if you decide to use other redemption options. The following are other redemption options you can use to get value from your Ultimate Rewards points:
| | |
| --- | --- |
| Value of Ultimate Rewards Points for Gift Cards | When redeeming gift cards, the value of Ultimate Rewards points is similar to when using it for cash back (1 cent per Ultimate Rewards). However, the credit card issuer may sometimes choose to discount the number of points needed to purchase gift cards. |
| Value of Ultimate Points for Travel | These points can be used to book for travel. You may use it to find most flights, hotels, cars for rental, among many other things. Depending on the type of credit card you have, the value of these points usually ranges from 1 cent to 1.5 cents per point. |
| Value of Ultimate Points Through 'Pay Yourself Back' | Some credit card holders can use Ultimate Rewards points to make purchases through the pay yourself back feature at a rate that ranges from 1.25 to 1.5 cents per point. |
Reasons to Sell Ultimate Rewards Points 
Despite credit card companies offering an option to redeem Ultimate Rewards points, many people prefer to sell them because of the following reasons:
To Earn an Extra Amount of Money: This is the most common reason why you would want to sell your Ultimate Rewards points. It is a safe and dependable way to earn extra income wherever you are.
To Get a Higher Value: Even though credit card issuers give people the option of redeeming their Ultimate Rewards points, selling them is likely to get more value out of them.
Bargaining Is Unlikely: When selling your Ultimate Rewards points, you can easily use your bargaining skills to get more money than what should be offered.
How to Sell Ultimate Rewards Points on Your Own 
You can use many platforms to sell your Ultimate Rewards points, but they can be challenging. A few examples include The Points King and SellMyMiles. For you to sell your ultimate points on such websites, you will need to follow the process below:
Fill out forms on their website: On the particular website, you will have to fill out a form for selling ultimate credit card points. You will be required to fill the form with your information and how many points you want to sell.
 Once you have done so, you will have to wait for their response.
After the Ultimate Rewards selling reward platform has verified your information and points, you will receive your cash.
How to Sell Ultimate Rewards Points With The Help of DoNotPay 
Selling your Ultimate Rewards points by yourself can be challenging and may be time-consuming. With DoNotPay, this process becomes super easy and less frustrating. Here's how to get started: 
1. Search "points" or "rewards" on DoNotPay, and select the rewards program you're a part of / the type of points you have.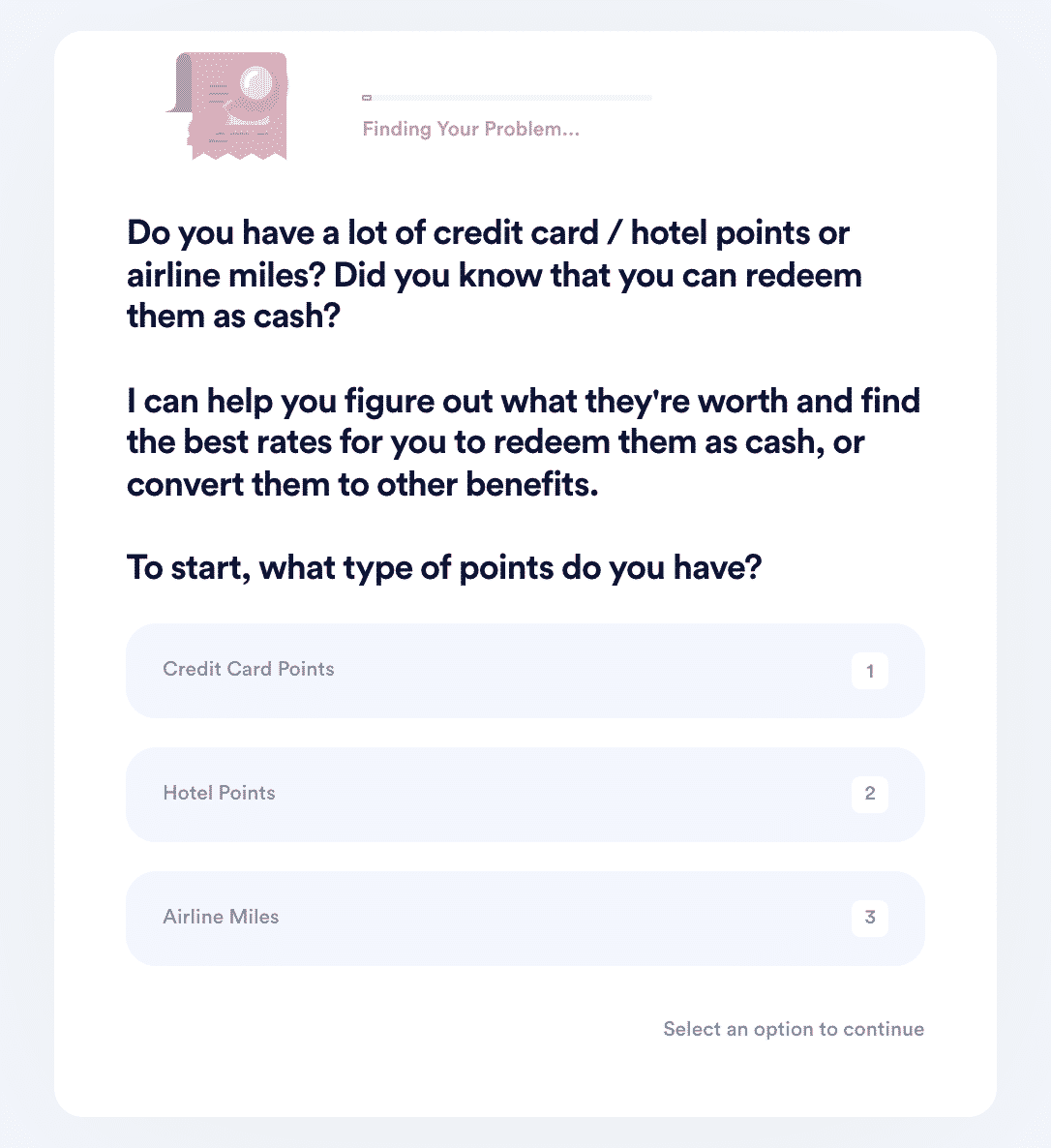 2. Choose whether you want to check your points balance, transfer your points, or sell them for cash.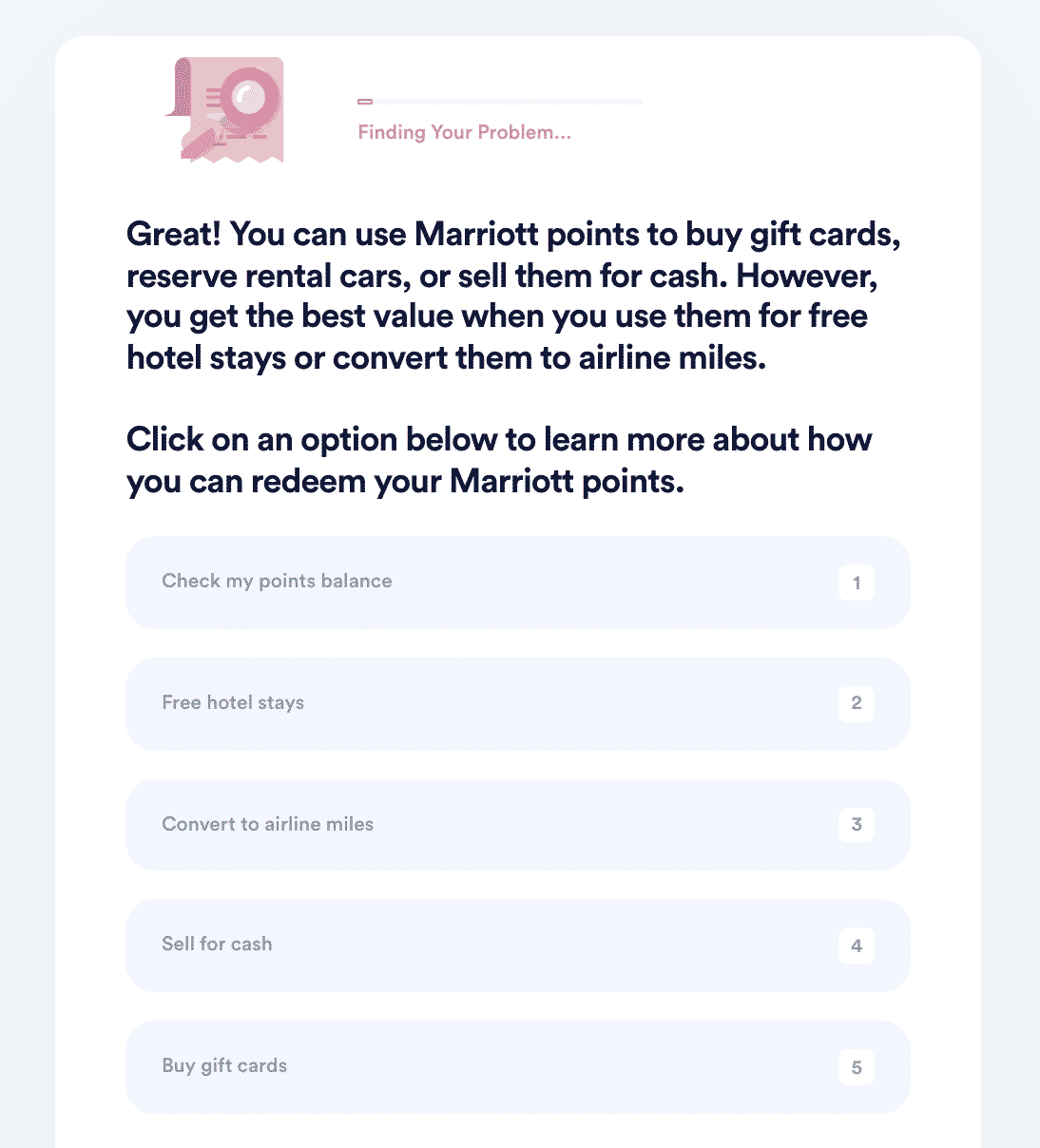 3. If you selected one of the first two options, DoNotPay can check your points balance or transfer your points for you. Otherwise, we can help you find the best deal through third-party vendors.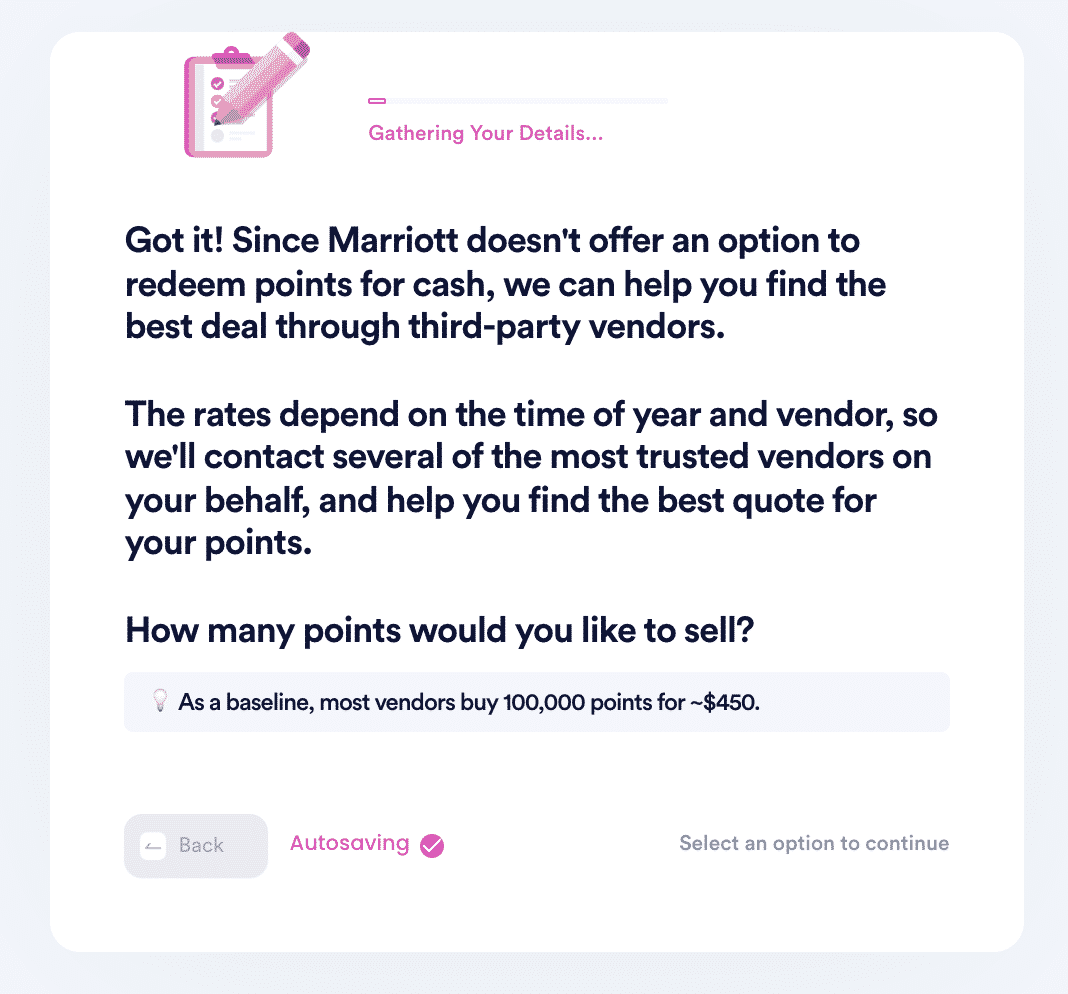 If you want to sell your points, we can help you find the best deal through third-party vendors. Lastly, we can also help you check your latest points balance automatically.
What Else Can DoNotPay Do? 
DoNotPay is here to help you transfer or sell points from virtually any organization. Our services include:
DoNotPay can also help you with these everyday tasks:
Why wait? Use DoNotPay today and let us help you sell your Ultimate Rewards points.