How to Sell Amex Points In a Flash
Credit cards can be bad if you don't regularly pay them off. However, if you are responsible with your credit cards, you can earn cash back or points on them. For example, if you have an American Express (Amex) card, you can earn points that you can use in many ways. In addition, you can .
Amex points can be worth a lot to people because you can use them in so many different ways. However, it can be difficult for you to determine whether or not it is wise to sell your Amex points at any given time.
Thankfully, there is something you can do to figure it out. Contact DoNotPay, and we will help you determine whether or not you should sell your Amex points.
How to Earn Amex Points
Earning Amex points is fairly straightforward. First, you have to start by getting an Amex Card. Then, depending on what card you get, you earn different numbers of points when you spend. Usually, you will get one point per dollar spent. However, some cards will give you extra points if you spend at specific locations or make a particular number of purchases during a billing period.
As you collect Amex points, you can earn them or even .
How Much Money Are Amex Points Worth?
There isn't a straight answer to how much Amex points are worth. You can use your Amex points in multiple places, and each place dictates how much the points are worth. Here is a breakdown of the dollar worth of an Amex point in different areas:
| | |
| --- | --- |
| Online Checkout | 0.5 to 1 cent per point |
| Gift Card | 0.5 to 1 cent per point |
| Statement Credit | 0.6 cents per point |
| Travel | 0.5 to 1 cent per point |
| Travel Transfers | A point to point ratio of 0.8:1 to 1:2 |
| Online Shopping | 0.5 cents per point |
Reasons to Sell Amex Points
There are a couple of reasons why you might wish to sell Amex points. If you do, there is a specific process to follow. Here's a quick breakdown of why and how to sell your Amex breaks.
Why You Should Sell Your Amex Points
The two most popular reasons why people sell Amex points are:
You can accrue a lot of points fast, so you can make a decent bit of money.
They are extremely popular, so you won't have an issue selling them.
How to Sell Your Amex Points on Your Own
There are multiple places to sell your Amex points, but a popular way is through Miles Buyer. Here is how to do so:
Go to their site.
Fill out the form at the top of the page. Make sure to select American Express Membership Rewards.
Receive a free quote.
Talk to a representative to verify your points.
Once the points are approved, you will be sent payment.
While Miles Buyer is one way you can sell your points, there are other companies out there who will buy them, as well. Most follow a similar process, but you won't know what you can get for your points until you go through them all. Instead, let DoNotPay find the best place to sell your points.
Sell Your Amex Points With the Help of DoNotPay
Instead of wading through a bunch of different sites to get quotes for your miles, let DoNotpay find the best price for you. Here's how to get started:
1. Search "points" or "rewards" on DoNotPay, and select the rewards program you're a part of / the type of points you have.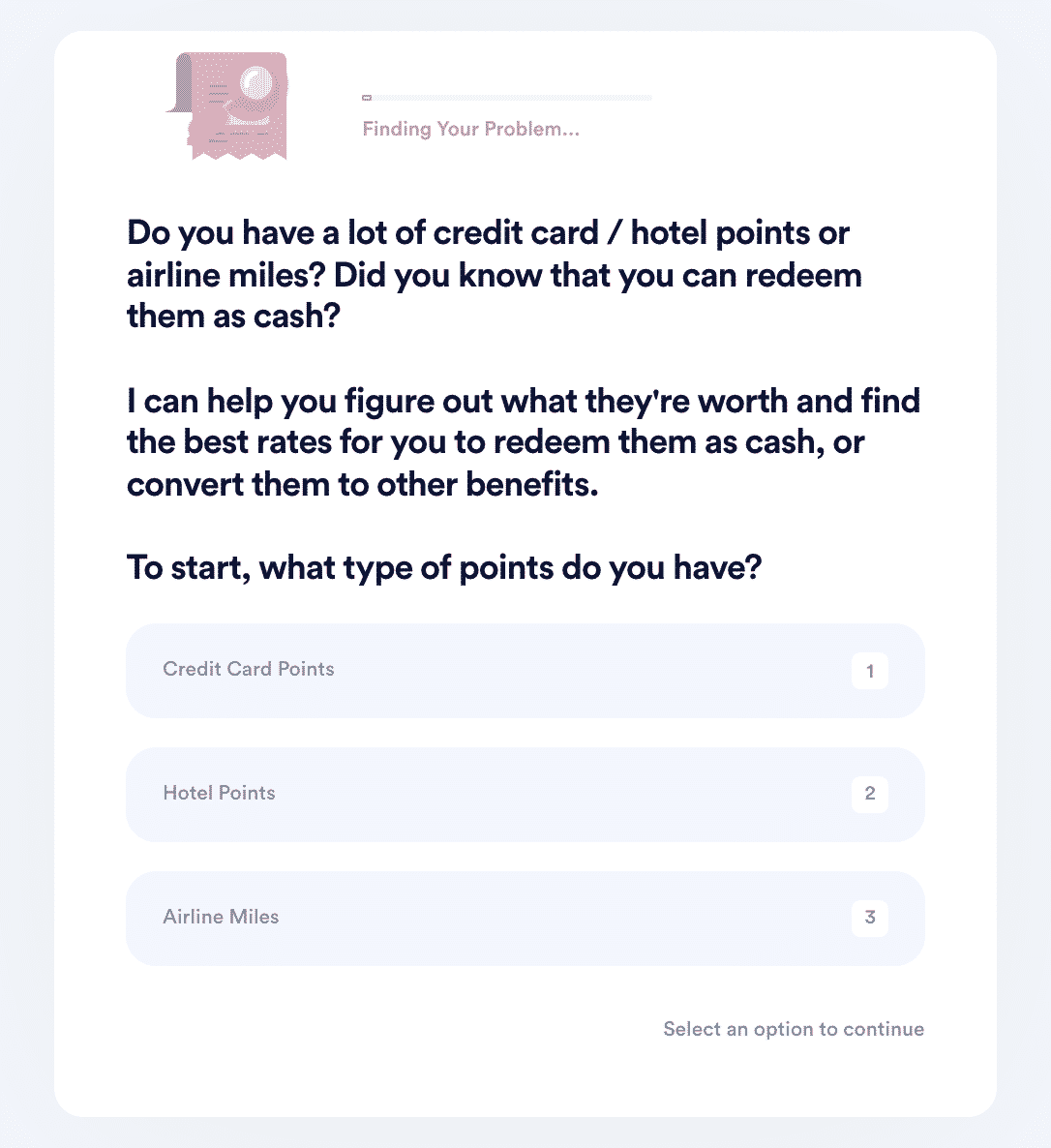 2. Choose whether you want to check your points balance, transfer your points, or sell them for cash.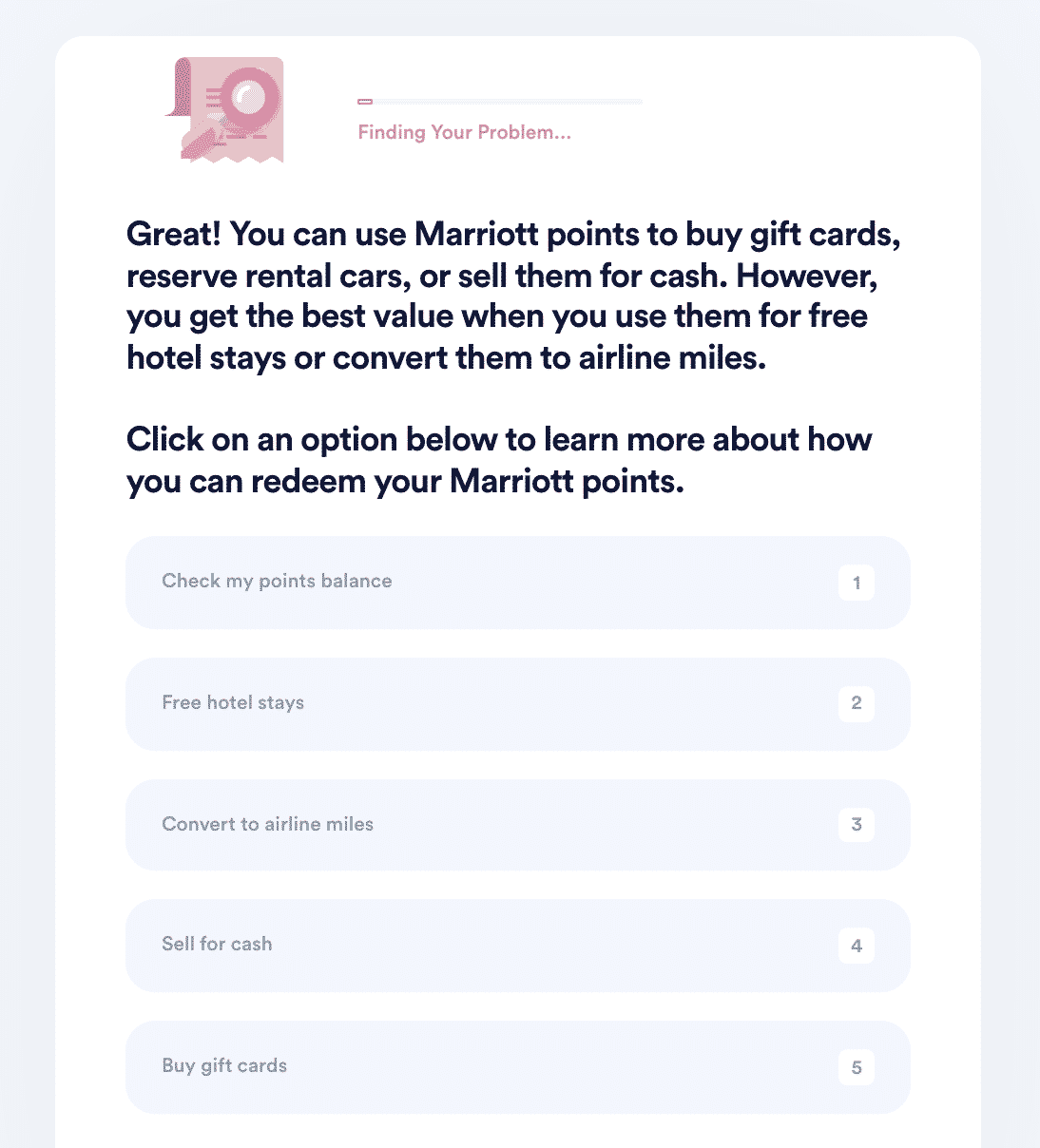 3. If you selected one of the first two options, DoNotPay can check your points balance or transfer your points for you. Otherwise, we can help you find the best deal through third-party vendors.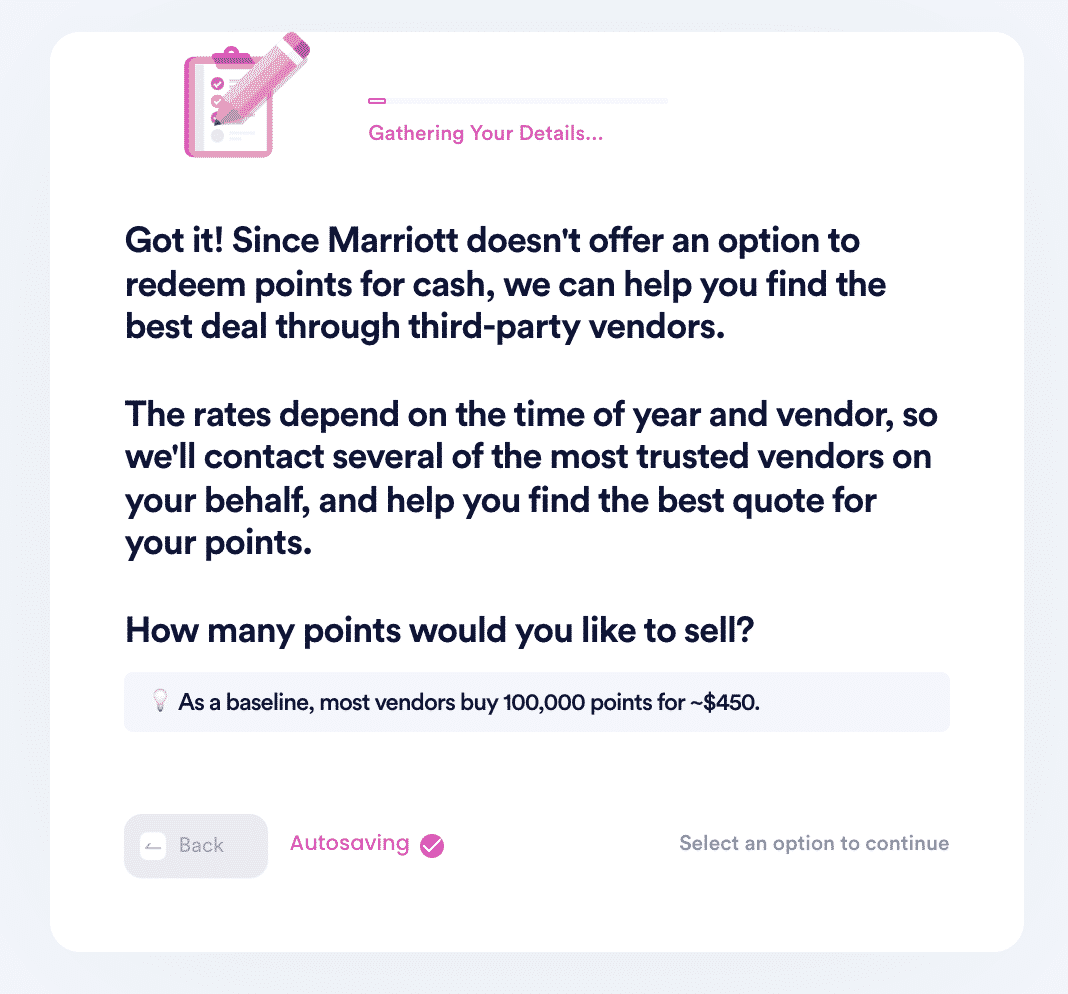 DoNotPay Can Help in Many Ways
DoNotPay can help you convert points and miles from multiple different organizations. See how we can help you:
Finding the best rates to sell your Amex points for is just one way we can help. We work with many companies and can complete a lot of different tasks. Here are some examples.
Turn to DoNotPay
Credit cards can be a great thing if you are responsible. You can build up your credit score and earn plenty of great rewards. For example, with an Amex credit card, you can earn points every time you purchase something using that card. You can then use those points to buy things or sell the points to make more money.
If you wish to sell your Amex points, finding the best place to sell them can be challenging. Thankfully, DoNotPay can step in and find the best rate for you. Contact us today to see how we can help you sell your Amex points and discover everything else we can do for you.