The Fast and Easy Way To Get a San Diego Pet License
States, counties, and cities throughout the US require a pet license to lawfully own a dog. The requirements, fees, and schedules for a pet license can be a hassle to find, and many cities do not offer a simple way to acquire a pet license online. If you are having trouble getting your San Diego pet license, there is an easier way.
DoNotPay is a convenient, fast, and simple solution for acquiring a . Our automated online system eliminates the hassle of paperwork, travel, and waiting in line to get your pet license by offering an immediate solution. We also help pet owners throughout California get their pet licenses.
We offer the same automated service for Orange County pet licenses and LA County pet licenses. In Fact, we cover pet licenses for all types of dogs throughout the United States. We can help you in all localities, including King County, Pierce County, and Washington State.
We can get your dog license whether you have:
How Can I Get a Pet License in San Diego? (3 Ways)
Get a Pet License in Person
Applying for a license in person can be a good option if you live near one of four licensing locations run by the San Diego Humane Society. The San Diego campus is located at:
5480 Gaines St., San Diego, CA 92110
You can print out a form or pick one up from the location. Submit a completed form to your nearest, along with the payment and your dog's health records. The staff will provide you with license tags the day you turn in the complete requirements.
Get a Pet License by Mail
If you don't have time to make it to the licensing location, you can also send in your completed requirements by mail. Write a check to the San Diego Humane Society and mail it with the forms to:
ATTN: SAN DIEGO HUMANE SOCIETY
LICENSING DEPARTMENT
5480 Gaines St.
San Diego, CA 92110
Getting your license by mail is the slowest method by far, but it can be a good alternative if you don't have time to show up in person. The San Diego Humane Society will mail you the licensing tags soon after receiving your forms and payment.
Get a Pet License Online
You can also get your San Diego pet license through PetHub.com. This method is convenient but still not the fastest way to license your pet. You'll be asked to create an account with identifying information for you and your pet. It can take up to 30 days to process an online licensing request. The San Diego Humane Society recommends getting the tag in person if you need the tag immediately.
Although using PetHub to get your San Diego pet license online is convenient, there is a quick and simple way to license your pet with DoNotPay!
Everything You Should Know About San Diego Pet Licenses
Why Register Your Dog in San Diego?
In San Diego, pet owners must apply for and acquire a pet license within the first four months of the dog's life. If you move to San Diego with a dog over 5 months old, you need to get a license within 30 days. The license is proof of ownership of your pet and can help you get the pet back if your dog goes missing.
If proof of ownership is not enough reason to get your pet license in San Diego, here are three more reasons why you should make sure that your pet is up to date with its records:
A pet licensing program incentivizes owners to spay or neuter their pets. This helps to prevent accidental litters of puppies or kittens.
Proceeds from the San Diego pet license program go towards preventing animal cruelty in the county.
Your pet license can also be scanned for vital information , such as medical history, vaccination records, and emergency contact information.
How Much Does a Pet License in San Diego Cost?
can cost from $0 to $90 depending on the dog's spayed or neutered status--also known as altered--and the number of years you are applying for before renewal. Late fees, replacement tags, and transfer fees may also apply. If you adopt a dog, your license may be free.
The following is a breakdown of the fees for licensing a pet in San Diego:
Pet License Cost

1 Year

2 Year

3 Year

Altered

$18

$33

$45

Unaltered

$36

$66

$90

Late Fee

$20

Transfer of Ownership

$10
Not sure how much you need to pay? DoNotPay makes it simple.
Documentation Requirements
Before you apply for your , make sure you have the following documentation:
California approved rabies vaccine card with your veterinarian's name and license number (or an exemption card)
Proof of alteration (unaltered pets have a higher licensing cost)
A completed license form from SD humane
Payment including late fees
Can San Diego Revoke a Pet License?
While it is uncommon for a city to revoke a pet's license, it can happen. Before the city takes any action against you or your pet, they must provide you with a formal hearing. Registering your pet after your pet license has been revoked can be frustrating. You may have to pay additional fees and go through the entire process to re-license your pet.
DoNotPay is the world 's first robot lawyer. Our service makes it quick and easy to apply for your pet license online, whether it is your first time licensing your pet or your pet license has been revoked.
Conveniently Register Your Pet in San Diego using DoNotPay:
DoNotPay makes it easy to obtain your pet license in San Diego. Here are the steps for obtaining your pet license using our license tool:
Go to the Pet Licenses product on DoNotPay.
2. Enter the county or city you are looking to register your pet in.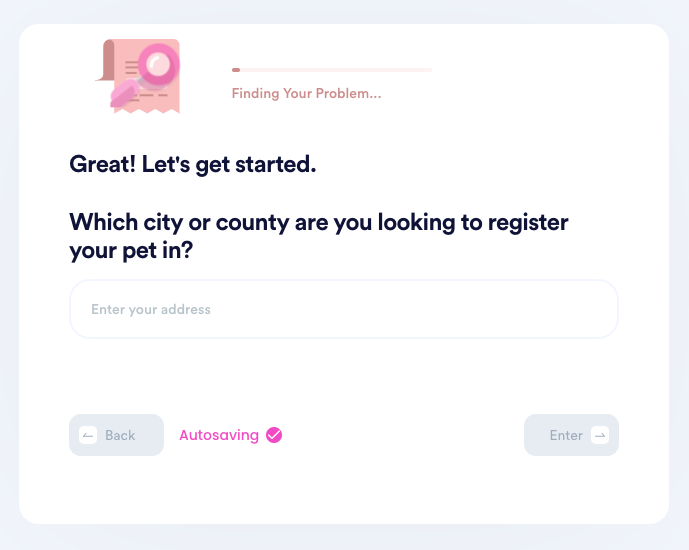 3. Tell us more about your pet, including the breed, gender, whether they are spayed/neutered, approximate age, and more.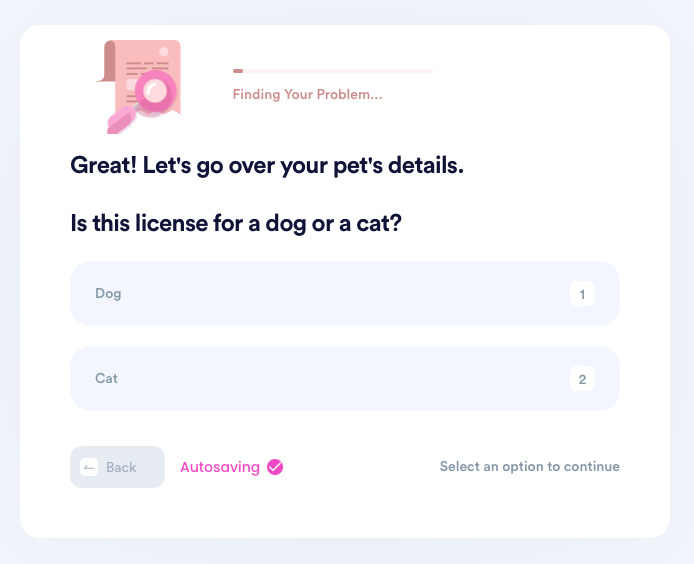 4. Upload evidence documents that prove that your pet has been spayed/neutered (if applicable) and a copy of the rabies vaccination certificate.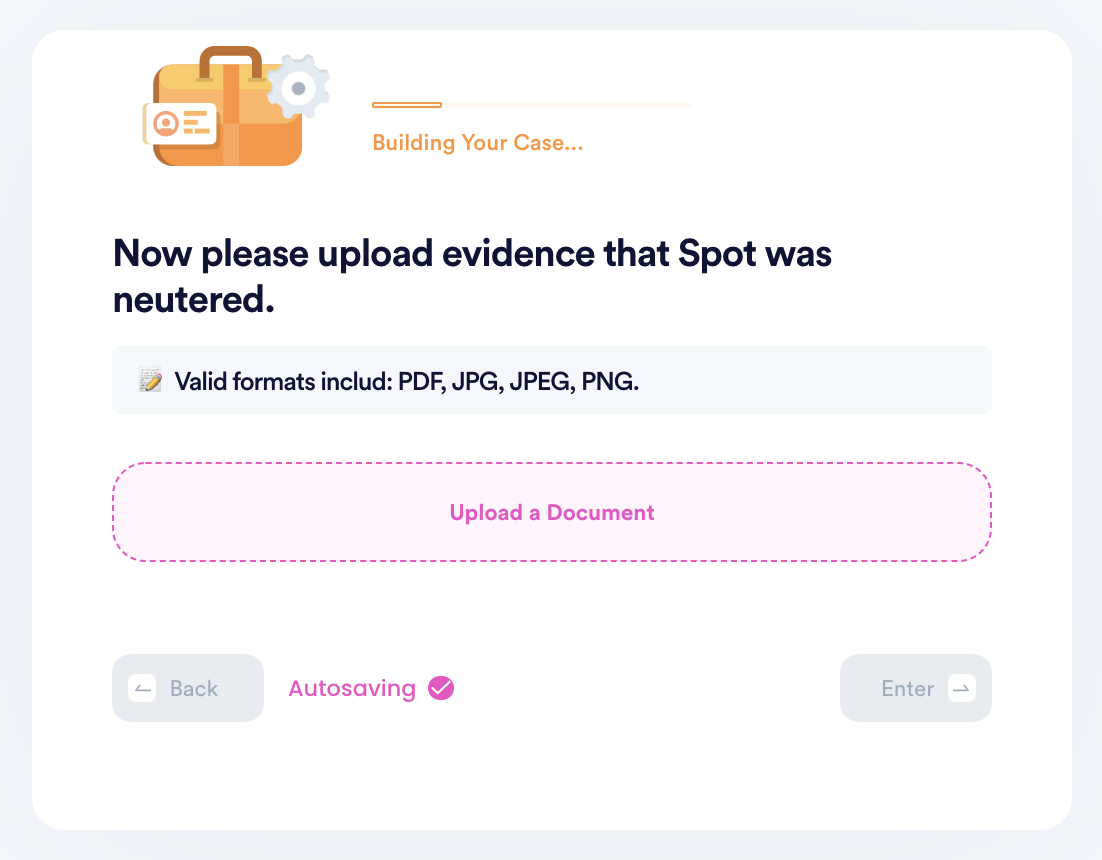 5. Enter your contact information, including email, address, and phone number.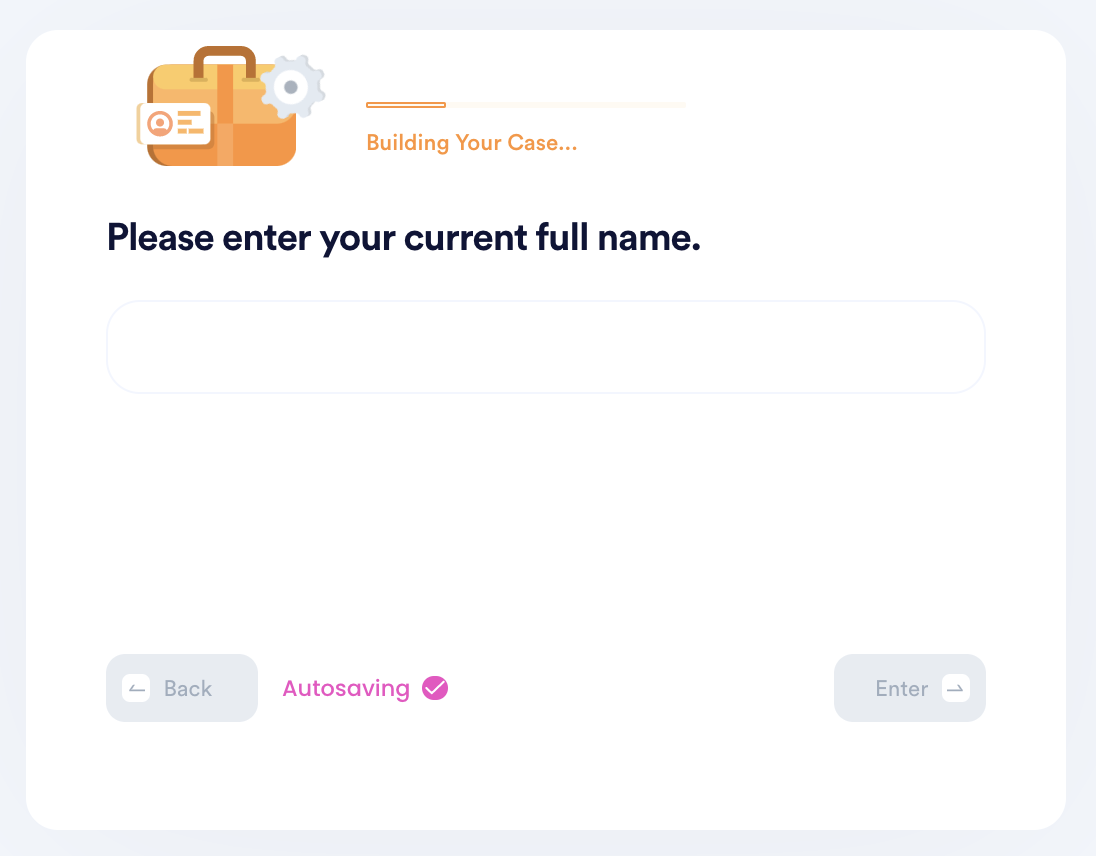 6. Complete your application by paying the license processing fee, so we can file the application on your behalf.
How Is DoNotPay the Most Convenient San Diego Pet Licensing Method?
DoNotPay is the world's first robot lawyer. It makes licensing your pet or getting a renewal in San Diego convenient. DoNotPay is the fastest solution, taking only minutes to complete. Our pet licensing program makes it simple to get your pet registered without frustrating paperwork. Best of all, DoNotPay has the highest success rate, making the best case on you and your pet 's behalf.
Let our robot lawyer take care of your license today. DoNotPay delivers a convenient experience every time.