How to Connect With an Inmate in Robertson Unit
 is a level five state prison operated by the Texas Department of Criminal Justice (TDCJ). The facility sits on a 400-acre piece of land in Abilene, Jones County, Texas, and hosts approximately 2,984 G1 to G5 security level state offenders. It's also a transient facility where offenders completing their sentences are sent as they wait to be released.
Inmates at the Robertson Unit are allowed to work in the garment factory that produces garments used in other correctional facilities. Some inmates (especially those expecting release) are employed to offer laundry services to Middleton Unit.
Robertson Unit offers its inmates educational and vocational courses to help them improve themselves. Some educational courses include GED, adult basic education, literacy, pre-release education, parenting classes, substance abuse education, and life skill courses. Vocational courses include HVAC, small engine repair, and automotive brake skills.
Robertson Unit Contact Information
The facility's full name is French . It's located on 12071 FM Road 3522 in Abilene, Texas, United States, 10 miles Northeast of Downtown Abilene in Jones County.
Senior Warden: Jennifer Cozby
Here's the contact information of the institution.
How to Contact an Inmate at Robertson Unit
Robertson Unit allows its inmates to communicate with their friends and families through different methods. They include:
Mail
E-messages
Phone Calls
In-Person Visitation
Mail
When sending mail to an inmate in Robertson Unit, ensure that you indicate the correct address on a standard envelope. The prison staff opens every mail and package before giving it to the inmate to prevent any contraband items from entering the institution.
You can address your mail as follows.
INMATE NAME AND INMATE ID NUMBER
Robertson Unit (RB) – Texas State Prison
12071 FM 3522
Abilene TX, 79601
Ensure that you familiarize yourself with the institution's guidelines on sending mails so that you can be sure that your mail will be delivered to your loved one.
E-messages
Offenders at Robertson Unit can receive e-messages from their loved ones through Corrlinks as the institution's verified communication service provider.
Here's how to use Corrlinks to communicate with an inmate.
Sign up to Corrlinks
Fund your accounting using your Visa or MasterCard Credit card.
Enter the inmate's number to add them to your address book.
You can send your email any time at a small fee, depending on the institution the inmate is held.
The prison staff will check all the messages coming in and decide whether to deliver them or reject them.
Phone Calls
Robertson Unit participates in the Offenders Telephone System of the Texas Department of Criminal Justice. Before receiving any calls from an inmate, you must first register your phone number on the TDCJ website or the phone through (936) 295-6371 or (800) 535-0283.
Offenders can make calls as:
Collect calls where charges are applied when the offender calls.
Prepaid for family and friends – The telephone number owner can create an account and deposit money to pay for any calls the offender makes.
Offender Telephone Prepaid Debit Account – The offender or family member can deposit money into the offender's account to make calls.
In-Person Visitations
Visits are normally conducted on Saturdays and Sundays between 8:00 am and 5:00 pm. The names of all visitors, 18 years old and older (except the offender's attorney), must be on the approved Visitors List, which is limited to 10 individuals.
Both adults and minors visiting inmates at the facility must apply and submit the application form to TDCJ. Once approved, you can visit the inmate and ensure that you follow the institution's rules on visitation.
How to Get in Touch With Your Loved One in Robertson Unit With the Help of DoNotPay
Communicating with a loved one incarcerated at Robertson Unit can prove to be a difficult task. With the many rules dictating how to write letters to an inmate, you may end up having all your letters sent back or confiscated.
DoNotPay can help you send letters to your loved one at Robertson Unit and be sure that the letter will be received. All you need to do is: 
1. Locate the Connect With an Inmate service on DoNotPay.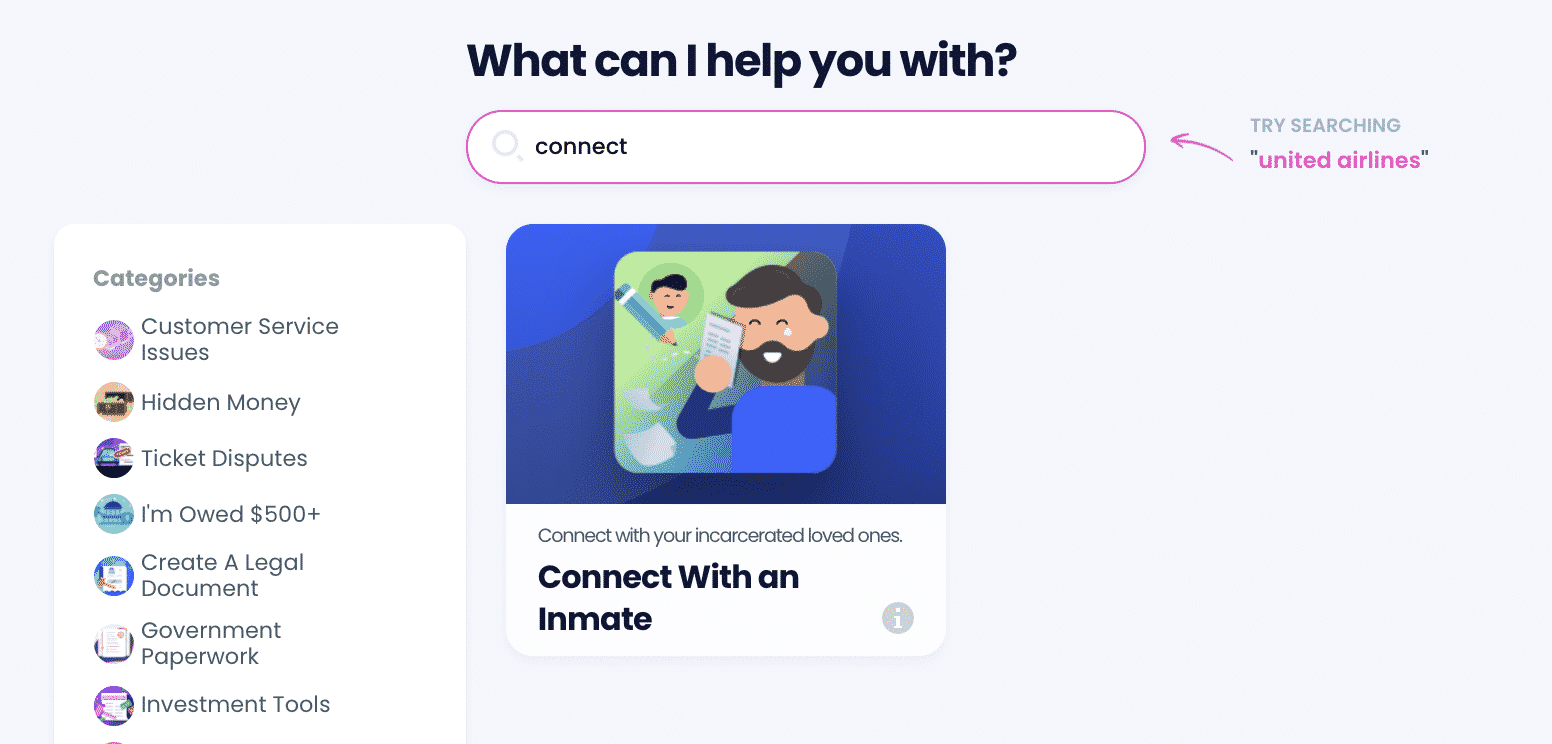 2. Choose whether you want to locate a loved one, create a virtual mailbox, or send a personalized letter.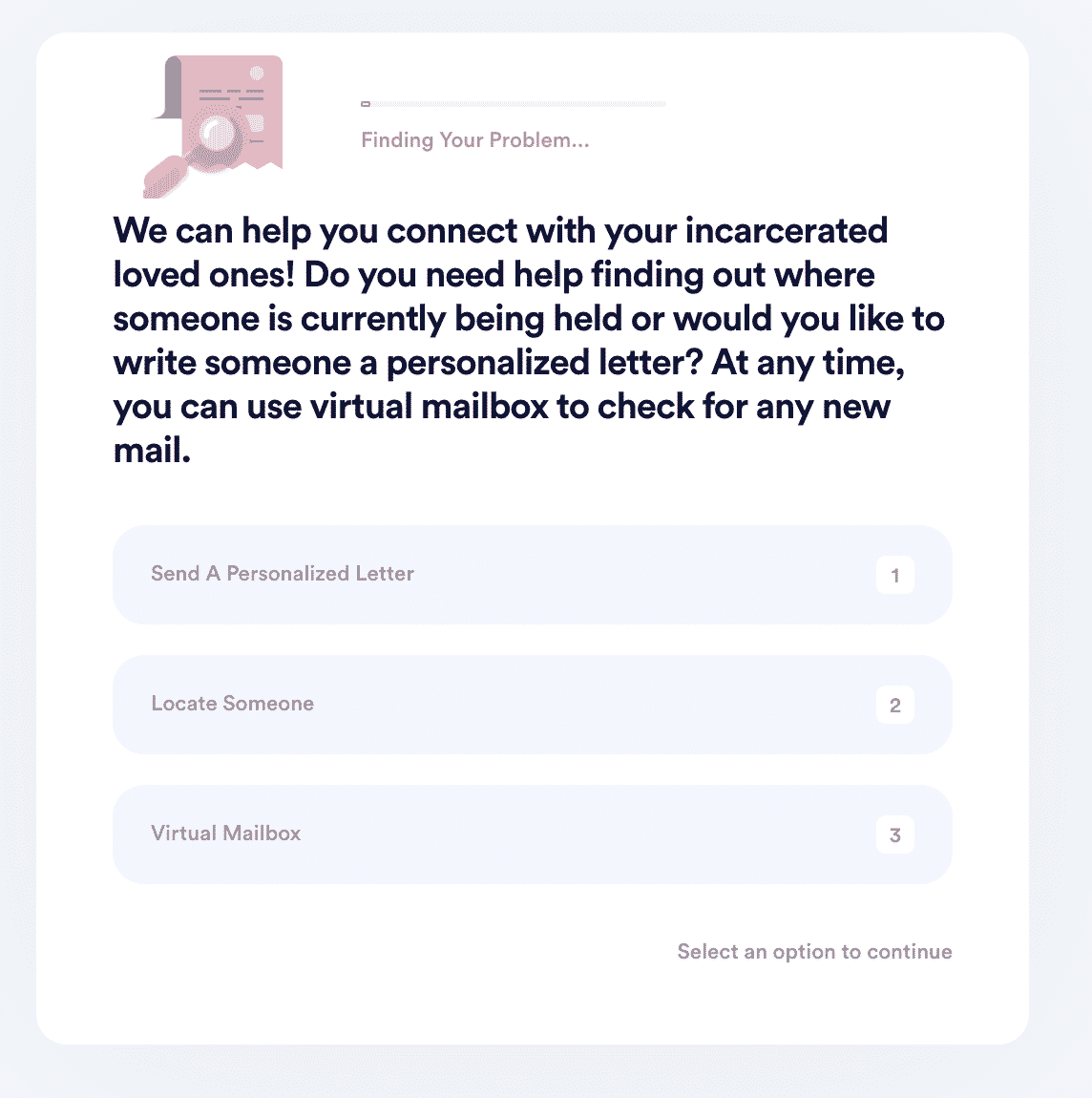 3. If you want us to find your loved one, provide his or her personal details and the state they are located in. We'll then conduct a search on the appropriate state database.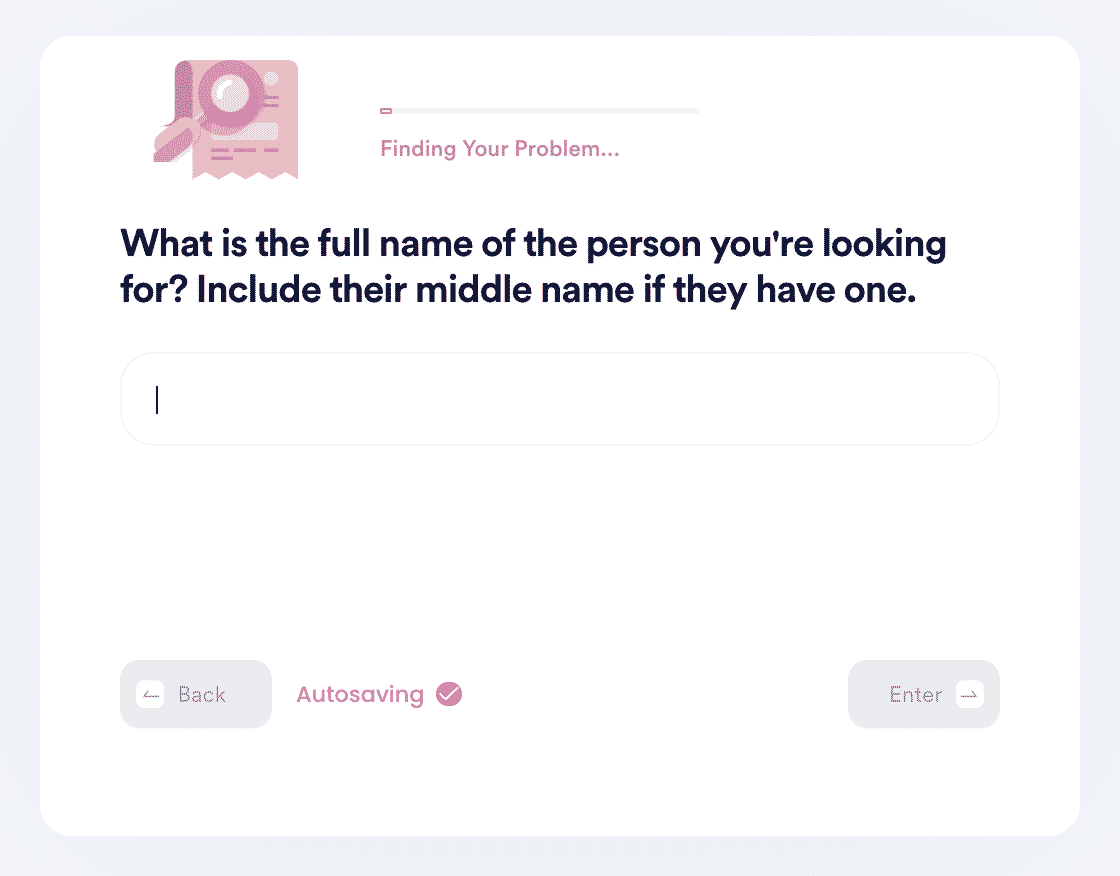 4. If you want to create a virtual mailbox, just provide your full name! We'll set one up for you so you can easily receive incoming mail from your loved one.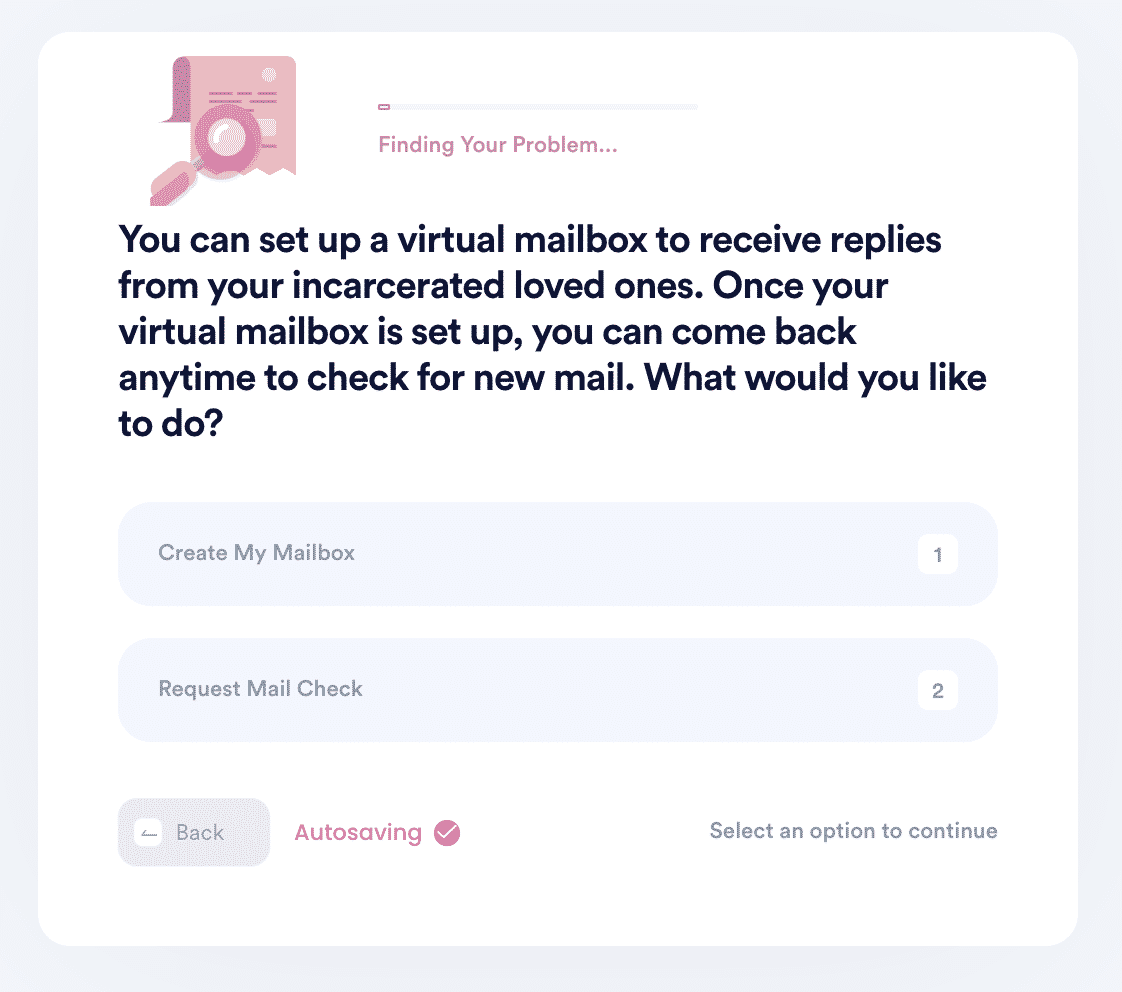 5. If sending a personalized letter, tell us which facility your loved one is located in and what you would like to say to them. You can even include a photo! Your letter will be delivered automatically - just wait 10 days for it to arrive for your loved one!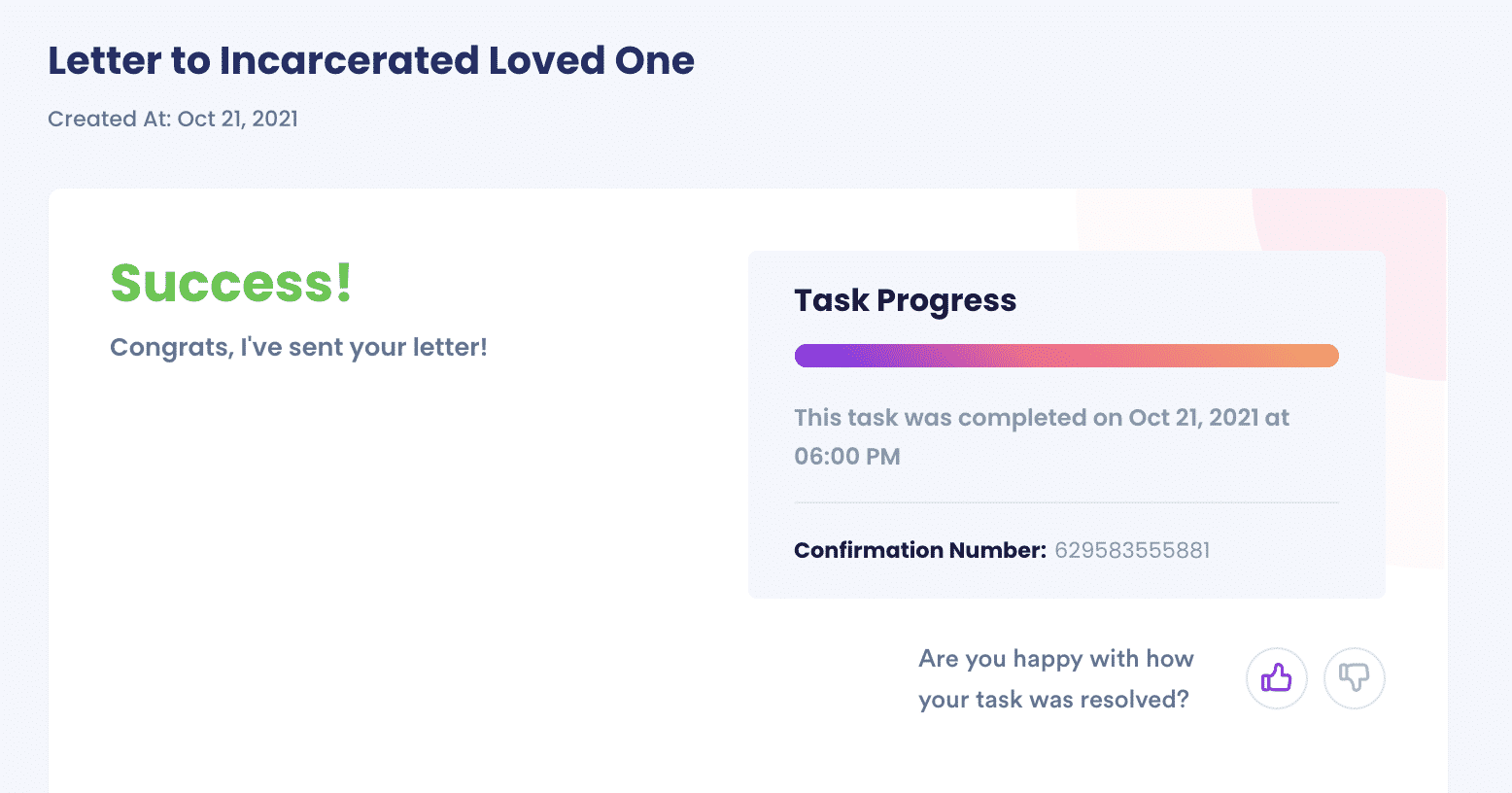 To make this experience as personalized as possible, choose a letter template that suits you, including special edition holiday-themed templates. DoNotPay will check the letter to ensure that it follows the best practices for writing a letter to an inmate.
What Else Can DoNotPay Do? 
Whether you are planning to visit an inmate or send a letter to prison pen pals, DoNotPay will teach you all you need to know about inmate visitation and how to address a letter to an inmate so that it can get to them.
Check out DoNotPay's Connect with an Inmate product page to get the information you need and get started.