Report Animal Abuse in Los Angeles With DoNotPay
There's an incident of animal abuse every minute. Even worse, such cruelty is hardly reported, explaining the high numbers in animal abuse statistics. Remember, animals can't speak up for themselves, which is a tragedy in itself. Therefore, don't hesitate to report animal abuse in Los Angeles every time you witness such an incident.
Animal abuse is a global concern that could use more proponents. And while it's not enough, some non-profit organizations do put some effort into eradicating animal cruelty. However, reporting animal abuse is an excellent contribution to the campaign from an individual standpoint.
You don't need to go through a complicated process to report animal abuse cases in Los Angeles. You can use DoNotPay to report in an easy and convenient way. Let's see how.
Animal Abuse in Los Angeles
As described by the California Penal Code 597, animal abuse is a serious crime. And it often takes two forms: negligent cruelty and intentional cruelty.
Negligent cruelty involves the failure to deliver adequate care to animals. For instance:
Failure to provide shelter
Failure to provide food or water
Failure to treat pet's illness or wounds
Failure to provide a sanitary living environment
Intentional cruelty is generally inflicting violent harm to animals. For example, through:
Unnecessary killing of an animal
Conducting a rooster or dog fight
Inhumanely confining an animal
Mutilating, poisoning, beating, or torturing an animal
Animal cruelty is punishable by law as either a felony or a misdemeanor like other crimes. And defendants can either pay a fine not exceeding $20,000 or face incarceration in a county jail or state prison for up to one year. Or both.
Reporting Animal Cruelty in Los Angeles
And if you know, hear, or see someone inflicting harm on any animal, don't hesitate to report them. Even better, you can do so anonymously. You may be requested to provide details about the incident and the address where it happened or the animal is.
In the case of an animal needing emergency help, call 911. The police, in conjunction with Animal Control officers, will respond to the matter and conduct investigations. In the meantime, the animal will be placed under protective care until the officers arrive at a decision.
To file animal neglect or cruelty report, contact Los Angeles Animal Services at (888) 452-7381 or the City of Los Angeles Animal Cruelty Task Force through (213) 486-0450. Both lines operate 24/7.
Also, if you observe animal abuse outside Los Angeles, you can still report the occurrence to Los Angeles Animal Services. Given it's outside their jurisdiction, they will refer the incident to other animal control and care agencies in the respective area.
Below are the six animal shelters in Los Angeles.
Location
Address
Phone
East Valley Center
14409 Vanowen St.

Van Nuys, CA 91405

(888) 452-7381
Harbor Center
957 N. Gaffey Street

San Pedro, CA 90731

(888) 452-7381
North Central Center
3201 Lacy Street

Los Angeles, CA 90031

(888) 452-7381
Chesterfield Square Center
1850 W. 60th St.

Los Angeles, CA 90047

(888) 452-7381
West Los Angeles Center
11361 West Pico Blvd.

Los Angeles, CA 90064

(888) 452-7381
West Valley Center
20655 Plummer Street Chatsworth, CA 91311
(888) 452-7381
How to Report Animal Abuse by yourself
If you suspect or witness animal cruelty, visit your local authorities and file a report. The police or animal control officers will respond accordingly. After all, they are liable for enforcing animal abuse laws whenever such incidents are reported.
Try to give as much information, including where and when you observed the incident, who was involved, etc. Photographic evidence and specificity may play a huge part in building a strong case.
Although you can report animal abuse anonymously, consider including your contact information. That is because appropriate action could rely on you, the witness, being called upon to testify.
Another approach you can consider involves reporting animal cruelty events to other interested parties. An ideal example is the Humane Society of the United States, which wouldn't mind looking into such reports.
How DoNotPay Can Help
When using DoNotPay to report animal abuse, here is what to do:
1. Search "Report Animal Abuse" on DoNotPay, and select the associated tool.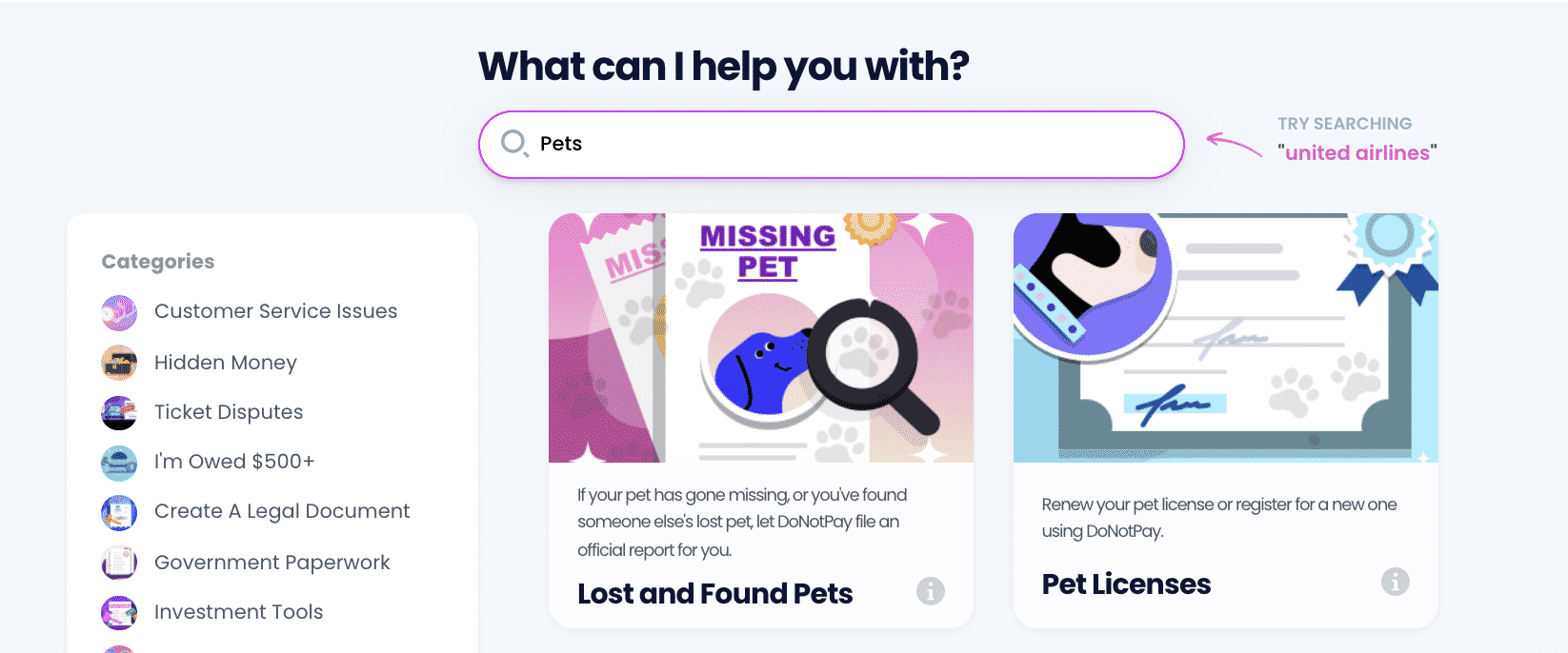 2. Then following the prompts, report the time, location, and exact detail to the best of your knowledge of the situation that has led you to believe there is animal cruelty afoot.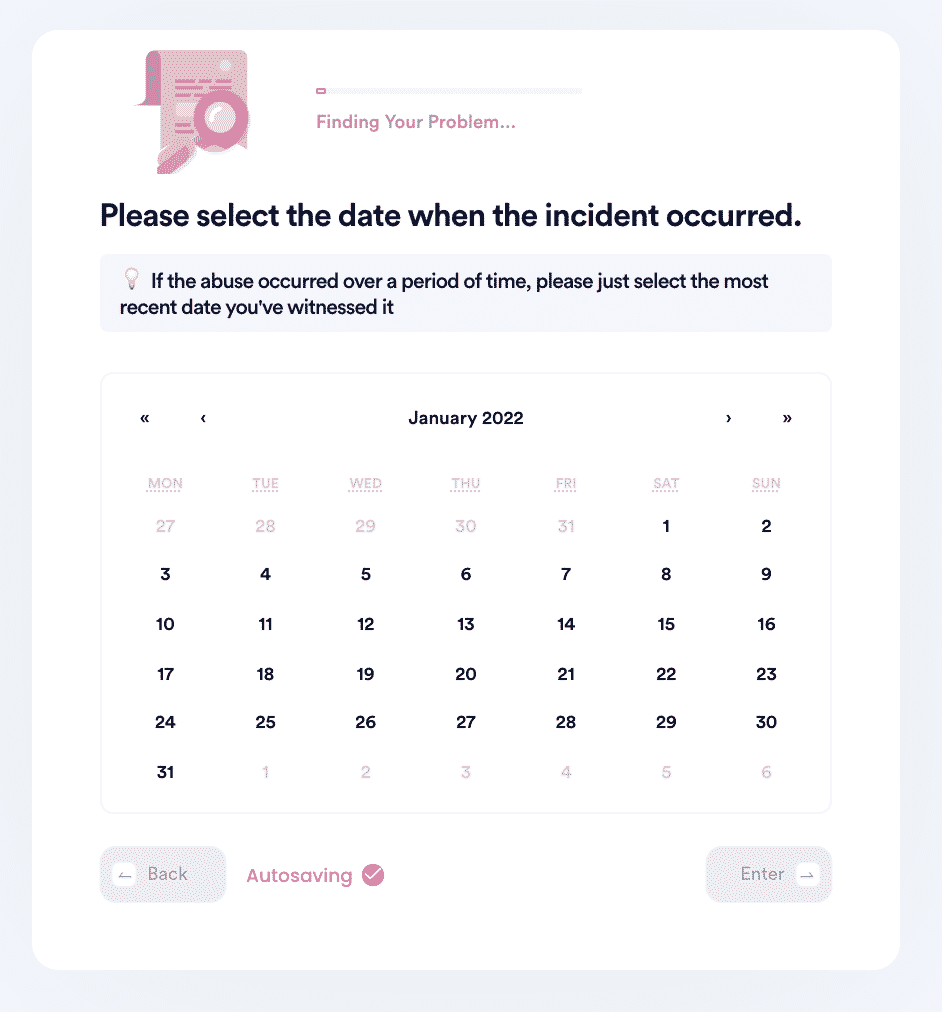 3. Upload an image to build your case and include your contact information for the authorities to get back to you about your report.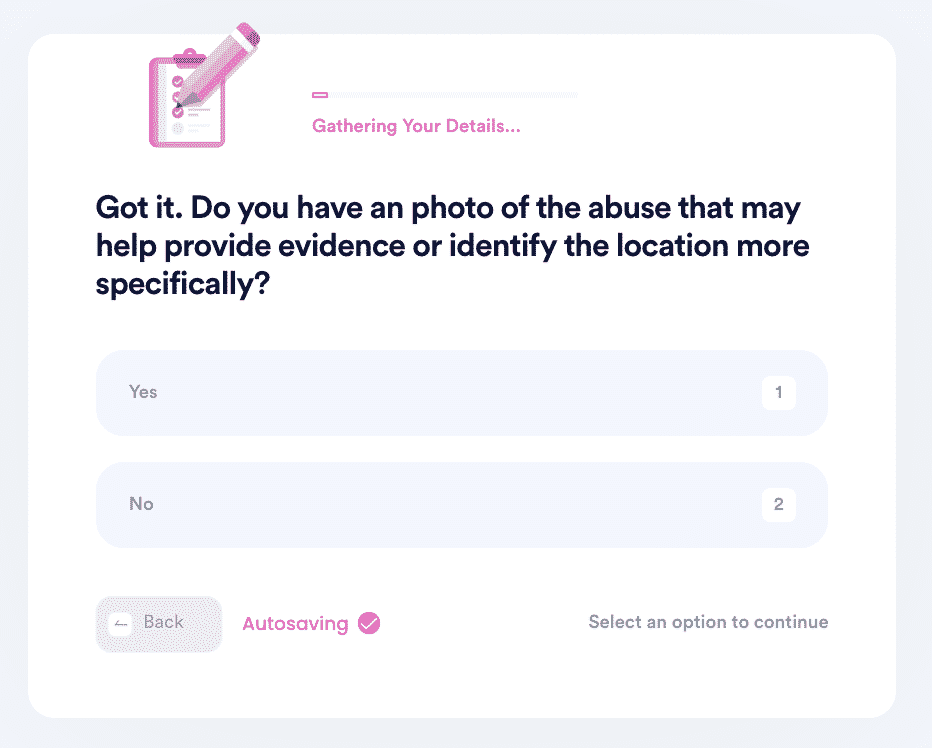 And that's all. DoNotPay will report the incident on your behalf, enhancing animal safety.
Why Use DoNotPay to Report Animal Abuse?
Fast – You won't have to report the incident yourself, thus avoiding the tedious protocols involved.
Easy – You only need to provide initial information on the particular animal cruelty incident. We'll handle and follow up on the rest.
Successful – We will undoubtedly file the animal abuse report for the authorities to take action.
More DoNotPay Products for Your Pets
Other pet-related products from DoNotPay include:
Pet Licenses
Pet Custody Agreement
Lost and Found Pets
Other Services by DoNotPay
DoNotPay doesn't just help you report animal abuse incidents. We also offer additional services that could come in handy in varying settings. Some of these products include: