How to Get in Touch With the Animal Cruelty Investigator in New Jersey
is taken very seriously in the state of New Jersey. Revised Statute (RS) 4:22-17 Cruelty; certain acts, crime; degrees covers the definition of animal cruelty. RS 4:22-26 Penalties for various acts constituting cruelty covers the penalties associated with committing acts meeting the definition of cruelty. Whenever someone registers a dog in a municipality, they must be given a copy of these laws. They are also provided with a copy of the Guide to Prevention of Animal Cruelty Laws 2018.
There are thousands of people in New Jersey who have pets who are considered members of the family and are well taken care of. Unfortunately, there are many people who either are unable to properly care for their animals, or deliberately want to cause them harm.
For that reason, animal cruelty laws have been enacted and communities throughout New Jersey expect their law enforcement officers to investigate and protect animals within the state. Animals cannot have a voice of their own and need us to watch out for them and report abuse when we see it.
How to Report Animal Cruelty in NJ on Your Own
Citizens who want to should contact their local police department. Each department should have a specially trained Humane Law Enforcement Officer (HLEO) who is tasked with investigations of suspected animal cruelty. Reporters should contact their county prosecutor's office if they cannot get assistance from their local police.
Their contact information is below:
| | |
| --- | --- |
| County | Phone Number |
| Atlantic | 609-909-7800 |
| Bergen | 201-646-2300 |
| Burlington | 609-265-5035 |
| Camden | 856-225-8537 or 856-676-8175 |
| Cape May | 609-465-1135 |
| Cumberland | 856-453-0486 EXT. 115 |
| Essex | 973-621-4700 |
| Gloucester | 856-384-5500 |
| Hudson | 201-795-6400 |
| Hunterdon | 908-788-1129 |
| Mercer | 609-989-6309 |
| Middlesex | 732-745-3300 |
| Monmouth | 877-898-PAWS (7297) |
| Morris | 973-285-6200 |
| Ocean | 732-929-2027 |
| Passaic | 973-881-4800 |
| Salem | 856-935-7510 Ext. 8333 |
| Somerset | 908-231-7100 |
| Sussex | 973-383-1570 |
| Union | 908-527-4500 |
| Warren | 908-475-6287 |
What is Considered Animal Cruelty in New Jersey?
There is an extensive list of behaviors that could constitute animal abuse or cruelty. Generally, the things that happen to animals fall into a few categories:
Neglect
Abandonment
Physical harm
Leaving unattended in a vehicle
Dogfighting including gambling
When unsure of whether you have witnessed an animal cruelty or not, contact the appropriate authorities through DoNotPay with your concerns.
Nonprofit Organizations Available to Help with Animal Cruelty Concerns
The following organizations can be contacted directly for further assistance. More information is available from them to help their independent missions to advocate for the fair treatment of animals and accountability for those who harm animals.
These organizations have been active for many years throughout the United States and some internationally.
Next Steps to Report Animal Cruelty in New Jersey if You Can't Do It on Your Own
DoNotPay is a perfect solution to report animal cruelty in NJ. You don't have to wonder what police department to call or if the right officer is on duty. You won't have to worry when your complaint will be investigated.
By following the steps below, you can be sure that your report will get to the right investigator. You will be able to report your concerns all in one place with DoNotPay.
Here's how to use DoNotPay to report animal cruelty:
1. Search "Report Animal Abuse" on DoNotPay, and select the associated tool.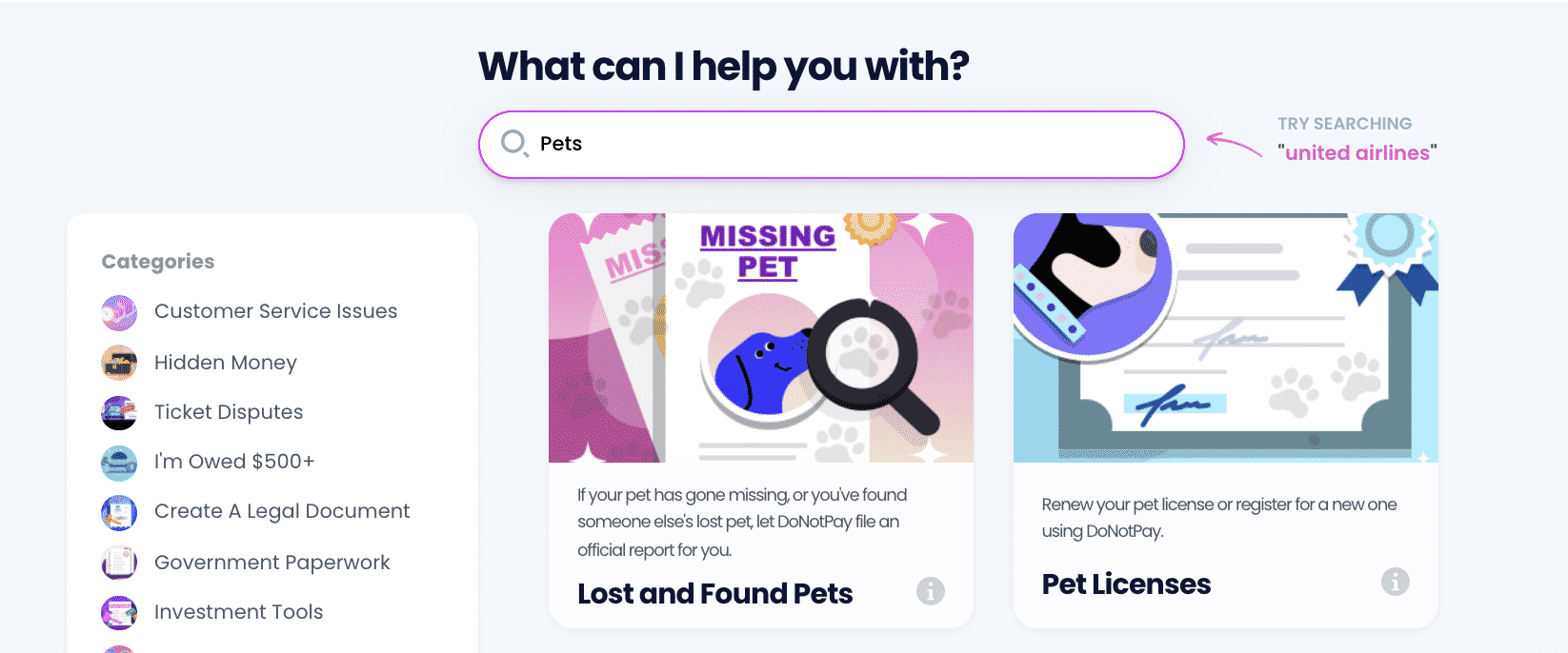 2. Then following the prompts, report the time, location, and exact detail to the best of your knowledge of the situation that has led you to believe there is animal cruelty afoot.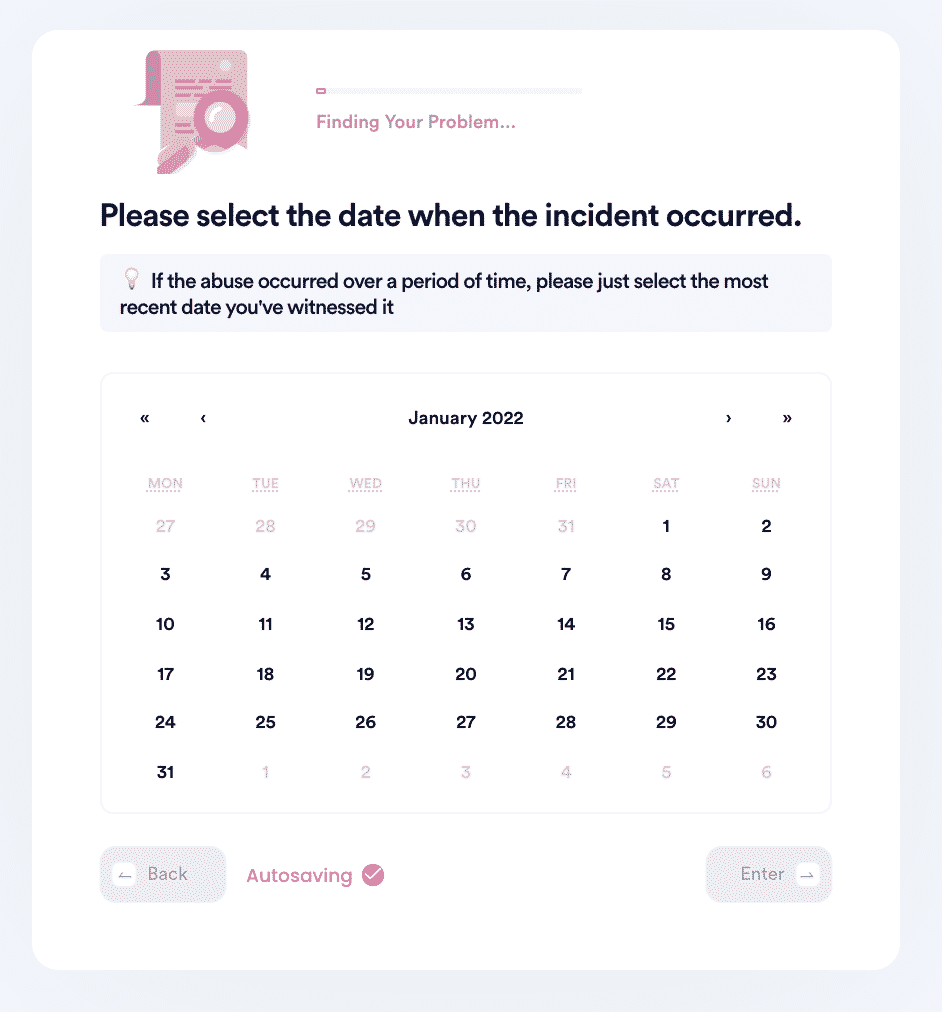 3. Upload an image to build your case and include your contact information for the authorities to get back to you about your report.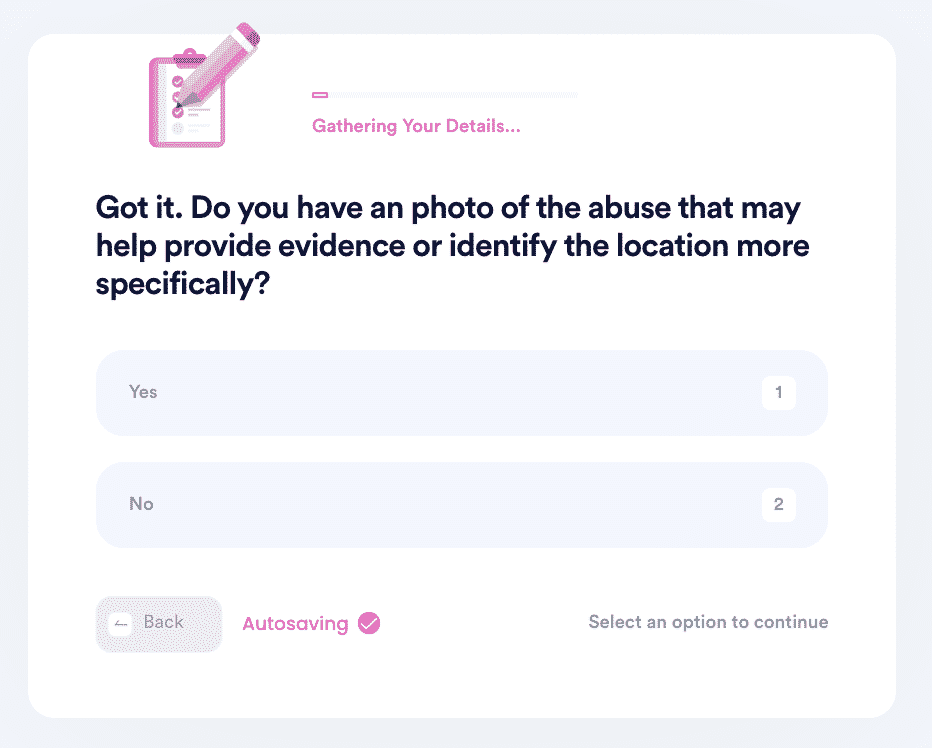 That's all there is to it. By reporting animal abuse, you've taken an animal out of harm's way.
More DoNotPay Products for Your Pets
DoNotPay can help with many pet related problems. We can help with:
You can report animal cruelty that is occurring anywhere with DoNotPay. This includes places like Los Angeles, New York City, and anywhere in Texas.
What Else Can DoNotPay Do?
You can get help to find solutions to lots of different problems with DoNotPay.
Why Use DoNotPay
There are multiple steps to report animal cruelty in NJ. DoNotPay reduces the work needed to make the important report.
DoNotPay makes the process:
Fast—You will get the report done as quickly as possible.
Easy—You won't be on hold and leaving messages and hoping the case is being investigated properly.
Successful—You can rest assured that the report has been documented and reported to the proper authorities.
Make DoNotPay your first stop.