How to Report Animal Abuse in Georgia
Animals are often a regular part of our lives. Even if you don't have a pet, chances are great that you have had some experiences with animals. Unfortunately, not everyone treats animals well, and some end up suffering abuse.
Animal cruelty can come in many forms, such as violence, hoarding, dogfighting, or negligence. In some cases, an animal may end up in an abusive or neglectful situation without the owner meaning for it to happen. Either way, if you witness animal cruelty, you need to .
If you can't or don't want to submit a report on your own, DoNotPay can do it on your behalf.
Is Animal Abuse a Crime in Georgia?
Animal abuse is defined by the Humane Society as any behavior that is harmful to animals. Some examples of this include torturing animals, maiming, or killing. It also covers behaviors like not getting proper medical care, not socializing your animal, or not giving them substances, like food and water, that they need to survive.
There is a statute in Georgia that covers all its animal cruelty laws. It includes the following:
You are committing animal abuse/cruelty if you cause death or unjustifiable physical pain or suffering to an animal.
Anyone convicted of animal abuse/cruelty is guilty of a misdemeanor, but additional instances will receive enhanced penalties.
It is considered aggravated cruelty if you knowingly and maliciously cause death or physical harm to an animal by making part of its body useless or disfiguring an animal.
Fish and pests that can be exterminated or removed are not covered under this statute.
How to Report Animal Abuse by Yourself
There are two places you can report animal abuse in Georgia: the local animal control or shelter and the local sheriff.
Contact Local Animal Control/Shelter
When you witness animal abuse, the first step is to contact your local animal control/shelter. They have people specifically trained to handle animal abuse/cruelty situations.
Below are several different animal control centers/shelters in the state:
Contact Local Sheriff's Department
If you don't have a local animal control center/shelter, you can contact your local Sheriff's department instead. They can send someone out to investigate your report.
Rather than trying to determine the best place to file your report, let DoNotPay handle it for you. All we need from you is information about what happened, and we do everything else.
How to Use DoNotPay to File an Animal Abuse Report in Georgia
It can be frustrating trying to figure out whom to send your animal abuse report, or you might not have time to deal with it. So, let DoNotPay step in and do it on your behalf.
Here's how to use DoNotPay to :
1. Search "Report Animal Abuse" on DoNotPay, and select the associated tool.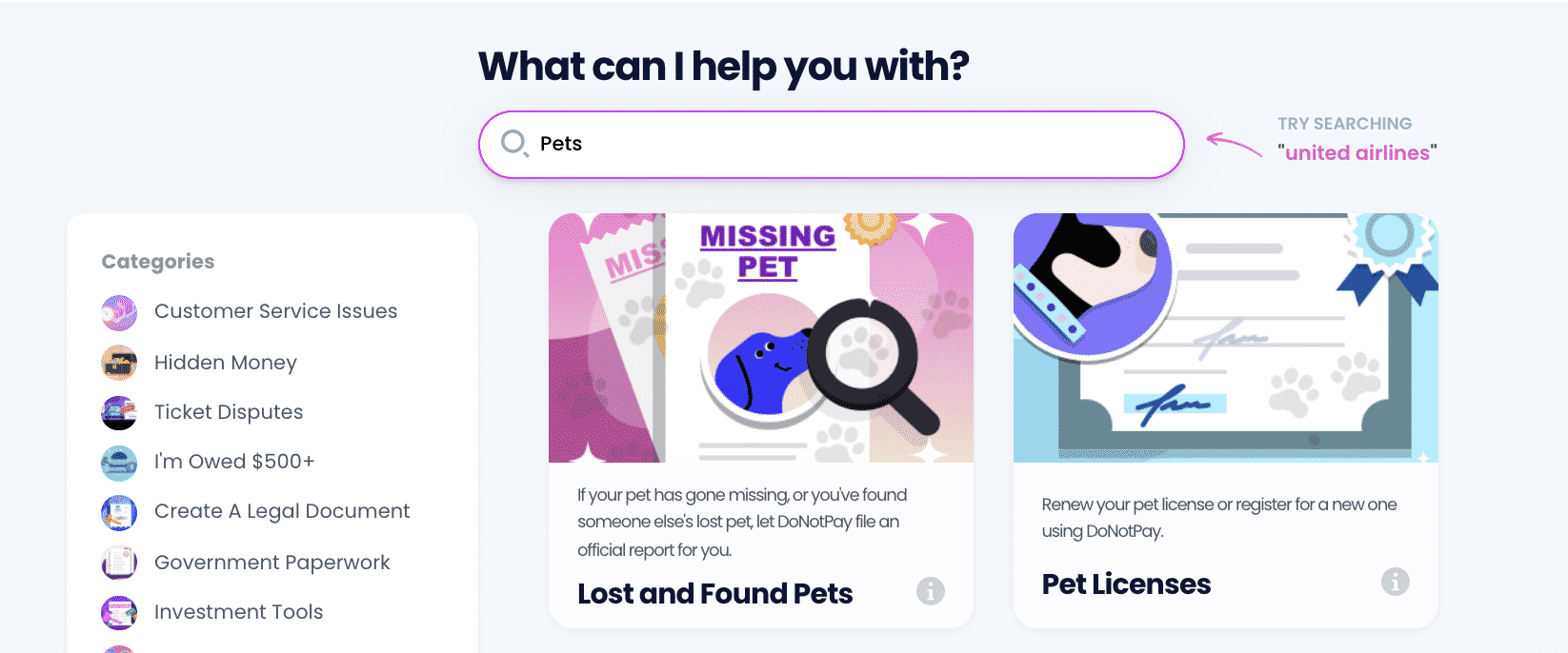 2. Then following the prompts, report the time, location, and exact detail to the best of your knowledge of the situation that has led you to believe there is animal cruelty afoot.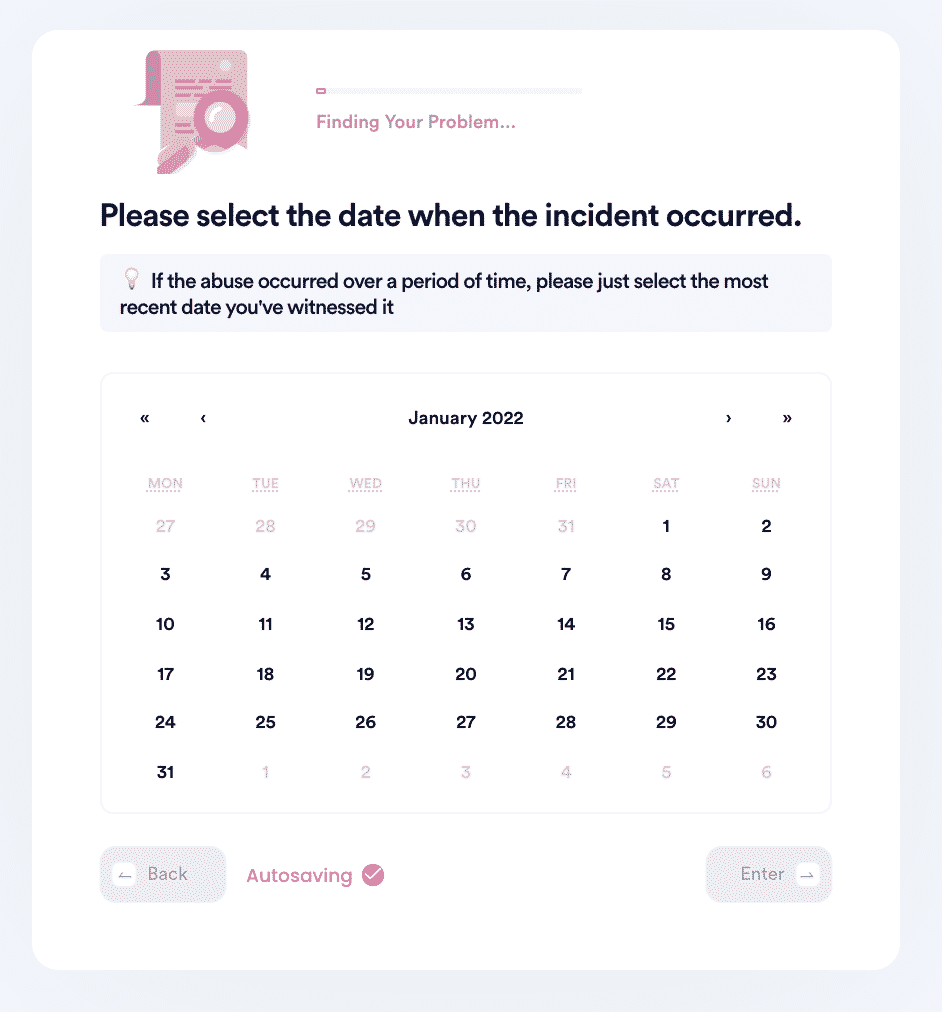 3. Upload an image to build your case and include your contact information for the authorities to get back to you about your report.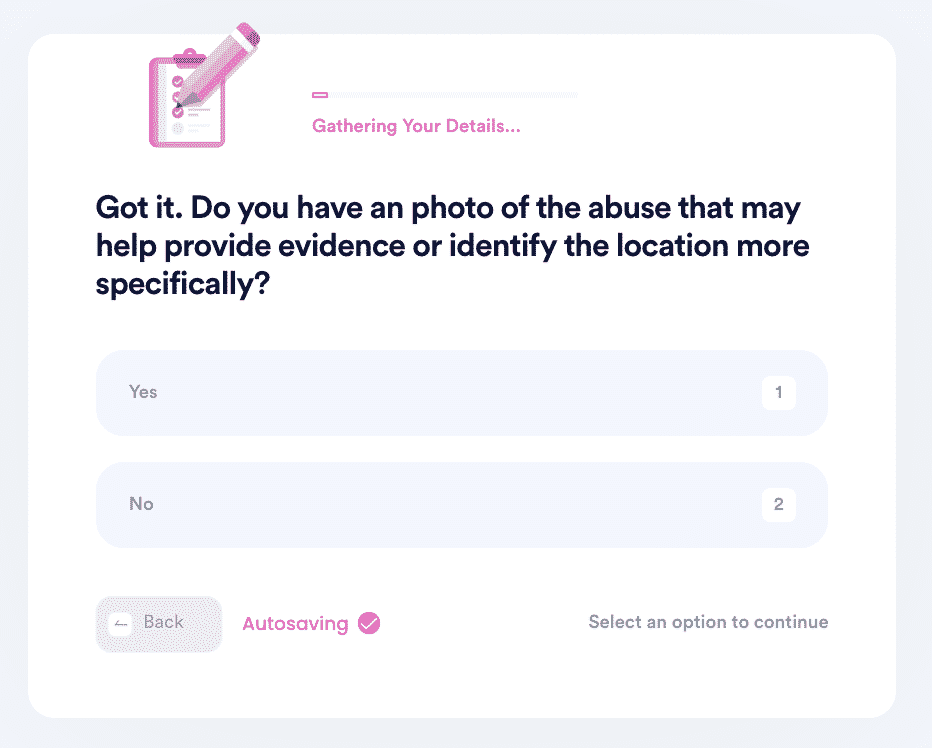 And that's all! DoNotPay will file a report for you, helping you get animals out of harm's way.
Why Use DoNotPay to Report Animal Abuse in Georgia
If you're unsure how to properly report animal abuse or don't have the time to handle it, DoNotPay is happy to help. Here are multiple reasons why you should use DoNotPay.
It's quick: You only have to spend a bit of time typing in information.
It's easy: You give us information, and we do everything else.
It's successful: You can trust that DoNotPay will file an animal abuse report for you in Georgia.
DoNotPay Works Across Many States With the Click of a Button
Animals can be a great addition to someone's life, but unfortunately, not everyone treats animals well. Animal abuse does happen, and it's up to everyday citizens to report people abusing their animals. DoNotPay can help with animal abuse cases not just in Georgia, but across the states of the US including New York City, Los Angeles City, and every county in Texas.
In addition to reporting animal abuse in Georgia, DoNotPay can also:
What Else Can DoNotPay Do?
Contact us today to see how we can help with filing animal abuse reports, and other personal legal concerns such as: