How to Report Animal Abuse in Miami Successfully
is a crime that can have far-reaching effects. In one survey, 71 percent of domestic violence victims reported that their abuser also targeted pets.
Whether you are an animal lover or not, it can be truly heartbreaking to witness cases of animal abuse and neglect. Fortunately, there is something you can do if you suspect animal abuse is going on.
Making a report for animal abuse in Miami is a way to notify authorities of suspected abuse. You can make a report for animal abuse anonymously, to protect your privacy - or you can use DoNotPay. DoNotPay files the Miami animal abuse report on your behalf, alerting authorities and potentially saving the life of a helpless animal.
Is Animal Abuse a Crime in Miami?
According to Michigan State University, animal abuse is considered to be a crime in the state of Florida. The state's animal cruelty laws are very specific and are designed to protect every animal, including domestic and wild animals. includes the following actions:
Tormenting, unnecessarily mutilating, or deliberately killing an animal.
Transporting an animal in a cruel and inhumane way.
Not providing a domestic pet with proper food, shelter, or water.
Abandoning a pet or leaving a sick or maimed animal to die.
If someone is found guilty of animal cruelty, they could be hit with misdemeanor charges, and possibly a third-degree felony if the action was serious or cruel enough.
Where Can You Report Animal Abuse in Miami?
Once you encounter animal abuse in Miami, you can file an animal abuse report on your own. One way to report animal abuse in Miami is to contact local animal shelters and animal control facilities. Here are a few of the top animal control and welfare centers in the Miami area:
To file an animal abuse report in Miami, contact any of the above institutions. You can also reach out directly to Miami law enforcement in order to file a report.
How to Report Miami Animal Abuse by Yourself
Here's how to report animal abuse in Miami on your own:
Contact your nearest animal shelter.
In general, animal shelters and control agencies in Miami have the resources and ability to pursue cases of animal abuse on their own. You could also choose to call law enforcement to file a report. In either case, an officer will be assigned to review the animal abuse case, following up on the details that you provide and ensuring that the animal in question is taken care of.
Provide details for the animal abuse report.
When you call in your animal abuse report, whether you contact a shelter or local law enforcement, be prepared to offer as many details as possible, including dates and the specifics of the suspected abuse. You can choose to remain anonymous when you file a report or give your name. It is encouraged to provide your contact information so that an animal control officer can follow up with you to confirm key details.
Follow up if necessary.
Although you can file your Miami animal abuse report anonymously, you might still want to check back in as the case progresses - especially if you have particular concerns about the animal's welfare. In most cases of apparent animal abuse, the animal will be removed from the offending owner immediately, and either placed with a foster family for rehabilitation or up for adoption, depending on the circumstances.
Filing a Miami animal abuse report on your own can be time-consuming and emotionally taxing. You could spend hours calling around to animal shelters and control centers, trying to find the right place to file your report. When you see animal abuse in Miami, turn to DoNotPay in order to file your animal abuse report.
DoNotPay Can File an Animal Abuse Report on Your Behalf
Here's how you can use DoNotPay to report animal cruelty:
1. Search "Report Animal Abuse" on DoNotPay, and select the associated tool.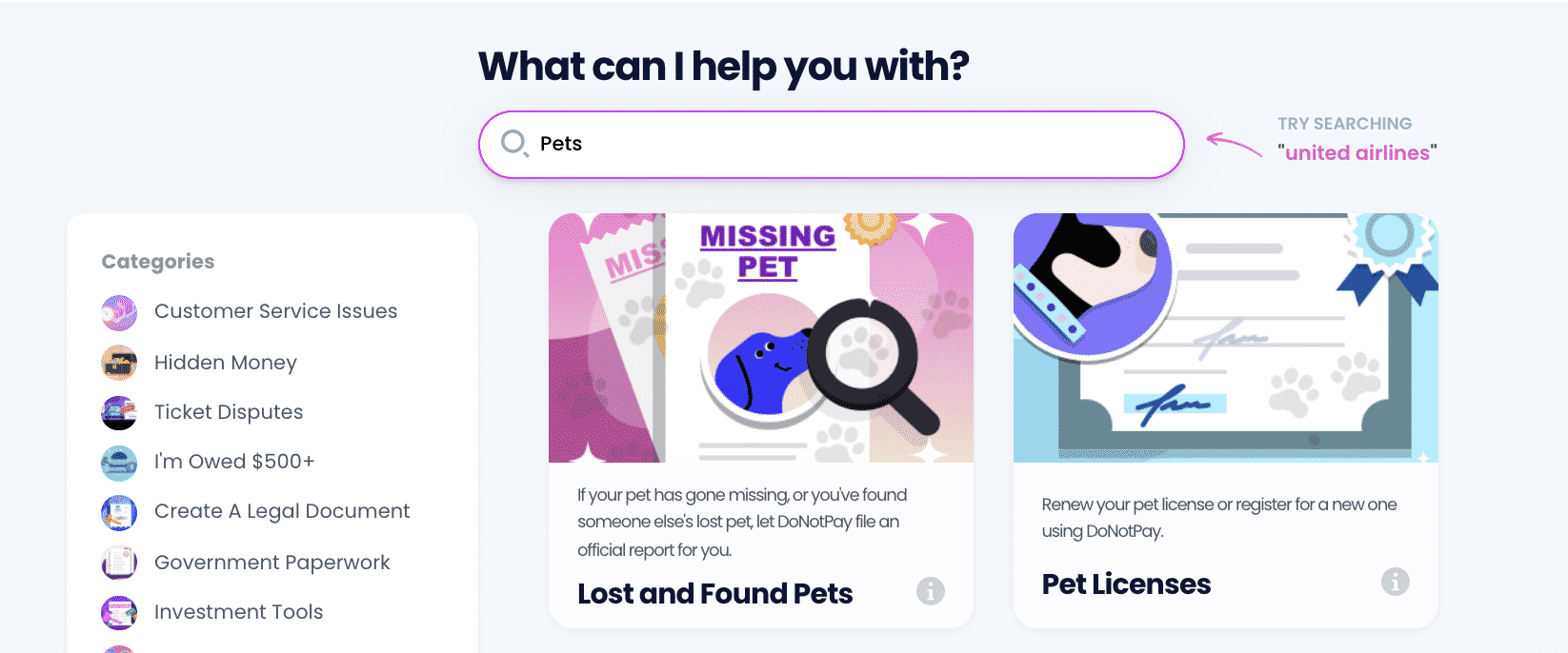 2. Then following the prompts, report the time, location, and exact detail to the best of your knowledge of the situation that has led you to believe there is animal cruelty afoot.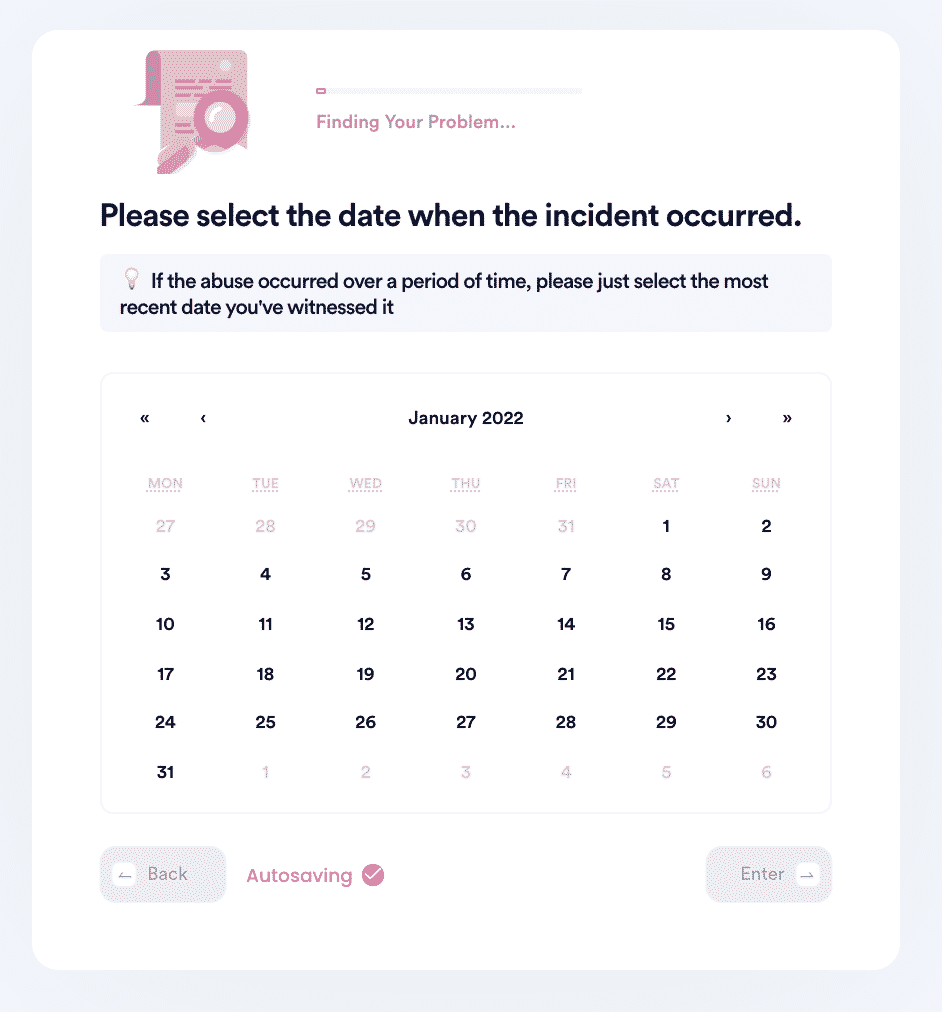 3. Upload an image to build your case and include your contact information for the authorities to get back to you about your report.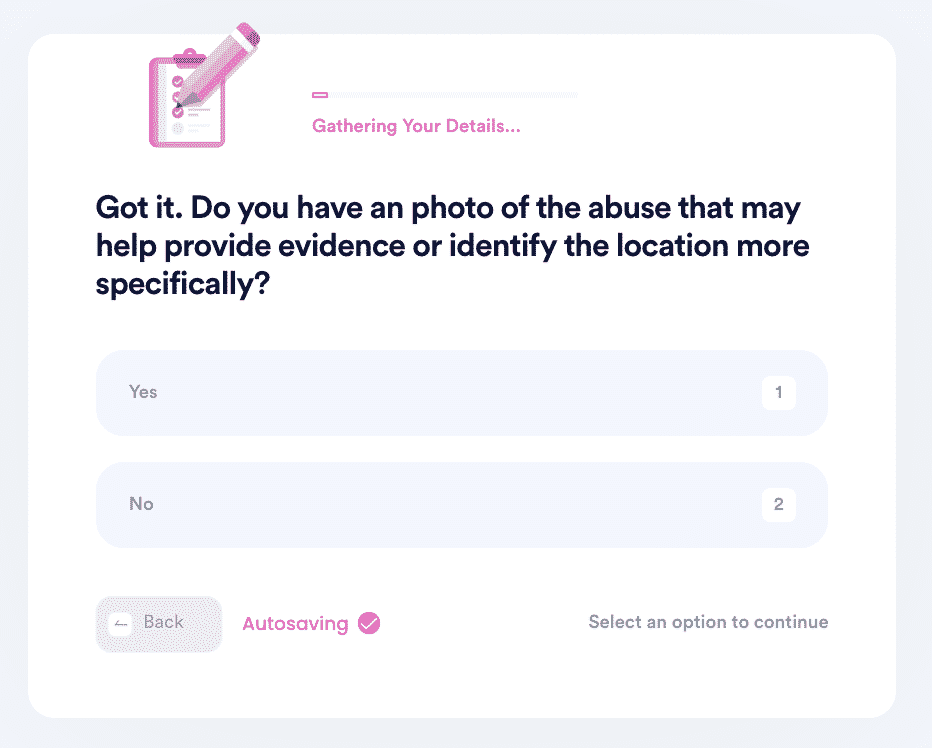 And that's it! DoNotPay will file the report on your behalf, getting animals out of harm's way without a lot of stress or time spent tracking down answers on the internet.
DoNotPay Is the Fastest Way to Report Miami Animal Abuse
DoNotPay is the fast, easy, successful way to report animal abuse in Miami. With just the click of a button, you can take immediate action to save a helpless animal's life. You don't have to spend hours on the phone or searching through various websites in order to help an animal whom you believe is being abused–with DoNotPay, filing an animal abuse report is quick and easy.
What Else Can DoNotPay Do?
DoNotPay doesn't just work with pet-related problems, we can help with other issues as well such as:
Sign up today!