Need to Know How to Report Animal Abuse in NC? DoNotPay Has You Covered!
There are many animals in the world, and the unfortunate reality is that not all of them are treated well. As a result, you may find yourself witnessing animal abuse, and it's important you know what to do. If you need to know how to report animal abuse in NC, you've come to the right place.
Animal abuse can come in various forms, such as negligence, violence, dogfighting, and hoarding. People may not mean to abuse their animals, but it's important that the animal is taken out of a dangerous situation.
If you witness and don't want to handle the process of turning someone in, DoNotPay can do it for you.
Is Animal Abuse a Crime in North Carolina?
The first thing you need to understand is what qualifies as . According to the Humane Society, animal abuse or animal cruelty covers a wide range of behavior that is harmful to animals. This can include neglect, such as not giving an animal food, water, socialization, or vet care. It also covers torturing, maiming, or killing animals.
In North Carolina, there is an anti-cruelty statute that covers the following:
Anyone who intentionally kills or causes an animal to be killed due to not providing needed sustenance is guilty of a Class H felony.
Anyone who tortures, maims, mutilates, beats, poisons, disfigures, or kills an animal or causes that behavior to occur is guilty of a Class H felony.
It sets promoting or conducting cock fighting as a misdemeanor.
It also sets promoting or conducting dog fights as a felony.
The act also prohibits abandoning animals, cruelly conveying animals, and restraining dogs cruelly.
How to Report Animal Abuse By Yourself
In North Carolina, there are a few ways to report animal abuse.
Animal Welfare Hotline
You can report animal abuse to the Animal Welfare Hotline at 1-855-290-6915.
The office will review your complaint to ensure it is animal cruelty.
If it is determined to be animal cruelty, the office will elevate the complaint to proper authorities.
Depending on your complaint, a local animal control office, local Sheriff, or the NC Department of Agriculture will take action.
Animal Welfare Complaint Form
If you would like to report animal abuse online, you can do so via the animal welfare complaint form found here. However, if you want an immediate response, you should contact a local animal control center.
You will need to fill in information about yourself, the person you are filing the complaint against, and the animal. You cannot file an anonymous complaint.
Use as much detail as possible when filling out the form.
You can save the form and come back to it later.
Make sure to hit submit when you are done.
Contact Local Animal Control/Shelter
You can also find the closest Animal Control Center/Shelter to you and file a complaint there. Below is a table listing some of the Animal Control Centers in North Carolina.
Trying to reach out to report animal abuse can be tricky if you aren't sure where to turn. You may also end up waiting on the phone for a while waiting to talk to someone. Instead, let DoNotPay file the report for you.
Using DoNotPay to Report Animal Abuse in North Carolina
Rather than trying to figure out who to contact about an instance of animal abuse or ending up on hold on the phone, have DoNotPay make your report on your behalf.
Here's how you can use DoNotPay to report animal cruelty:
1. Search "Report Animal Abuse" on DoNotPay, and select the associated tool.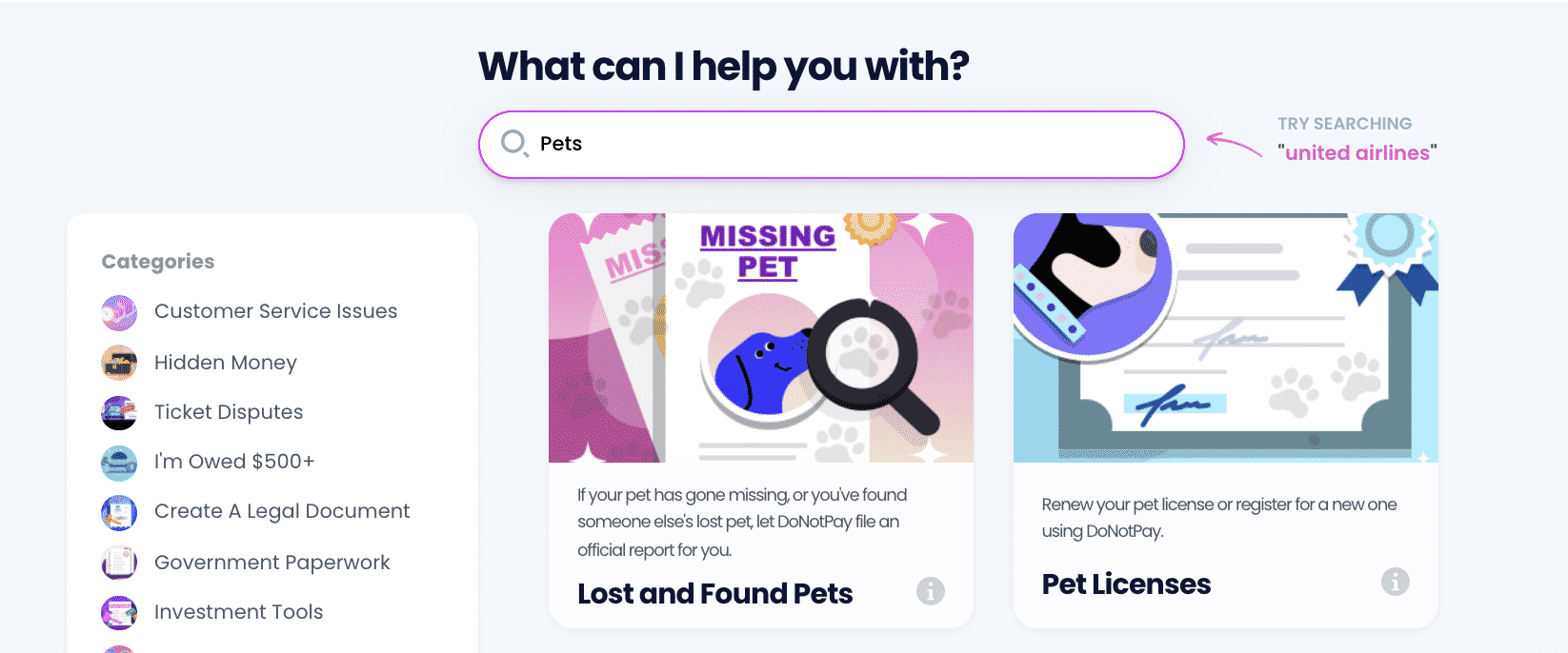 2. Then following the prompts, report the time, location, and exact detail to the best of your knowledge of the situation that has led you to believe there is animal cruelty afoot.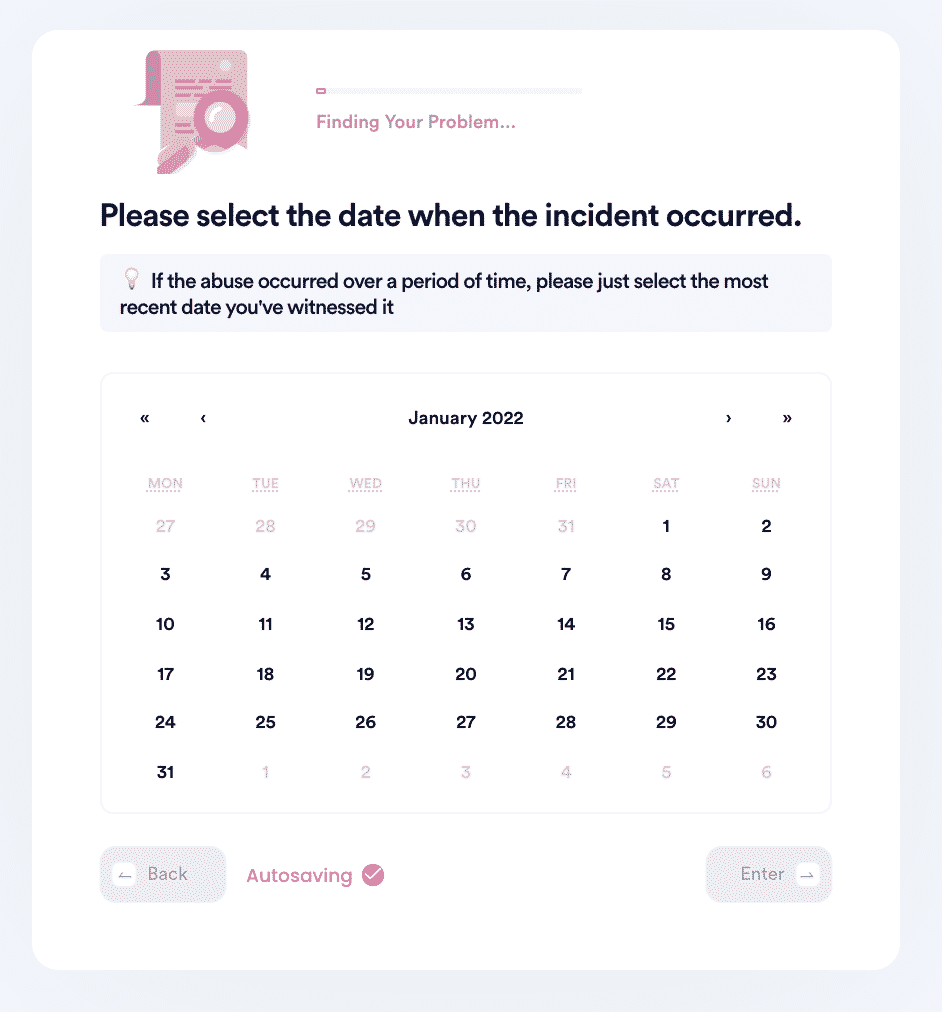 3. Upload an image to build your case and include your contact information for the authorities to get back to you about your report.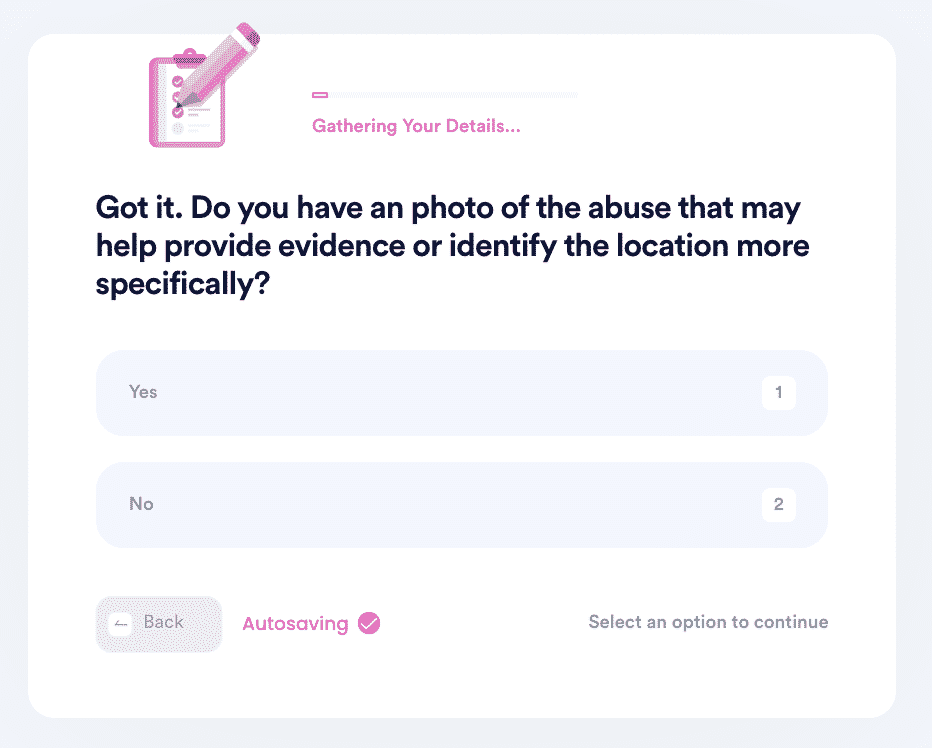 And that's it! DoNotPay will file the report on your behalf, getting animals out of harm's way.
Why Use DoNotPay to Report Animal Abuse in North Carolina
It can be challenging to find the best place to report animal abuse. Instead, you should let DoNotPay do it for you for several reasons.
It's fast - You only spend a little bit of time entering information.
It's simple - You enter information, and we do the rest.
It's successful - You can rest assured that DoNotPay will file your animal abuse report.
DoNotPay Works Across All Entities With the Click of a Button
DoNotPay can provide information on subjects related to animal abuse, not just in North Carolina, but across all states, for example:
Understanding the job of an animal cruelty investigator

Report animal abuse in Texas

and more.
What Else Can DoNotPay Do?
Helping file an animal abuse report is just the start of what DoNotPay can do for you. Here are some more examples of tasks we can assist with.
Conclusion
Animals are a huge part of our world, but some people don't treat them the way they should. If you witness an act of animal abuse/cruelty, it's important to let the proper authorities know. In North Carolina, this means filling out a form, calling a hotline, or reporting it to a local animal control center/shelter.
If you don't want to handle the report on your own, DoNotPay can gather information from you and fill out a report on your behalf. Reach out today to see how we can help you with animal abuse reports, among other things.