How to Contact the Arkansas Animal Cruelty Hotline
When it comes to companionship, there is no companion more loyal than a dog or a cat. They help lower anxiety, depression, and they help with loneliness. Unfortunately, there are people in the world who abuse such animals every day.
It's a good thing that there are more people who want to help when they see animals being harmed. However, it can be hard to know where to begin to report the incident to the proper authorities. Let DoNotPay help you report animal abuse in Arkansas via the animal cruelty hotline and .
Is Animal Abuse a Crime?
In most states, animal abuse is a crime punishable by fines and/or jail time and most cases are handled at the state or local level. The state laws are different from state to state, but there are some crimes that are punishable at the federal level.
According to the Animal Legal Defense Fund, the PACT (Preventing Animal Cruelty and Torture) Act became law in 2019. It states that some of the most egregious forms of animal cruelty — specifically crushing, burning, drowning, suffocating, impaling or sexual exploitation — in or affecting interstate commerce or within the territorial jurisdiction of the United States is a federal crime.
Animal Abuse Regulations in Arkansas
While specific criteria on what constitutes animal abuse vary per state, there are general examples of what animal cruelty looks like. These include:
Injuring or killing an animal
Inflicting harm, including beating, kicking, stabbing, burning, or shooting an animal
Neglect, including deprivation of food, water, shelter, and medical treatment
Some other examples of animal abuse include:
leaving a pet in a hot car during the summer or tethered outside
the presence of fleas and ticks on the animal's coat
bones protruding from the body
How to Report Animal Abuse in Arkansas
The state of Arkansas has several different venues for depending on the location of the abuse. Below is a list of some different organizations to contact.
How to Report Animal Abuse in Arkansas on Your Own
When you have determined which agency to contact, there are a few pieces of information you should have prepared to give. You should note the date and time of the abuse, who was doing the abuse (a description of the person and any distinguishing characteristics if you can't get their name), a description of the animal, and the nature of the abuse.
When reporting the abuse, you will likely need to furnish your own information in case the investigating officer has additional questions or needs some additional information.
As you can see, this can be a rather involved task and can take a considerable amount of time.
Next Steps For Reporting Animal Abuse In Arkansas If You Can't Do It Yourself
Reporting animal abuse is easy and effective with DoNotPay. Here's how you can use DoNotPay to report animal cruelty:
1. Search "Report Animal Abuse" on DoNotPay, and select the associated tool.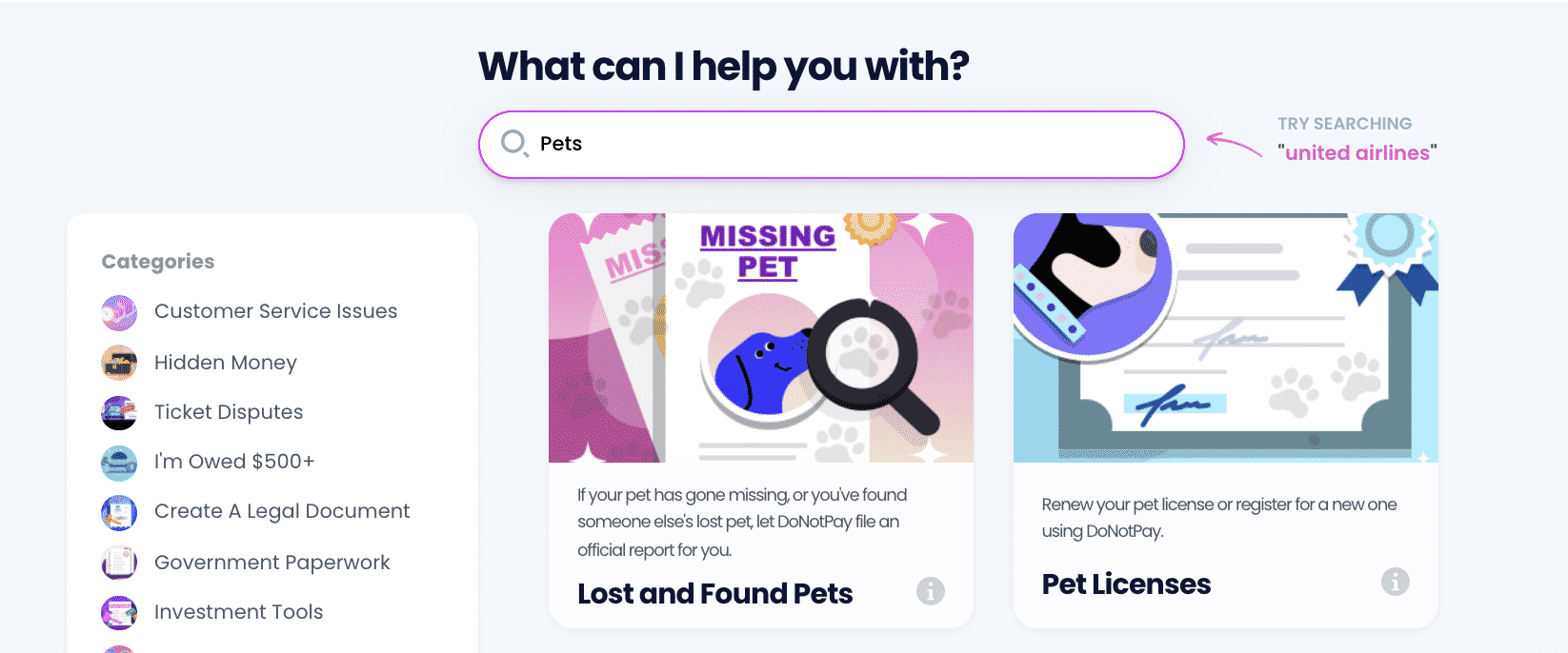 2. Then following the prompts, report the time, location, and exact detail to the best of your knowledge of the situation that has led you to believe there is animal cruelty afoot.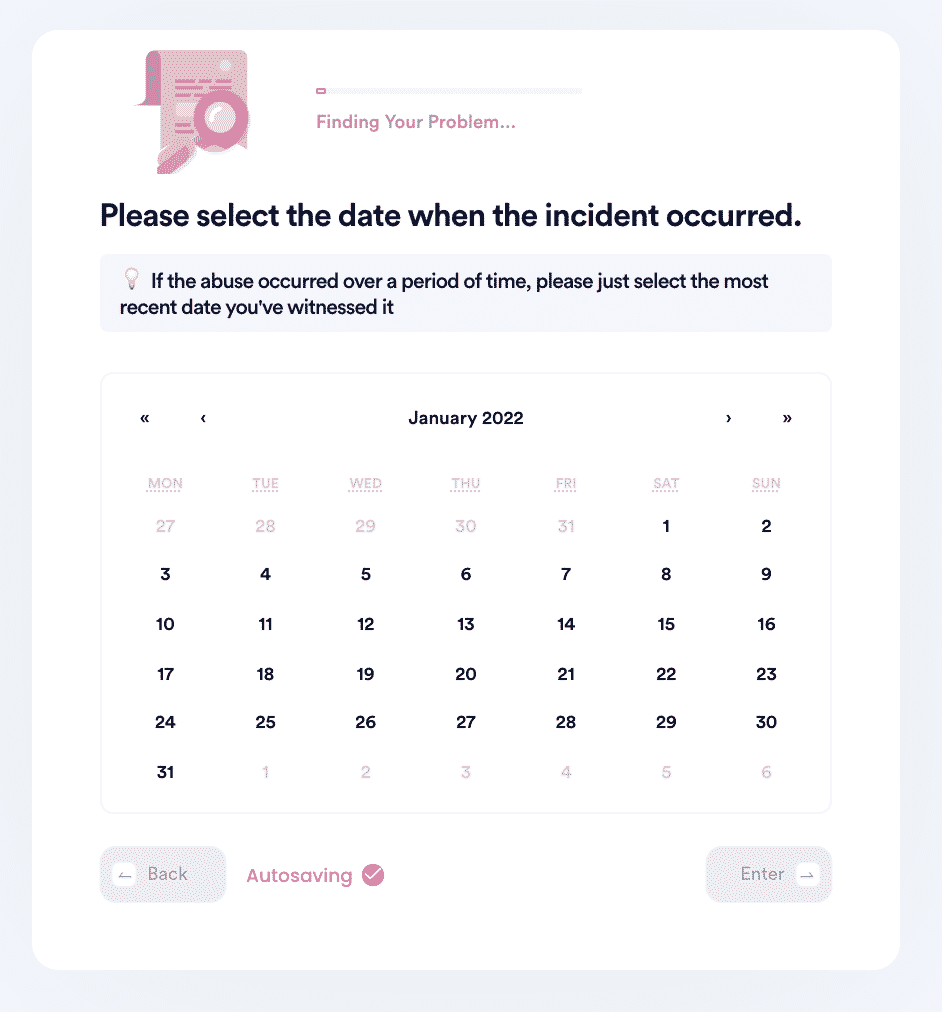 3. Upload an image to build your case and include your contact information for the authorities to get back to you about your report.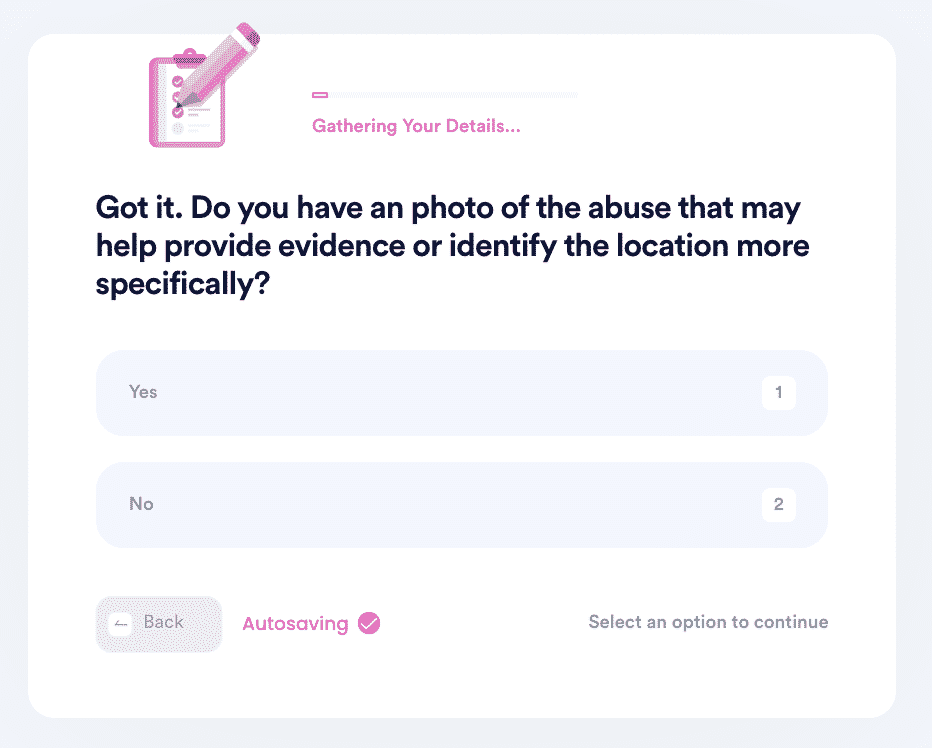 And that's it! DoNotPay will file the report on your behalf, getting animals out of harm's way.
DoNotPay Works Across Many States with the Click of a Button
Whether you live in Arkansas or another state in the US, we can help with animal abuse cases including Los Angeles City, New York City, and all across Texas.
In addition to reporting animal abuse in Arkansas, DoNotPay can help with:
Pet Custody Agreement
Lost and Found Pets
Pet Licenses
What Else Can DoNotPay Do?
More than pet-related problems, DoNotPay can help you with:
Regardless of where they are, animals rely on us to be their voice when they face abuse or neglect. It is everyone's responsibility to speak up for them when they are not getting the care they deserve. Let help you take a stand against animal abuse.