PETA: Report Animal Abuse and Save Lives
PETA stands for People for the Ethical Treatment of Animals. They are an internationally known nonprofit organization whose mission is to advocate for, just what their name suggests, the . PETA really stands out as they advocate for animals in every situation where animals and people coexist.
DoNotPay is a resource to connect you with PETA as well as the authorities, who will investigate reports of animal abuse.
How Does PETA Advocate Against Animal Abuse?
PETA spends a lot of their time educating the public about whom, where, and when animal abuse is occurring. They also let us know what constitutes the abuse of animals. PETA brings attention to the vulnerability of animals when people are engaging with them.
PETA provides an opportunity for those who see animal abuse in any context to report it. They want to be notified of abuse, so they can expose the abuse, increase awareness of the problem of animal cruelty, and encourage others to advocate for improved conditions for all animals.
PETA seeks reporting in all circumstances, including:
Animal abuse in film and television
Animal research in laboratories
General public observations of abuse
PETA also provides an opportunity for those in positions where they are  because of threats of harm to themselves, or those with a variety of confidentiality agreements. They have a whistleblower and a confidential reporting hotline.
Get to Know Other Animal Rights Organizations Involved With Protecting Them From Abuse
PETA is a well-known international organization, but they are not alone in the quest to prevent animal abuses and provide resources to protect them. Here are some of them:
Agency
Address
Contact Details
Humane Society of the United States

The agency has been influential in closing down abusive puppy mills.

1255 23rd St. NW, Suite 450

Washington, DC 20037

Call 202-452-1100

or 866-720-2676

American Society for the Prevention of Cruelty to Animals

The organization is a great partner in the battle to protect and save animals from harm's way.

424 E. 92nd St

New York, NY 10128-6804

In New York City:

Call 311 (or 911 for crimes in progress)

Outside NYC: Visit the Report Animal Cruelty page.

Animal Legal Defense Fund

The organization fights animal cruelty in the courts. They file lawsuits against perpetrators of abuse and the systems that support the maltreatment of animals.

National Headquarters

525 East Cotati Avenue, Cotati, CA 94931

Call  707-795-2533

or send an email
Contact these organizations directly or through DoNotPay to support the cause of animal rights to be free from abuse.
How to Use DoNotPay to Report Animal Abuse to Authorities
Here's how you can use DoNotPay to report animal cruelty to authorities:
1. Search "Report Animal Abuse" on DoNotPay, and select the associated tool.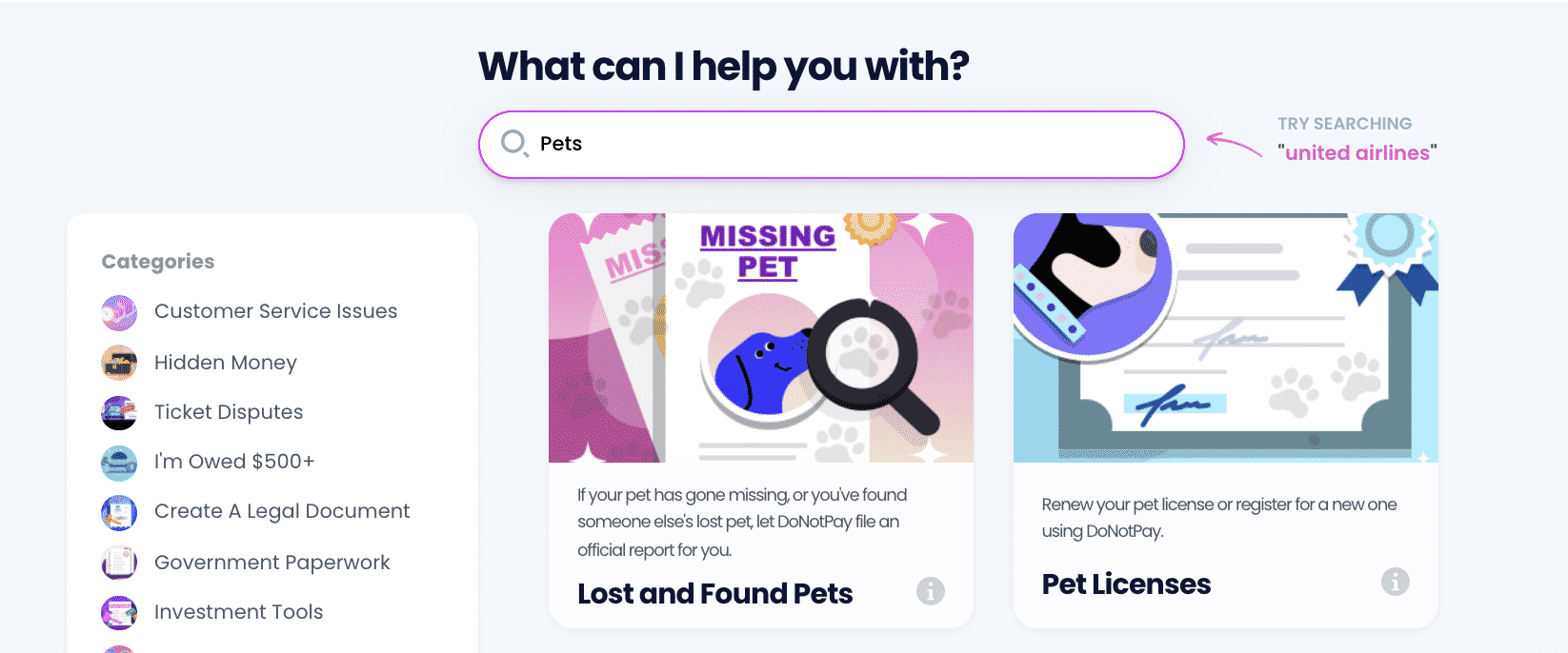 2. Then following the prompts, report the time, location, and exact detail to the best of your knowledge of the situation that has led you to believe there is animal cruelty afoot.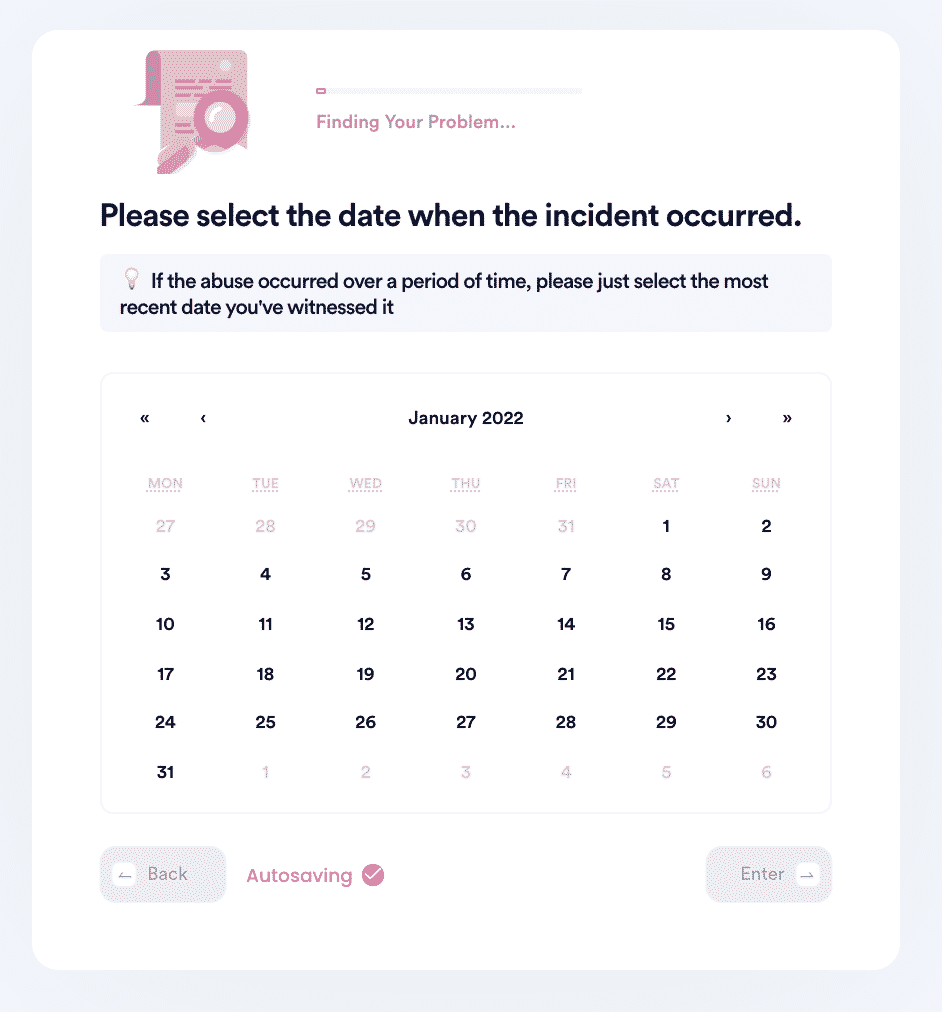 3. Upload an image to build your case and include your contact information for the authorities to get back to you about your report.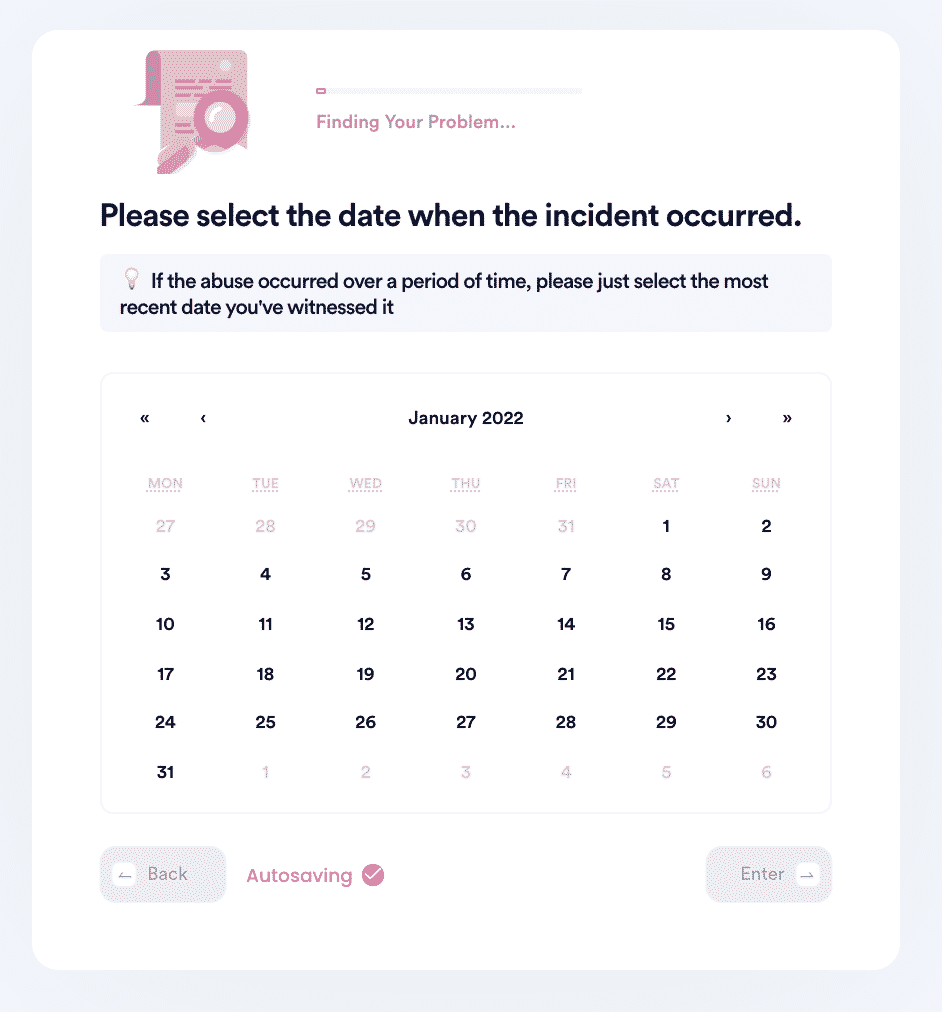 It doesn't get more convenient than this.
Why Use DoNotPay to Contact PETA about Animal Abuse
DoNotPay provides the connections you need to find out about PETA and its efforts to prevent animal abuse. The reasons you are contacting PETA may include reporting abuse. All of the contacts are available directly through DoNotPay.
There are fewer steps using DoNotPay than any other source. This is why DoNotPay is worth using:
It's fast. No need to take extra time to get the information you need.
It's easy. Any forms you need to fill out are already done for you.
It's successful every time. You will get it done, all in one place.
Report Animal Abuse in Any Jurisdiction with DoNotPay
Animal abuse can be reported anywhere. DoNotPay provides links for every community. The app searches for the reporting process and connects the user immediately.
DoNotPay Also Helps Users Connect with Other Pet- Related Sites
Pet owners are often looking for information and resources to take care of their feline and canine family members. There are great resources on DoNotPay to help find the answers to many questions like these:
These are all important concerns pet owners have. DoNotPay is here to help.
What Else Can DoNotPay Do?
DoNotPay can do all kinds of things. Why not do all these things in one convenient place?
There are many more solutions like these available with DoNotPay. Sign up today.