Need to Report Animal Abuse in Austin? DoNotPay Can Help You File a Report
It's heartbreaking to witness animal abuse. Whether it's a domestic violence situation, where the abuser abuses the animals too, which happens in more than 70 percent of the cases, or a person you know in a hoarding situation with more animals than they can take care of and keep in good health.
You know that you need to that you saw, but you aren't sure how to do it. There are ways that you can report animal cruelty on your own, but it might take a lot of time, and you're worried about the suffering animal. DoNotPay is ready to help you report the abuse you witnessed now.
Is Animal Abuse a Crime in Austin?
Since Austin is in Texas, the Texas state laws are applied in reports of animal abuse in the area. It's considered a felony to abuse an animal in Texas, and if someone is found guilty, they can be sentenced to up to 10 years in prison along with a fine of up to $10,000.
When the abuser is a child or minor, the courts will mandate counseling. Neglecting an animal in Austin and in Texas is a misdemeanor offense until a person reaches their third offense when it becomes a felony.
What Is Considered Animal Abuse in Austin?
Before you take the time to report , you want to make sure it's considered abuse or cruelty. Each case is different, but there are some actions that are clearly abuse or neglect. This list can get you started:
Dogfighting
Hitting or kicking an animal
Anything that causes harm or pain
Shooting
Killing
General neglect:
Not providing shelter for an outside pet
Not providing sufficient food and safe drinking water
Not taking the animal to the vet for needed medical care
How to Report Animal Abuse to an Animal Shelter in Austin
There are a few places in Austin where you can report local animal abuse. Here are a few to contact:
| | | |
| --- | --- | --- |
| Shelter | Address | Phone Number |
| Austin Animal Center | 7201 Levander Loop, Austin, TX 78702 | (512) 974-2000 |
| Austin Humane Society | (512) 646-7387 | (512) 646-7387 |
| Humane Society SPCA | 124 W Anderson Ln, Austin, TX 78752 | (512) 646-7387 |
| Travis County Animal Control Services | | (512) 974-2000 |
Report Animal Cruelty to Interest Groups/NGOs
There are additional steps that you can take after reporting animal abuse in Austin. Some national animal rights groups are happy to get involved with local causes, and they can provide additional support and resources to your local animal shelter with tough cases. Here are some to contact:
How to Report Animal Abuse in Austin by Yourself
It's possible to report animal abuse in Austin by yourself, but it might be confusing. You first need to identify the animal control services department that covers the area where you witnessed the abuse. When you contact them by phone or go to their location, they can advise you on the details of filing your report.
Solve the Challenges of Filing the Report of Animal Abuse in Austin With the Help of DoNotPay
When you need to report animal abuse in Austin, you know that every moment that you delay causes suffering for an animal. You might find yourself spinning your wheels and growing frustrated when you try to report animal abuse in Austin by yourself. It's time to let the DoNotPay app make quick work of the task.
Here's how you can use DoNotPay to report animal cruelty:
1. Search "Report Animal Abuse" on DoNotPay, and select the associated tool.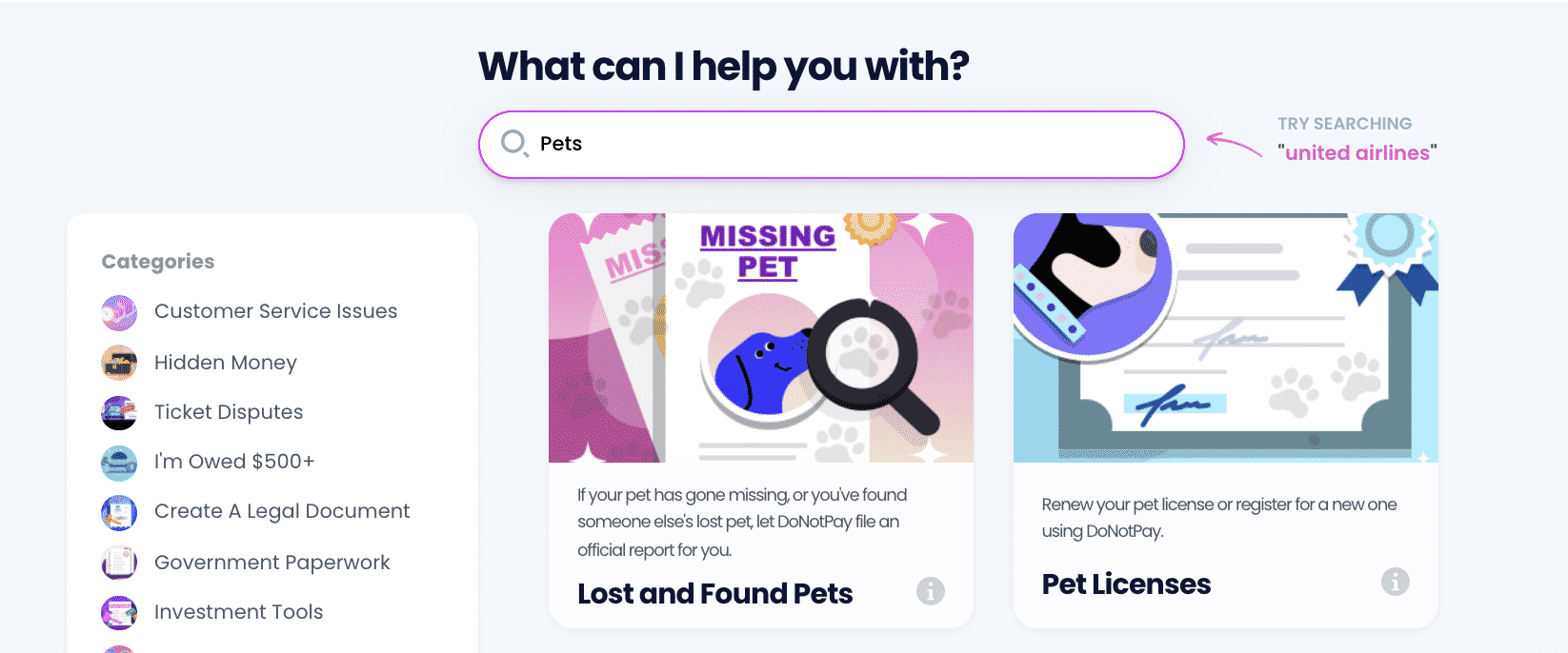 2. Then following the prompts, report the time, location, and exact detail to the best of your knowledge of the situation that has led you to believe there is animal cruelty afoot.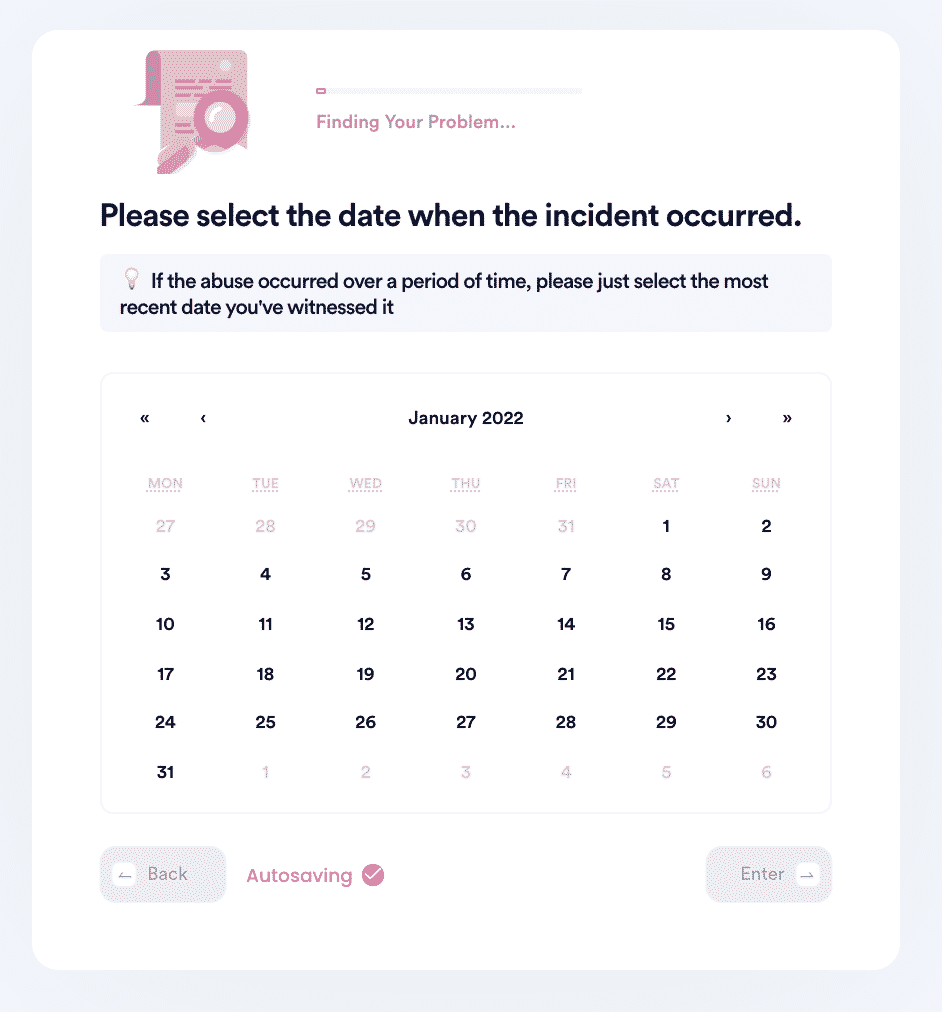 3. Upload an image to build your case and include your contact information for the authorities to get back to you about your report.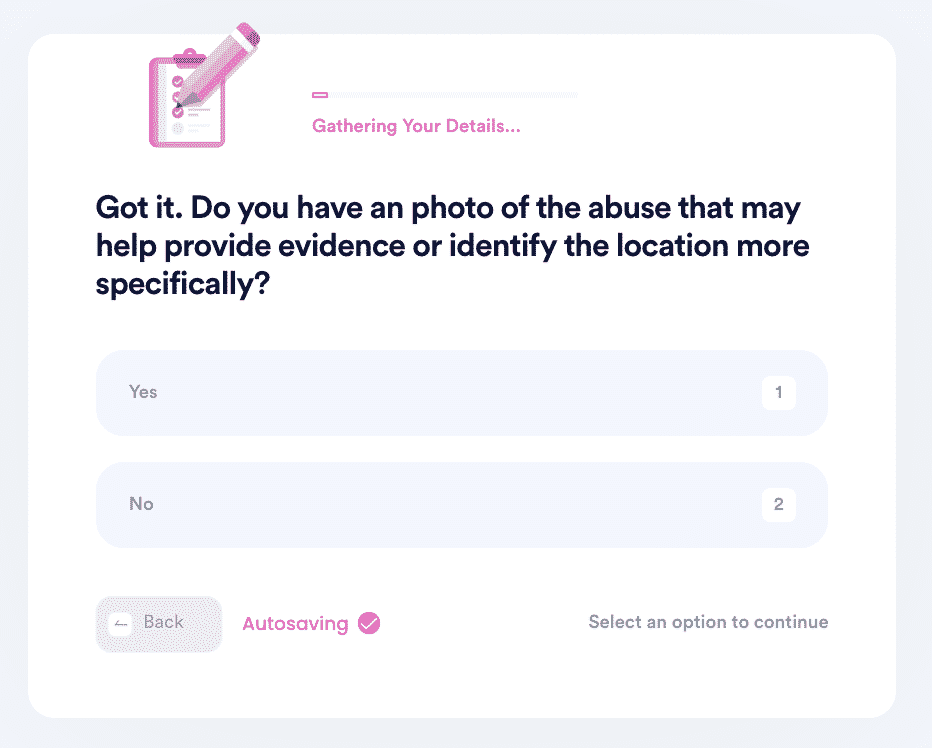 And that's it! DoNotPay will file the report on your behalf, getting animals out of harm's way.
​​Why Use DoNotPay to Solve the Challenges of Filing the Report of Animal Abuse in Austin
Did you witness animal abuse in Austin? Unsure of how to report it? Here are three reasons to use the DoNotPay app to report it:
It's fast.
It's successful.
It's easy.
DoNotPay Works Across All Entities With the Click of a Button
Animal abuse happens everywhere, and you might witness it in a variety of locations or have questions about the process. The DoNotPay app is ready to help you learn more about reporting animal abuse and beyond. Here are some topics to consider.
Understand the job of an animal cruelty investigator

General guidelines on reporting animal abuse
What Else Can DoNotPay Do?
DoNotPay helps you with a variety of everyday and unique chores. Try these out:
Use the DoNotPay app to file a report of animal abuse in Austin today.