Report Animal Abuse in Illinois Quickly With DoNotPay
Animal abuse is a tragedy, and across the United States, it is taken very seriously in a court of law. Before animal abusers can be held accountable for their actions, however, good citizens who witness animal abuse are responsible for reporting it to the authorities. If you live in Illinois and have concerns about animal abuse, you will need to know how to file a report.
This guide will help you understand what constitutes animal abuse and how to report animal abuse in Illinois. While you can report animal abuse cases to the local authorities, such as your nearest animal shelter or animal control unit, the fastest solution for filing an animal abuse report in Illinois is with .
Is Animal Abuse a Crime in Illinois?
is a crime in the state of Illinois, and it is taken very seriously. As described by the Humane Care of Animals Act from Illinois, all of the following acts constitute animal abuse:
Poisoning animals on purpose.
Beating, tormenting, starving, or overworking any domestic or wild animal.
Abandoning an animal to the elements, where it could end up under the charge of animal control.
Leaving pets in conditions that expose them to extreme heat or cold.
Additionally, animal owners in Illinois are duty-bound to take good care of their animals. Owners must provide food, water, and adequate shelter for their pets, as well as humane veterinary care. Animal abuse in Illinois is usually considered to be a misdemeanor, but the charge could be upgraded to a felony if the offender has a history of animal abuse or if the cruelty was found to be intentional.
Where to Report Animal Abuse in Illinois
If you suspect that someone is being unkind to animals, there are ways to file a report for animal abuse in Illinois on your own. One way to report animal abuse in Illinois is to contact shelters in your area. A few of the top animal shelters in Illinois include:
You can also file a report for animal abuse through special interest groups, such as PETA.
How to Report Animal Abuse in Illinois on Your Own
If you need to report a case of animal abuse in Illinois, here's how to do it on your own:
Contact your nearest shelter or animal control agency.
Most animal control agencies and shelters have the necessary resources to pursue cases of animal cruelty on their own. You can also contact your local law enforcement agency if you see animal abuse in Illinois. Once you contact law enforcement, an officer will be assigned to the case, and he will investigate the incident to find out if animal abuse really occurred.
Provide as many details as you can.
When filing an animal abuse report in Illinois, be prepared to offer as much information as possible. If you can provide dates, descriptions of incidents, and other details, the animal control officer will have more to work with. You might also decide to provide your contact information, including your phone number and email address, although you do have the option to file an animal abuse report anonymously.
Be available to follow up with more information.
After you have filed your Illinois animal abuse report, the officer or shelter personnel will take it from there. However, you should expect to hear back from the officer at some point during the investigation, either to verify the information that you provided or to follow up on what happened. In many cases of animal abuse, the animal will be removed from the offending owner immediately, especially if abuse or neglect is apparent.
While it is every animal lover's duty to report animal abuse when it is suspected, it can also be time-consuming to track down local shelters or animal control agencies.
Use DoNotPay to Report Animal Abuse in Illinois
DoNotPay is the best way to report animal abuse in Illinois, offering you a quick and convenient way to alert authorities to animal abuse incidents.
Here's how you can use DoNotPay to report animal cruelty:
1. Search "Report Animal Abuse" on DoNotPay, and select the associated tool.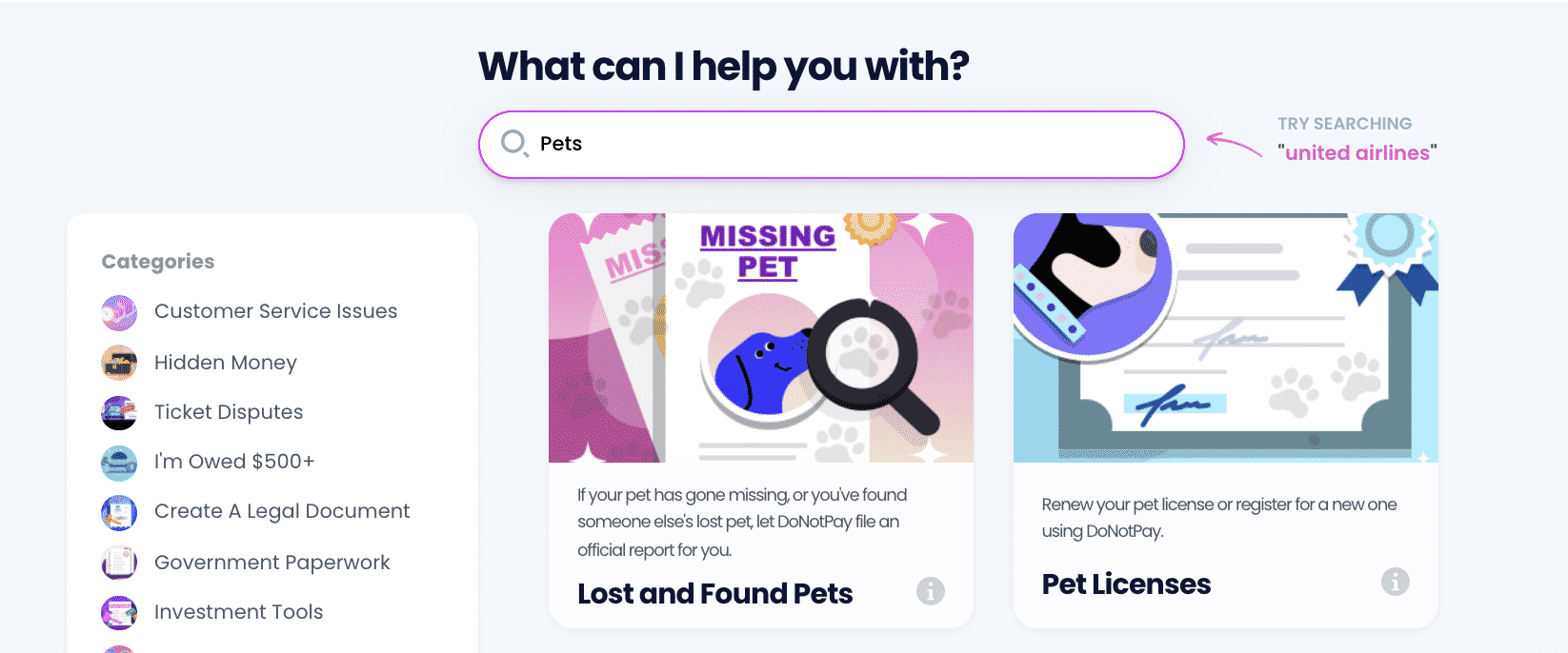 2. Then following the prompts, report the time, location, and exact detail to the best of your knowledge of the situation that has led you to believe there is animal cruelty afoot.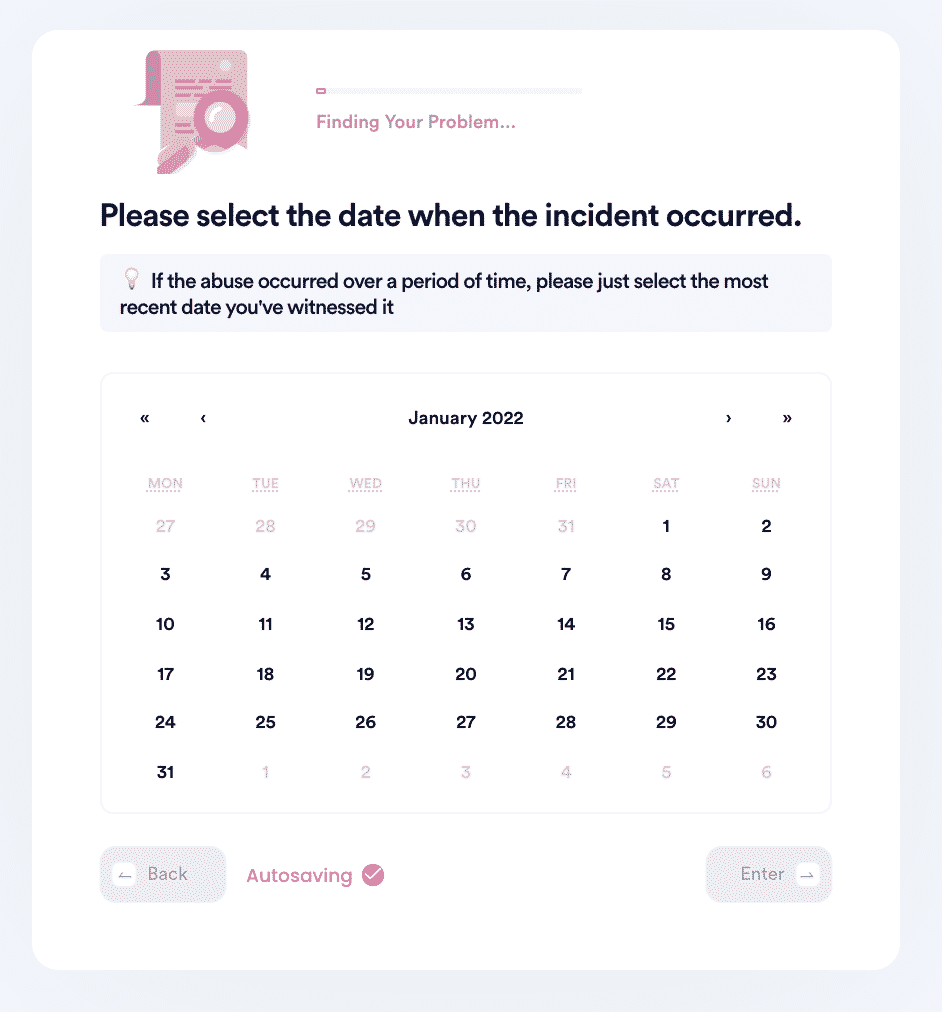 3. Upload an image to build your case and include your contact information for the authorities to get back to you about your report.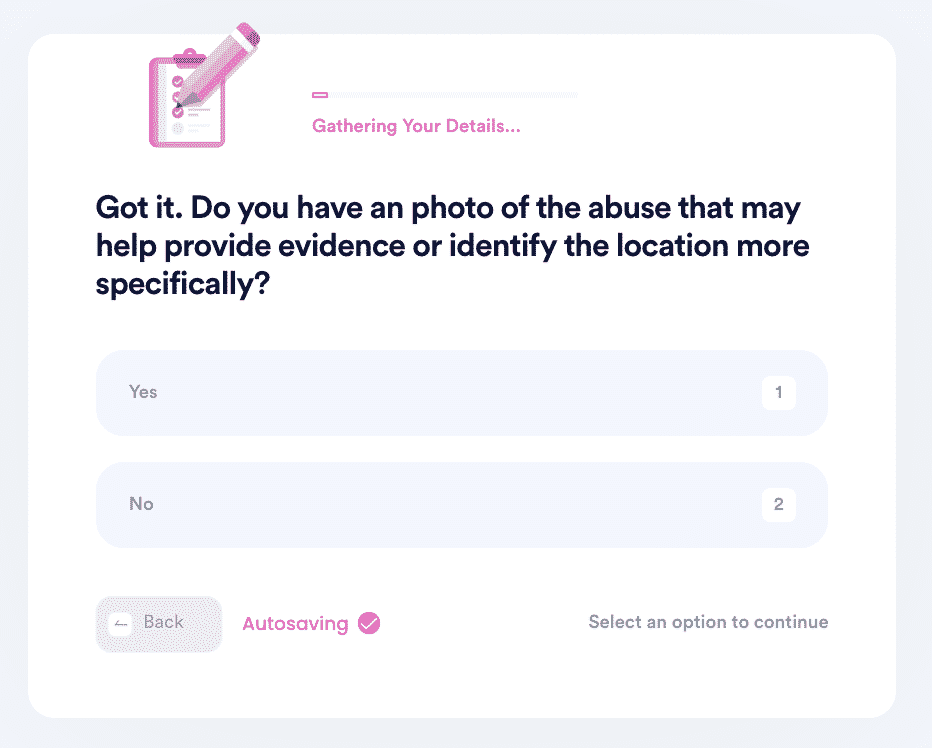 And that's it! DoNotPay will file the report on your behalf, getting animals out of harm's way.
DoNotPay Works Across All States With the Click of a Button
With DoNotPay, you can report animal abuse not only in Illinois, but also across other states such as Los Angeles, Texas, and New York City.
Why You Should Use DoNotPay to Report Animal Abuse
DoNotPay is the fast, easy, successful way to report animal abuse in Illinois. You don't have to spend hours online or on the phone, trying to find the appropriate animal control agency. With DoNotPay, it's easy to file a report with just a few simple steps, and help defenseless animals get out of harm's way.
What Else Can DoNotPay Do?
DoNotPay can help you with more than filing animal abuse reports. Here are other ways DoNotPay can assist you.
today!