How To Get Your PA Fishing License In A Breeze
Pennsylvania holds the magnificent Lake Erie within its borders, where 1.5 million catches are made each year. Near State College, Spring Creek is widely known as "Fisher's Paradise". The state has even more breathtaking lakes to visit, but you won't be able to fish without a PA fishing license.
As with many things, you can quickly buy a fishing license online. However, the process is exhausting enough that many aspiring anglers struggle to complete their purchases. If you just need a PA fishing license with no unwanted stress, DoNotPay is the way to go.
What Kinds of PA Fishing Licenses Are Available?
Both PA residents and non-residents are allowed to get an annual fishing license or a multi-year one that renews automatically. Senior licenses are available for discounted rates.
Youth fishing licenses are also for minors, but they're not required for most recreational fishing trips. You also need a special fishing license to catch trout or angling in Lake Erie.
PA residents aren't required to have a separate saltwater fishing license as long as they have an existing PA fishing license. No matter what type of license you have, you're required to keep it with you at all times while fishing.
How Much Does Each PA Fishing License Cost?
Licensing costs vary depending on the type of license you need. The costs for an annual, non-renewing PA fishing license are:
| | |
| --- | --- |
| Residents aged 16-64 | $22.97 |
| Seniors | $11.97 |
| Non-residents | $52.97 |
| Non-residents (Students) | $22.97 |
| One-day license (residents only) | $11.97 |
| Tourist pass up to seven days | $34.97 |
| Both a trout permit or Lake Erie permit | $9.97, (can be purchased together for $15.97) |
How to Get a PA Fishing License by Yourself
Anyone looking to get a PA fishing license will have to provide a state I.D. and their social security number. If you know which fishing license you need, there are three ways to purchase one:
In-Person. There are more than 700 hardware or sporting goods stores throughout the state where you can walk in and buy a fishing license. You can also buy one at a Walmart, as long as it has an outdoors section.
Over the Phone. You can also contact the Fish and Boat Commission directly at 877-707-4085. However, you can only call in on weekdays between 8 a.m.-3:45 p.m.
In-App or Online. You can purchase any type of fishing license on the commission's website or via the free fishing license app. You'll have to make an account first before buying your license.
Although many stores are authorized to give out fishing licenses, finding one in your area can still be hard. Those who live in rural areas, where fishing is more common, may have to travel for miles to get one!
In that case, it's easier to get your license online. However, the website will ask you if you're interested in purchasing even more products while you're trying to check out! This can be annoying, plus it draws out the licensing process!
Trying to complete your information by phone can be even more troublesome because of the limited support hours. Additionally, many people feel uneasy providing their social security numbers over the phone.
Because of such a troublesome process, many people go fishing without a license. This is illegal and subject to a fine of up to $12,000!
Even if it's just your first offense, you'll be charged at least $5 for every fish caught. If it's a protected species, you may have to pay closer to $1,000. Failure to pay these fines could land you in jail!
Buying a PA Fishing License Faster With DoNotPay
Fishing provides hours of fun, but getting a license beforehand is less exciting. If the three conventional methods aren't working for you, DoNotPay is the easiest solution!
If you want to get your fishing license but don't know where to start, DoNotPay has you covered in 3 easy steps:
1. Search "fishing license" on DoNotPay and select the state you would like a fishing license for.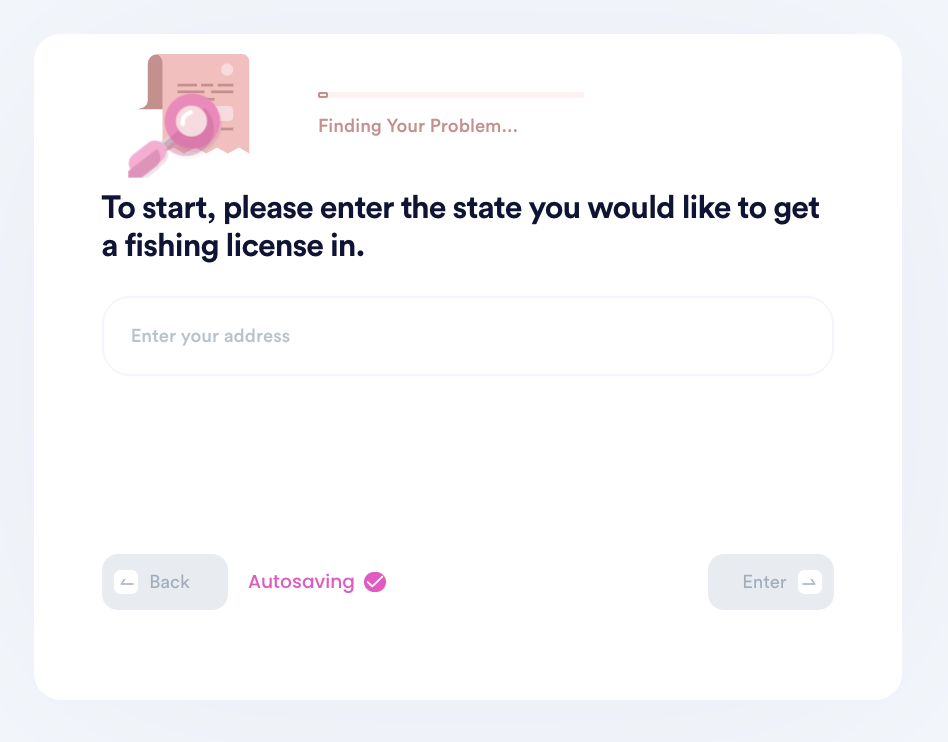 2. Indicate whether you are a resident or non-resident, and choose the type of license you want. For example, saltwater vs. freshwater license, three-day only pass, and more.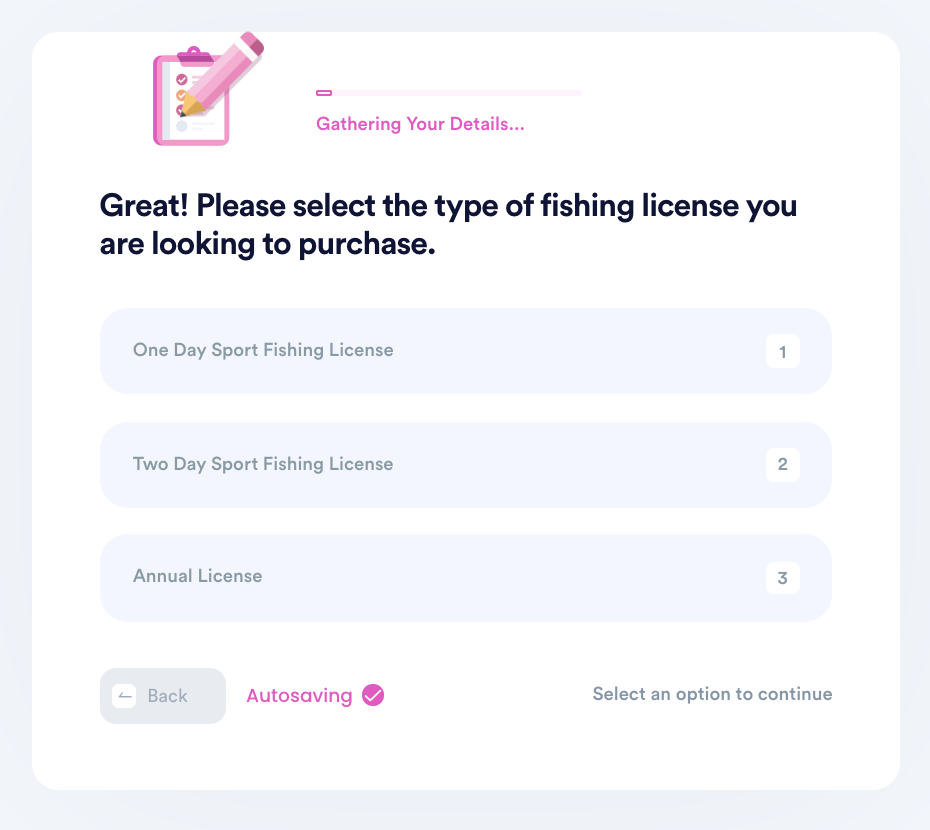 3. Provide your contact information, a copy of your government-issued ID, and pay the fee required by the state.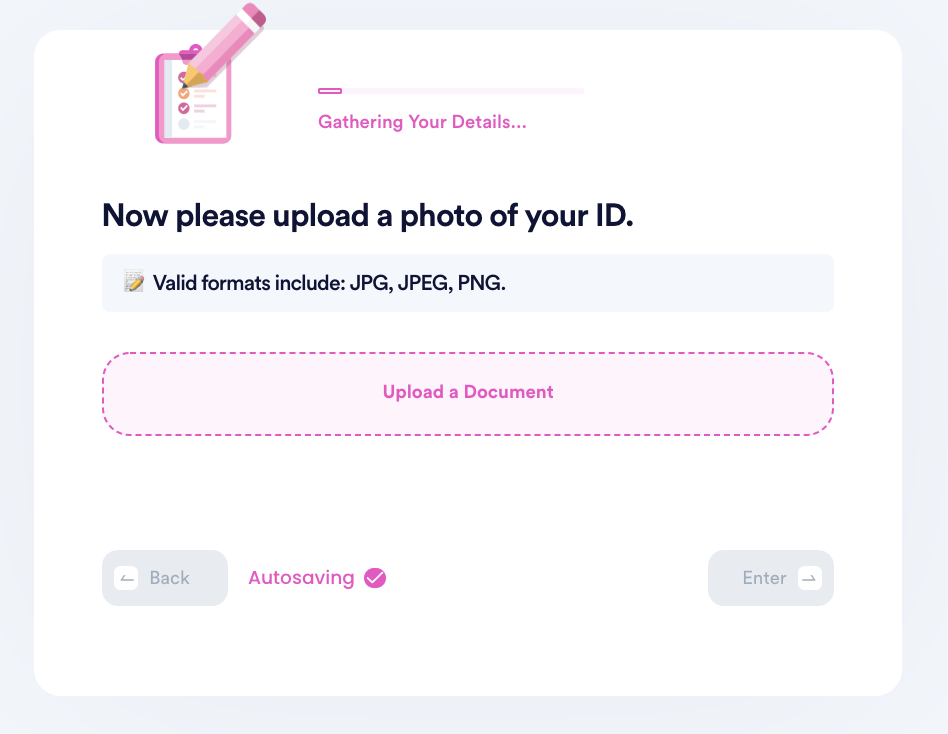 Like any other DoNotPay product, our fishing licensing page was created using three major components:
Speed - you get your license in seconds!
Simplicity - no more handling confusing forms by yourself!
Effectiveness - DoNotPay works directly with game commissioners, so you always get a legitimate product!
DoNotPay Assists With Many Permits and Licenses
DoNotPay doesn't just do business in Pennsylvania! We can help you get fishing and hunting permits or licenses in every U.S. state. 
We can also provide driver's licensing services online or help you schedule DMV appointments. Some permits require additional legal documentation to get… another service we provide!
Can DoNotPay Help Me With Anything Else?
Absolutely! No job is too complicated for DoNotPay. We also provide assistance with: