How to Get a Lake Havasu Fishing License
Arizona has a remarkable number of outstanding fishing choices. From city lakes to Lake Havasu, the Colorado River, and streams high in the White Mountains, you are sure to tickle your angling fancy. Ready to go on that fishing trip? To fish in Lake Havasu, you'll need a fishing license. Purchasing a fishing license is simple, quick, and directly contributes to lake conservation initiatives. In most states, fishing licenses can be obtained online, over the phone, or in person.
Did you know that there were about 29.24 million paid fishing license bearers in the U.S. in 2021? Fishing licenses aren't cheap though — on average, a costs roughly $25 per year, while non-resident licenses cost $60 to $70. (Sometimes clocking the triple digits). In fact, a fishing license is required in every state in the United States and the District of Columbia. DoNotPay can easily facilitate your fishing license process.
Who is Eligible to Get a Fishing License?
To fish in Arizona's public waters, all anglers aged 10 and above, both resident and non-resident, must have a license. Anglers under the age of ten and blind citizens of the state are exempt from purchasing a license. Residents aged 70 years and older who have resided in Arizona for 25 consecutive years before filing may be . Disabled veterans who are residents of Arizona and have proof of total disability may also be eligible for a free license.
What are the Different Types of Fishing Licenses?
1. General Fishing License
This license covers all types of fishing activities. All anglers, both residents and non-residents, must have a general license.
2. Combo Hunt & Fish License
A combo hunt and fish license is the ideal choice if you want to go hunting and fishing concurrently.
3. Short-term Combo Hunt & Fish License
If you wish to pay for your license daily and your fishing trip is only a few days long, a short-term combo hunt & fish license is the way to go.
4. Youth Combo Hunt & Fish License
This license combines hunting and fishing and is available for young adults.
5. Complimentary Licenses
Disabled Veteran License - To be eligible, a person must have a certificate from the Department Of Veterans affairs certifying lifelong service-connected impairments that are 100 percent debilitating, as well as one or more years of genuine Arizona residency just before applying for a license.

Pioneer License - This gratis license is valid for a lifetime without renewal for pioneers who are seventy years and older and have lived in Arizona for 25 years or more.
6. Lifetime Licenses
Arizona's lifetime universal hunting and fishing license scheme is a once-in-a-lifetime chance for residents to contribute to the long-term financing of the state's wildlife conservation efforts. Only Arizona citizens are eligible for lifetime licenses. The cost varies depending on the type of license and the age of the applicant.
Fishing License Costs in Lake Havasu
| | | |
| --- | --- | --- |
| License Type | Resident | Non-Resident |
| General Fishing | $37.00 | $55.00 |
| Combo Hunt & Fish | $57.00 | $160.00 |
| Youth Combo Hunt & Fish | $5.00 | $5.00 |
| Short-Term Combo Hunt & Fish | $15.00 for a day | $20.00 for a day |
How to Get the Lake Havasu Fishing License by Yourself
There are several avenues for acquiring a Lake Havasu fishing license. The most convenient way to obtain a license is to purchase from the Arizona Game and Fish Department's online store. You can also purchase a fishing license in person at their office or an authorized fishing license dealer such as an outdoor sports store or tackle shop. Maneuvering the licensing process and picking out the best license for yourself may get hectic, especially if you are in a rush for the holiday.
How to Replace Lost Licenses?
If your license is misplaced or stolen, you can get it reissued at any Arizona Game and Fish Department license dealer for a charge. Before a duplicate license can be issued, an affidavit is necessary to certify that you acquired an original license. It's worth noting that those who bought their licenses from department offices can have them reissued at any moment for no additional charge.
How to Get Your Fishing License Using DoNotPay:
If you want to get your fishing license but don't know where to start, DoNotPay has you covered in 3 easy steps:
1. Search "fishing license" on DoNotPay and select the state you would like a fishing license for.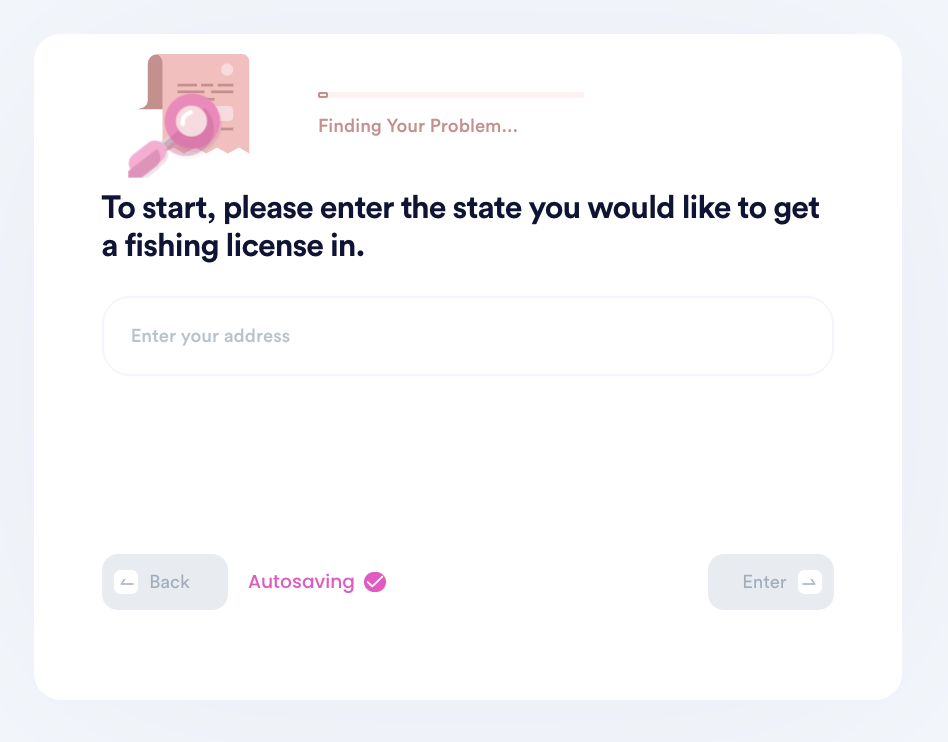 2. Indicate whether you are a resident or non-resident, and choose the type of license you want. For example, saltwater vs. freshwater license, three-day only pass, and more.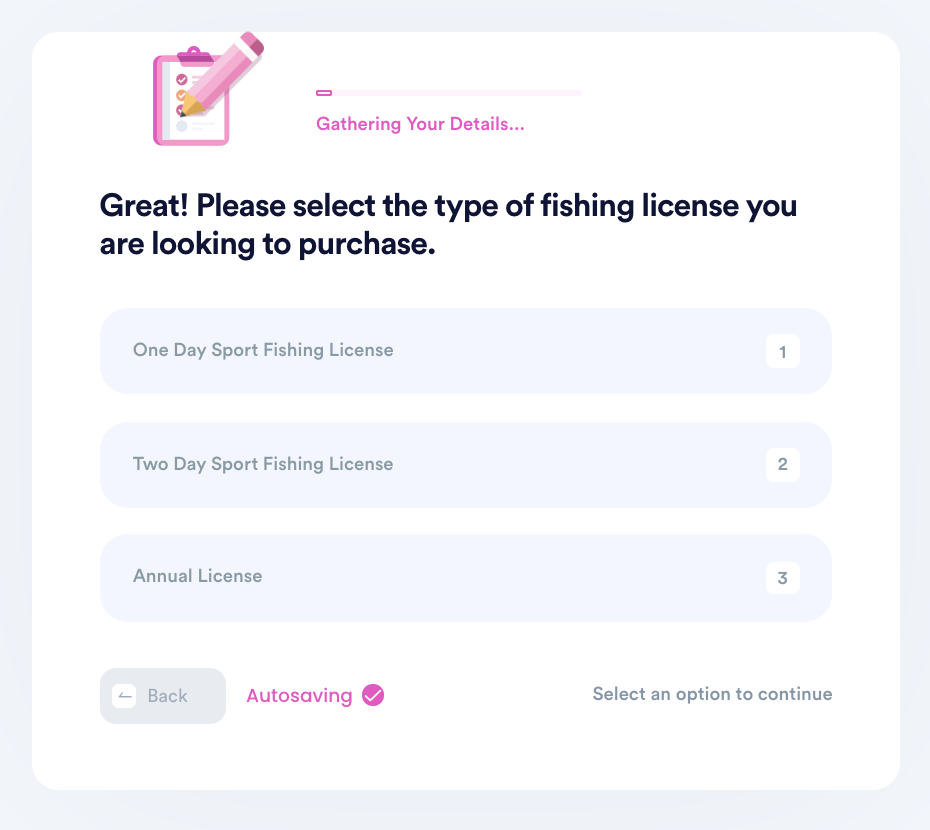 3. Provide your contact information, a copy of your government-issued ID, and pay the fee required by the state.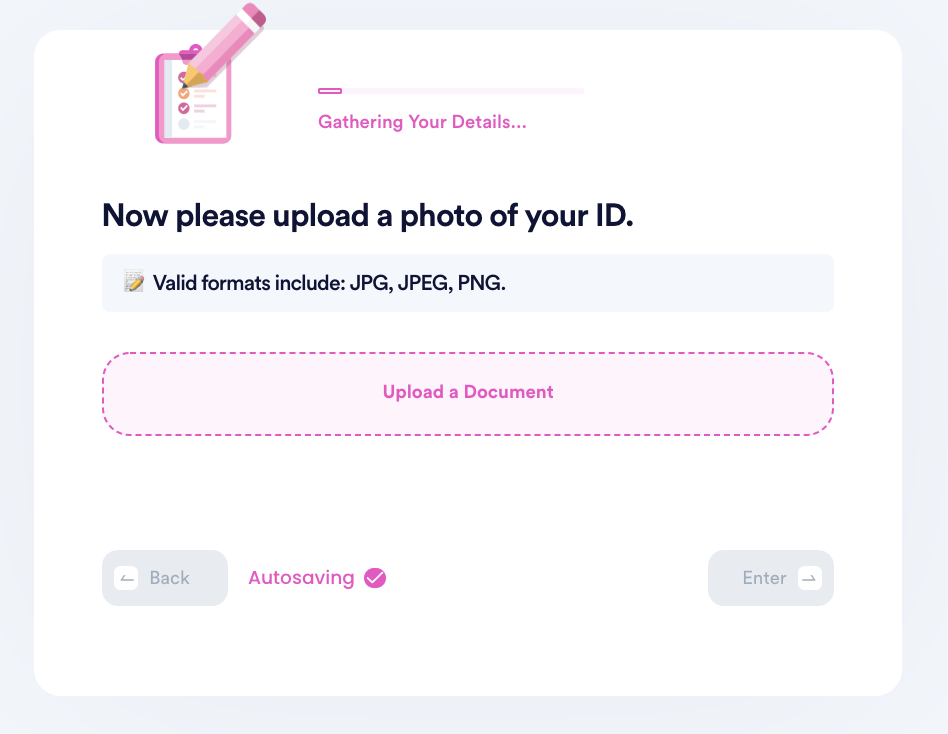 Why Use DoNotPay to Get Your Lake Havasu Fishing License
Fast— Our experienced teams quickly select the best fishing license for you and reach out to the relevant providers.
Easy—You don't have to struggle to pick out the best fishing license and keep track of all the steps involved.
Successful—You can rest assured knowing we'll get settled into your fishing trip.
What Else Can DoNotPay Do?
DoNotPay can facilitate your fish license application not only in Lake Havasu but across several U.S. states. We also provide other services, including:
DoNotPay is your ultimate consumer services assistant. Reach out to us today to secure your fishing trip.